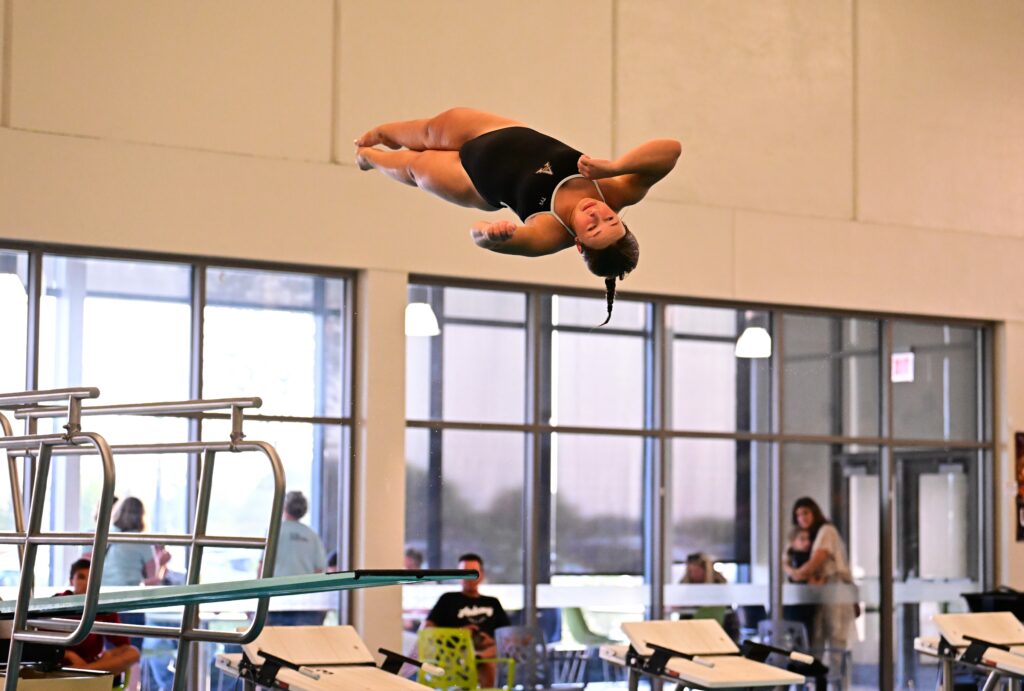 Senior diver Hannah Kolars has helped the Ankeny girls' swimming team to a 1-1 dual-meet record. The Hawkettes, who are ranked fourth in the state with 3,301 power points, dropped a 121-49 decision at No. 1 Waukee in their season opener on Tuesday before rebounding with a 110-73 victory over Newton/Colfax-Mingo/Pella on Thursday at Trail Point Aquatics Center.
Kolars placed first in the diving event at both meets. She ranks fifth in Iowa with a high score of 264.15 points.
Kolars is a two-time state qualifier. She placed 13th as a sophomore in 2020 and finished 21st last year.
Here is some inside info on Kolars:
How is the season going thus far?
My season is going pretty well. I've gotten a new personal-best score at each of our first two meets. I'm also really proud of how the whole dive team has done, and I think we've been competing well.
Your team has a new head coach in Justin Crouch, who was previously an assistant coach. Has it been a smooth transition?
I think the transition has gone pretty smoothly because the swimmers already had relationships built with him. We also got a new diving coach, coach Amundson, and he has helped us a lot and has made practices really fun. He's been my teacher at Centennial, so it made the transition to a new coach easier for me too.
Do you have a favorite dive that you like to do, and if so, which one is it?
I really enjoy doing my inward 1 ½ and my back 1 ½ twist. Because these dives have a higher difficulty, it helps my overall score when I do them well in a meet.
You've won both your meets this season–the first one at the Waukee YMCA and then at your home pool at Trail Point. Is there much of a difference in the diving boards from one pool to another?
Yes, there is a bit of a difference in each board. I personally thought the board at Waukee was really bouncy, and the adrenaline and excitement that you have at a meet can also affect how the board feels. Part of warmups is to adjust the fulcrum, which affects the bounciness of the board, until it feels normal and you can control your bounce and your dives.
You are following in the footsteps of the best two divers in Ankeny's history, Sydney Jorgensen and Erica Peters. Did you learn a lot from watching them compete over the last few years?
Sydney helped me get started with diving even though I never got to compete with her. Erica and Dasha Toth have also been great leaders during my sophomore and junior years, and (they were) consistent competitors. It's fun to watch them continue their diving careers in college.
Now that you're a senior, are you trying to be a leader for the team? And if so, how?
Yes, I am trying to be a leader. With the small senior class this year, we all have the opportunity to be a leader in our own way. I like to lead warmups and since diving is a very mental sport, I try to help the others by giving them tips to feel more confident while they're trying new dives.
It seems like a lot of the divers have a background in gymnastics. Do you as well?
Yes, I was a competitive gymnast from kindergarten until I quit at the end of my eighth grade year. I used a lot of the skills and body awareness I learned in gymnastics and transferred them over to diving.
When did you first start diving, and did you like it right away?
I started diving with a club in November of my freshman year. I never had an interest in diving until I went and watched Sydney and the others at a meet, so I wanted to give it a try. It was definitely challenging learning to go head first after being trained to land on my feet my entire gymnastics career.
Have you ever tried any of the swimming events?
Unfortunately, yes. It is a tradition at one of our home meets for the divers to all get together and swim in a relay race, and I was put into it at the last minute last year. I have never liked to swim and have never been a strong swimmer so I was not excited to do it, but it was fun getting to swim in one race.
Goals for the rest of the season?
I want to continue to clean up the dives that I already have and maybe work on building my difficulty even more. My goal is to qualify for state again and place better than I have the past two years.
Plans for next year? Would you like to dive in college?
I plan to attend Iowa State University and major in Event Management with a focus on sports events. I don't plan to continue diving in college. Hopefully, this major will allow me to be involved in collegiate athletics somehow, which I have always been interested in.