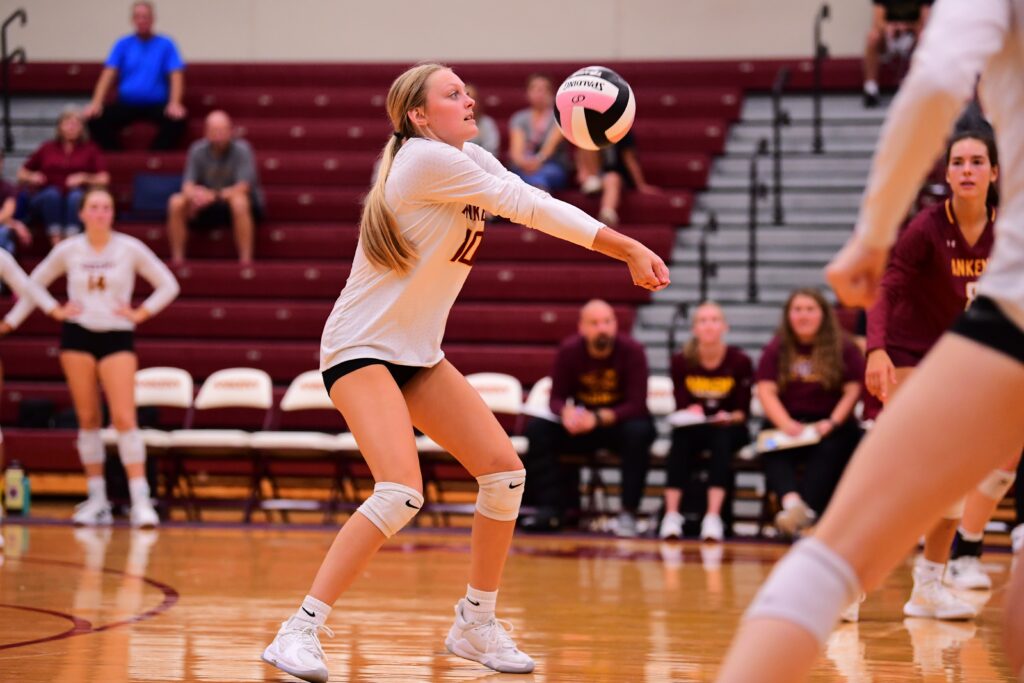 If the Ankeny volleyball team should happen to play either Dowling Catholic or Iowa City Liberty in the Class 5A state tournament in November, the Hawkettes will have a detailed scouting report on both opponents.
Second-ranked Ankeny played both No. 4 Iowa City Liberty and No. 5 Dowling for the third time this season on Saturday in the Caroline Found Invitational at Iowa City West. The Hawkettes advanced to the championship match before dropping a 27-29, 26-24, 15-12 decision to Dowling.
"Saturday brought some ups and downs for us, but at the end of the day we saw a ton of growth and toughness," said Ankeny coach Dani Kohut Lynch.
Ankeny (18-4) had split two previous meetings against the Maroons (15-5). The Hawkettes won a three-set match at the Dallas Center-Grimes Invitational on Aug. 23, but Dowling avenged that loss by sweeping Ankeny in the Marj White Classic on Sept. 3 at Valley.
On Saturday, the Maroons overcame a one-set deficit to capture the title. They got 13 kills, seven blocks and three aces from Mackenzie Dean.
Aowyn Schrader had 13 kills to lead the Hawkettes, while Tanith Roush chipped in 11. Jesa Wallace contributed 30 assists.
Sydney Otto racked up 13 digs and matched Wallace with a pair of aces. Baileigh Carlsen added eight digs.
"The match against Dowling was so fun to play in," said Kohut Lynch, whose team will host Dowling in a CIML Conference match on Sept. 22. "It was another back-and-forth match–similar to our Johnston match (on Tuesday)–and the girls played like a team and stuck together after a long day of volleyball."
Ankeny won two of its three matches during pool play. The Hawkettes posted a 21-11, 21-19 victory over Dubuque Wahlert, the No. 14 team in Class 3A, and earned a hard-fought 21-18, 19-21, 15-12 win over Clear Creek-Amana, the No. 9 team in Class 4A.
Ankeny suffered a 21-7, 21-11 loss to Iowa City Liberty (13-5), which avenged two previous defeats to the Hawkettes. Cassidy Hartman had eight kills as the Lightning outhit Ankeny by a .409 to .058 margin.
"Playing against a tough Liberty team for the third time already this season did not go our way," Kohut Lynch said. "We could not get anything going on offense. They kept us out of system the whole game; however, we came back in bracket play and did all the things we said we wanted to do after a tough loss against Liberty. Our serve receive was crisp–led by Sydney and Hannah (Baier). Jesa was finding her hitters, and everyone was finding open spots on the floor."
The Hawkettes won a rematch against Clear Creek-Amana, 25-21, 25-18, in the quarterfinals. Baier and Otto each had eight digs, while Roush pounded 10 kills and Schrader added nine.
Ankeny then rolled to a 25-12, 25-21 win over Sioux City Heelan in the semifinals. Heelan is the No. 8 team in Class 4A.
Schrader racked up 11 kills, while Roush, Myra Carlson and Parker Olson each had six. Wallace dished out 20 assists, and Otto had 12 digs.
The Hawkettes will return to action on Saturday, when they compete at the Waukee Invitational.