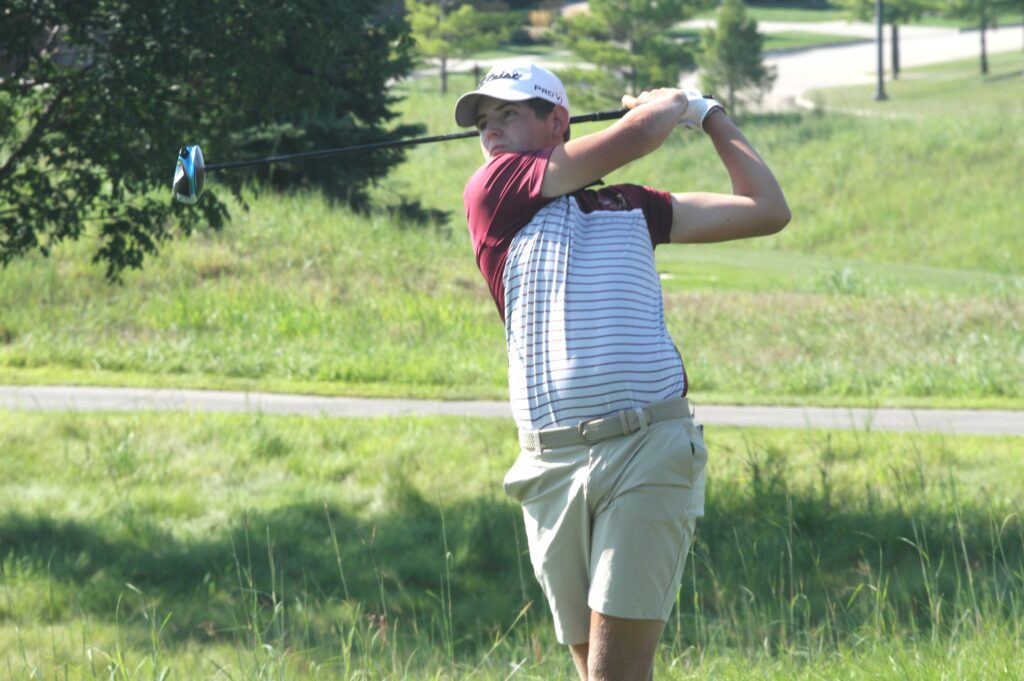 What could have been for the Ankeny and Ankeny Centennial boys' golf teams.
The Hawks and Jaguars each played well in the Turk Bowman Invitational on Monday at Veenker Golf Course in Ames, but a few big numbers prevented both squads from finishing even higher in the 17-team field.
Eleventh-ranked Ankeny placed sixth with a 316 total. The Hawks were led by Drew Hensen, who carded a 3-under-par 69 to earn runner-up honors.
"Drew definitely helps out our team in a huge way when he goes low so it was good to see him get back on track today and play solid all day long," said Ankeny coach Mike Weddingfeld. "He just played great."
No. 9 Centennial, meanwhile, finished eighth with a 320. The Jaguars were already playing without injured varsity regulars Lawson Hachmeister and Ben Meier, then lost Zach Hoffman on Monday when he was forced to withdraw with a bad back after two holes.
"The boys battled again (despite) being shorthanded," said Centennial coach Rick Fee. "We are now down three of our top six players with guys who don't have lots of varsity experience (having to replace them)."
The meet featured several of the top teams in Class 4A. Third-ranked Johnston shot a 300 to win the title, finishing seven shots ahead of No. 8 Southeast Polk.
No. 7 Indianola was third with a 310, followed by No. 4 Waukee with a 311 and No. 2 Waukee Northwest with a 315. The Wolves edged Ankeny by just one stroke after defeating the Hawks by 13, 25 and 28 shots in their three previous meetings.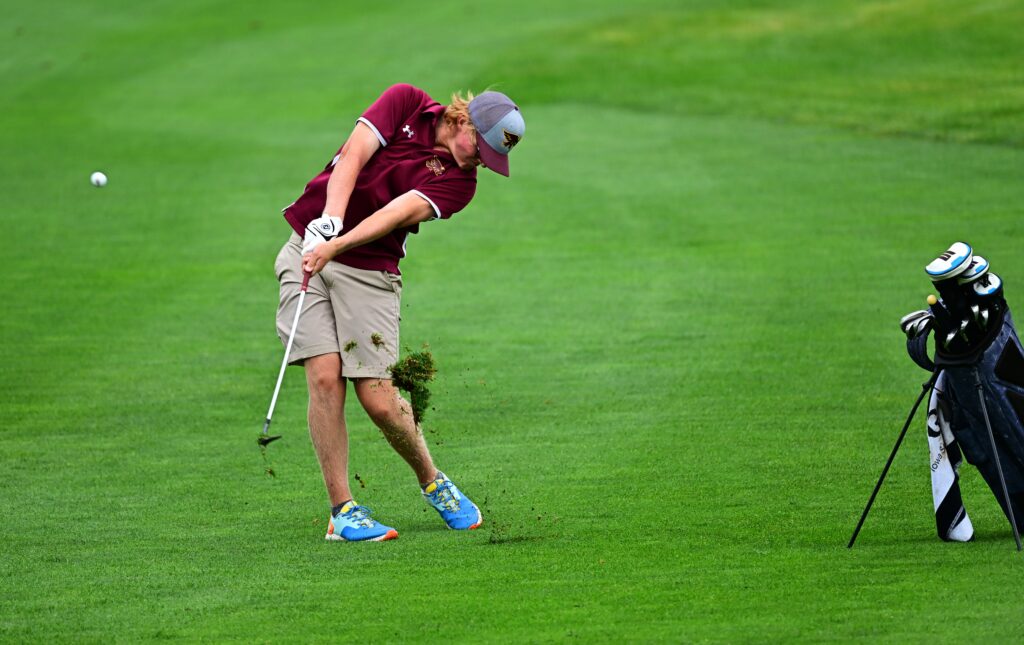 "I felt like we played much better today than our score depicts," Weddingfeld said. "If we could have made par on just three of the holes from our top scores, we would have shot 303 and been in second place."
Ben Christy of Johnston carded a 4-under-par 68 to earn medalist honors. He had five birdies on the day.
Hensen also broke 70, making an eagle on the par-5, No. 16 hole to go along with three birdies.
"On the way home, I asked Drew what made the difference today and he replied, 'I kept it out of the trees,'" Weddingfeld said. "And that is exactly what you have to do at Veenker."
It was Hensen's second-best score of the season. He shot a 68 in a triangular meet at Otter Creek on Aug. 29.
"I was definitely happy with how I played," Hensen said. "As a team, we could have scored much better. Some of the guys just had a couple of big numbers today, but that's what happens when it's your second time playing the course. We're just going to keep working hard as we begin to prepare for the postseason."
Evan Hodapp fired an 81 for the Hawks. Caden Weddingfeld shot an 82, Avin Legg had an 84, Jacob Adams carded an 86, and Duncan Beelner finished with an 87.
"Caden started off the day with an 8 on the par-4, No. 5 hole, Evan made a 10 on the par-5, No. 9, and Avin made a 9 on the par-5, No. 16," Weddingfeld said. "If we get those three holes back, we shoot really well. The thing I was really proud of from these three guys is that they bounced back. Caden played the next 11 holes 1-over-par, Evan played the next 10 holes 1-over-par, and Avin played the next three holes even par–including a birdie on 17.
"We have been talking a lot about the best thing you can do after a bad hole is string some good holes together so they showed some maturity today," he added.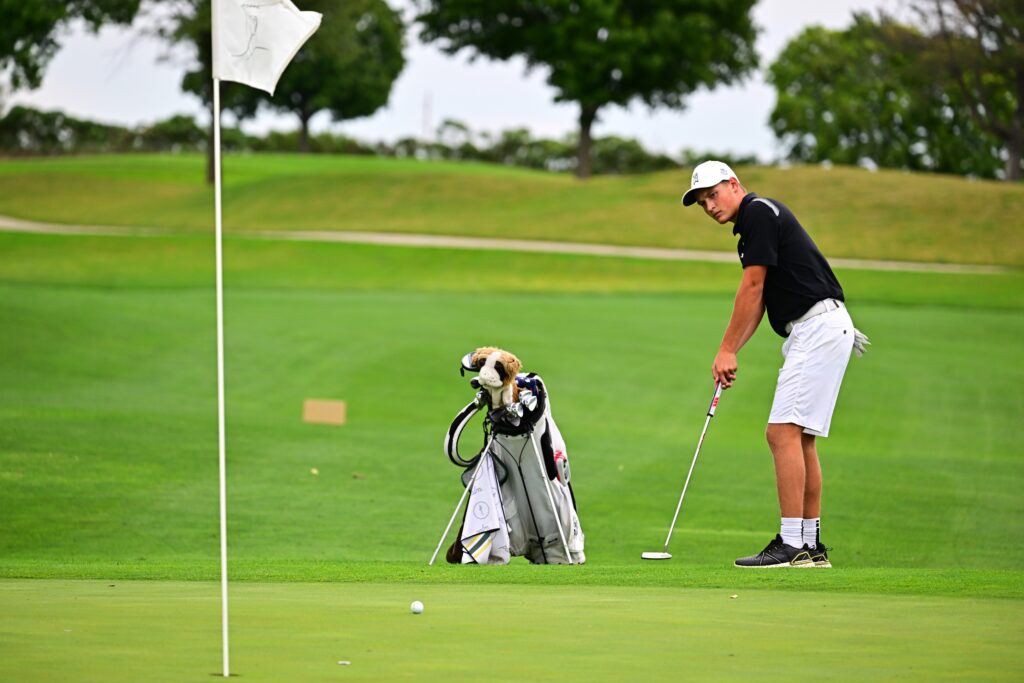 Ankeny defeated its crosstown rival for the first time this month. The Jaguars had won the last three meetings, including a one-stroke margin in the Ankeny Invitational on Wednesday at Otter Creek.
"We were six shots out of fifth but had to count a 10 and an 8 so for being so down we were not that far out," Fee said of his team's performance.
Cal Johnson shot a 77 to place 18th for Centennial. Gable Strother finished 24th with a 78.
Tate Logan carded a 79, while Danny Paulson and Kaden Schulz each had an 86.
"Cal carried us today. Tate and Gable also put great rounds together," Fee said. "We are playing the best we can considering the players we're missing. Each day it seems like we're losing somebody else, but at the same time someone is stepping up to fill the void. Hopefully, we can get a couple guys back for our Friday invitational in Marshalltown, but our event Wednesday at River Valley against Waukee and Johnston will feature a lineup we have never used before."
Ankeny will also be in action on Wednesday, facing No. 10 Dowling Catholic and No. 13 Valley in another CIML Conference triangular at Willow Creek.