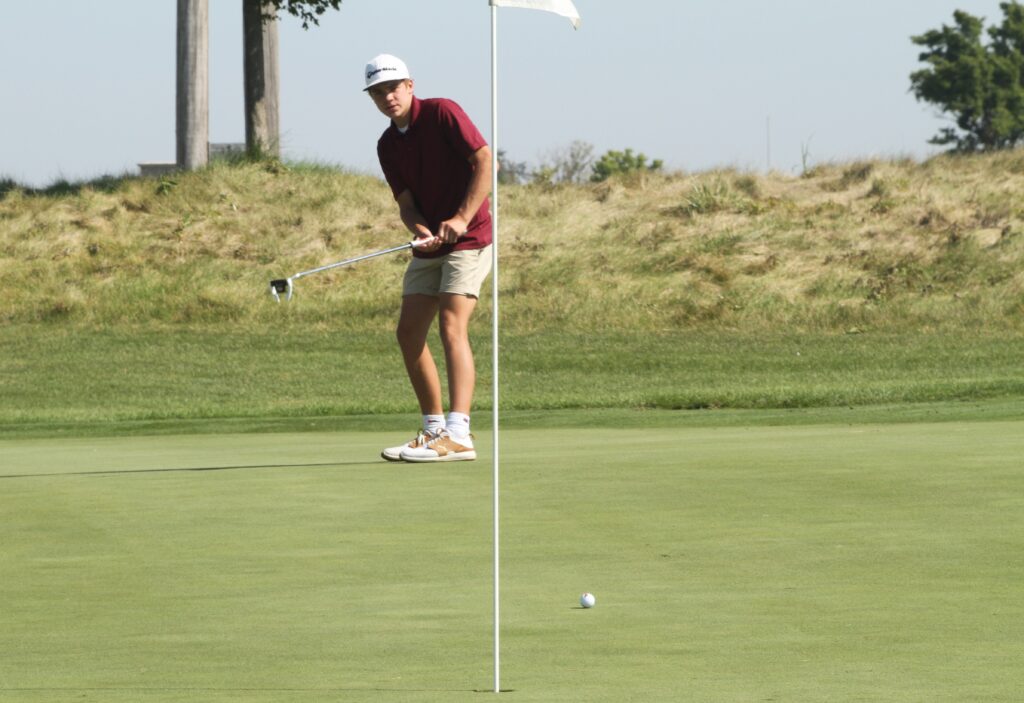 The Ankeny boys' golf team came away with a split on Wednesday at Willow Creek.
The 10th-ranked Hawks lost to No. 9 Dowling Catholic but defeated Valley in a CIML Conference triangular meet. They are now 3-4 in league duals.
Dowling shot a 289, Ankeny carded a 296, and Valley finished with an even 300.
"I thought we played well today but definitely could have been better," said Ankeny coach Mike Weddingfeld. "I am sure all of the guys would have liked the greens to be smoother as they were just punched last week so they were very bumpy and hard to get a consistent roll on. All three teams had to play on the same conditions, though, so we can't complain. I am sure in a few weeks when we return for the conference tournament they will be healed up and in much better shape."
Braeden Nelson of Valley shot a 4-under-par 67 to earn medalist honors. He had five birdies on the day.
Ankeny's Evan Hodapp was the runner-up with a 70. He had back-to-back birdies on Nos. 8 and 9 and made nine consecutive pars on the back nine.
"Evan played extremely well again today for us shooting a great round of 1-under-par," Weddingfeld said. "He commented how he felt he could have easily been several more under par had some putts dropped."
Drew Hensen and Avin Legg each carded a 75 for the Hawks. Duncan Beelner fired a 76, Jacob Adams had a 78, and Caden Weddingfeld added a 79.
"I know Drew would like to have a couple swings back, especially No. 18 where his tee shot got an unlucky bounce and ended up out of bounds," Weddingfeld said.
Overall, though, the veteran Ankeny coach was happy with his team's play.
"We talked before about how we just have to play the course in the condition it is in and can't beat ourselves up when we miss some putts," Weddingfeld said. "The good news is I feel we were striking the ball well so the putting we are not going to worry about."
Ankeny will compete in the Indianola Invitational on Monday at the Indianola Country Club.