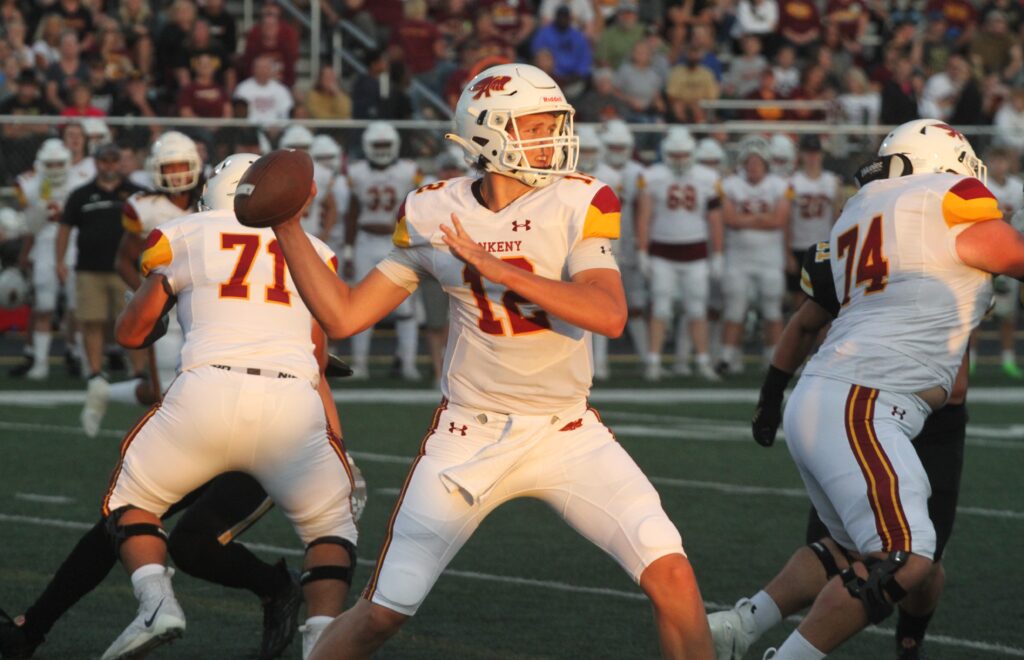 On paper, the Ankeny football team was expected to have an explosive offense in 2022.
After being held to 17.7 points per game in the first three weeks of the season, the fourth-ranked Hawks finally unleashed their lethal attack on Friday.
Quarterback JJ Kohl completed 21-of-23 passes for 261 yards and four touchdowns to lead Ankeny to a 31-14 victory at No. 1 Southeast Polk in a rematch of the last two state championship games. Both teams are now 3-1.
"Tonight we were just clicking offensively," said Kohl, who entered the game with more interceptions (3) than scoring passes (2). "The coaches put together a great game plan, and we had a good week of practice. We were very focused. It just showed tonight. It was a good win."
Ankeny's defense also played a key role in the victory. Reid Johnson, PJ Westover and Jamison Patton each had an interception for the Hawks.
"We knew we needed to get some interceptions so we could keep the offense on the field," said Johnson. "We did a pretty good job of that tonight."
Patton also caught nine passes for 87 yards. His 14-yard scoring reception early in the second quarter put the Hawks ahead for good, 14-7.
"I knew we had it in us," Patton said. "It was just a matter of time to let it loose."
Johnson intercepted a pass from Southeast Polk quarterback Connor Moberly on the Rams' next possession. That led to a 19-yard touchdown pass from Kohl to Evan Irlmeier three plays later.
Irlmeier, a sophomore, had three catches for 94 yards. He also scored on a 33-yard reception less than 3 minutes into the game.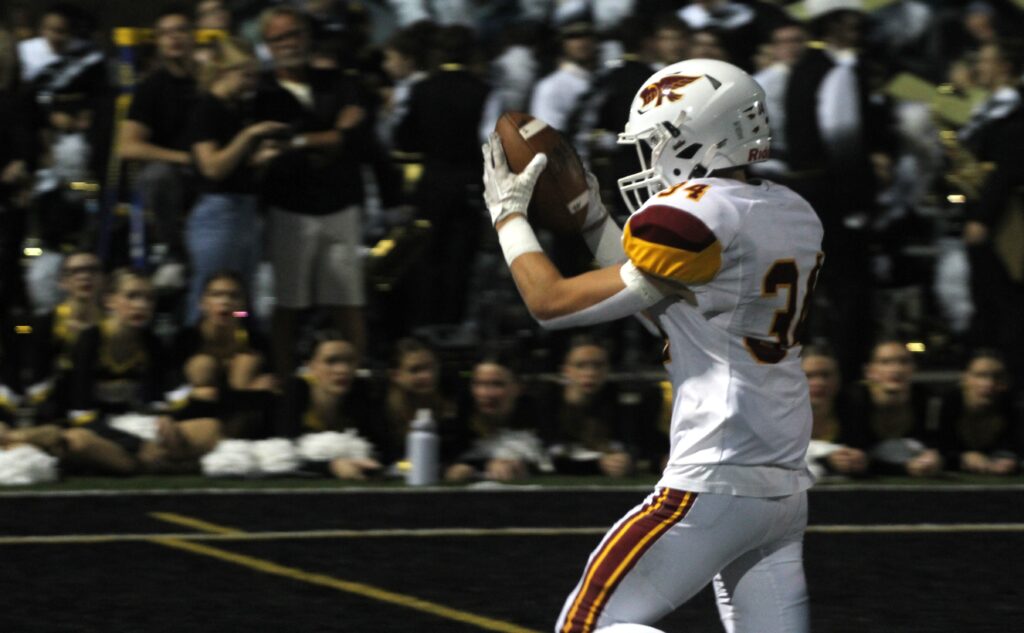 "He's kind of our little secret, but I don't think he's a secret anymore," Kohl said. "He played a great game tonight. He just balled out for us, and it was awesome to see him play that well."
Southeast Polk closed the gap to 21-14 with a 13-play, 70-yard drive to open the second half. Moberly capped the drive with a 1-yard sneak.
On Ankeny's next play from scrimmage, Kohl threw a 42-yard bomb to Irlmeier that eventually resulted in a 26-yard field goal by Keeghan Warner, giving the Hawks a 24-14 advantage with 1 minute 23 seconds left in the third quarter.
"He's been working all year, and it's just time for him to break out," Patton said of Irlmeier. "He finally broke out."
On the ensuing kickoff, Southeast Polk failed to handle a pooch kick and Ankeny recovered at the Rams' 23-yard line. Kohl then completed six straight passes, sandwiched around an offensive pass interference penalty, to complete the scoring.
Jeremiah Kruger caught a 9-yard touchdown pass to make it 31-14 with 10 minutes left.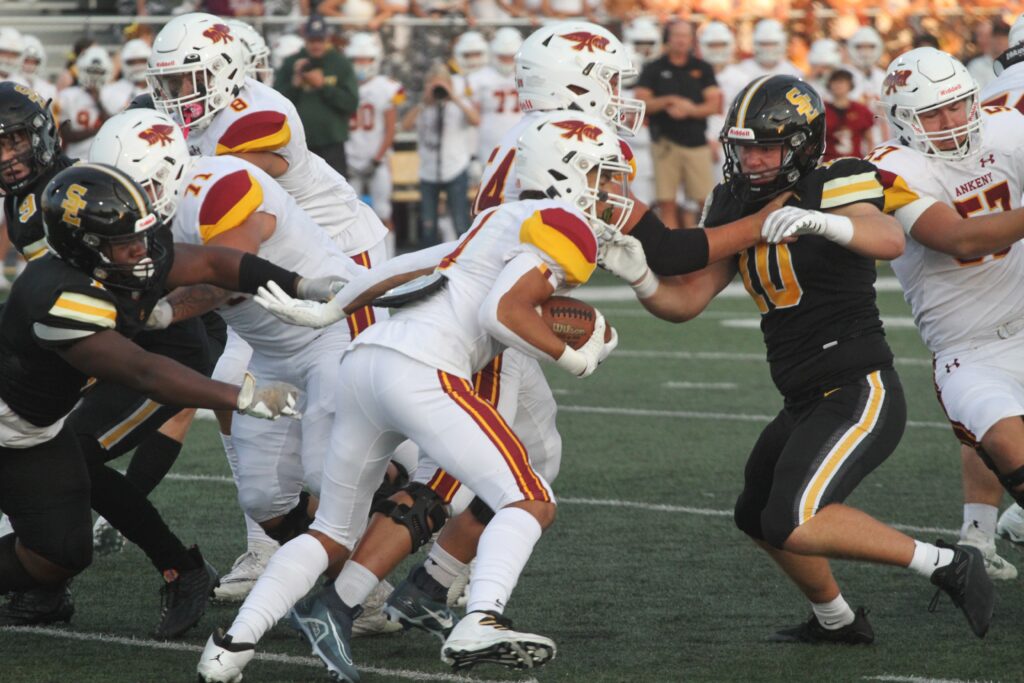 "We simplified (the offense) a little bit, and that definitely helped us get things going," Kohl said.
Ankeny running back Jazan Williams was held to 29 yards rushing on 13 carries, but he caught seven passes for 55 yards. The Hawks didn't have to punt until midway through the fourth quarter.
"We knew it was going to be a tough game, but we all did our jobs and we came out on top. It felt good (to not have to punt until late in the game)," said Johnson, who also serves as the Hawks' punter.
Southeast Polk outgained Ankeny by a 336-327 margin. But the Rams couldn't overcome their turnovers as well as another drive that stalled at the Hawks' 12-yard line to end the first half.
Southeast Polk also moved the ball into the red zone late in the game before Patton picked off a pass at the goal line and returned it to midfield, sealing the verdict and snapping the Rams' 12-game winning streak dating back to last season.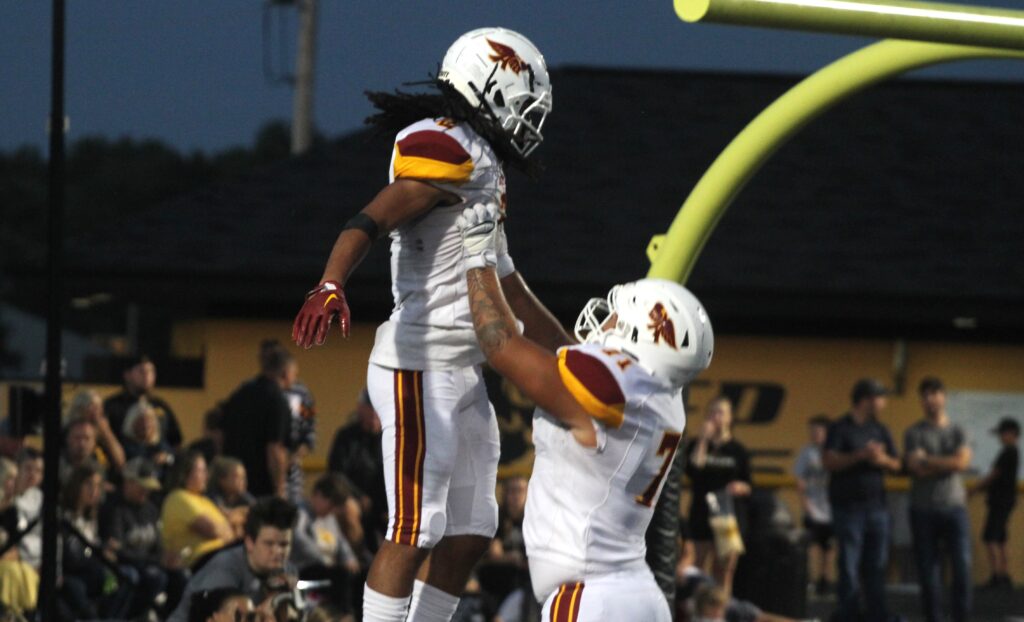 "I missed a couple tackles (on that drive), so I was a little mad," Patton said. "I had to get my redemption. I saw (the receiver) coming on the in route, and I grabbed the opportunity to jump the ball."
Southeast Polk played without star running Abu Sama, who sat out with an undisclosed injury. His replacement, Harrison Gibson, ran 28 times for 151 yards, including a 1-yard touchdown run in the first quarter.
The Hawks bounced back from last week's 17-10 loss to Dowling Catholic.
"It feels great," Patton said. "Last week left a bitter taste in our mouth, and it was good to come out here and get the victory."
Ankeny will play Patton's former team, Des Moines Roosevelt (2-2), on Friday at Drake Stadium.