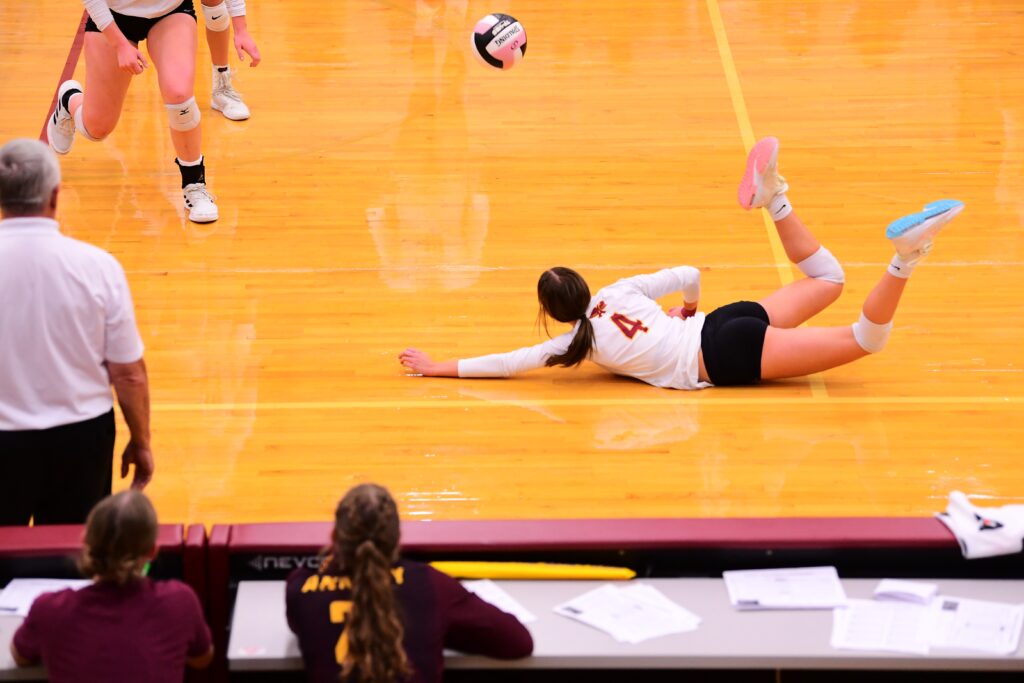 A year ago, the Ankeny volleyball team defeated Indianola in the third-place match at the Waukee Invitational.
On Saturday at the same tournament, the two teams met again–this time in the championship match.
The fourth-ranked Hawkettes posted a 25-20, 26-24 victory over the No. 7 team in Class 4A to claim the title.
"It was a great tournament to work on putting together some complete games from start to finish," said Ankeny coach Dani Kohut Lynch, whose squad improved to 22-4 on the season. "The team worked together to not drop a set all day and was pushed hard in the final set against a tough-passing Indianola team who took us to extra points."
The Hawkettes prevailed in the final despite being outhit by a .364 to .289 margin. Indianola dropped to 18-4 overall.
Aowyn Schrader had 11 kills to lead Ankeny. Parker Olson chipped in seven kills, while Myra Carlson and Tanith Roush each added six.
Roush hit .462 in the match. She had no hitting errors in 13 total attacks.
Jesa Wallace dished out 29 assists. She continues to lead the state with 612 assists.
Sydney Otto led the defensive effort with eight digs, while Olson and Wallace each contributed seven. Carlson had a pair of blocks.
The Hawkettes completed 48-of-50 serves (96 percent) in the win. Carlson, Baileigh Carlsen and Hannah Baier each had an ace and were a combined 26-for-26 from behind the line.
In the semifinals, Ankeny posted a 25-20, 25-15 win over No. 9 Valley, defeating the Tigers (8-15) for the second time this season. Schrader pounded nine kills and hit .500 for the Hawkettes, while Wallace had 20 assists and three of the team's seven aces.
Schrader also had three blocks. Otto and Wallace each racked up 11 digs.
Ankeny also swept both of its opponents during pool play. The Hawkettes opened the tournament with a 21-18, 21-6 victory over Norwalk (9-4).
"We needed a little bit of a wake-up round against Norwalk in the first set, but then we got rolling," Kohut Lynch said.
Schrader had eight kills and hit .667 in the match. Wallace had 18 assists and six digs.
Ava Wille made three blocks. Carlson had two aces.
Ankeny then posted a 21-5, 21-14 triumph over Sergeant Bluff-Luton (4-8). Roush had eight kills and hit .636 for the Hawkettes, while Wallace added 16 assists and six digs.
Ankeny completed all 41 of its serves in the win. Otto led the way, going 11-for-11.
The Hawkettes will host a pair of CIML Conference matches this week, facing Southeast Polk (3-9) on Tuesday and No. 3 Dowling Catholic (18-5) on Thursday.