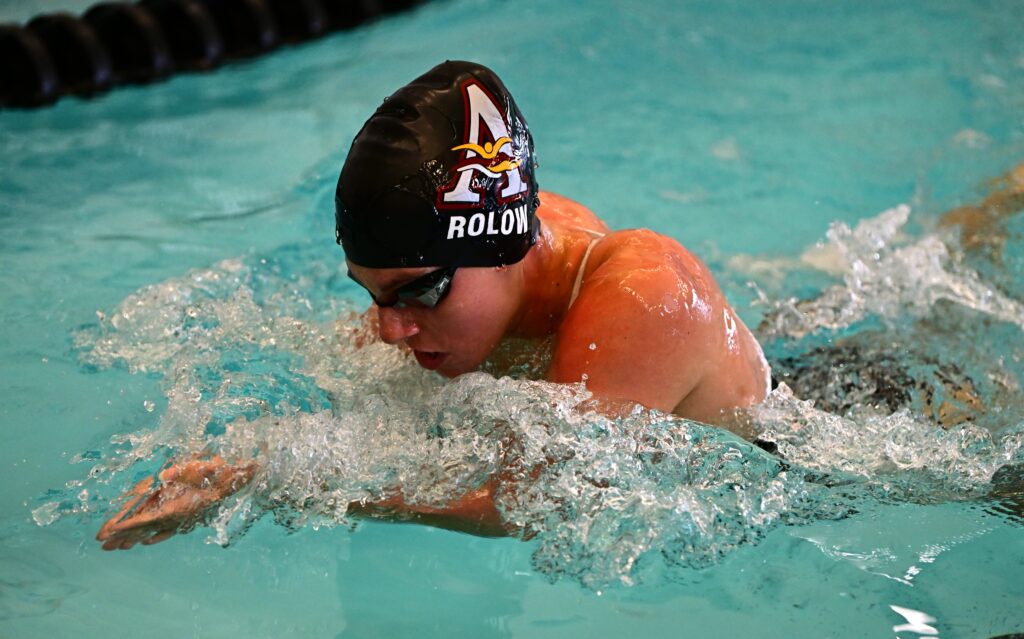 The swimming pipeline from Ankeny to Cedar Falls doesn't appear to be ending anytime soon.
Ankeny senior Rachel Rolow has verbally committed to join the Northern Iowa women's swimming and diving program next year. She will follow in the footsteps of former teammates Scout Bergwall, Maddie Carleton and Erica Peters, who are already members of the Panthers' squad.
"They all definitely had an influence on my decision to join the team," said Rolow. "I can't wait to be teammates with them again. Go Cats!"
Rolow is a nine-time state qualifier and a three-time placewinner. She is a three-time qualifier in the 100 backstroke and a two-time qualifier in the 200 individual medley.
As a freshman in 2019, Rolow swam on Ankeny's seventh-place 400 freestyle relay. She helped the Hawkettes to a third-place finish overall, their highest ever under longtime coach Michelle Stout–who retired after last season.
"I was a freshman and Scout was a senior when we swam together for Ankeny," Rolow said. "She took me under her wing and taught me a lot. Swimming with her again will be a lot of fun. Whenever I asked her what it was like to swim at UNI, she always had a positive response. I could tell she loved it."
In 2020, Rolow qualified for state in four events. She swam on the 12th-place 200 freestyle and 10th-place 400 freestyle relays, helping Ankeny to a seventh-place finish overall.
Last year, the Hawkettes placed fifth at the state meet. Carleton and Peters were members of that team before moving on to Cedar Falls.
"I remember the day that Maddie and Erica told the team they were both going to UNI," Rolow said. "I remember thinking how neat that was. I talked with them during my visit, and they both told me how happy they were and how they genuinely loved the team and the coaches."
Rolow started swimming when she was eight years old with the Ankeny Aquahawks. She has loved being in the pool ever since.
"I always knew I wanted to continue to swim after high school as swimming has been such a huge part of my life," she said.
Rolow looked at a few other schools and even visited one out of state, but she kept coming back to Northern Iowa.
"On all of my visits there, I felt welcomed and at home with the entire team," she said. "Team-wise, I could tell the girls were more than teammates. Not only were they friends, but they saw each other as family. When I asked Nick (Lakin), the head coach, about his family, he told me he was married, had three boys and 33 girls. At first I didn't think I heard him correctly, but then I realized he was referring to the 33 girls on the team. The culture they have built matches what I have been looking for.
"And school-wise, attending UNI is practically a family tradition. My great-grandparents went there when it was the Iowa Teachers College. My mom and both of my aunts also graduated from UNI. Beyond that, I loved the campus and the size of the school," she added.