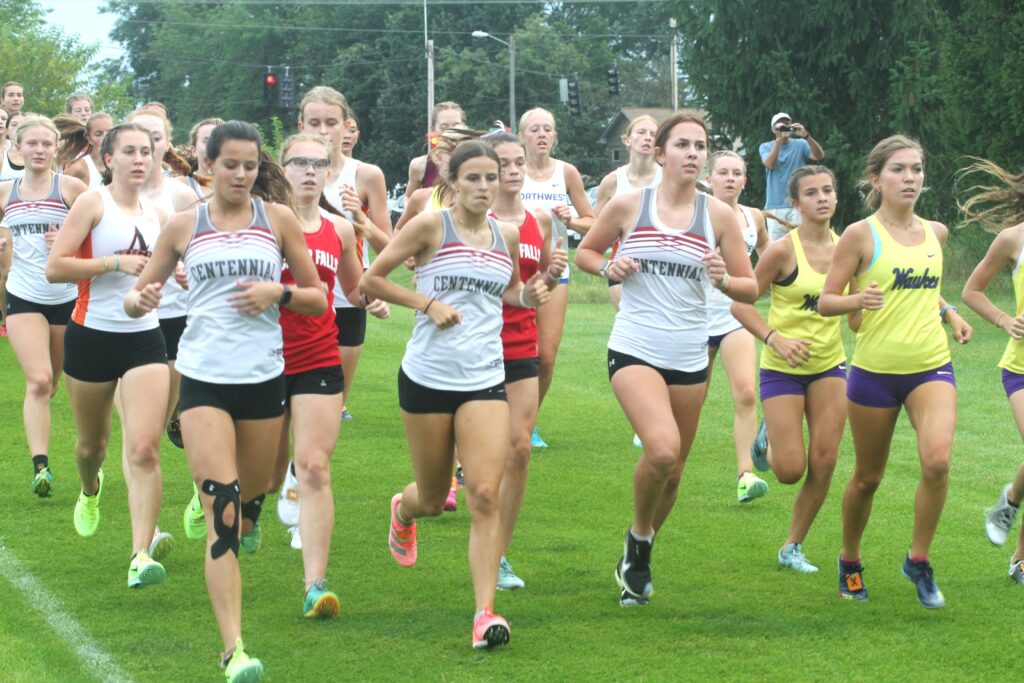 The Ankeny Centennial girls' cross country team remains unbeaten in the month of September.
The fourth-ranked Jaguars earned their fourth consecutive victory on Thursday by winning the Indianola Invitational at Pickard Park. They placed all seven of their runners in the top 13 and finished with 34 points.
No. 7 Des Moines Roosevelt placed second in the eight-team field with 40 points. No. 15 Indianola was third with 81.
The meet was held under cooler temperatures.
"Fall has arrived and the smiles on the girls' faces at the finish line said everything I needed to know about their races," said Centennial girls' coach Eric Cogdill. "They enjoyed it."
The Centennial boys' squad, meanwhile, placed eighth among 13 teams. The Jaguars finished with 173 points.
No. 15 Ames won the boys' title with 73 points, edging No. 11 Urbandale by one point. No. 6 Dallas Center-Grimes took third with 89 points.
Roosevelt had the top two finishers in the girls' 5k race, but Centennial's depth allowed the Jaguars to claim the team title. Anika Mohrhauser placed third with a time of 18 minutes 46 seconds, and Rondi Quass was fourth in 18:56.
Bella Hodges took sixth for the Jaguars in 20:00. Julia Flick placed 10th in 20:25 and was followed closely by Kylee Patterson (11th, 20:30), Anja Peck (12th, 20:40) and Tillie Smith (13th, 20:41).
"It turned into another de facto dual–this time with Roosevelt," Cogdill said. "The other ranked teams did not field their best (lineup). No. 9 Ames entered JV athletes despite not racing elsewhere this week, as did No. 14 Dowling Catholic but their varsity competes at the Rim Rock Classic on Saturday, and Indianola was short its top girl."
Roosevelt's Adrienne Buettner-Cable won the race in 18:14, and teammate Abi Hahn was second in 18:39. The Roughriders placed four runners in the top seven, but their fifth scoring runner finished in 25th place.
"We survived a scare from Roosevelt, who outpaced us at each of the first four positions, but they ran out of firepower at their 5 slot where we outperformed them by 14 places to secure the win," Cogdill said. "Similar to the Valley meet, it took the whole team to push us over the top."
Aaron Fynaardt of Des Moines Christian won the boys' race in 15:42. He finished 24 seconds ahead of Urbandale's Tommy Hensley.
Centennial was led by AJ Schermerhorn. He placed third in a time of 16:10.
Brendan Owens took 38th for the Jaguars in 17:33. Brayden Vander Wilt was 40th in 17:37, Austin Lundberg placed 43rd in 17:46, Parker Lundberg took 49th in 18:02, Ammin Hassan was 51st in 18:03, and Jack Behrens finished 55th in 18:10.
Indianola is one of the sites for the state qualifying meets next month, which means that both Centennial squads could be headed back there on Oct. 19. Council Bluffs and Marshalltown are the other likely landing spots for the Jaguars.
Both Centennial teams will compete in the Knoxville Invitational on Tuesday at Pine Knolls Golf Club. The Jaguars will then run in the Williams Invitational on Thursday at Iowa City.
"Our team depth helps us to thrive even more in big competitions with lots of athletes, so we are itching to get tested next week at Iowa City and further down the line at Fort Dodge," Cogdill said.