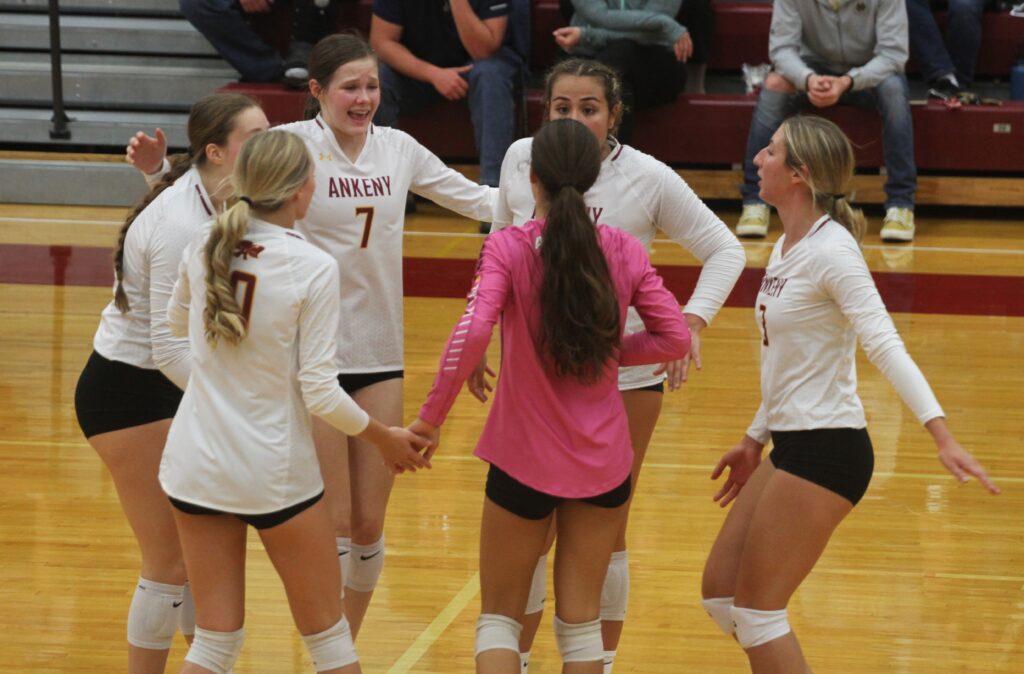 Parker Olson stepped behind the service line with a chance to put an end to Thursday's marathon volleyball match against visiting Dowling Catholic.
The Ankeny senior didn't let the opportunity go to waste.
Olson served an ace for the final point to give the fourth-ranked Hawkettes a 25-10, 25-22, 23-25, 24-26, 15-12 victory over No. 3 Dowling in a CIML Conference showdown between top-five teams.
"Their line was open a lot more, and we watched that on film," said Olson, who had two of Ankeny's 11 aces. "We kind of spotted that during film."
Olson tipped the ball over the net for a kill to break an 11-11 tie in the fifth set. Her ace then closed out the match shortly thereafter.
"We just went after them, and Parker has a crazy drop serve so she knows how to use it and use it well and it turned out in our favor," said Ankeny coach Dani Kohut Lynch.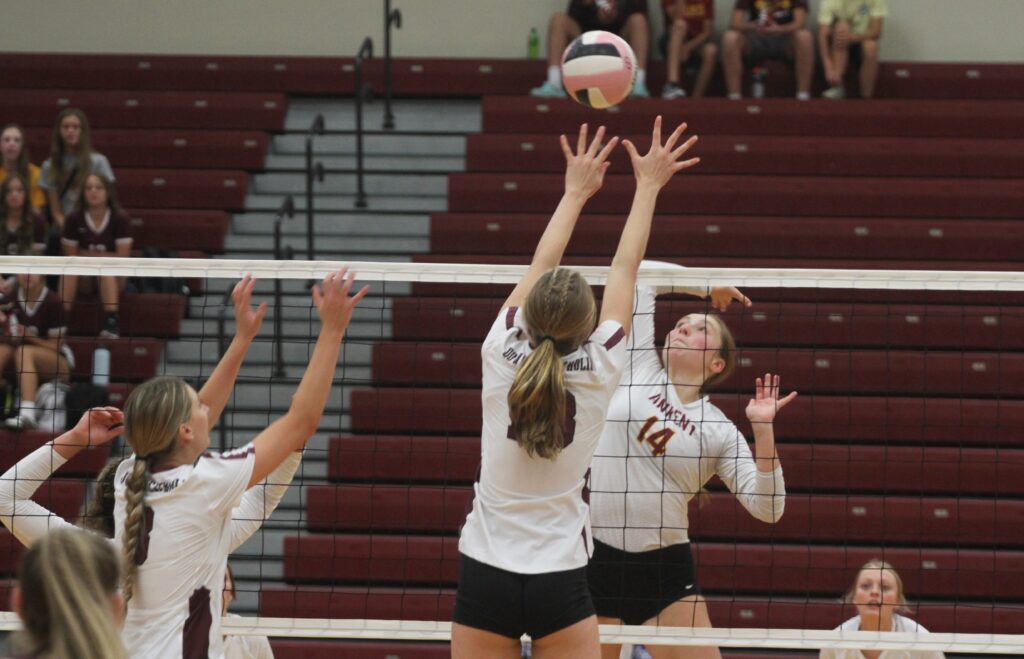 This was the fourth meeting of the season between the two rivals. Dowling had won the last two matches, including a victory in the championship of the Iowa City West tournament on Sept. 10.
The Maroons could not complete their rally from a 2-0 deficit on Thursday.
"I think we just came prepared this time," said Ankeny senior Hannah Baier. "They had some changes in their lineup, so we were prepared for anything and just worked on our skills."
The Hawkettes improved to 4-0 in the league and 24-4 overall. Dowling's records dropped to 3-2 and 18-7.
Ankeny outhit the Maroons by a .313 to .289 margin. Aowyn Schrader had 17 kills to lead the Hawkettes.
"We focused on one ball at a time and did not focus on the other side," said Schrader. "It was just us and the ball basically."
Ankeny dominated the first set, then held off the Maroons to win the second set. A kill by Tanith Roush gave the Hawkettes a 2-0 advantage.
"I think we played more as a team instead of individually," Olson said. "We worked hard on our goals, like our serving percentages and kills. I think we worked hard to reach for those."
After Dowling won the third set, Ankeny took a 24-23 lead in the fourth set and had a chance to close out the match. But the Maroons then scored the next three points to force a decisive fifth set.
"We knew Dowling wasn't just going to roll over and let us have it for free," Kohut Lynch said. "We knew they were going to come in and get gritty, and that's what they did for sets 3 and 4 and even set 5–it was back and forth, back and forth the whole time."
Roush had three early kills in the fifth set as the Hawkettes took a 5-3 lead. Dowling rallied to forge an 8-7 margin, but Ankeny eventually prevailed behind Olson's big plays.
"We came out and wanted to do our best (in Set 5)," Schrader said. "We trusted each other and everything worked out."
Roush and Olson each had 15 kills in the win, and Myra Carlson added nine. Olson hit .500 for the match and did not commit a single hitting error.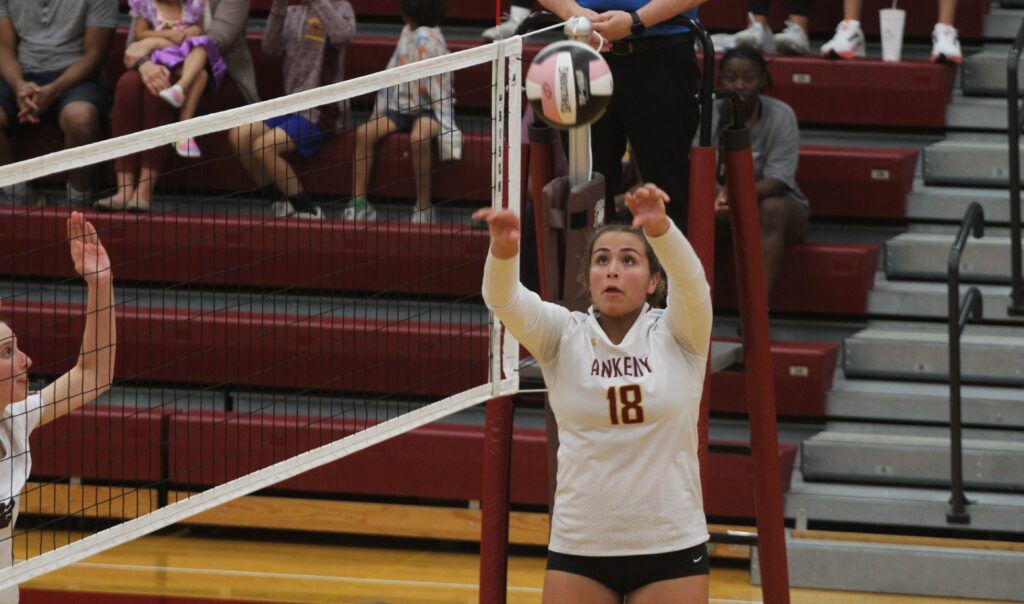 Jesa Wallace dished out 56 assists and also had 13 digs. Sydney Otto racked up a team-high 27 digs, while Baileigh Carlsen had 12 and Baier added 10.
Ava Wille contributed four blocks. Roush chipped in three.
Baier completed 28-of-29 serves and had four aces. Otto added three.
"It's just scouting and knowing what's open and then trusting my serve and going back there with confidence," Baier said.
Mackenzie Dean had 23 kills and three aces to lead Dowling. Emma Tallman racked up eight blocks.
"I just think we were an inconsistent team the last two times we played them," Kohut Lynch said. "We really didn't make any lineup changes or anything. They just played on Tuesday against Johnston so we scouted that and saw what Johnston did to win and kind of picked up on that and just kept the ball rolling in that direction."
The Hawkettes will play at No. 5 Waukee Northwest (4-0, 16-5) on Tuesday in a showdown for first place in the conference. Ankeny won an earlier matchup against the Wolves, 21-13, 16-21, 15-11, at the Valley tournament on Sept. 3.