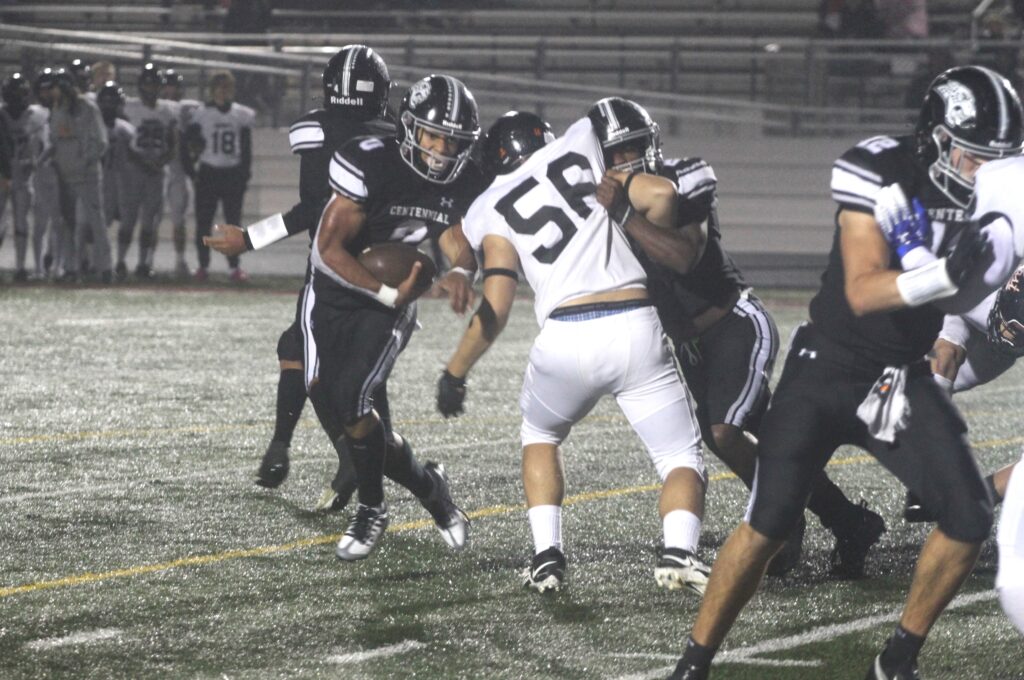 A drizzling rain couldn't put a damper on Ankeny Centennial's homecoming football game.
Cael Wiener booted an 18-yard field goal with 58 seconds left to give the 10th-ranked Jaguars a 31-28 victory over No. 6 Sioux City East on Friday at Ankeny Stadium.
"I was very confident I was going to make it," said Wiener, who had earlier converted all four of his PAT attempts. "All my teammates and coaches had faith in me so all I needed was to have faith in myself. The rain wasn't too much of a factor for me, but it made it tough for my snapper and holder so I'm super proud of them the way they stepped up and stayed solid."
The Jaguars (3-2) won their third straight game while handing Sioux City East (4-1) its first loss. The Black Raiders' final drive ended with a turnover on downs.
"It feels great," said Centennial linebacker Zach English. "Now we're 3-0 on the season as we like to call it–after starting off 0-2."
Sioux City East had won its first four games by an average of 30 points behind quarterback Cole Ritchie, who entered Friday's contest with 1,109 passing yards–which ranked second in Class 5A.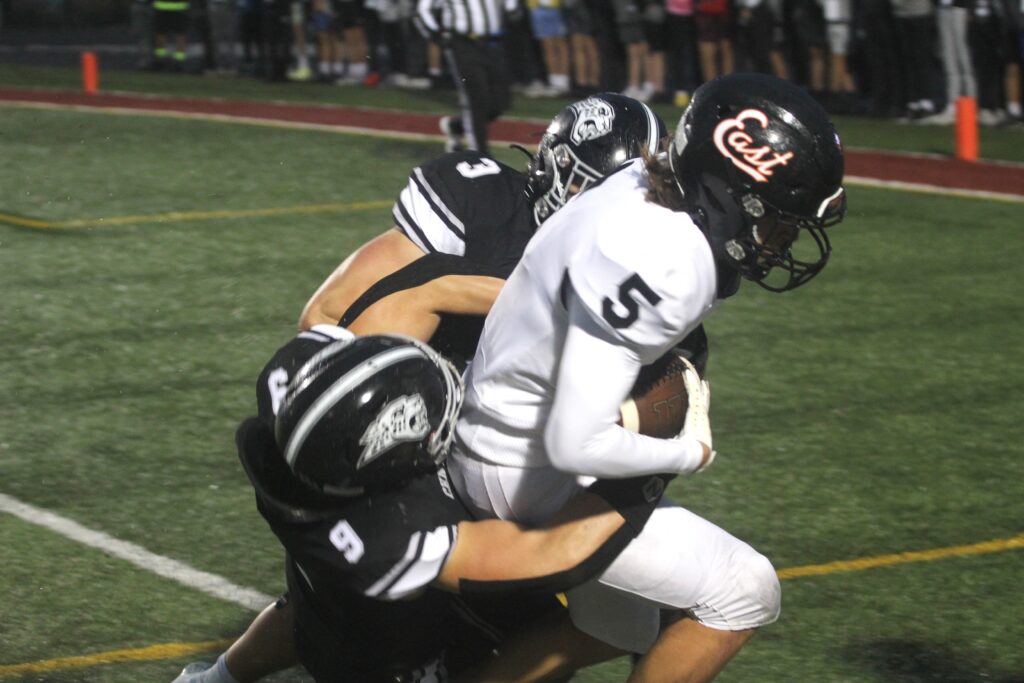 Ritchie threw three touchdown passes on Friday, the last two on screens, but it wasn't enough.
"They're legit," Centennial co-head coach Ryan Pezzetti said of the Black Raiders. "People are going to knock them for their schedule early on, but they beat those teams the way a good team should. We knew up front they were really good and really talented, and they proved it tonight. We had to put it together a few times to come through, and we did. It was a great win for our kids."
Running back Elijah Porter had a big night for the Jaguars, rushing for two touchdowns and catching a pass for another. However, he left the game midway through the fourth quarter after injuring his ankle.
"I don't know what happened," Porter said. "But I can't put any weight on it."
With Porter on the sideline, Centennial drove down the field to set up Wiener's game-winning kick. Easton Miller took over for Porter and ran for some tough yards, while quarterback Trenton Smith completed a couple of passes to keep the drive alive.
"We've got Easton in the backfield, and he can do it just as good as I can," Porter said.
The Jaguars got off to a bad start in the first quarter. They trailed, 13-0, before running their first offensive play.
Sioux City East struck first when Ritchie fired an 18-yard touchdown pass to Kelynn Jacobsen on 4th-and-12. The Black Raiders then scored again just 24 seconds later after recovering a fumble on the kickoff.
"They just came out the gate really hard, and we had to stop that," English said. "We had to adjust."
Centennial got on the scoreboard when Porter caught a screen pass from Smith and raced 31 yards to the end zone with 2 minutes 29 seconds left in the first quarter. The touchdown followed a muffed punt attempt by the Black Raiders.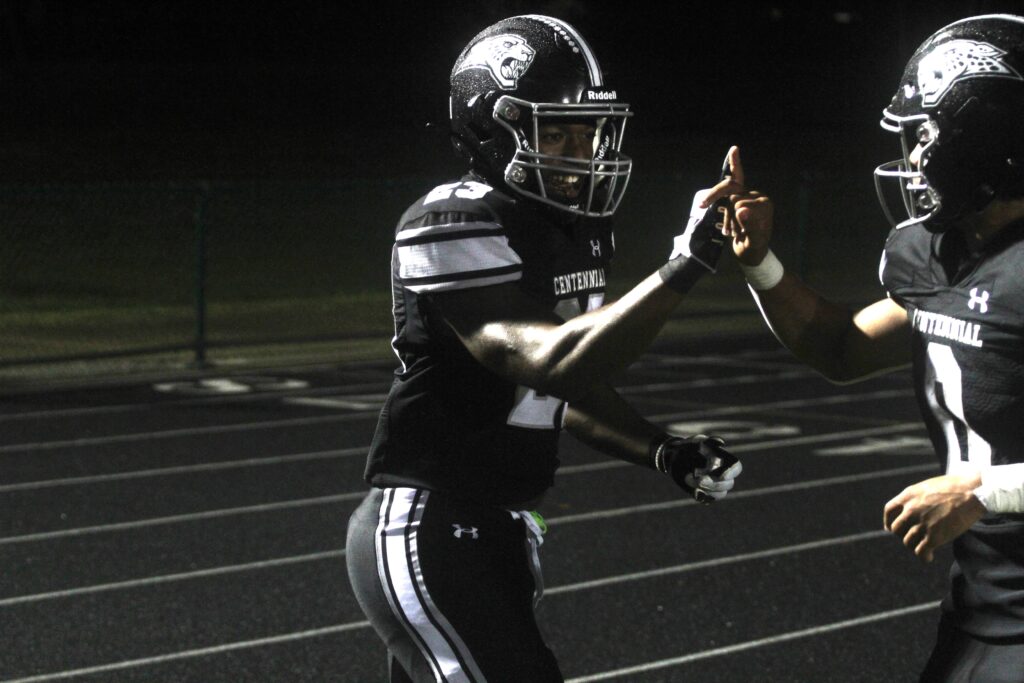 Porter scored again on a 4-yard run with 4:58 remaining in the half. It gave the Jaguars a 14-13 lead at halftime, despite committing three turnovers.
"I was very confident we could come back," Porter said. "When our offense clicks, it clicks. And when our defense clicks, it clicks. It's that simple."
After a nice punt return, Sioux City East regained a 21-14 lead midway through the third quarter on a 29-yard scoring pass from Ritchie. The Black Raiders also passed for the two-point conversion.
Centennial answered right away, though, on the ensuing drive. Max Snyder caught a short pass from Smith, broke a tackle and raced 18 yards for the tying touchdown.
Early in the fourth quarter, Sioux City East connected on another screen pass that resulted in a touchdown–this one covering 35 yards. It gave the Black Raiders a 28-21 lead.
"We were definitely getting hurt on the screen pass a little bit," English said. "We made a couple of defensive changes there."
A penalty backed Centennial up to its own 8-yard line on its next possession. But the Jaguars then needed just two plays to tie the score again.
Smith avoided a sack in the end zone, scrambled to his right and fired a 47-yard pass to Chase Schutty, who made a leaping catch near midfield. Porter then dashed 45 yards up the middle on the next play to make it 28-28 with 9:39 left, setting up the dramatic finish.
"We had to overcome some adversity at the start," Pezzetti said. "It was a big week with homecoming, and this is the 10th year that Centennial has been in existence. We wanted to win it for that and beat a ranked team, and now we can move on to next week."
Beau Gerke had an interception for the Jaguars, who will play at No. 8 Urbandale (4-1) on Friday.