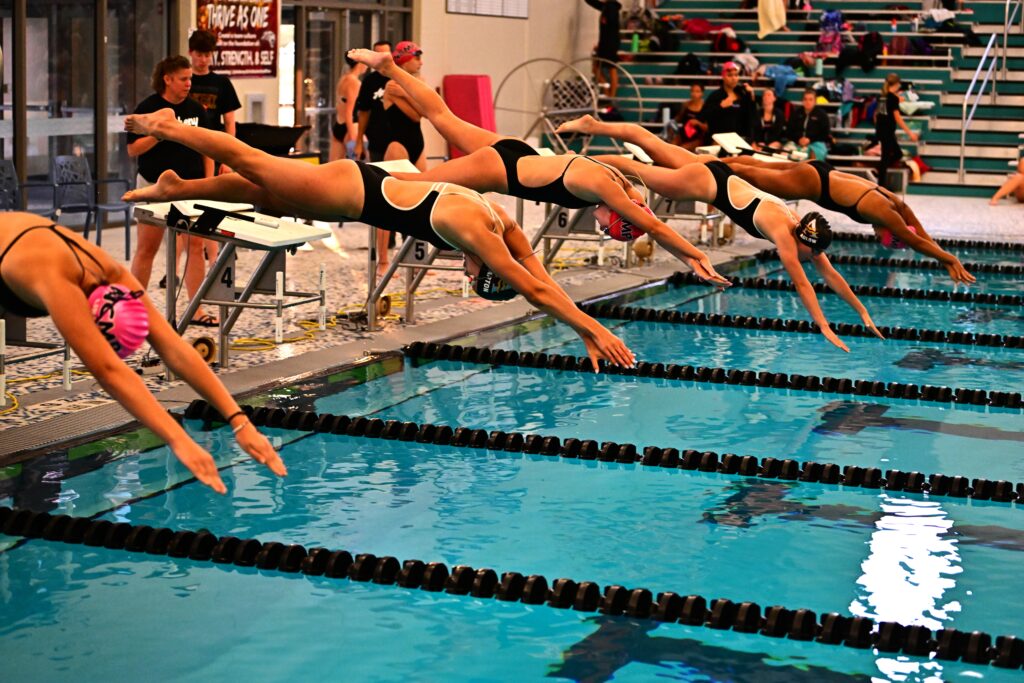 The Ankeny girls' swimming team had six third-place finishes and also placed third overall in the Tiger Tanker Invitational on Saturday at Valley.
The sixth-ranked Hawkettes scored 297 points in the nine-team meet. They finished 36.5 points ahead of No. 7 Valley after losing to the Tigers in a dual meet, 95-91, on Thursday in the same pool.
No. 1 Waukee claimed the team title with 476 points. No. 2 Dowling Catholic was the runner-up with 428.
Ankeny got a pair of third-place finishes from both Gracie Lindaman and Anja Peck. Lindaman posted times of 25.84 in the 50 freestyle and 56.09 in the 100 freestyle, while Peck was clocked in 5:18.07 in the 500 freestyle and 1:09.03 in the 100 breaststroke.
Rachel Rolow took third in the 100 backstroke in a time of 1:00.71. She earlier placed sixth in the 200 individual medley in 2:14.74.
Rolow also teamed up with Peck, Caroline Walker and Lindaman for a third-place finish in the 200 medley relay. The Hawkettes posted a time of 1:54.05.
Walker placed eighth in the 50 freestyle in 26.48. She finished seventh in the 100 butterfly in 1:03.42.
Ankeny's Josie Parton took seventh in the 200 freestyle in 2:01.97. She placed fifth in the 100 freestyle in 56.30.
Parton also combined with Lindaman, Charlotte Huebsch and Walker for a fourth-place finish in the 200 freestyle relay. The Hawkettes were clocked in 1:44.73.
Ankeny later ended the meet with a fifth-place finish in the 400 freestyle relay. The foursome of Parton, Huebsch, Peck and Rolow posted a time of 3:51.99.
The Hawkettes got a fifth-place finish in the diving event from Hannah Kolars, who posted a total of 392.55. Teammate Lydia Boehlert was 10th with a score of 341.45.
Waukee won nine of the 11 swimming events, including all three relays.
Ankeny will host a non-conference dual meet against No. 5 Ames on Thursday at Trail Point Aquatics Center.