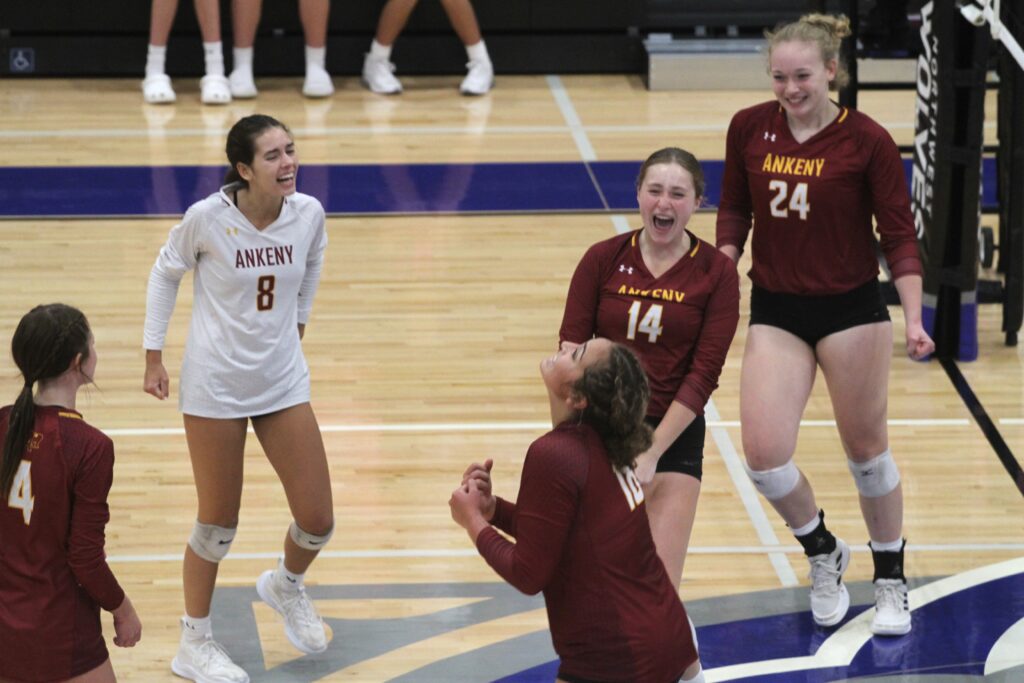 The Ankeny volleyball team just keeps finding ways to win.
The fourth-ranked Hawkettes moved into sole possession of first place in the CIML Conference with a thrilling five-set victory at No. 5 Waukee Northwest on Tuesday.
After dropping two of the first three sets, Ankeny rallied for a 13-25, 25-17, 23-25, 25-23, 15-9 win over the Wolves.
"You never know what to expect, but they're a hot team and they're giant…they're disciplined," Ankeny coach Dani Kohut Lynch said. "We knew it was going to be a battle. Northwest was at the top of the conference and they've been beating teams up, so we knew it was going to be a dogfight…but maybe not THAT long of a dogfight."
Ankeny extended its winning streak to seven matches, including a pair of five-set wins over top-five opponents in the last six days. The Hawkettes improved to 5-0 in the league and 25-4 overall, while Northwest's records dropped to 4-1 and 19-7.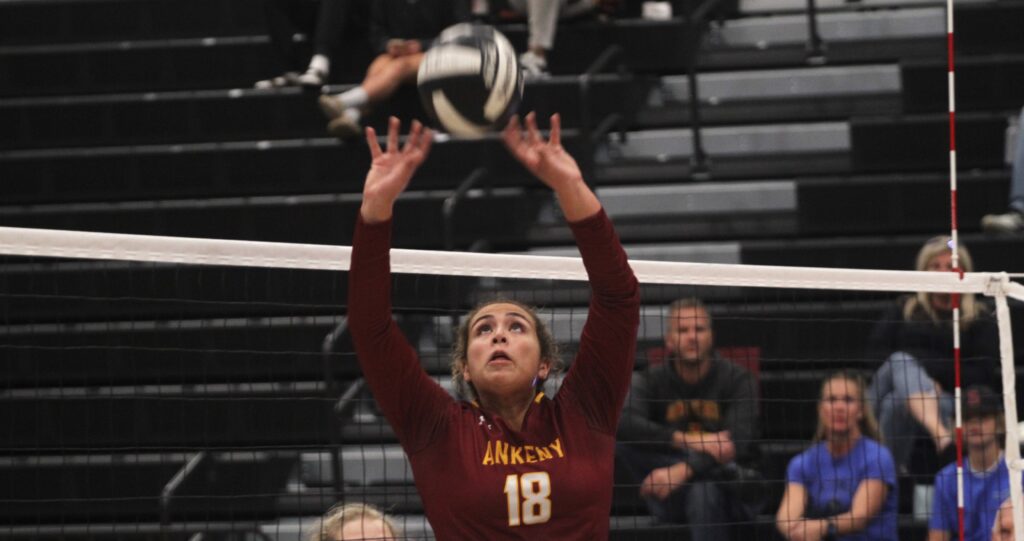 The Wolves had dropped a 21-13, 16-21, 15-11 decision to Ankeny at the Valley tournament on Sept. 3.
"Honestly yeah, I knew it could go five sets because before I got here tonight I knew they were a great team," Ankeny's Baileigh Carlsen said of the Wolves. "They've obviously shown it throughout this whole match, but I knew we could pull through with a five-set win."
Northwest held a 5-3 lead in the final set before Ankeny answered with a decisive 5-0 run. After the Hawkettes forced a sideout, Carlsen then served the next four points, including an ace that broke a 5-5 tie and put the Hawkettes ahead for good.
"I think I just need to take a deep breath and just fire it," Carlsen said of her serves.
Ankeny eventually closed out the match on a kill by Tanith Roush, her 13th of the night.
"We just took timeouts when we needed to and iced their server when we needed to," Kohut Lynch said of her team's comeback. "The girls just stuck together and they were like, 'We are not going to lose this ballgame.' They showed grit, they showed heart, and they did what they needed to do."
Ankeny outhit Northwest by a .265 to .204 margin. Aowyn Schrader led the Hawkettes with 25 kills while hitting .487, Myra Carlson chipped in 10 kills, and Parker Olson added nine.
Jesa Wallace dished out 55 assists, increasing her season total to 747. Sydney Otto racked up 30 digs, Ava Wille had seven blocks, and Carlson added two aces.
Katrina Pelds had 13 kills to lead Northwest's balanced attack. Libero Brooklyn Halbur contributed 20 digs for the Wolves.
"Brooklyn played for my JV team as a freshman, so I got to know her a little bit," said Kohut Lynch, who coached at Waukee in 2018-19 before taking a break from coaching. "I also know the AD here at Northwest (Jim Duea), who used to be at Waukee. There are some good people here. It's kind of like a mini-homecoming. When I went to regular Waukee (for a match on Aug. 30), it was like a homecoming. So this is like a double homecoming, which is nice."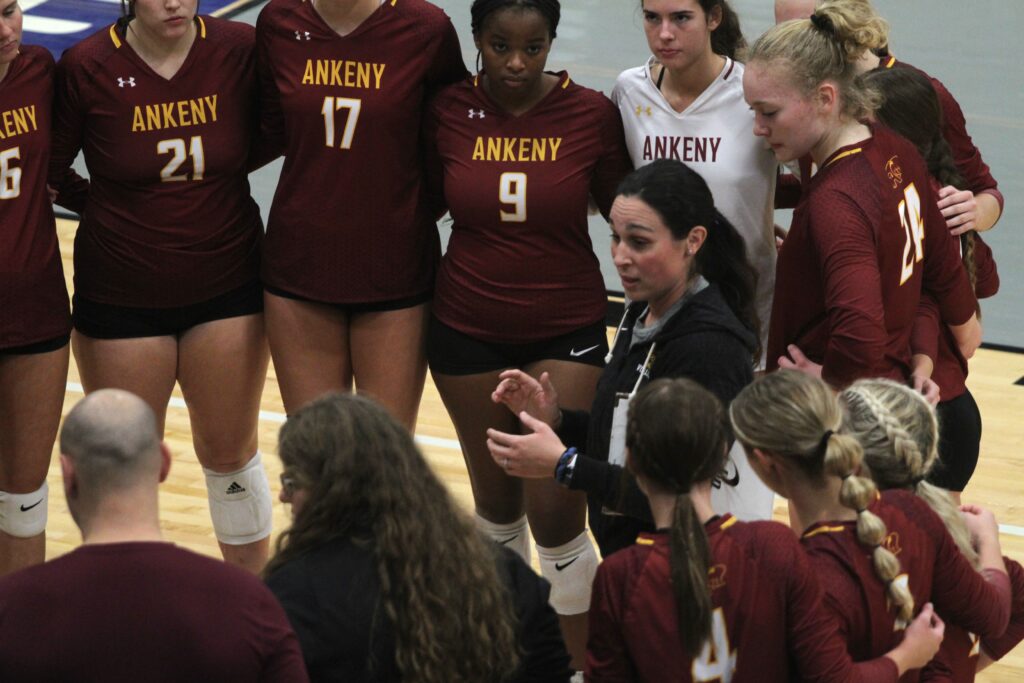 The match got off to a rough start for Ankeny. The Wolves dominated the first set.
However, the Hawkettes then won the second set, closing it out on a kill by Carlson.
The two teams traded punches in the next two sets. In Set 3, Northwest took a 23-22 lead on a kill by Kamryn Vogt.
After Megan Lanz served an ace to make it 24-22, Olson answered with a kill to keep Ankeny alive. But Pelds followed with a well-placed kill that landed just inbounds to close out the set.
"We just gave each other pep talks all the time," said Carlsen, a sophomore defensive specialist. "We just had to bring each other up. We just knew we had to go hard."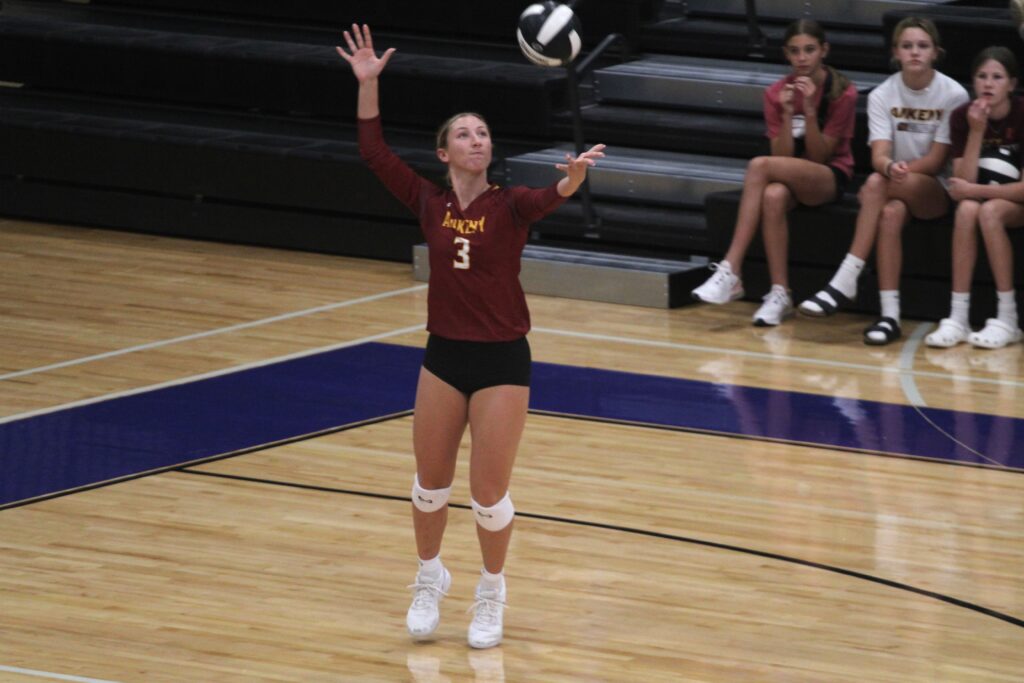 Northwest scored four straight points to build a 19-16 lead in Set 4. The Wolves later capitalized on a pair of service errors by Ankeny to make it 23-21, moving just two points away from a victory.
Kohut Lynch said her team needs to be less aggressive with its serving at times. The Hawkettes connected on just 90-of-100 attempts (90.0 percent).
"When you're nervous back there, just get the ball in," she said. "If you feel confident, go for the ace. But let's be smart about when we're missing serves. You never want to miss any serves, but know what the score is when you step back behind that line."
Ankeny got kills from Roush and Olson, though, to tie the score at 23-23. The Hawkettes then followed with two consecutive blocks to force the decisive fifth set.
Ankeny will host No. 6 Ankeny Centennial (4-1, 17-5) in another huge CIML Conference showdown on Tuesday.