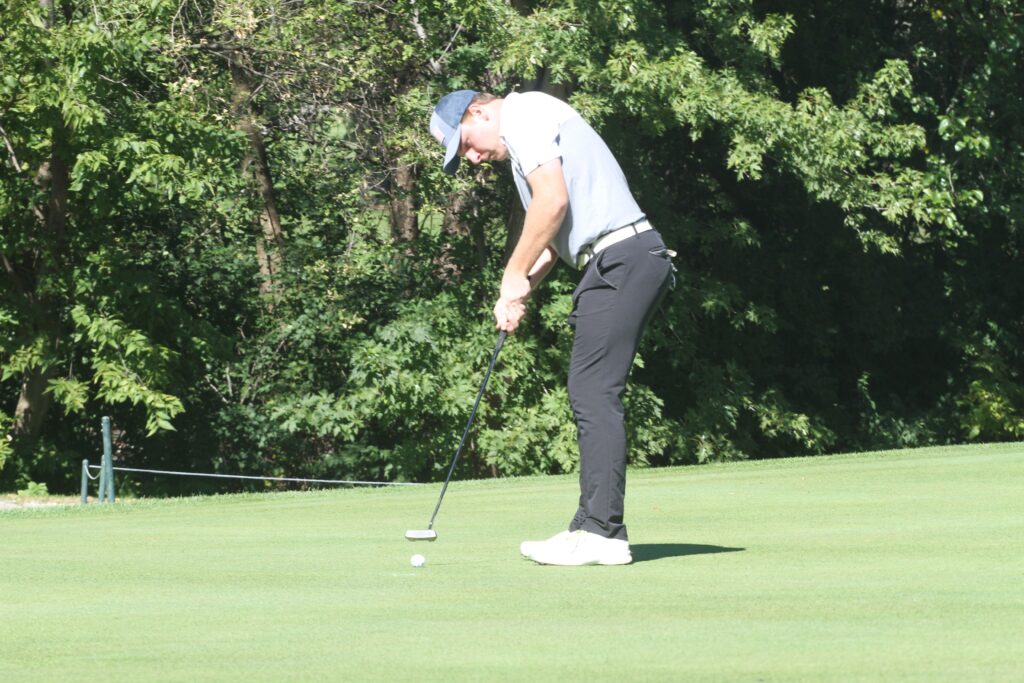 For the first time in nearly a month, the Ankeny Centennial boys' golf team put its best lineup back together for the CIML Conference meet on Wednesday at Willow Creek.
The Jaguars posted a total of 304, their best score in the last five meets, but it was only good enough for a seventh-place finish in the competitive nine-team field. Six schools finished with scores below 300.
"It was nice to have my 'regular' lineup back for the first time since Aug. 31," said Centennial coach Rick Fee. "We had a couple rough stretches during the day, but the boys fought to post a respectable score. I told my assistant we needed to be sub-300 if we wanted to make some noise, and I hit the nail on the head with that one."
Still, the Jaguars defeated crosstown rival Ankeny for the fourth time in seven meetings this season. The Hawks struggled to a 319 total and placed eighth, posting five scores in the 80s.
"I was not very happy with how we played today, having shot 23 strokes worse than a week ago," said Ankeny coach Mike Weddingfeld. "I don't know if we were overconfident in our expectations today since we knew the course or what was going on, but we definitely did not play well. We know that we can shoot low scores, and I think that our lack of mental toughness is part of the problem right now. Once we have a bad hole or two, we think our round is ruined and start focusing on the negatives. We talked a lot after the round about staying positive–all the guys are capable of making birdies so we need to focus on the good and not always where we are struggling or a bad break."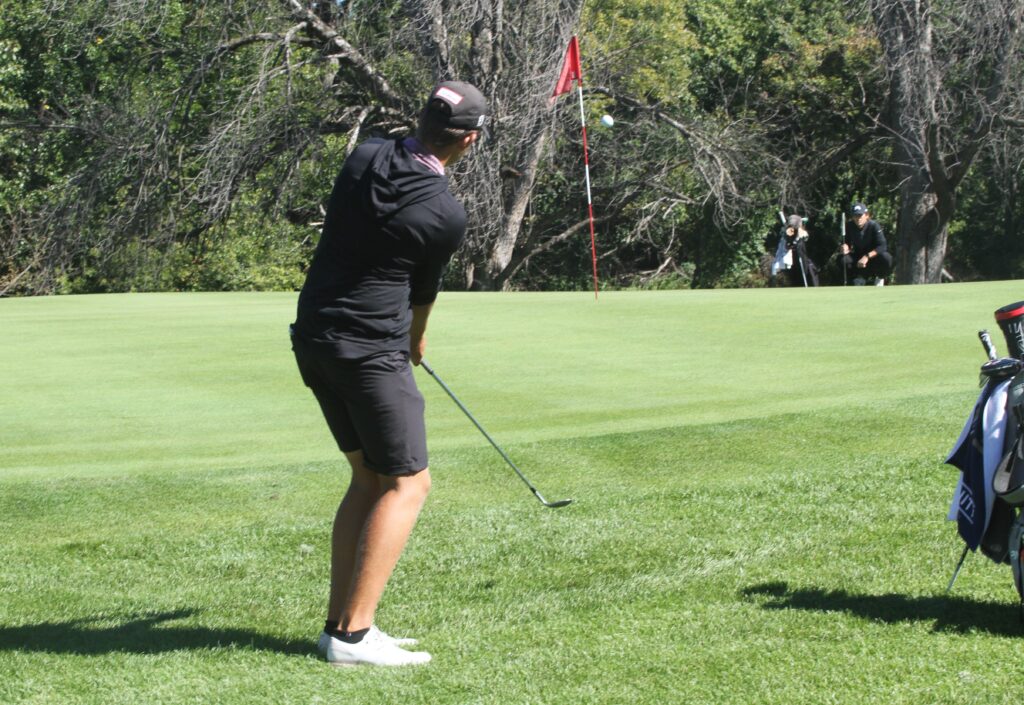 The lone bright spot for Ankeny was the play of junior Drew Hensen, who carded an even-par 71 to place fourth as an individual.
"I had a lot of good looks at birdie," said Hensen. "I only got a few to fall, but just keeping the ball in the fairway today was huge."
Hensen shot a 2-under 34 on the back nine.
"I am really proud of how Drew played today," Weddingfeld said. "You can tell by the scores today that our competition is some of the best in the state, and he can play with the best of them."
Third-ranked Johnston shot a 281 to capture the team title. No. 2 Waukee Northwest was the runner-up with a 290, followed closely by Valley, Dowling Catholic, Waukee and Southeast Polk.
Andrew Johannsen of Johnston fired a 4-under-par 67 to earn medalist honors. Northwest's Remick Elfers was second with a 69.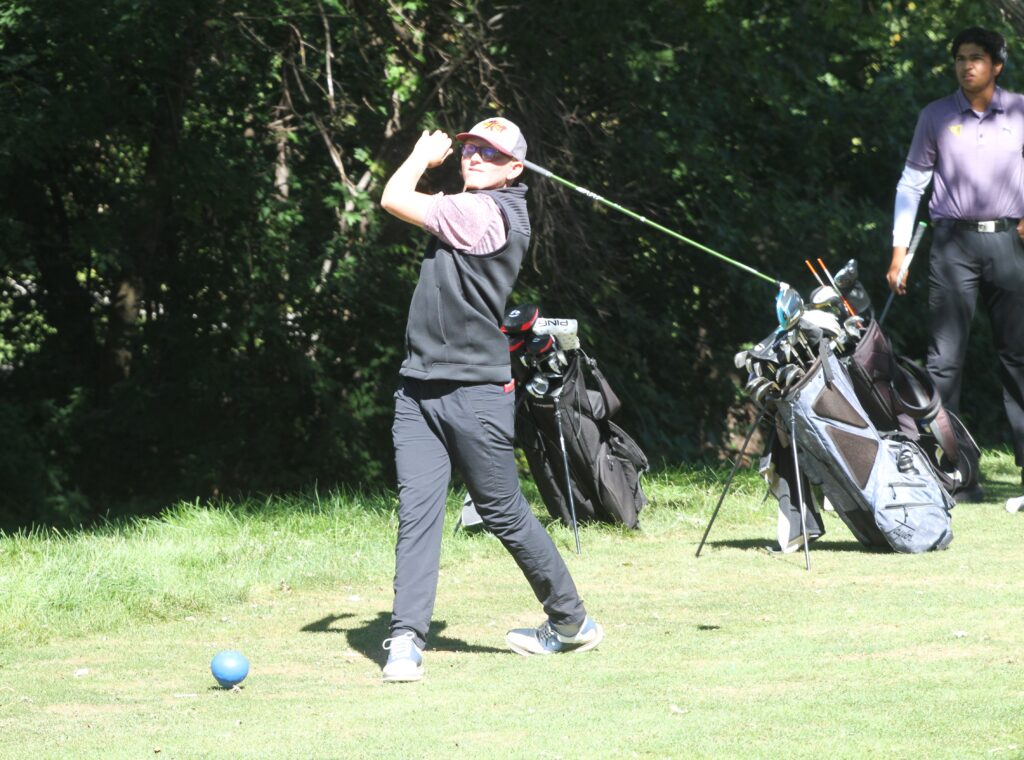 Cal Johnson carded a 75 to lead Centennial, which posted five scores in the 70s. Danny Paulson and Ben Meier each had a 76, Lawson Hachmeister fired a 77, Zach Hoffman had a 79, and Gable Strother added an 82.
Meier had missed the last five meets due to an injury. Hachmeister also returned to the Jaguars' lineup after playing in just one meet this month.
Centennial will play in a Class 4A district meet on Monday at Blank Golf Course in Des Moines.
"We know we have a tough task in our district, and today's play really made that apparent to the boys," Fee said. "We will have to be at our best Monday in order to move forward to state! Cal played great–he grinded and helped propel the team today! But it was hard times when the top 24 players all post a round 75 or lower!"
Ankeny's Jacob Adams and Duncan Beelner each carded an 82 on Wednesday. Evan Hodapp and Avin Legg each had an 84, and Caden Weddingfeld finished with an 85.
"Drew does a great job of (staying positive), and that just comes from experience and playing in tons of competitive events," Weddingfeld said. "I never really know how Drew is playing by his body language, but with the other guys we can seem to tell how the round is going just watching them walk down the fairway. That will come with experience, and we will really focus on this in the next few days at practice."
The Hawks are headed to Bent Tree Golf Club in Council Bluffs for a district meet on Tuesday.