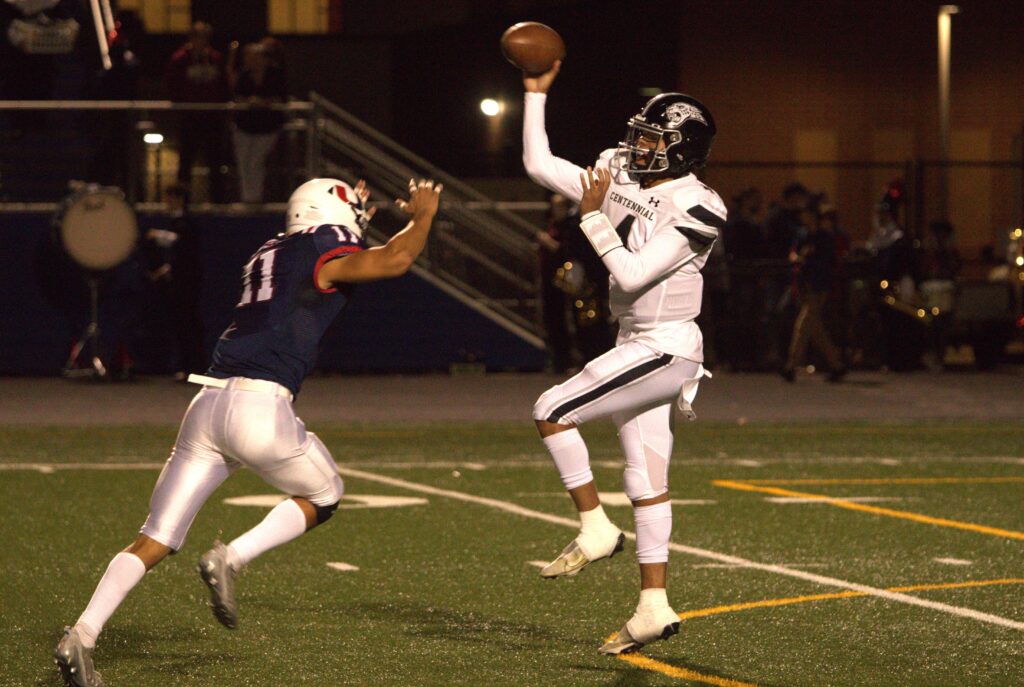 The identity of the Ankeny Centennial football program appears to be changing.
Traditionally known as a power running team, the Jaguars have now evolved into a dangerous passing squad–somewhat out of necessity.
With standout junior running back Elijah Porter sidelined by an injury, quarterback Trenton Smith took over on Friday and passed for four touchdowns as the eighth-ranked Jaguars posted a 28-23 victory at No. 6 Urbandale in a showdown between top-10 opponents.
"Trenton's been very consistent," said Centennial co-head coach Ryan Pezzetti. "Without Eli, we knew we'd have to do some different things and create balance in our offense. We struggled at times running the ball, and then at other times we did a nice job. But Trenton did an outstanding job throwing the ball. He was 14-of-19 and passed for 246 yards, and anytime you do that as a high school kid, that's outstanding."
Max Snyder caught seven passes for 145 yards and two touchdowns as the Jaguars improved to 4-2 on the season. Urbandale's record dropped to 4-2.
"It was a big win," Snyder said. "I think with Elijah out, everyone knew we had to step up not only the other running backs but the receivers as well. Going into the game we knew we had to not only succeed in the run but also the pass to win that game, and I think we succeeded on both of those."
After completing just 7-of-16 passes for 35 yards in a 17-10 loss to Ankeny on Sept. 2, Smith has been on fire over the last four games–all of them Centennial victories. He's completed 59-of-78 passes for 785 yards and seven touchdowns during the team's winning streak.
"Trenton has shown the most improvement on the team since week one," said Centennial receiver Nick Severson, who had a touchdown catch in the third quarter. "He comes in every day just looking to better himself and the team."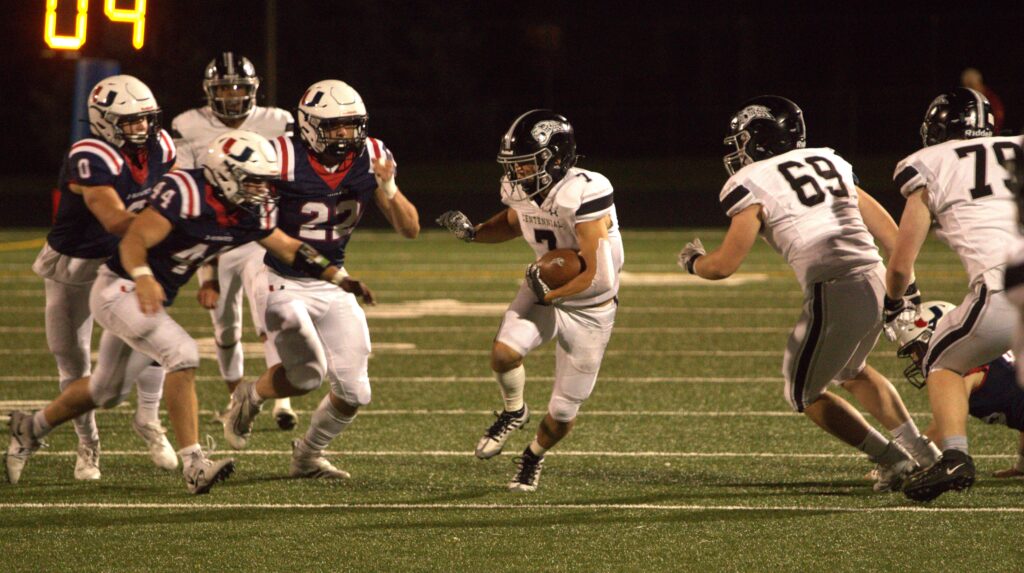 Urbandale kicked a field goal early in the first quarter to take a 3-0 lead, but the Jaguars answered with a 35-yard scoring pass from Smith to Chase Schutty with 1 minute 44 seconds left in the period. Schutty had three catches for 59 yards.
"We hit some play-action passes," Pezzetti said. "Urbandale was really selling out to stop the run, and we had a suspicion that they would. We thought we'd have some opportunities with play-action, and our kids executed. We protected the quarterback, and he did a nice job."
The Jaguars extended their lead to 14-3 when Smith connected with Snyder for a 30-yard touchdown with 8:32 left in the first half.
"The confidence between Trenton and all the receivers is high," Snyder said. "We've created a great relationship throughout last season and this past offseason between each other, and I think the confidence on both ends continued to grow (on Friday)."
The J-Hawks closed the gap to 14-10 at halftime, but Centennial then struck again early in the second half. Smith rolled to his left and lofted a beautiful pass that Severson caught in stride for a 29-yard scoring reception.
"The ball he threw me couldn't have been any better," Severson said. "Trenton's connection with me, Chase and Max is through the roof right now, and he has confidence in us on a 50/50 ball and we have the confidence he will find the open one."
Urbandale scored with 19 seconds left in the third quarter to pull within 21-16. The J-Hawks failed on the two-point conversion.
"They completed some key third-down passes," Pezzetti said of the J-Hawks. "(Iowa State recruit) Kai Black played, and I know he's a little hampered with a hamstring injury, but he's still a great target. And they've got other kids to go with him. They've got a nice team."
The Jaguars responded again, though, as Smith connected with Snyder on a 77-yard touchdown early in the fourth quarter. It proved to be crucial as Urbandale scored again with 9:19 remaining but was unable to find the end zone the rest of the way.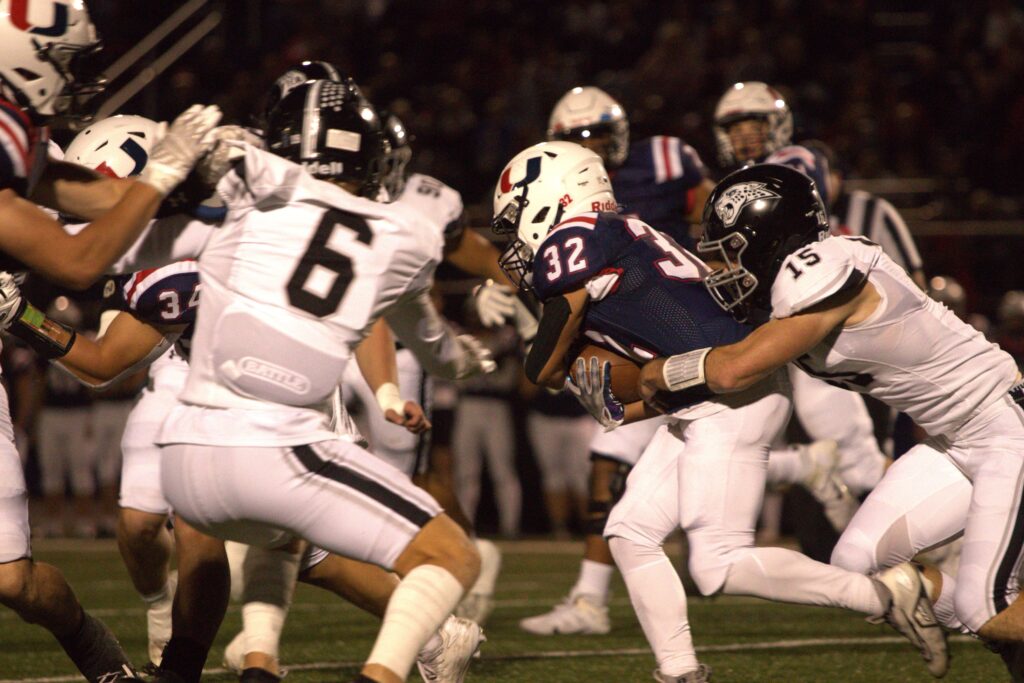 "This was a huge win for our kids," Pezzetti said. "We're so happy for them and how they played. We beat a real good Urbandale team. They have some outstanding individuals. To come out on top tonight is a testament to how our kids are playing right now."
Without Porter, who rushed for 571 yards and nine touchdowns in the first five games, Easton Miller played both ways for the Jaguars. He ran for 59 yards on 17 carries.
"Eli definitely couldn't play tonight," Pezzetti said of Porter, who injured an ankle during last week's win over Sioux City East. "He was doing better later in the week, but he still couldn't play. He can possibly go next Friday if things continue to progress. We're hoping to get him back sooner than later. He's a special talent."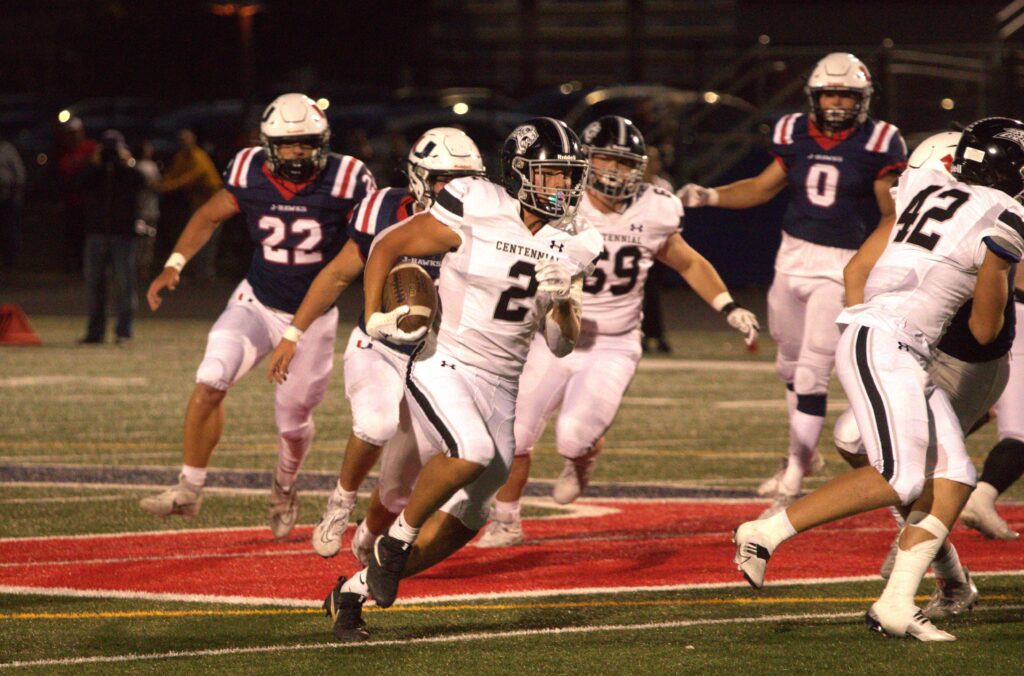 Miller had seven tackles on defense, including a pair of sacks. He also averaged 42.2 yards on five punts.
"We do have some depth (in the backfield), but then we have to pull those kids from defense to play those positions," Pezzetti said. "That's always tough on those kids, but staying healthy with the schedule that we play is a challenge. We haven't had one off week. Five out of our six opponents have been ranked when we played them.
"We're just trying to stay healthy, but it doesn't get any easier in the next couple of weeks," he added.
Colton Kitt had 7.5 tackles to lead the Jaguars, who will host Waukee Northwest (3-3) on Friday. The Wolves are coming off a 17-7 win over Sioux City East.