A huge defensive stand and a late scoring drive allowed the Ankeny football team to post a 34-24 victory over visiting Valley on Friday.
The third-ranked Hawks allowed just three points in the second half while raising their record to 5-1 on the season. The Tigers dropped to 3-3.
"That was a big one," said Ankeny defensive back Ben Sandvig. "We just realized we've got to play some football. We've got to go hit. Our d(efensive) line came with some energy, and (assistant coach Aaron) Baugher gave a great speech at halftime. He got us fired up. It was a good half. We played well."
Ankeny held a 27-21 lead after three quarters, but Valley threatened to score a go-ahead touchdown when the Tigers drove into the red zone midway through the final period. However, on third-and-2 from the Hawks' 6-yard line, Darius Mason was stuffed for a 7-yard loss, forcing Valley to settle for a 30-yard field goal by Dawson Stine with 6 minutes 59 seconds left.
Ankeny then answered with a clutch nine-play, 80-yard drive to seal the win. Jazan Williams had seven carries for 39 yards on the drive, including a 4-yard dash up the middle for the touchdown with 1:47 remaining.
"It was definitely a huge win," said Ankeny quarterback JJ Kohl, who passed for two touchdowns and ran for another. "Valley's a great team. This was a good one for us."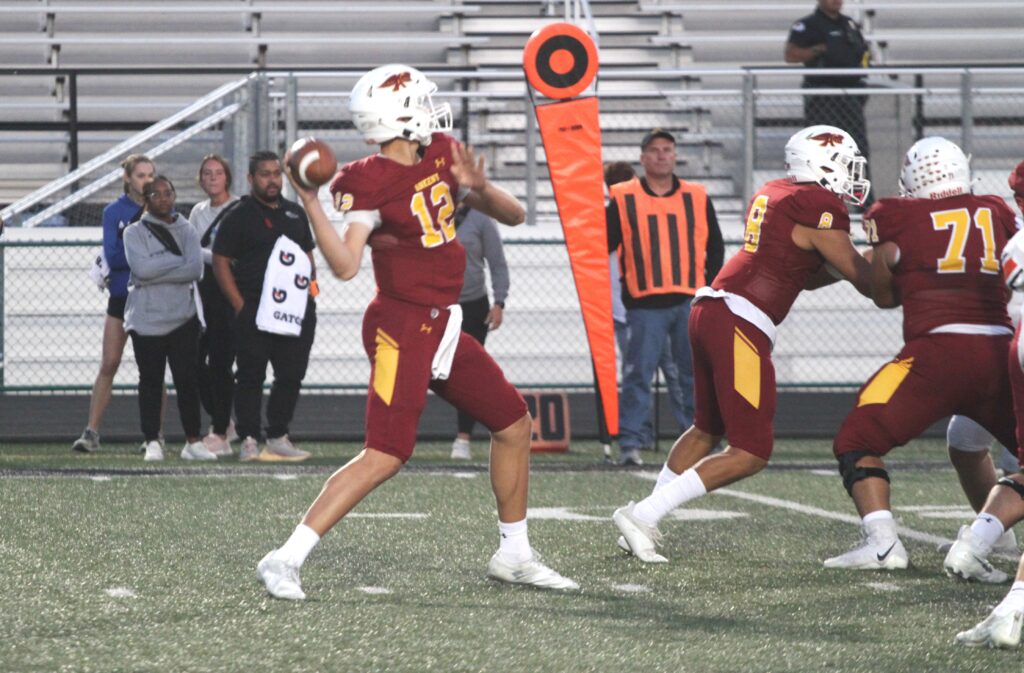 Kohl set up the clinching touchdown with a 34-yard pass to Jamison Patton. Patton had seven catches for 144 yards, including four receptions of 29 yards or more.
"(Those long passes) were there, so JJ just kept hitting me and we kept making plays," said Patton. "I loved it."
The Hawks outgained Valley by a 450-263 margin. The two teams combined for 426 yards of total offense in the first half, which ended in a 21-21 tie.
"Both offenses were really flowing in the first half," said Kohl, who completed 14-of-20 passes for 249 yards. "It was good to see our defense finally get going. It was just a good team win overall."
Kohl connected on 5-of-6 passes for 58 yards on the game's opening drive. He scrambled 9 yards for a touchdown to give Ankeny a 7-0 lead with 6:58 left in the first quarter.
Valley responded, though, with a 10-play, 75-yard drive to tie the score. Quarterback Michael Provenza matched Kohl with a 9-yard scramble to the end zone.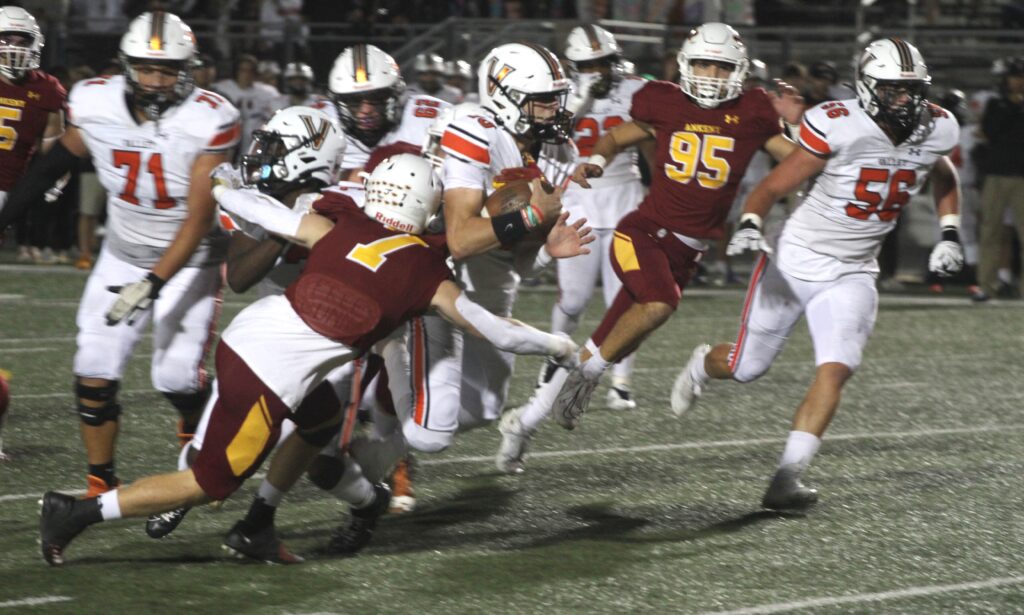 "He can move," Sandvig said of Provenza, who is planning to play lacrosse in college. "He's a natural."
A 40-yard punt return by Chase Hutchinson set up the Tigers' next touchdown. After Ayden Price gained 23 yards on a reverse, Mason plunged across the goal line from 2 yards out to give Valley a 14-7 lead with 11 minutes left in the half.
Ankeny needed just eight plays to go 84 yards for a tying score. Kohl threw a 2-yard pass to Patton on fourth-and-1 to make it 14-14 with 7:43 remaining until the break.
Kohl fired passes of 29 and 30 yards to Patton on the drive.
"We've always had those plays in (our offense)," Kohl said. "We haven't really connected as much as we'd like. Honestly, huge kudos to Jamo tonight. He just made a bunch of plays for me. Some of those I was just throwing it up to him. Great athletes make great plays, and Jamo definitely did tonight."
The Tigers then drove 65 yards in 10 plays to regain a 21-14 lead. Provenza, who ran for 92 yards and passed for 114 more, scored again on a 10-yard run.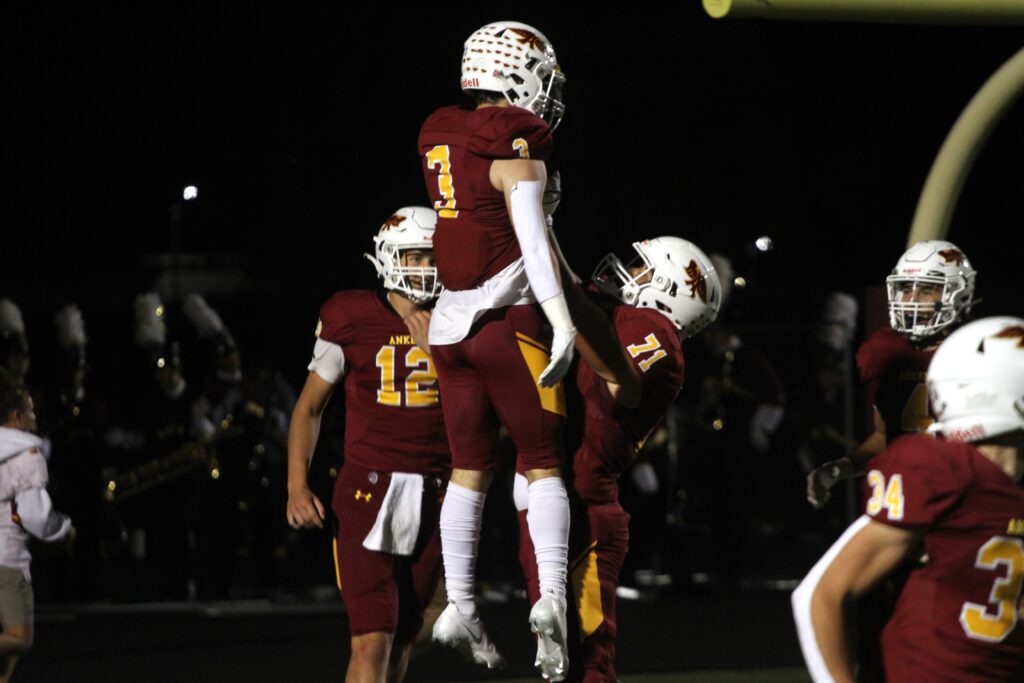 With only 1:40 left in the half, Ankeny didn't have much time to respond. But the Hawks answered right away.
Patton was slow to get up after gaining 9 yards on a rushing attempt. But the injury wasn't serious.
"I just had a charley horse," he said. "I took a helmet to the quad. It just got a little tight on me."
On the next play, Kohl lofted a pass along the right sideline to Maddox Ward, who caught the ball in stride, sidestepped a defender and raced 71 yards to the end zone.
"I saw they were in Cover 2 and I just tried to get outside, because the safety was playing more in the middle," Ward said. "JJ hit with me with (the pass), and I just had to run my ass off. I juked the one guy, and no one else was there. I just couldn't get caught (from behind).
"It was big. We wanted to at least be tied going into halftime, and then our defense got a big stop," he added.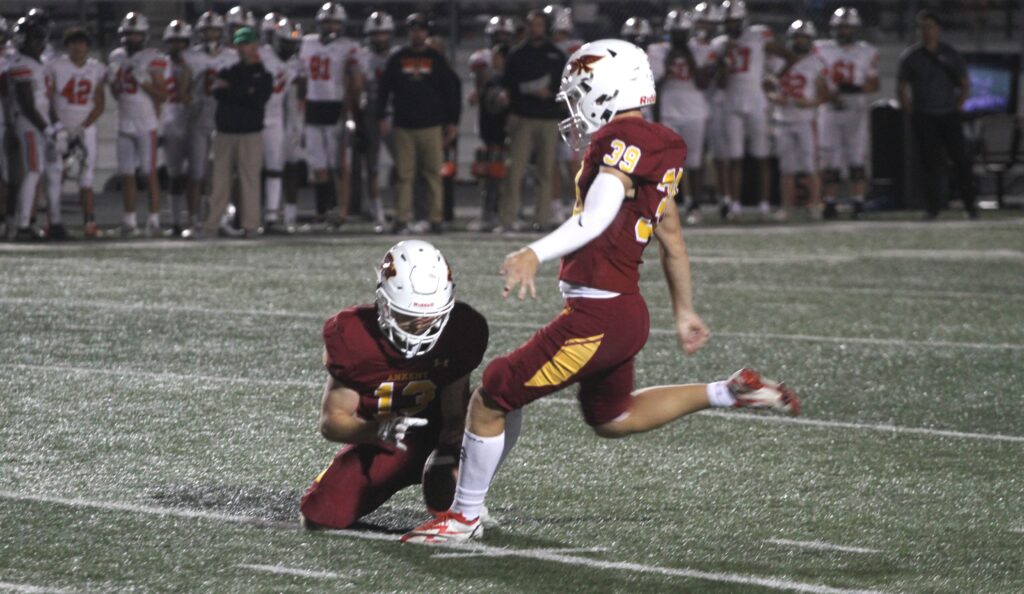 After the Hawks forced a three-and-out to begin the second half, Kohl dashed 30 yards to the Valley 27 on a designed run two plays later. The run by Kohl, who gained 70 yards on seven carries, set up a 30-yard field goal by Keeghan Warner shortly thereafter.
Another Valley punt gave Ankeny the ball near midfield. Four straight carries by Williams, who finished with 117 yards on 20 attempts, led to a 41-yard field goal by Warner.
That set the stage for the Hawks' big defensive stand on Valley's ensuing drive.
"It feels really good," Patton said. "We kept the momentum going after the win over Roosevelt last week."
The Hawks will travel to Des Moines North on Friday to play the Polar Bears (4-2), who have already won four games in a season for the first time since 2008.