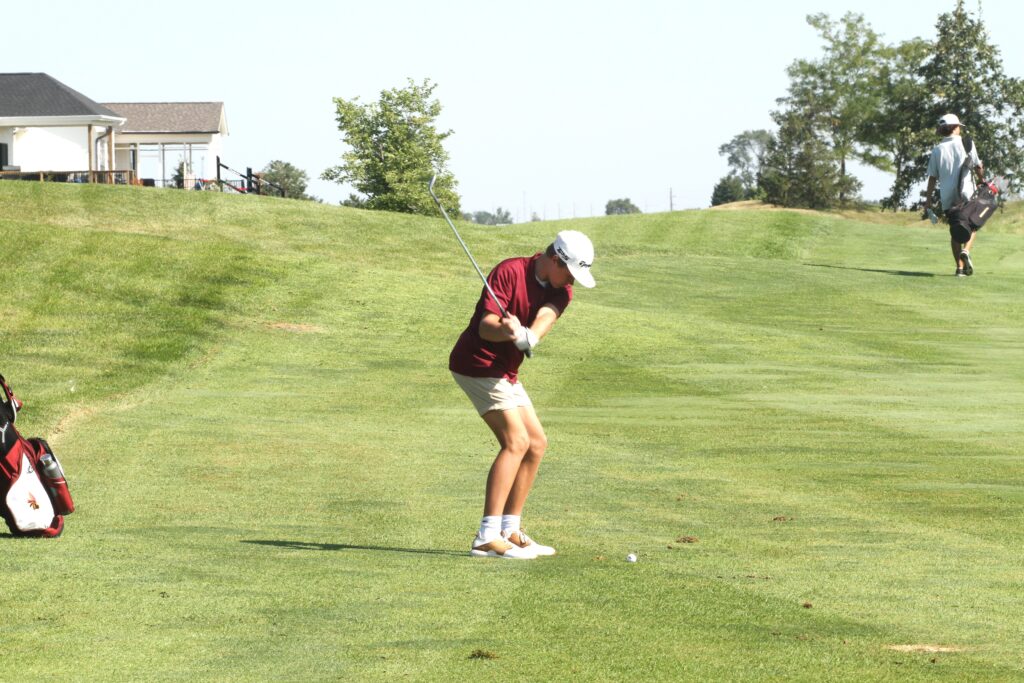 Ankeny sophomore Evan Hodapp has qualified for the boys' Class 4A state golf meet this weekend at Elmcrest Country Club in Cedar Rapids.
Unfortunately, the rest of the Hawks came up just short of earning a trip as well.
Ankeny placed fourth among 13 teams in a district meet on Tuesday at Bent Tree Golf Club in Council Bluffs. The 12th-ranked Hawks shot a 303, finishing just one stroke behind third-place Sioux City Heelan.
"I was very proud of how the guys played today," said Ankeny coach Mike Weddingfeld. "My assistant Curt (Ingham) and I were talking after about how that if you gave us the option to take 303 for our team score before the day even started we would have. I know all of the guys are thinking about a stroke here or a putt there that would have made the difference today, but that is golf."
Ninth-ranked Indianola posted a 288 total to easily win the team title. No. 2 Waukee Northwest placed second with a 297 and also advanced to state along with Sioux City Heelan.
Preston Bily of Indianola carded a 7-under-par 65 to earn medalist honors. Teammate Jackson Overton was the runner-up–he also shot a 65.
Hodapp placed sixth as an individual with a 1-over 73.
"I am really bummed out about the team not making it to state, but I am very excited to get the opportunity to go," said Hodapp. "I really tried to stay focused on my game and tried not to focus as much on how important the day was. If I had to choose one part of my game that stood out I guess I'd have to say my approach shots were dialed in today. The greens were rolling fast, the pins were in tough locations and the fairways were tight, but playing safe and not taking unnecessary risks kept me in the hunt."
Hodapp had shot an 84 in the CIML Conference meet last week at Willow Creek.
"Evan really stepped up today and played beyond his (age)," Weddingfeld said. "I know the guys were nervous, and it showed on the first couple holes. Evan four-putted the second hole to make a double (bogey), but he hung in there and played the rest of the 17 holes in 1-under-par and that takes guts. We have been talking about mental toughness, and all the guys showed it today. Although it was heartbreaking to not make it as a team, I am very proud of Evan and look forward to watching him compete (on Friday and Saturday) at state. I know the team will be cheering for him."
Drew Hensen and Duncan Beelner each carded a 76 for the Hawks. Jacob Adams and Caden Weddingfeld each had a 78, and Avin Legg finished with a 90.
"For the team not to go to state and lose by just one stroke certainly didn't sit well, especially for as hard as we've worked to get so close and not be able to reap the rewards," Hodapp said.
Legg was the only senior in Ankeny's lineup on Tuesday.
"We are a very young team that really made some huge strides as far as golf maturity," Weddingfeld said. "Everyone played their hearts out, and I just really feel bad as both a coach and a dad for the boys to be that close to achieving our goal of state. It was definitely a long drive home today for everyone."