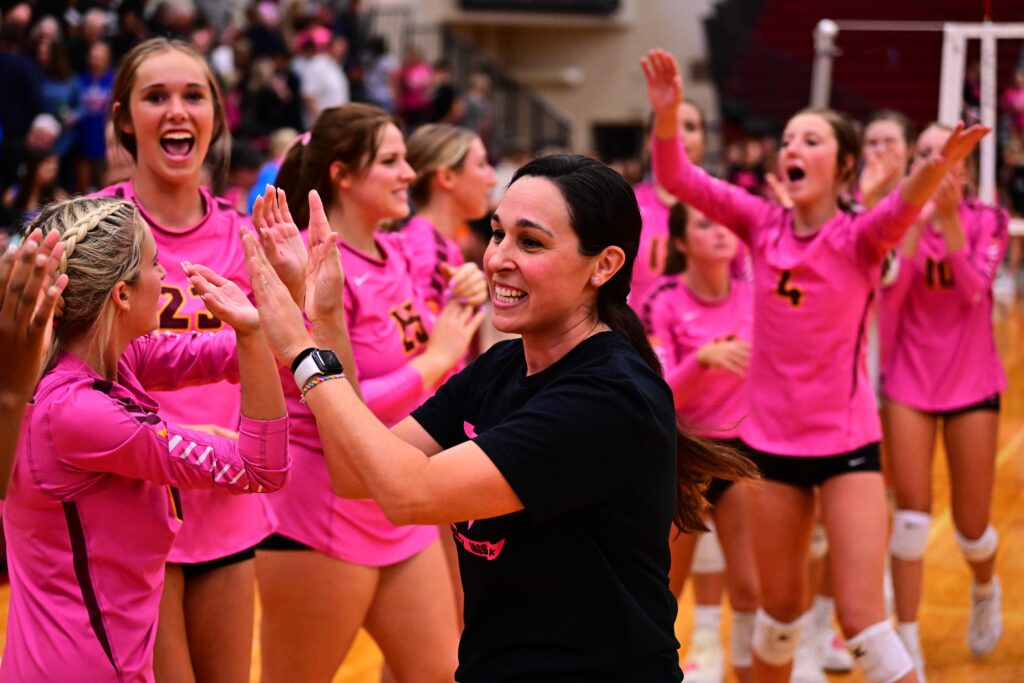 When its crosstown rival started to take control of Tuesday's match, the Ankeny volleyball team turned to Jesa Wallace for a pep talk.
The senior setter sparked the second-ranked Hawkettes to a four-set victory over No. 5 Ankeny Centennial.
"Jesa gave us a little pep talk and told us that we need to focus in and play more together instead of separate, and it really turned things around for us the rest of the game," said Ankeny libero Sydney Otto.
Ankeny won the "Pink Out" match on its home court by scores of 25-19, 21-25, 25-17, 25-22. The Hawkettes defeated Centennial for the second time this season, having posted a 21-13, 21-17 win at the Dallas Center-Grimes Invitational on Aug. 23.
"I think film helped a little bit, just picking up more tendencies," said Ankeny senior Parker Olson, who pounded the match-ending kill. "I think we learned a lot from the last match."
The Jaguars won the second set to even the match and then jumped out to a 5-1 lead in Set 3. That's when Wallace gathered her teammates and delivered her message.
Ankeny responded with a 9-1 run and outscored Centennial by a 49-34 margin the rest of the way.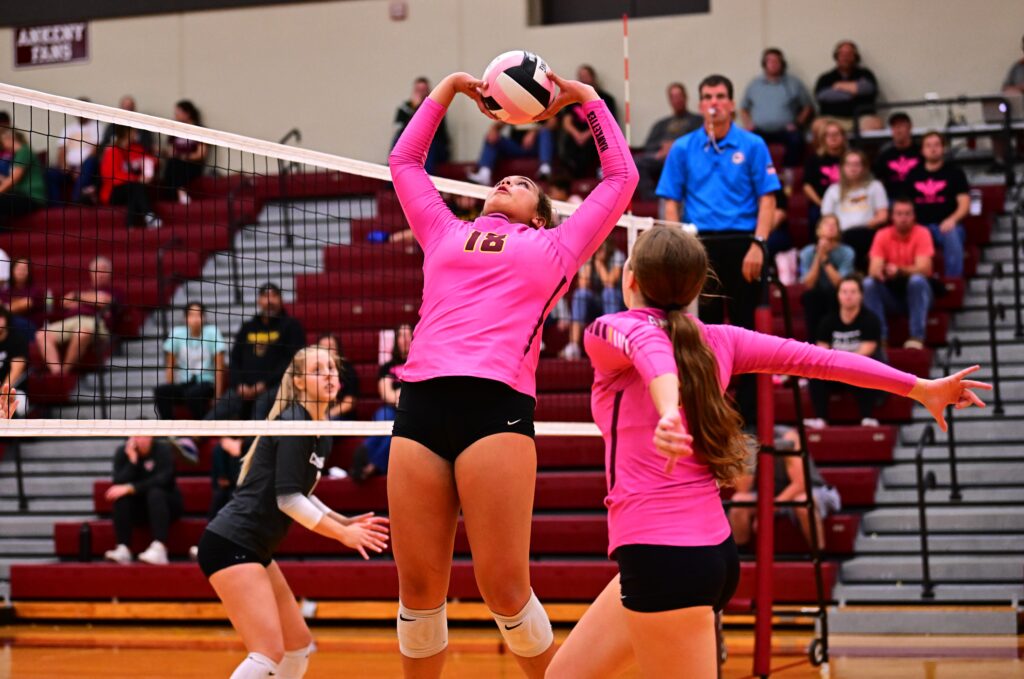 "I always bring them in a circle when we're getting unfocused and our techniques aren't doing very well," said Wallace, who dished out 42 assists in the win. "I just told them, 'We need to focus and play our game.' We play better together as a team always, and I feel like when we play as individuals we get into a tense space and get all frazzled and don't have a good outcome. I feel like if I give them a pep talk, everything comes together and we start having our momentum back."
The win improved Ankeny to 6-0 in the CIML Conference and 26-4 overall. It was the eighth straight victory for the Hawkettes, who can clinch at least a tie for the league title with another triumph at No. 11 Urbandale on Thursday.
"We've just focused on taking it game by game and not really worrying about stuff like (the conference title)," Otto said.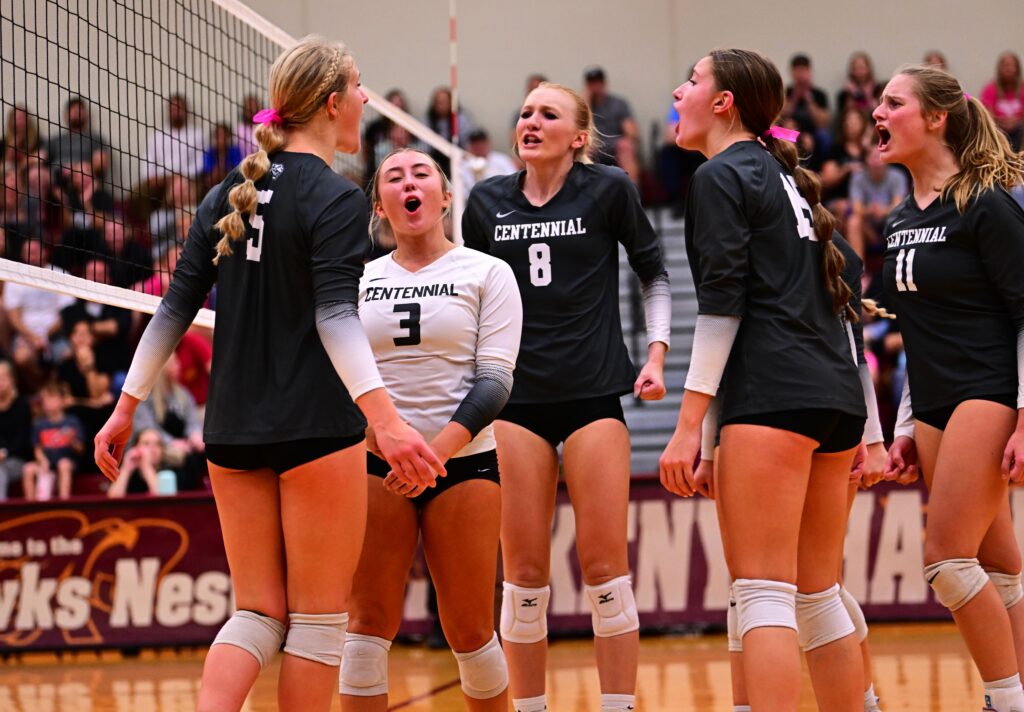 Centennial dropped to 4-2 in the league and 21-8 overall. The Jaguars swept last year's match at then-No. 3 Ankeny, but could not pull off a repeat of that upset.
"We stayed close with them the whole entire match," said Centennial sophomore Jaeden Pratt, who led the Jaguars with 10 kills and two blocks. "We set up very well with our blocks, and they just got around them–props to their attackers. But we passed great all around, and we served great, too. You can't really complain."
There were seven ties and five lead changes in the opening set before Ankeny eventually pulled away. Tanith Roush had four kills for the Hawkettes, including one that snapped a 4-0 run by Centennial and gave her team a 16-14 advantage.
Myra Carlson later smashed a kill to close out the set.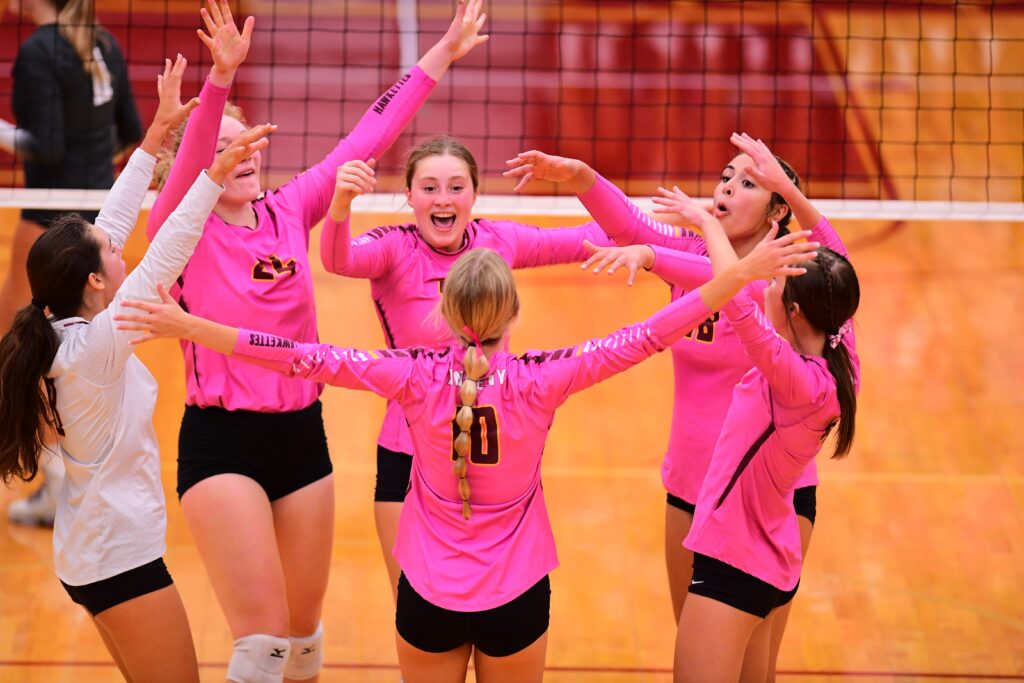 Ankeny then built a 13-8 margin in Set 2 before the Jaguars rallied. They responded with a 10-1 run that included three kills from Jada Schmidt.
"We definitely picked it up," Pratt said of her team's play. "We just stayed collective as a group. Once bad things happen, we start to piece it back together. But we definitely got some momentum going."
Centennial got a huge lift from senior setter Reagan Angus just moments later. She blocked a spike attempt by powerful Ankeny hitter Aowyn Schrader to give the Jaguars a 21-17 lead.
Pratt then closed out the set with a kill shortly thereafter.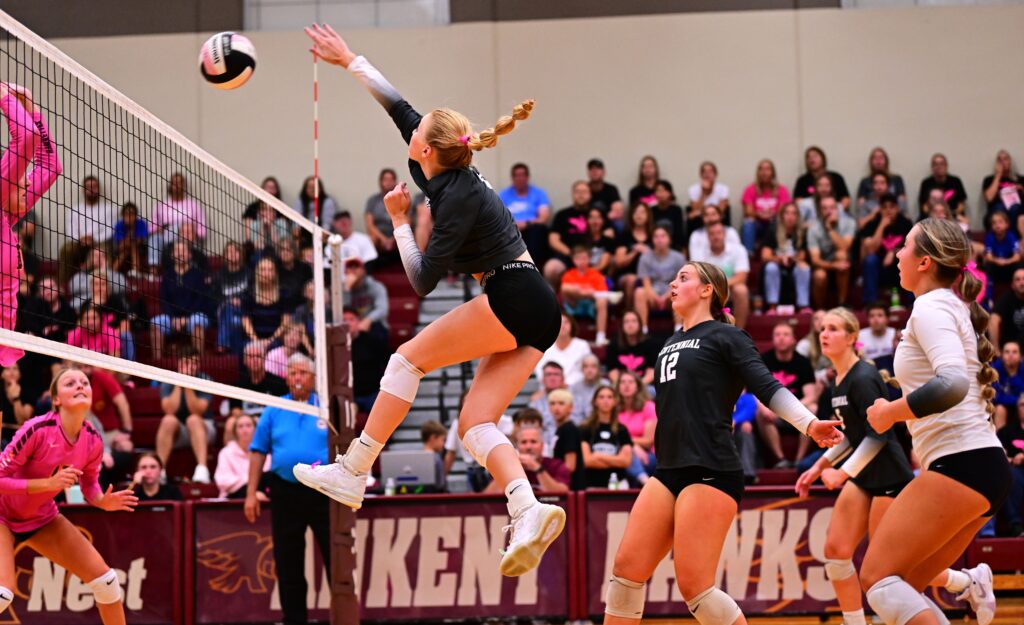 "We have an ongoing (joke) with me being 6-foot-3–in quotations of course–so when anything happens like that (block), it really gets the team going," said Angus. "You've got to turn the fear into momentum and the fear into adrenaline."
In the third set, Roush ignited Ankeny's rally with back-to-back kills. She had five kills in the set, and Schrader added four more–including one that closed out the set.
"We just focused more on our side," Olson said. "We kind of realized that their middles got some fire under them, so we had to shut them down."
There were seven ties in Set 4 before the Hawkettes took the lead for good, 11-10, on a kill by Roush. Ankeny eventually built a 23-17 advantage, forcing Centennial coach Jessica Rinehart to call a timeout.
The Jaguars got a sideout, then scored four more points behind the serving of Kendra Kasperbauer–who had a pair of aces–to pull within 23-22.
"I'm going to be completely honest," said Kasperbauer. "I just kind of served it over. I was like, 'Just get it in.' I was obviously trying to hit the zone that Jess was giving me. But I was just trying to get it in and keep (the rally) going."
The Hawkettes finally got a kill from Roush to end Centennial's run. Olson then followed with another kill to close out the match.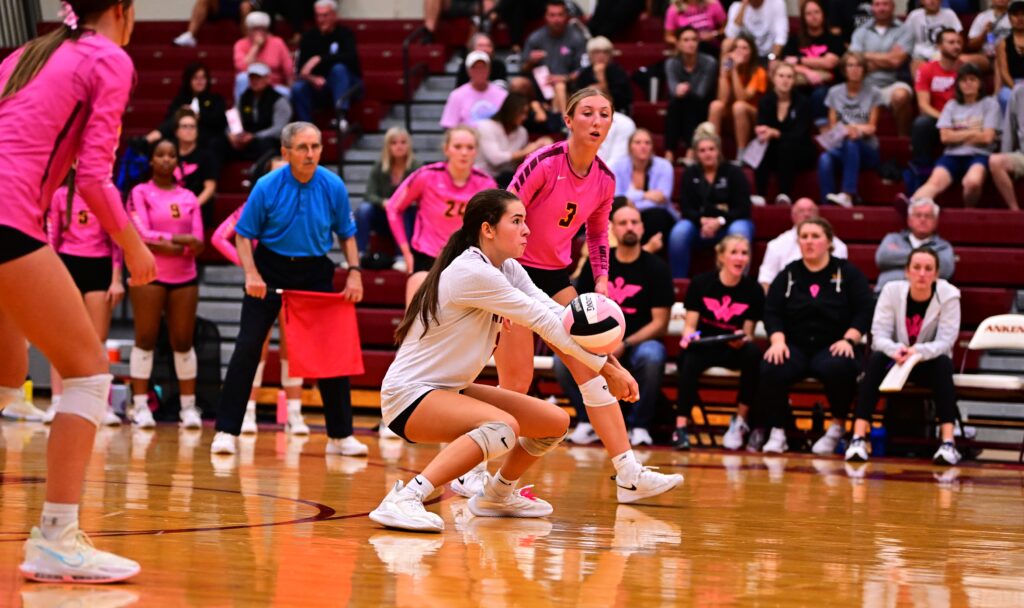 "We learned that we have to keep our energy up throughout the whole game and not let anything that goes wrong defeat us," Otto said. "Obviously, they're a very high-energy team, and we just had to match that or stay higher than them on that aspect of the game."
Roush had four more kills in the final set. Ava Wille added a kill and three blocks.
"They have a lot of talented players on their team," Kasperbauer said of the Hawkettes.
Ankeny outhit the Jaguars by a .267 to .144 margin. Roush led the way with 16 kills, Schrader had 12, and Carlson and Olson each added 10.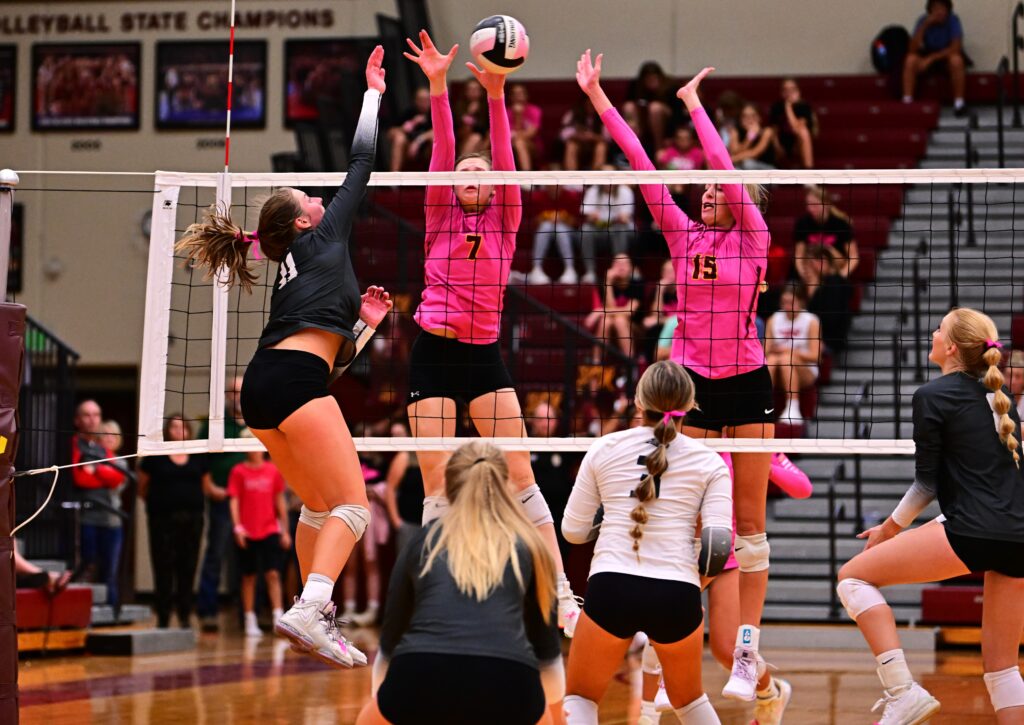 Schrader and Wille each had six blocks. Otto racked up 18 digs, while Baileigh Carlson, Carlson and Olson each had a pair of aces.
Centennial's Delaney Miller had nine kills and two aces in a losing effort. Anna Sash chipped in seven kills, while Angus racked up 29 assists and nine digs.
Taylor Bechen contributed 21 digs for the Jaguars, who will host Southeast Polk on Thursday.
"We'll be back," Angus said. "We could see (Ankeny) again at state."