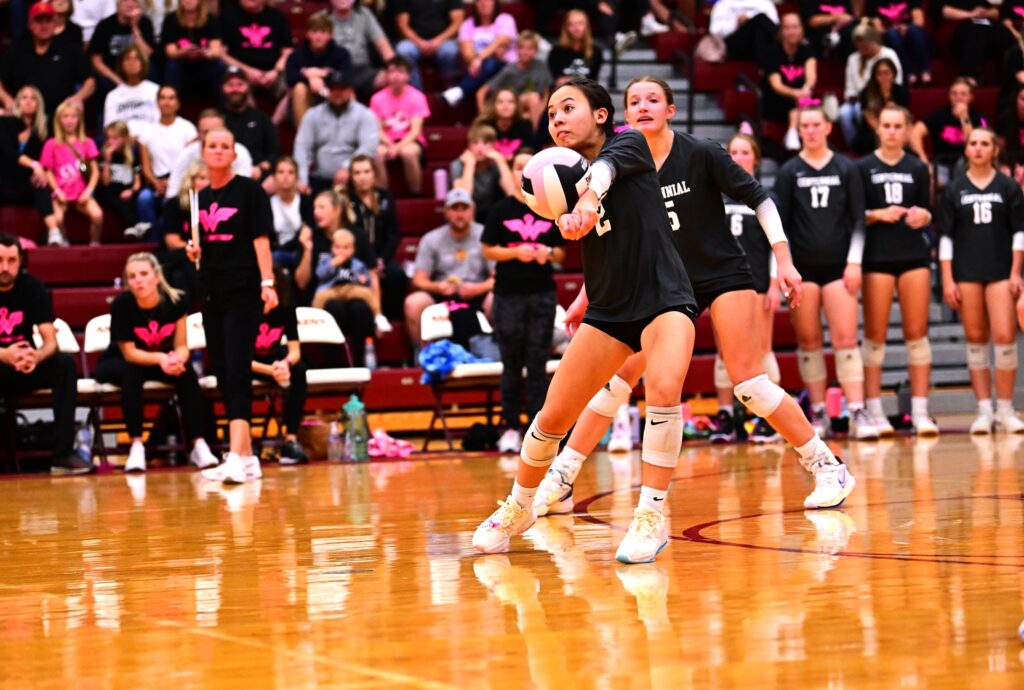 The Ankeny Centennial volleyball team is hoping to peak at the end of the season.
The fifth-ranked Jaguars took another step toward reaching that goal with a strong performance on Saturday in the Westside Invitational at Cedar Rapids Jefferson.
Centennial won all three of its matches during pool play, capped off by a 21-13, 21-6 victory over Mount Vernon, the No. 3 team in Class 3A. The Mustangs lost for only the fourth time in 31 matches this season.
"I was super happy with how our team played," said Centennial coach Jessica Rinehart. "We reached a whole new level against Mount Vernon. There were several highly-ranked teams in the tournament, and we were just a couple points away from (reaching) the final. This team continues to be on a steady climb and if we can keep pushing in practice, I really think they can do great things in the postseason. Every single person both on the bench and in the game contributed to a fantastic day."
Centennial opened the tournament with a 21-18, 21-4 win over Dubuque Hempstead. The Jaguars then rolled to a 21-12, 21-12 triumph over Iowa City West before defeating Mount Vernon to win the pool.
Centennial then posted a 28-26, 25-22 victory in the quarterfinals over Grundy Center, the No. 10 team in Class 2A. Grundy Center dropped to 29-11.
The Jaguars then lost in three sets in the semifinals to Marion, 22-25, 25-18, 18-16. Marion, the No. 3 team in Class 4A, improved to 31-4 on the season.
Marion then lost in the finals, 25-11, 25-7, to Dike-New Hartford, the No. 1 team in Class 2A.
Centennial is now 26-9 overall. The Jaguars will host a CIML Conference match against No. 7 Waukee Northwest (23-9) in their regular-season finale on Tuesday.
Regional pairings
The Iowa Girls' High School Athletic Union announced its postseason pairings on Friday. Centennial is the No. 1 seed in Class 5A Region 2.
The Jaguars will host a regional semifinal on Thursday, Oct. 20 at 7 p.m. They will play the winner of a quarterfinal match between Sioux City West (11-8) and Council Bluffs Jefferson (2-20) on Oct. 18.
No. 12 Sioux City East (19-11) will host Des Moines Roosevelt (13-13) in the other semifinal match. The regional final will be played on Tuesday, Oct. 25 at 7 p.m. and will be hosted by the highest ranked team in the final rankings.