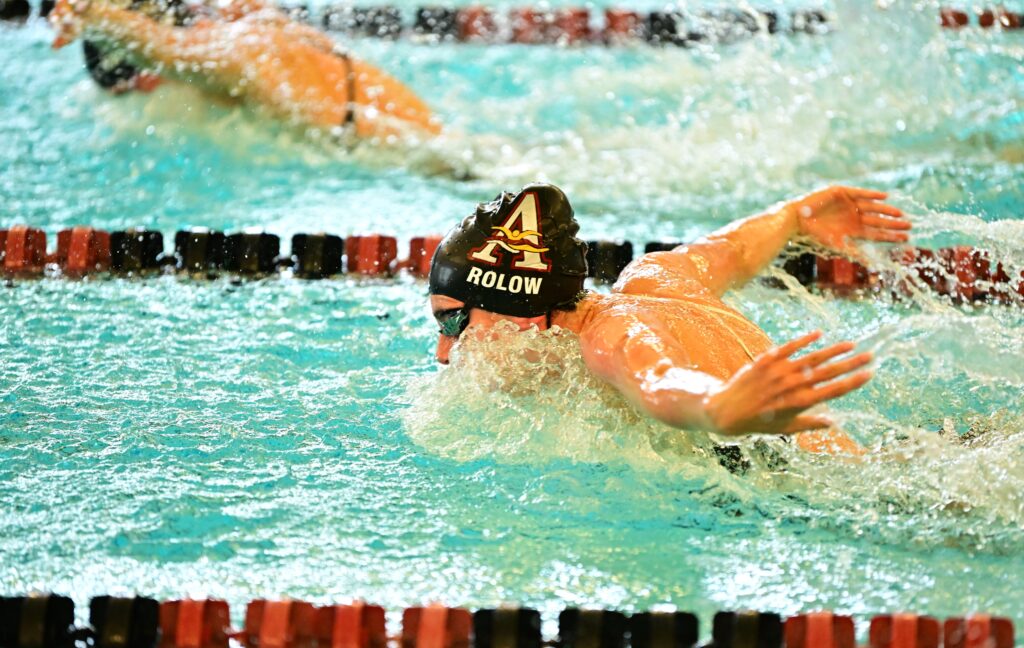 The Ankeny girls' swimming team closed out its dual-meet season with a 128-58 victory at Southeast Polk on Tuesday.
The sixth-ranked Hawkettes won nine of the 12 events, including all three relays. They finished with records of 1-4 in the CIML Conference and 3-5 overall.
"It was a good win," said Ankeny coach Justin Crouch. "As a whole, it was a mixed bag of results which is to be expected right now. It does get harder and harder to drop time as you get deeper into the season. The hard work you put in may not always pay off, but when it does it is extremely gratifying.
"It was great to see the girls compete and have some success," he added.
Senior Rachel Rolow and sophomore Gracie Lindaman each had four victories on the night. They both won two individual events and also swam on two of the winning relays.
Rolow took the 200 individual medley with a time of 2:14.19. She later captured the 500 freestyle in 5:16.76.
Lindaman swept the sprint events. She won the 50 freestyle in 25.63 seconds and the 100 freestyle in 55.75.
Ankeny opened the meet with a 1-2 finish in the 200 medley relay. The foursome of Rolow, Kyra Zinn, Caroline Walker and Josie Parton placed first in 1:57.02.
The Hawkettes also swept the top two places in the 200 freestyle relay. Lindaman teamed up with Charlotte Huebsch, Madison Trosper and Walker to win the race in 1:44.61.
Rolow and Lindaman later combined with Anja Peck and Parton to win the 400 freestyle relay. Ankeny posted a time of 3:47.24.
Walker added a first-place finish in the 100 butterfly, winning the event in 1:03.48. Parton took the 100 backstroke in 1:04.58.
Parton also placed second in the 50 freestyle in 26.11. Leah Schafer took second in the butterfly in 1:05.30.
Peck took second in the 200 freestyle in 2:02.14. She later added another runner-up finish in the 100 freestyle, turning in a time of 56.29.
Gracie Block placed second in the backstroke in 1:12.53. Zinn was the runner-up in the 100 breaststroke in 1:16.96.
Ankeny's Hannah Kolars placed second in the diving event. She posted a score of 210.75 points.
"As I look at this team, we need to be more confident in our abilities," Crouch said. "I have noticed that when one thing doesn't seem to go right or exactly how it is planned, we tend to get really nervous and lose a lot of confidence. Not everything in sports goes as planned. Rarely in life does anything go as planned. Sometimes things are not going to go your way–you can't just let that take over you.
"You need to be resilient and pick yourself up and encourage your teammates to do the same. I feel like as the coach it starts with me, and maybe this is a lesson that I need to learn as well. My expectations for making these girls better have never changed. I will do all in my power to have a successful end of the season, but it starts with not putting our eggs all in one basket. If things don't start the way you want, do something about it. Change the narrative–you have the power to change your focus and your mindset. You can't control the results from others, but you can control your effort," he added.
The Hawkettes will now prepare for next week's conference meet. The diving portion of the meet will be held on Tuesday at the Waukee YMCA, and the swimming events will be held on Oct. 22 at Trail Point Aquatics Center.
"Back to work (Wednesday)," Crouch said.