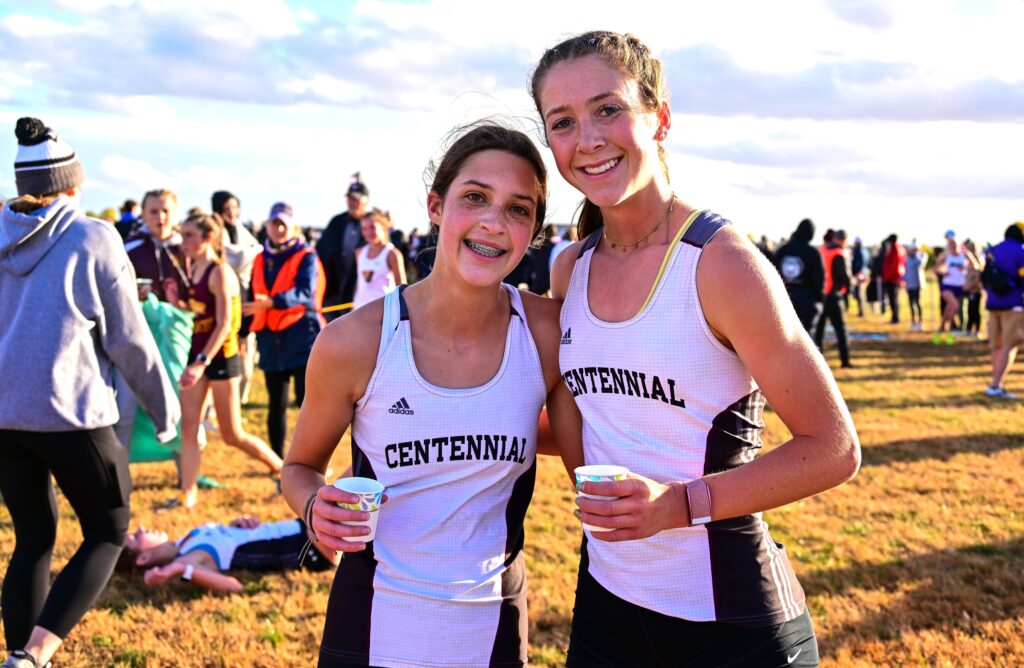 At the Fort Dodge Invitational last week, the fourth-ranked Ankeny Centennial girls' cross country team raced to a 20-point victory over No. 5 Johnston.
In a rematch on Wednesday, the Jaguars repeated that 20-point win on Johnston's home course to capture the inaugural CIML Conference championship.
"We felt we left a lot of points on the board (at Fort Dodge) with multiple hiccups among the squad," said Centennial coach Eric Cogdill. "So we took some lessons from that race and put them to work today in the brutal conditions at Johnston where the new-look CIML awaited along with a field where all nine teams were state-ranked a week ago. We would have loved to celebrate dozens of lifetime bests to close out the season for the bulk of our squad, but relentless 20 mph winds and a moment of horizontal rain showers put a lid on that.
"Still, having the varsity win the team title with another 20-point margin in this much smaller meet was a great indicator that the team continues to move in the right direction," he added.
The Jaguars won the meet with 51 points, while Johnston finished with 71. Valley took third with 95 points, edging No. 7 Waukee by two points.
No. 9 Ankeny placed fifth with 137 points, finishing in the middle of the pack.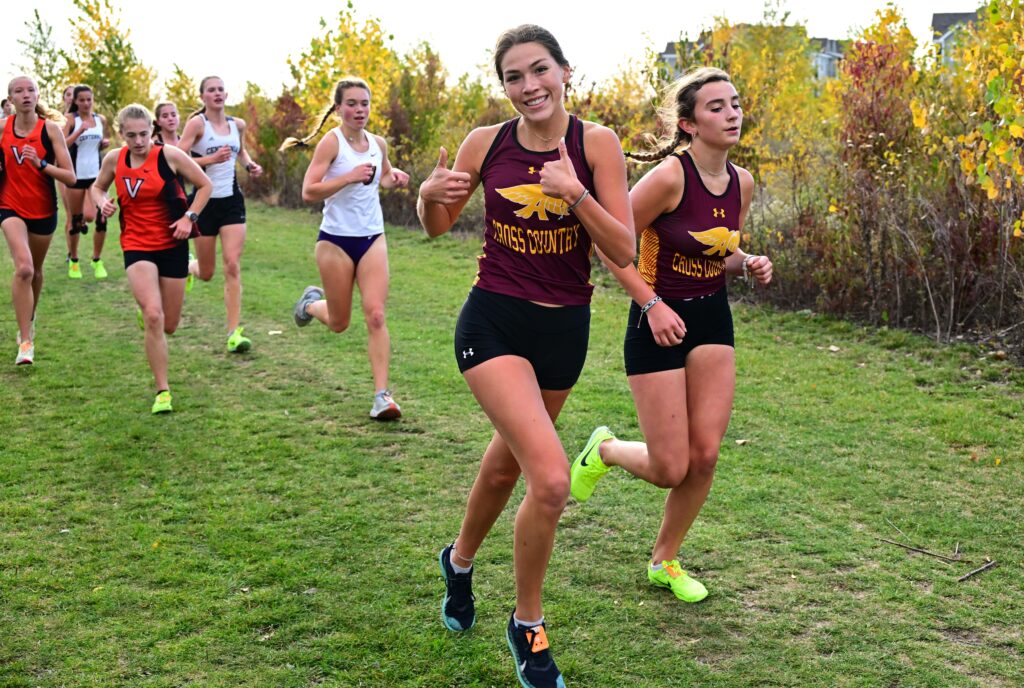 "Our Hawkettes ran fantastic races," said Ankeny coach Eric Klingensmith. "We positioned ourselves to finish well and are happy with the results, but we are not satisfied."
The 5k race featured the top two individuals in the latest Class 4A rankings–defending state champion Addison Dorenkamp of Valley and Olivia Verde of Johnston. Dorenkamp won the race in a time of 18:06, while Verde took second in 18:41.
Centennial placed three runners in the top six. The trio earned first-team all-conference honors.
Rondi Quass took third in 18:47 after briefly moving into second place. Anika Mohrhauser was fourth in 18:58, and Bella Hodges finished sixth in 19:17.
None of the Jaguars were among the top 10 runners in the first mile of the race.
"We wanted to be a little more comfortable today and try to kick it in the last mile," said Mohrhauser. "It was a pretty flat course, and I liked it."
Cogdill said the strategy worked for his team.
"Rondi and Anika were perfect with their race plans," he said. "Bella taking sixth was an impressive effort; I had her picked for 10th coming into the race and gave a game plan to shoot for ninth. She outkicked three girls in the final 100 meters."
Hodges crossed the finish line just ahead of Ankeny's Drew Beason, who placed seventh to lead the Hawkettes. She was also clocked in 19:17.
"My goal was to start running with people that I don't normally run with at the start," said Beason, who also earned first-team all-conference honors. "I just tried to stay with them. I didn't know the course at all, so I was kind of just running."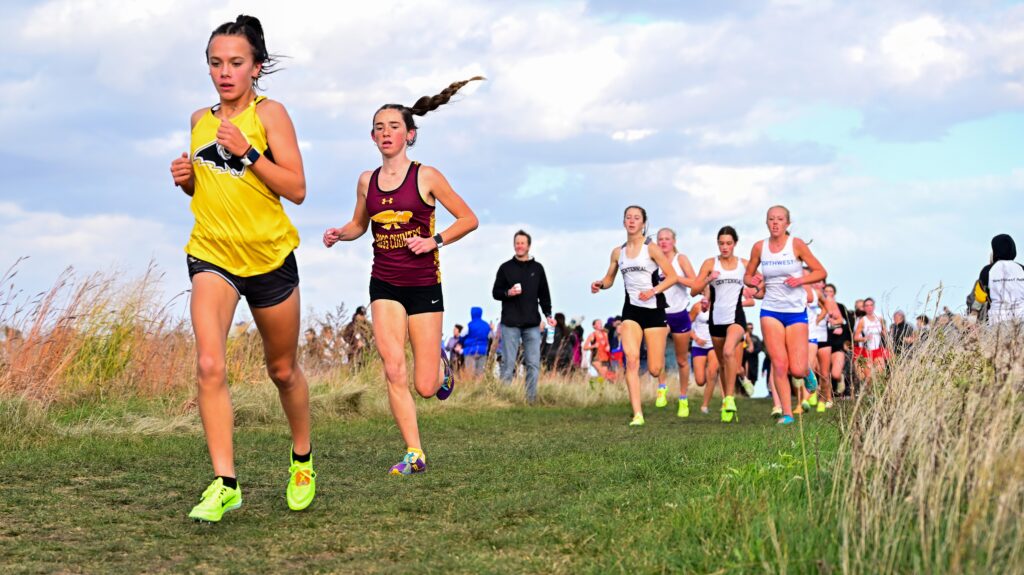 Beason was in fourth place early in the race, but could not hold off Centennial's top three runners.
"Drew ran a smart race, trying a different strategy by trying to stay with the front pack for the majority of the race," Klingensmith said.
Centennial's Julia Flick placed 17th in 19:53, and teammate Cora DenHartog took 21st in 19:57. They both earned third-team all-conference honors.
"Julia was one of our hiccups a week ago–she didn't finish–and we gave her a more conservative race approach that she executed very well while Cora rounded out our scoring five," Cogdill said. "Cora was coming off decisive repeat JV wins, and this was her first varsity race of the season. She was our only lifetime best on the day and her third consecutive meet (with a PR)."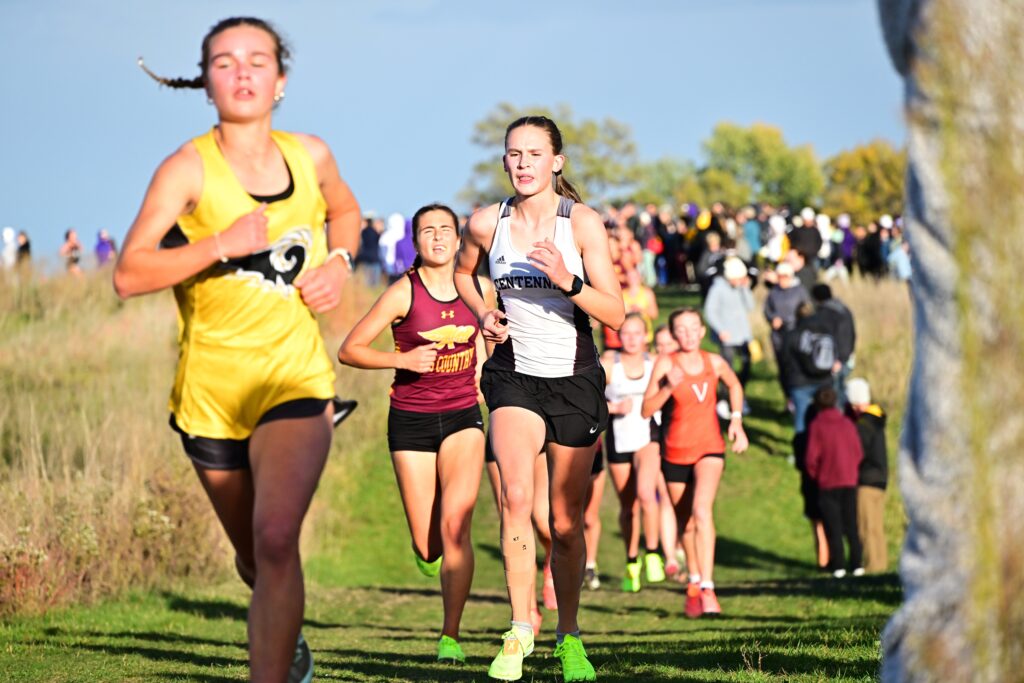 Anja Peck placed 30th for the Jaguars in 20:12. Kylee Patterson was 43rd in 20:39.
"Anja put in a strong effort," Cogdill said. "She was the fastest sixth runner in the meet while competing just a day after a swim meet. Kylee battled through leg cramps for the second meet in a row but to a lesser extent today. The legs are moving in the right direction, and I anticipate a great race next week for her."
Ankeny's Brylee Moyer took 28th in a time of 20:05. Paige Beason was 29th in 20:08.
"Our 'nest' held tightly together through the entire race until the last 1k, then Brylee and Paige separated and gained ground on several competitors," Klingensmith said.
Alex Gloviak placed 36th for the Hawkettes in 20:26, Reagan Prendergast was 37th in 20:27, Sophia Graber took 41st in 20:37, and Makenna Madetzke finished 42nd in 20:37.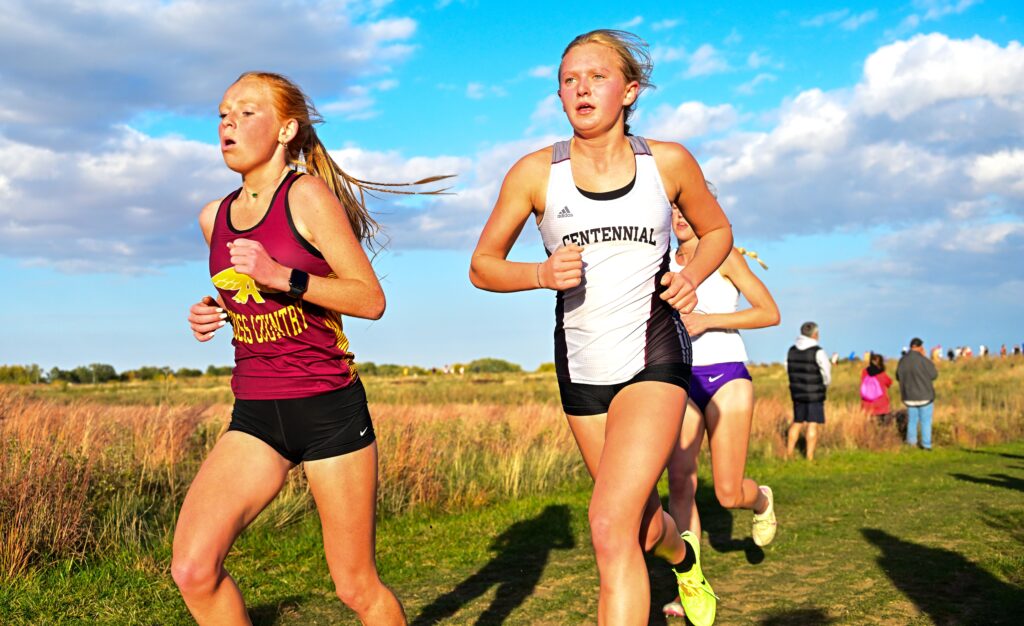 Gwen Briggs sat out her second straight meet due to a slight injury.
"We held Gwen out again, but she's ready to run at districts–as is all our varsity group," Klingensmith said. "We want to see what we are capable of when our entire squad is healthy and dialed in at a race. Districts will be that race, we believe."
Both Ankeny and Centennial have been assigned to the Marshalltown site for the state qualifying meet. It will be held on Wednesday, beginning at 4 p.m.
"I think we figured out who we can run with, stay with and try to beat," said Drew Beason.
Cogdill said he'll have a lot of options in determining his lineup for the meet.
"We've now had nine girls finish top five for us, which helps cover up occasional off days," he said. "That can make picking a final seven runners awfully hard and yet this squad is so supportive of one another as they focus on team goals first rather than individual aspirations. Every girl pushing from behind continues to propel this team forward."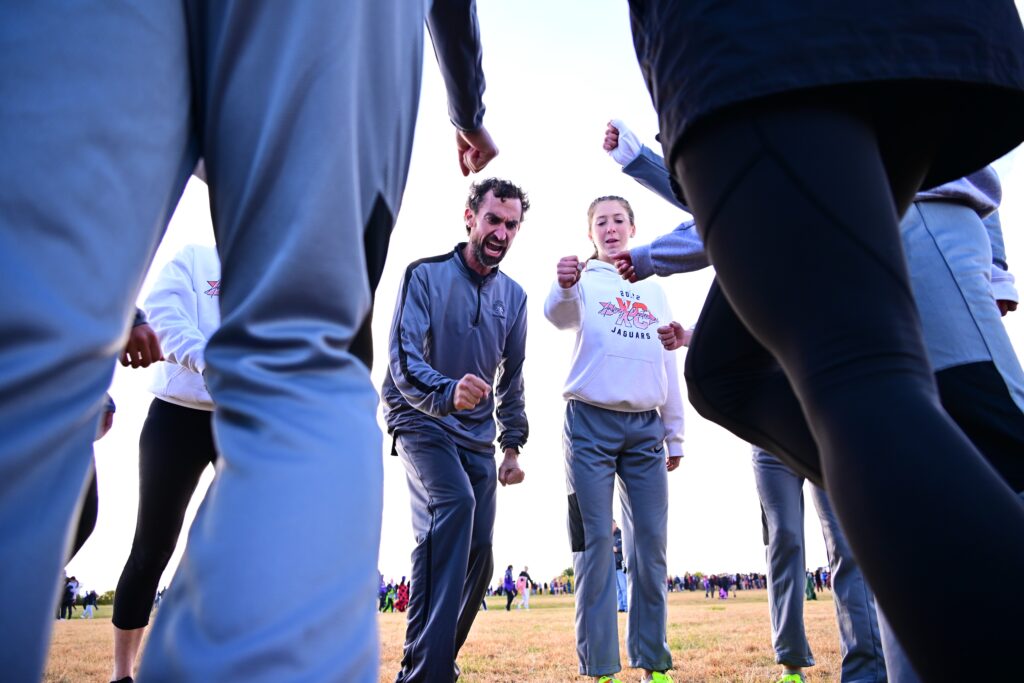 The Jaguars are seeking their ninth trip to the state meet in the 10-year history of the program.
"I'm excited for us," Mohrhauser said. "I think it'll be good."