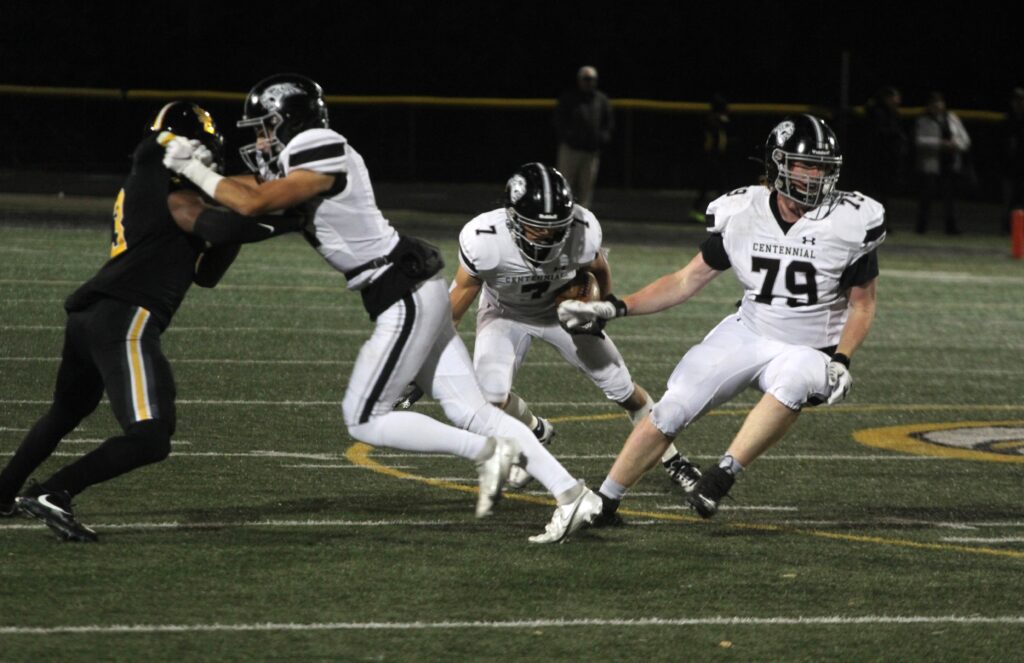 This wasn't the best week for the Ankeny Centennial football team to be missing two of its key players.
With quarterback Trenton Smith and running back Elijah Porter both out with injuries, the eighth-ranked Jaguars traveled to defending Class 5A state champion Southeast Polk and suffered a 42-16 loss on Friday.
"We knew it would be tough," said Centennial co-head coach Ryan Pezzetti. "That's probably about 75 percent of our offense sitting on the bench."
Porter, who has rushed for 635 yards and nine touchdowns, injured an ankle during a win over Sioux City East on Sept. 23. He sat out the Jaguars' victory at Urbandale on Sept. 30, then returned to the lineup a week ago in a loss to Waukee Northwest.
"Eli wasn't quite 100 percent, but he played and tweaked his other ankle," Pezzetti said. "We just need to get him healthy."
Smith, meanwhile, sat out with a slight concussion. He has passed for 1,128 yards and nine scores.
"Trenton got dinged a little bit last week," Pezzetti said. "We didn't suspect anything, but he came back on Sunday to lift and watch film and then came to practice on Monday but on Tuesday the doctor diagnosed him with a slight concussion. Anytime you're dealing with a concussion you've got to be safe. His future is in front of him. Hopefully, he passes all the tests this week and we can get him back."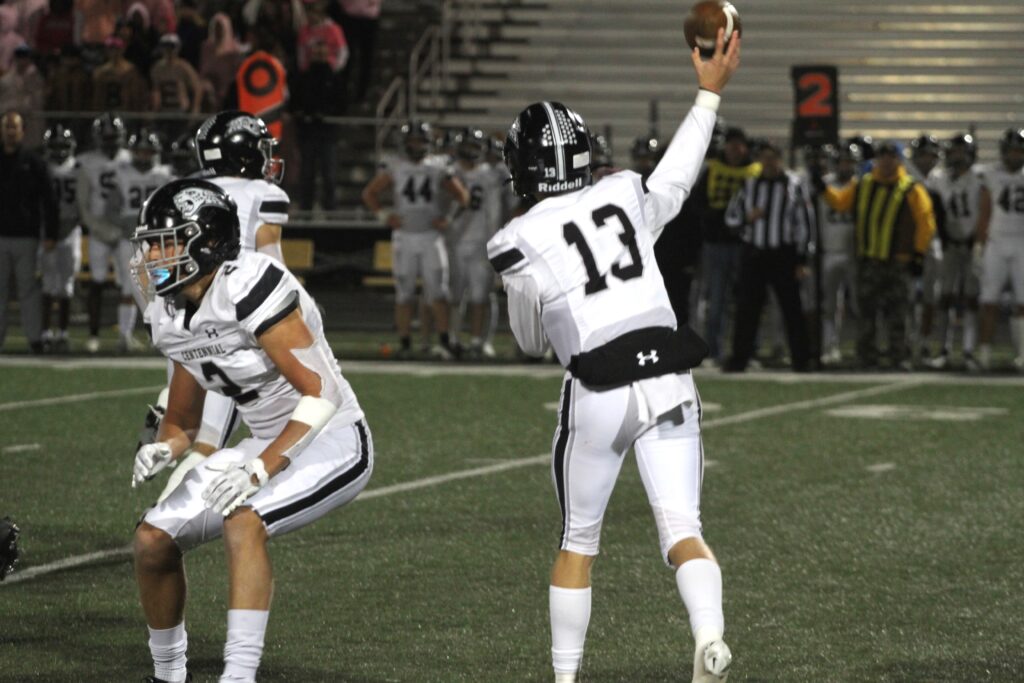 Smith was replaced by sophomore Chase Kluver, who threw an 83-yard touchdown pass to Nick Severson in the third quarter. Severson also scored on a 37-yard run late in the game.
Cael Wiener booted a 35-yard field goal for the Jaguars in the first quarter.
"The final score didn't really indicate the type of game it was," Pezzetti said. "(Southeast Polk) caught some breaks and capitalized on those. I thought our kids played tough. We just hope to fight another day."
No. 2 Southeast Polk scored on the game's opening possession to take a 7-0 lead. Abu Sama, who rushed for 183 yards on 22 carries, capped the drive with a 1-yard run.
After Wiener's kick barely cleared the crossbar with 1 minute 55 seconds left in the first quarter, the Rams answered with a short scoring drive in the second period. Sama dashed 32 yards up the middle to make it 14-3.
Southeast Polk had a chance to extend the lead in the final minute of the half, but the Rams used their last timeout before quarterback Connor Moberly was stopped at the 2-yard line on a third-down scramble. The final seconds ticked off the clock before Southeast Polk could get off a field-goal attempt, much to the dismay of coach Brad Zelenovich–who felt like the officials were slow to place the ball on the field.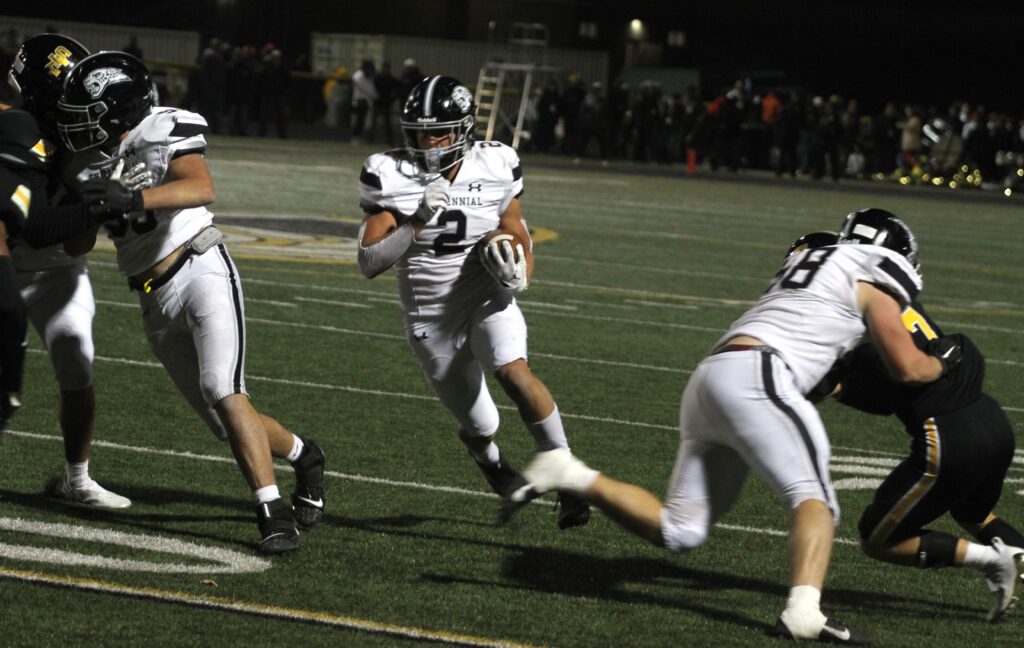 Kluver connected on the bomb to Severson on the third play from scrimmage in the second half. He completed 6-of-17 passes for 154 yards.
"I thought Chase played well for being put in that situation," Pezzetti said. "Offensively, we moved the ball well at times, but we also self-destructed at times."
Southeast Polk regained the momentum when Sama scored on a 9-yard run with 5:17 left in the third quarter. He had several consecutive carries on the drive.
"I was talking to my dad (Jerry) on the way back, and we were talking about different backs," Pezzetti said. "My dad has been around the game a long time, and he thinks (Sama) might be the best back he's ever coached against. Just the true strength that he has. He's not the biggest back, but he's just so powerful, fast and strong. Iowa State got a steal with him."
The Rams increased their margin to 28-10 on a 1-yard run by Moberly with 58 seconds left in the third quarter. The touchdown was set up by a 50-yard pass from Moberly to Carson Robbins.
An interception by Mason Van Der Brink set up Southeast Polk's next score. Gabe Stiles later returned a fumble 93 yards for the Rams' final touchdown.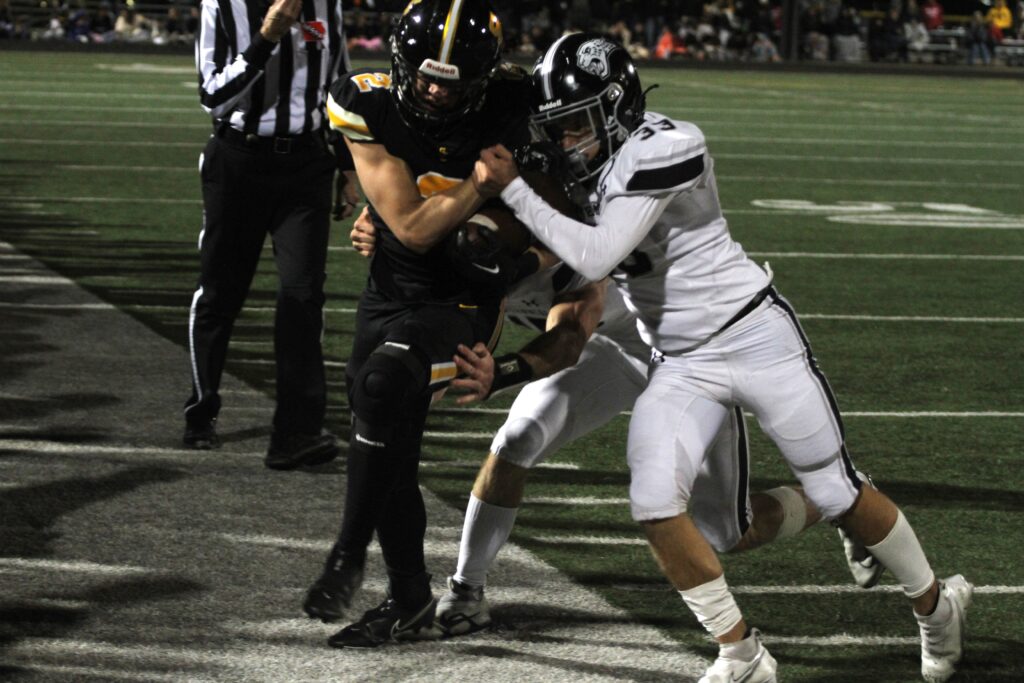 "Southeast Polk has had a good run of talent the last few years, no doubt about it," Pezzetti said. "Our margin for error is zero. When our defense plays well and when our offense plays well, we can be a very good football team. But when we get behind the sticks and give up big plays on defense, it puts us in a very difficult situation as a team.
"I like our team, and I wouldn't trade our guys for anyone. But we definitely have to sharpen some things up," he added.
The Rams outgained Centennial by a 395-372 margin. Zach English led the Jaguars' defensive effort with 12 tackles.
Centennial's Easton Miller rushed for 121 yards on 18 carries. Severson caught four passes for 131 yards and ran four times for 97 more.
Southeast Polk improved to 7-1 on the season. The Jaguars dropped to 4-4.
Centennial will host Des Moines East (1-7) in its regular-season finale on Friday.
"We do know if we win we'll be in (the playoffs)," Pezzetti said. "It won't be quite the seed we were envisioning, but we'll be in. We'll probably be a 12 or 13 seed. But we just want to give our kids a chance."