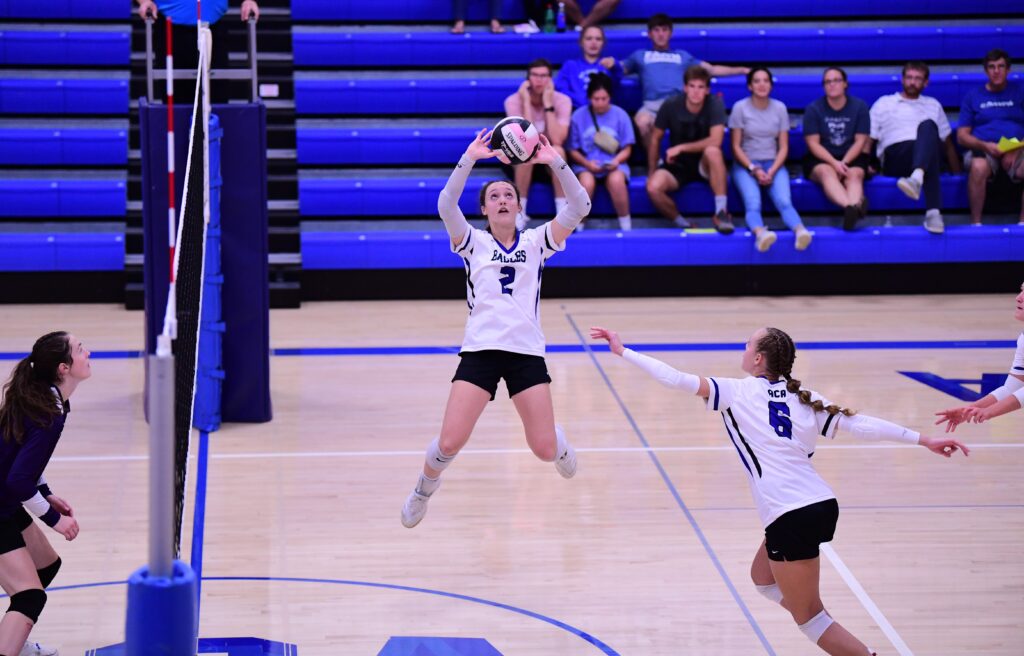 Sophomore setter Katie Quick has helped lead the Ankeny Christian Academy volleyball team to a No. 7 ranking in Class 1A. The Eagles won the Bluegrass Conference tournament on Thursday at Moravia to extend their winning streak to 12 matches.
Quick leads the entire state with 99 aces and ranks 11th in Class 1A with 646 assists. She was recently honored for reaching the 1,000-assist career mark.
Quick is one of the state's best all-around players. She has also recorded 149 kills while hitting .433, and she has racked up 24 blocks and 141 digs.
Here is some inside info on Quick:
How is the season going thus far?
It's been really good! We are currently 33-3. We won the conference championship and the conference tournament championship, but our true goals lie ahead which would be to get to state.
What has been the highlight for you?
One of my favorite parts of the season so far was the Madrid tournament. We had to play without two of our starters so we knew it was going to be a big challenge. We went undefeated that day, not giving up a set! Everyone had to step up into a bigger role, and we all did! We played super clean, and it was really fun!
What did you think of your team's performance at the conference tournament?
We went 3-0, sweeping all sets. We passed really well and hit at a very high percentage. Right now we are playing our best volleyball yet this season.
You have recorded aces on 25.4 percent of your attempts this season. What has been the key to your success? Is it more about pace or placement, or is it a combination of those two things?
Serving is definitely a strength for our team! We lead the state in aces among all classes. Honestly, I went through a little bit of a serving slump in the middle of the season. I was probably being a little bit too aggressive. Pace and placement are both critical. Our team works really hard on hitting seams. We try not to hit it directly to the player. To turn my slump around I definitely changed my pace. I try to start out somewhat conservative and hit my spot. As I begin to go on a service run I gradually get more aggressive and work on changing speeds and angles.
Your team has shown that it can compete with larger schools–you swept a solid Des Moines Roosevelt squad on Oct. 6. How do you think your team would fare against Ankeny's other schools?
We actually scrimmaged both Centennial and Ankeny in the preseason. We were competitive against the Hawkettes, and we pretty much went point-for-point with Centennial. I have a ton of respect for both teams and have some close friends on each team.
Have you tried to be a leader for the team, even though you are only a sophomore? If so, how?
I do consider myself a leader on the team. As a setter I run the offense and direct where the sets are going. It's a big responsibility to make the right decisions with where the ball should go. I feel my teammates have the confidence in me to make those right decisions. Even though I'm only a sophomore, a few of my teammates and I have played high-level club volleyball for a number of years, and I feel like that experience has allowed us to play with confidence against bigger schools and older players.
Your team will host Audubon or Nodaway Valley in a regional quarterfinal on Wednesday. Would you prefer to play Audubon, since you've already defeated them once and probably know more about them?
We will need to be prepared to play against either team. We've played Audubon each of the last two years so we have a little bit of familiarity with them, but either way I think it will be more about how we play rather than who we play.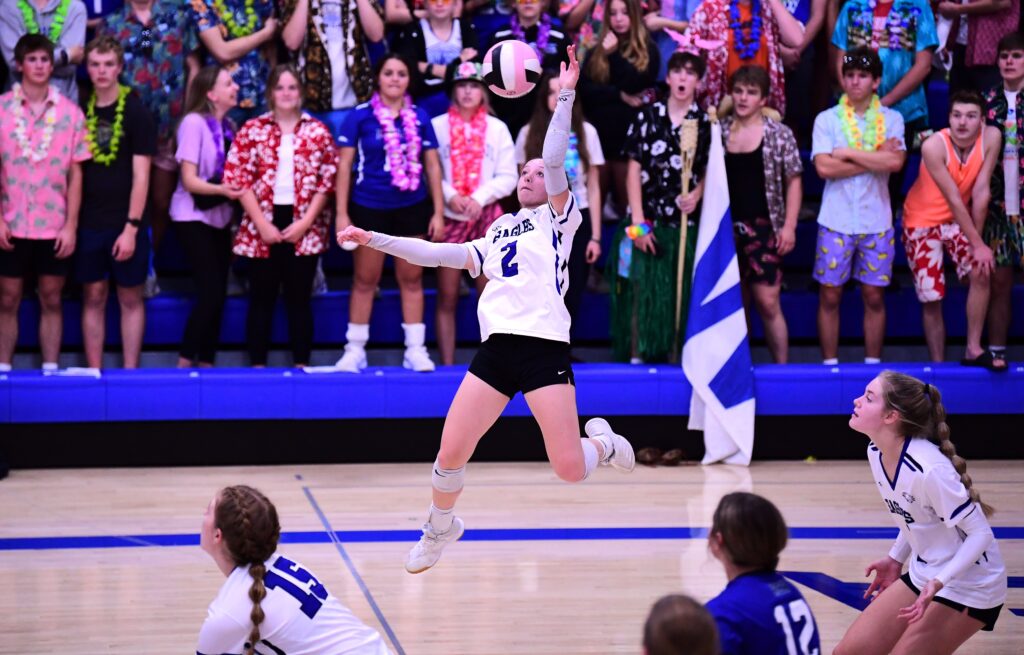 I know you can't look too far ahead, but No. 9 Sidney is on the bottom half of your bracket and could be the team that you would have to beat in order to qualify for state. Do you know much about them?
I know they have a strong volleyball program and were state champions as recently as 2019. If we're fortunate enough to make it to that round, and the matchup is against them, that would be an awesome opportunity for ACA and the growth of our program.
Your team advanced to the regional final last year before losing to Gladbrook-Reinbeck, which snapped the Eagles' 31-match winning streak. Do you think you learned some things from that loss that will help your team if you can get back to the regional final?
In that regional final last year, we started five freshmen–and we have our entire team back this year. We're obviously more experienced this year, and we're going into the postseason with a lot of confidence that we can beat anybody. We had opportunities in that match that we let slip away, but I think that this year when we get those opportunities we're going to have to be more aggressive.
What would that mean to you to qualify for state?
It would be the first time that Ankeny Christian has made it to state, so it would be huge for the school and the volleyball program. Our fan base has been awesome this year, and I know if we make it to state we will have a ton of support in Coralville.
I assume you would like to play volleyball in college. Do you have very many coaches recruiting you, and have you looked at any schools yet?
I haven't really talked to many schools at this point, but it would be great if I got an opportunity to play in college! I am hopeful that if I keep working hard and doing the right things that opportunities may come.