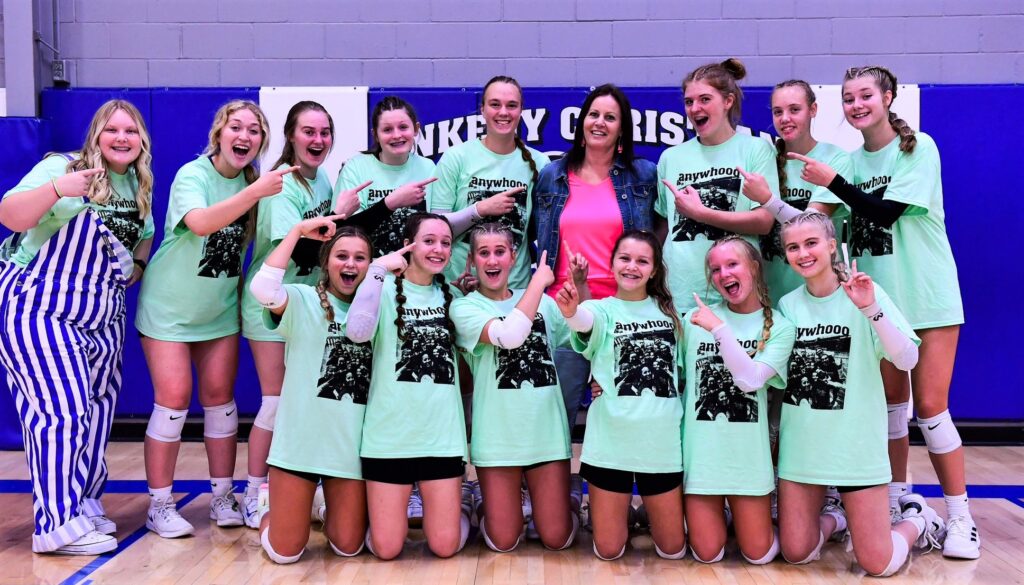 A year ago, the Ankeny Christian Academy volleyball team couldn't get over the hump in a Class 1A regional final.
On Wednesday at Atlantic, the seventh-ranked Eagles didn't let another opportunity to make some history slip away.
Ankeny Christian Academy advanced to the state tournament for the first time ever with a sweep over No. 11 Sidney. The Eagles extended their winning streak to 15 matches with a 25-23, 25-19, 25-23 victory in the Region 2 final.
"I knew we had the capability to take it in three (sets)," said ACA coach Michele Quick. "However, you never really know if all of the puzzle pieces will fit together until they get out there and settle into their roles. We started out a little tight as to be expected, then they started to calm down and play together."
The Eagles raised their record to 36-3. Sidney finished the season at 32-9.
Carley Craighead pounded 20 of ACA's 48 kills. She hit .472 on the night as the Eagles hit .392 as a team.
Setter Katie Quick dished out 39 assists and also had six kills.
"The girls knew going into the match that they could win," Quick said. "They trust and strive to perform for each other–the bond and connection among this team is special. They are so thankful to God and the gifts that have been given to them to play this great game. We brought a powerful arsenal from all over the court that gave us the edge over Sidney. Our hitters are so versatile in multiple positions on the court which gives our setter multiple offensive options and keeps our opponents guessing as to where the ball is coming from. We were also very prepared in advance by studying film on Sidney and being familiar with their players, knowing how the setter runs the offense, who the go-to hitters are and where defensive opportunities would be.
"Overall, we played relatively clean and confident," she added.
Macey Nehring had 11 kills and eight digs for the Eagles. She also completed all 10 of her serves.
Anna Weathers added nine kills and three aces. Riese Gjerde racked up 11 digs.
The fourth-seeded Eagles will play No. 8 Don Bosco (28-12), the fifth seed, in a Class 1A quarterfinal on Tuesday at 8 p.m. at the Xtream Arena in Coralville. Quick said her team isn't satisfied with just getting to state.
"We did initially talk about just getting there and what that would mean for the team and the school," she said. "However, as we got further into the postseason, we started talking about 5, 4, 3 more matches…and not just those matches we needed to punch our ticket. We absolutely believe we can make a run. We need to stay focused, calm and confident. When this happens, these girls can make things happen on the court.
"Even on the ride home, our players were looking at the brackets and starting to mentally prepare for three more matches. Plan for one at a time, but push for the championship. We have work to do and aren't done!
"We look forward to our first trip there and enjoying the excitement, yet we will be back in our gym (Thursday) preparing for Don Bosco. I'm sure the girls have already found film to review during study halls," she added.