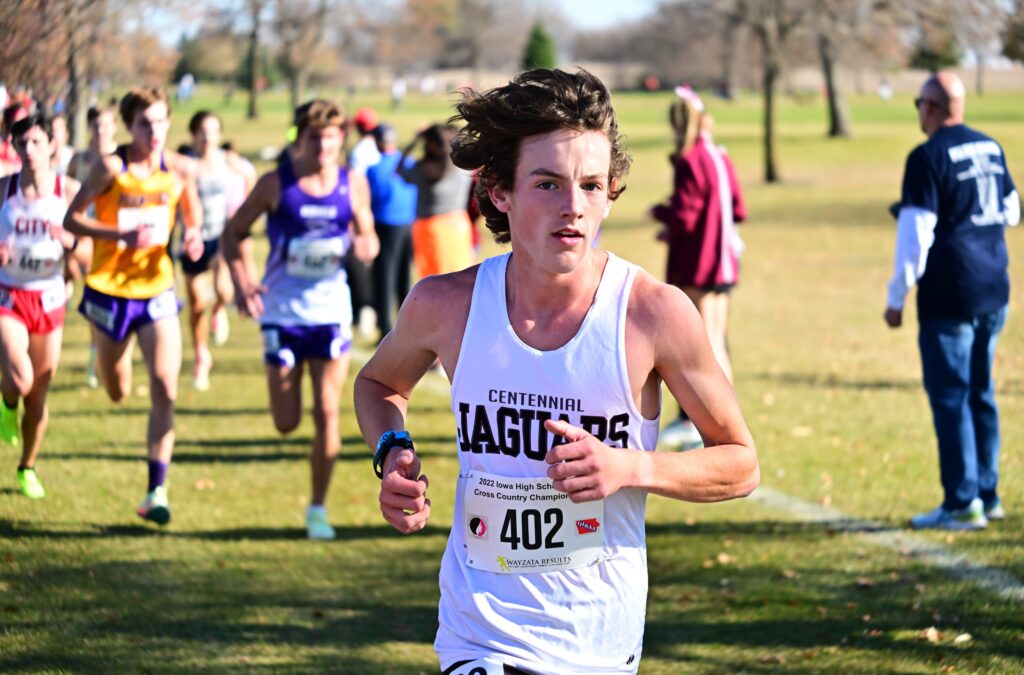 When Ankeny Centennial's AJ Schermerhorn crossed the finish line in 97th place at last year's boys' Class 4A state cross country meet, he wasn't satisfied with his performance.
On Saturday, the junior made up for it.
Schermerhorn earned a spot on the awards podium with a 12th-place finish in the 5k race at Lakeside Golf Course in Fort Dodge. He posted a time of 15 minutes 59.52 seconds.
"I'm pretty excited," said Schermerhorn, who qualified for the state meet as an individual.
Schermerhorn was in 37th place after the opening mile. He ran the second mile in 5:09.44 to move up to 18th and then continued his charge.
"I thought it was going to go out a lot faster than it actually did," Schermerhorn said of the pace. "I caught myself a little bit further back than I wanted, but I kept making my way through the race."
Dowling Catholic's Jackson Heidesch pulled away from Ford Washburn of Iowa City High late in the race to win in 14:57, becoming the first Iowa prep to break the 15-minute barrier at the state meet. He led the top-ranked Maroons to a repeat title.
Schermerhorn, who was 11th in the final rankings, became just the second Jaguar to medal at the state meet. Camden Cox placed fourth in 2016 and third in 2017.
"His confidence coming in, the way he raced all season, is an impressive improvement from last season," said Centennial coach Chad Fickbohm. "I know last year when he got done (with the race), he wasn't happy. That disappointment, I think, lit that fire."
Fickbohm said Schermerhorn always runs a smart race.
"I think next year he's not going to be running from behind. He's going to have to take them out," Fickbohm said. "I hope he enjoys this–the improvement from last year–and then he can start focusing on next year."
Many of Schermerhorn's teammates traveled to Fort Dodge to cheer him on.
"It wasn't as much fun (running without them), but they were still here for me–which is great," Schermerhorn said. "I want to get the team back next year. I want to try and get closer first place and get as many people here as I can for the team."