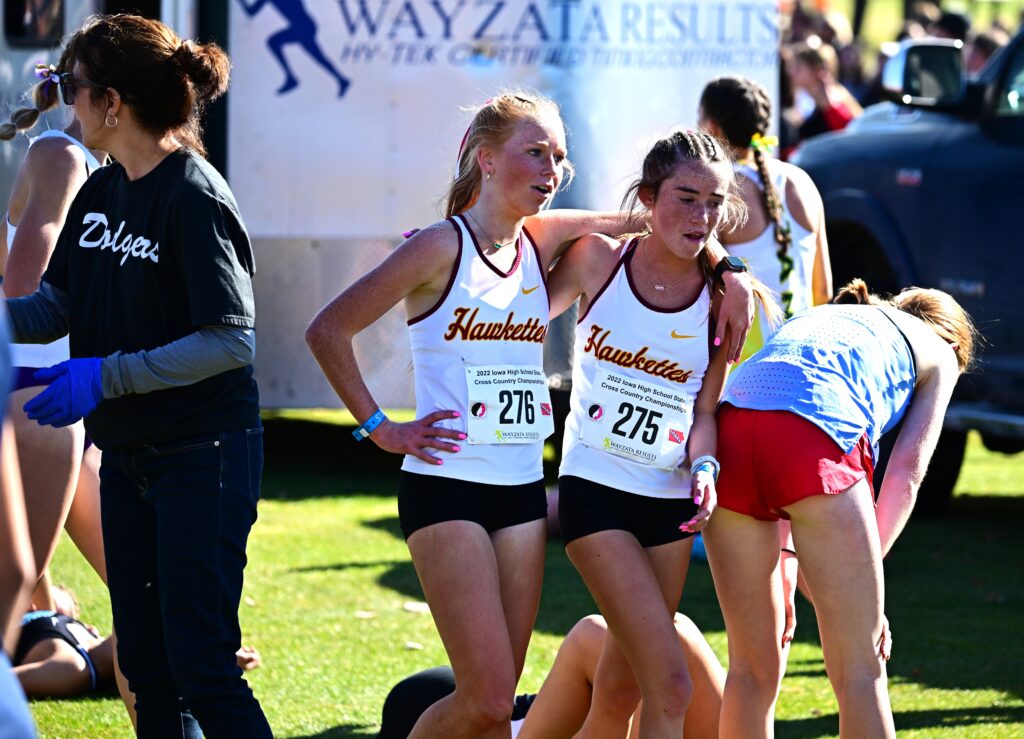 Saturday was a day of mixed emotions for the Ankeny girls' cross country team.
The 10th-ranked Hawkettes accomplished their goal of a top-10 finish in the Class 4A state meet by placing seventh with 200 points at Lakeside Golf Course in Fort Dodge. But it was the final meet for a trio of seniors and for coach Eric Klingensmith, who had already announced his resignation at the end of the season.
"With this being my last meet coaching this team, I feel grateful and honored to have coached this team, watching them grow form only individual state appearances to qualifying as a team for the past three consecutive years and placing well," said Klingensmith. "Hopefully, that tradition continues into the foreseeable future."
Seniors Paige Beason, Brylee Moyer and Alex Gloviak competed as Hawkettes for the final time.
"It's very sad," said Beason.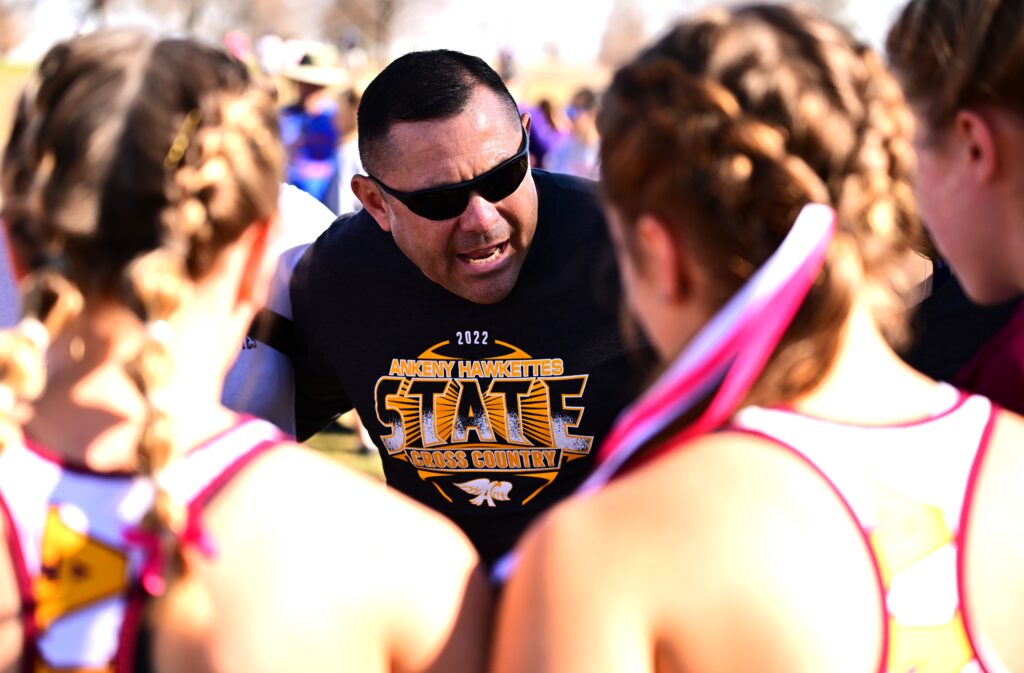 Beason's sister, Drew, led the way for Ankeny. She placed 15th in the 5k race with a time of 18 minutes 49 seconds.
Drew then watched as Paige finished 38th in 19:56.
"That was the saddest part of this meet," said Drew, a sophomore. "Hugging my sister at the end, and I won't be able to do it again."
Drew Beason used a late charge to earn a top-15 finish for the second straight year. She finished about 4 seconds ahead of Ankeny Centennial's Anika Mohrhauser for the final spot on the awards podium.
"I just wanted top 15, so I'm pretty glad with how I finished," Drew said. "There was a big group of like four runners ahead of me at the end, and I had to run as hard as I could to catch some (of them)."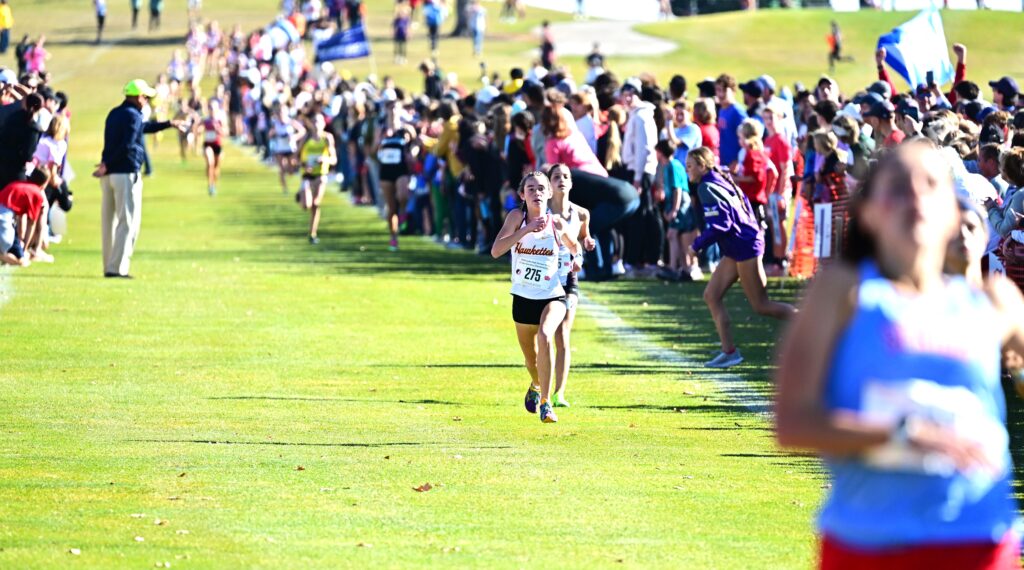 Beason placed 11th as a freshman a year ago. She was ranked 14th going into Saturday's meet.
"Drew ran an amazing race," Klingensmith said. "We are so proud of her individual accomplishment."
Paige Beason, meanwhile, moved up from 88th place after the first mile.
"I felt really good," she said. "My personal goal was to finish in the top 50, and I did that."
Reagan Prendergast took 45th for the Hawkettes in 19:59, while Moyer was 51st in 20:04. Those two were 91st and 90th, respectively, after the opening mile.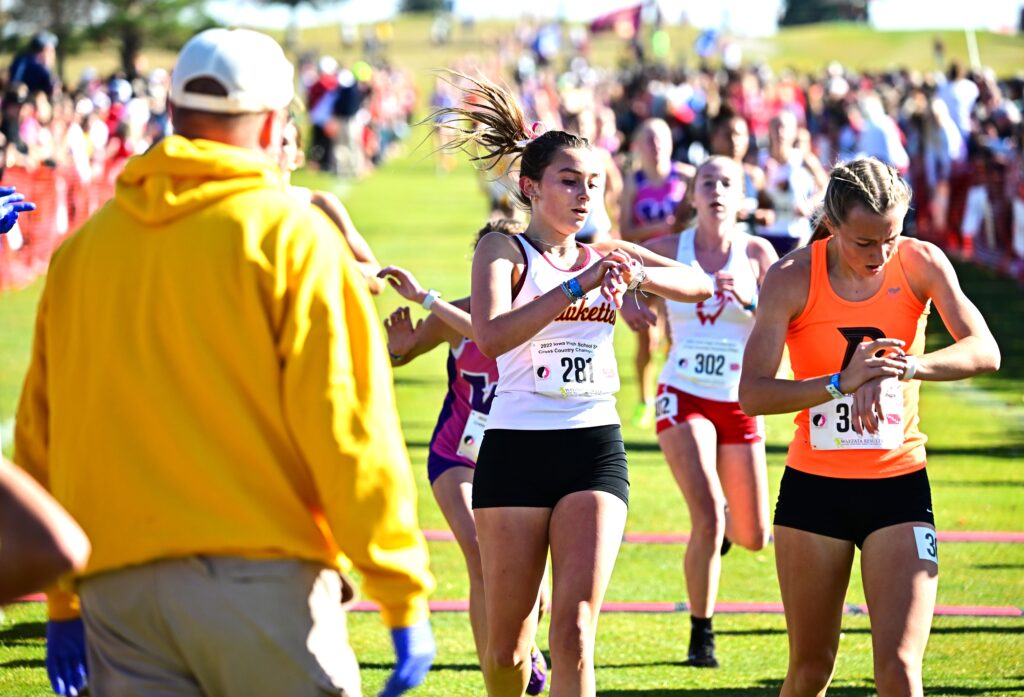 "Our Hawkettes ran fantastic races today," Klingensmith said. "Coming in ranked 10th and finishing seventh might not seem like much to many teams, but we joined together and fought hard as a team for that placement. Having our team in the 15th team spot after the first mile could have caused most to give in and give up, but our top four ladies fought back from the 90s into the top 55 by the end. Showing grit, passion, and fire, they picked off runners in the final mile to move from 12th to seventh place and were only eight points away from fifth place. This tenacity will be a dangerous trait for other teams next season."
Ankeny's Sophia Graber placed 89th in 20:51. Gwen Briggs was 91st in 20:53, and Gloviak finished 120th in 22:25.
With temperatures in the 60s, all of the Hawkettes enjoyed running in the favorable conditions.
"It's really nice out," Paige Beason said. "It's a perfect day to run."
The Hawkettes finished 10 points ahead of Waukee, 11 ahead of Ames and 16 ahead of Dowling Catholic in the team standings. They finished just four points behind No. 2 Pleasant Valley, which took sixth.
"We're happy with seventh," Drew Beason said. "Top 10 was our goal."