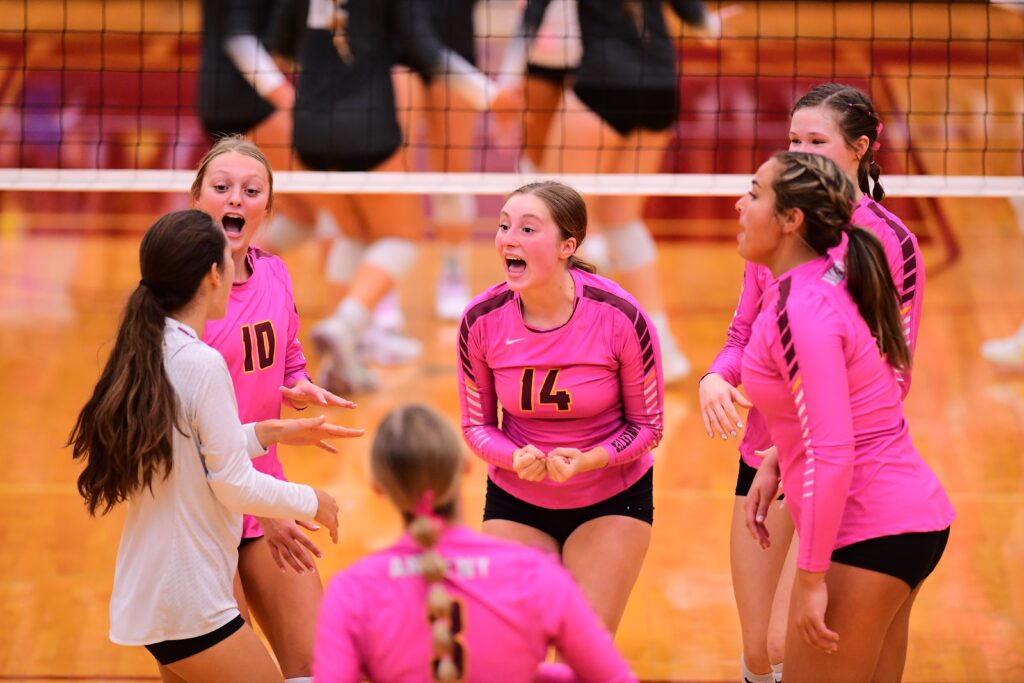 When the state volleyball tournament tips off on Monday in Coralville, second-ranked Ankeny and No. 6 Ankeny Centennial will both take the courts at Xtream Arena with a ton of confidence.
The Hawkettes (35-4), who are riding a 17-match winning streak, will face No. 10 Valley (21-20) in a Class 5A quarterfinal at noon on Court Two. They already own three victories over the Tigers.
"I hope we can win it all," said Ankeny middle hitter Myra Carlson. "We've been working really hard and put a lot of hours in the gym, so that's definitely the goal."
The Jaguars (29-9), meanwhile, will play another CIML Conference rival–No. 4 Dowling Catholic (31-9)–in a 2 p.m. quarterfinal on Court One. The two teams split a pair of meetings this season.
"We've grown a lot the last few weeks, and we kind of have this revenge tour going on," Centennial middle hitter Jaeden Pratt said Wednesday on the Ankeny Fanatic weekly podcast. "We're just taking it match by match."
Neither Ankeny nor Centennial has dropped a set in postseason play. The Hawkettes routed No. 14 Council Bluffs Lincoln, 25-11, 25-10, 25-20, in a regional final on Tuesday.
"I feel like high energy and starting off strong was a good thing for our team," said Ankeny senior Parker Olson, who had three aces during an eight-point serving run in the opening set.
Aowyn Schrader led Ankeny with nine kills. Olson and Tanith Roush each added seven.
"We expected them to play their best," Roush said of the Lynx. "They were good competition for sure."
The Jaguars advanced to state with a 25-7, 25-17, 25-11 victory over Des Moines Roosevelt. Pratt, Delaney Miller and Anna Sash each had six kills to lead the squad's balanced attack.
"We knew that they were going to be scrappy, but we played together as a team," Pratt said. "It was one of my stronger nights, just being able to find the ball and have good connections with the setter."
Centennial's "Revenge Tour" will begin with Dowling, which needed four sets to defeat No. 13 Sioux City North in a regional final. The Jaguars opened the season with a win over Dowling at the Dallas Center-Grimes Invitational, but the Maroons avenged that loss with a five-set win on their court on Sept. 6.
The two teams tied for second place in the conference behind Ankeny.
"We kind of come in as the underdog," Pratt said. "We have the mentality that we have nothing to lose."
Valley qualified for state with a miraculous win at No. 8 Johnston. The Tigers trailed in the third set, 24-22, and were on the verge of being swept, but then rallied for a five-set victory.
Ankeny swept Valley twice at a pair of tournaments, then later closed out a perfect conference season with a four-set victory over the Tigers on Oct. 11.
"It's going to be a dogfight," said Ankeny coach Dani Kohut Lynch. "It's going to be a battle and anyone's game. It just depends on who is passing well, who is serving well and who wants to win."
The Hawkettes are seeking their second title in three years.
"I feel like we have to work together as a team," Roush said. "We do a great job of connecting as a team, and we just have to play with a lot of energy."
With a win, the Hawkettes would play No. 3 Pleasant Valley (27-6) or No. 7 Waukee Northwest (28-12) in Wednesday's semifinals at 10 a.m. The Spartans defeated Ankeny in last year's semifinals en route to the title.
No. 1 Iowa City Liberty (30-8) will play No. 11 Urbandale (16-19) in the other Class 5A quarterfinal. The winner of that match will play Centennial or Dowling on Wednesday at 10 a.m.
The championship match is slated for Thursday at 10 a.m.
"I think we can win it all," said Schrader, who was named to the all-tournament team as a freshman after helping the Hawkettes to the crown in 2020.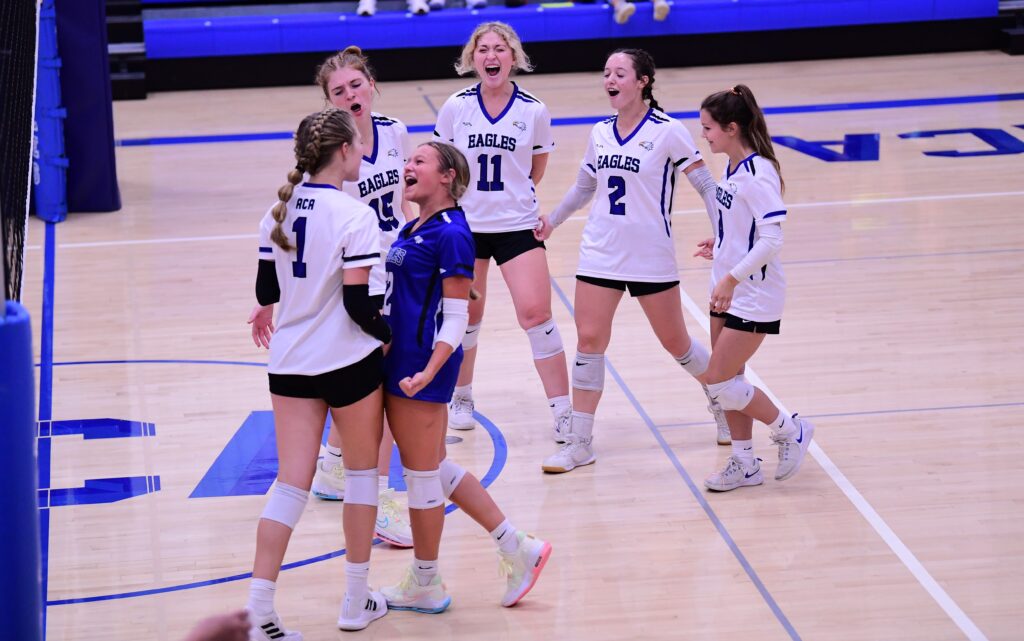 The Class 1A tournament begins on Tuesday. No. 7 Ankeny Christian Academy (36-3), making its first state appearance, will play No. 8 Don Bosco (28-12) at 8 p.m. on Court One.
With a win, the Eagles would face No. 1 Springville (37-3) or Riverside (33-5) in Wednesday's semifinals at 6 p.m. The championship match is slated for Thursday at 7 p.m.