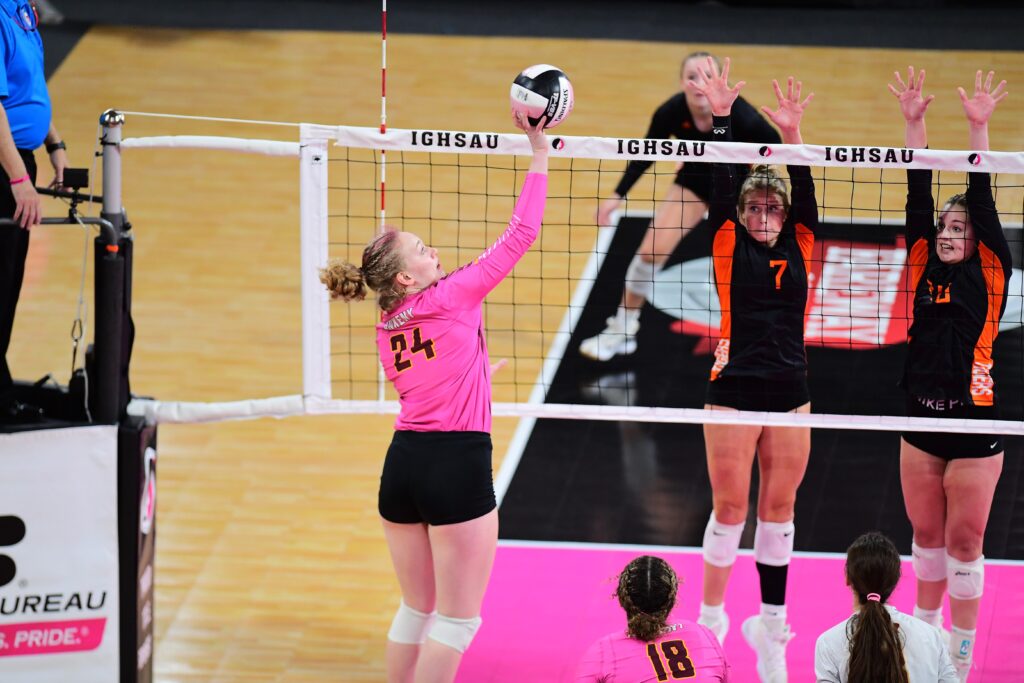 The Ankeny volleyball team's 17-match winning streak came to an end in stunning fashion.
The second-ranked Hawkettes were swept out of the Class 5A state tournament with a 25-13, 26-24, 25-21 loss to No. 10 Valley in the quarterfinal round on Monday at Xtream Arena in Coralville. The Tigers (22-20) avenged three losses to Ankeny during the regular season.
"We just didn't play very well together," said Ankeny senior Parker Olson. "We've done a lot of good things this season, but we just fell apart and didn't play as a team like we usually do."
The Hawkettes finished with a 35-5 record under first-year coach Dani Kohut Lynch, whose team closed out the regular season on Oct. 11 with a four-set victory at Valley.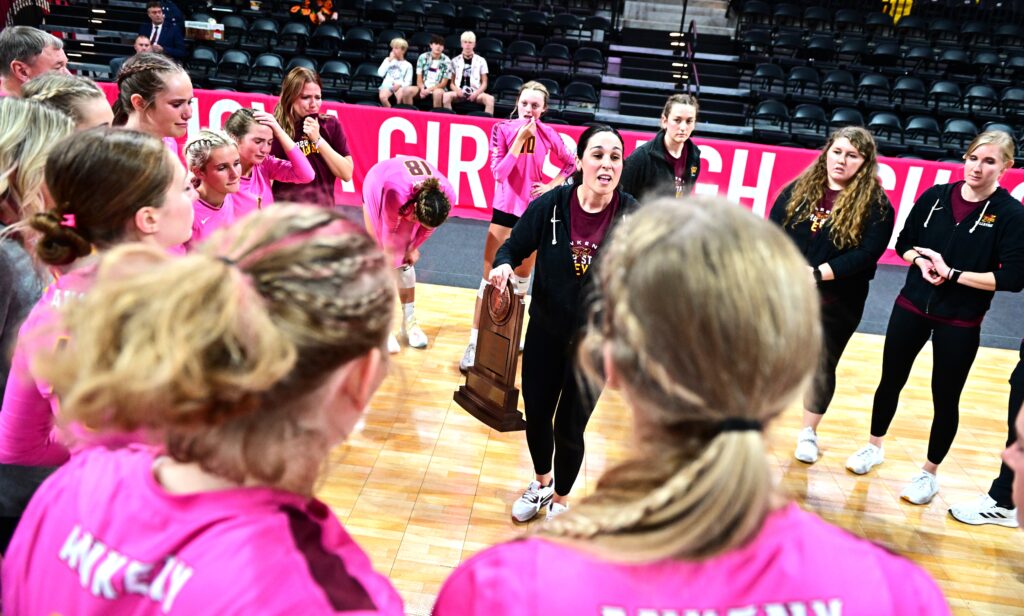 The Tigers needed a miraculous rally to beat No. 8 Johnston in the regional final, then carried that momentum over to Monday's match.
"Valley just played lights out," Kohut Lynch said. "They dug everything up that we hit at them. They were serving really well, and we weren't. We came out pretty nervous–you could tell. We made a lot of errors that reflected that. And then we were constantly playing catch up, and that's always a tough thing to do."
Ankeny struggled mightily from behind the service line. The Hawkettes served just .783 for the match, committing 13 errors in 60 attempts.
"We missed a lot of serves," Olson said. "I think we were overthinking some stuff. If we would have played a little smarter, then it might have been a different outcome."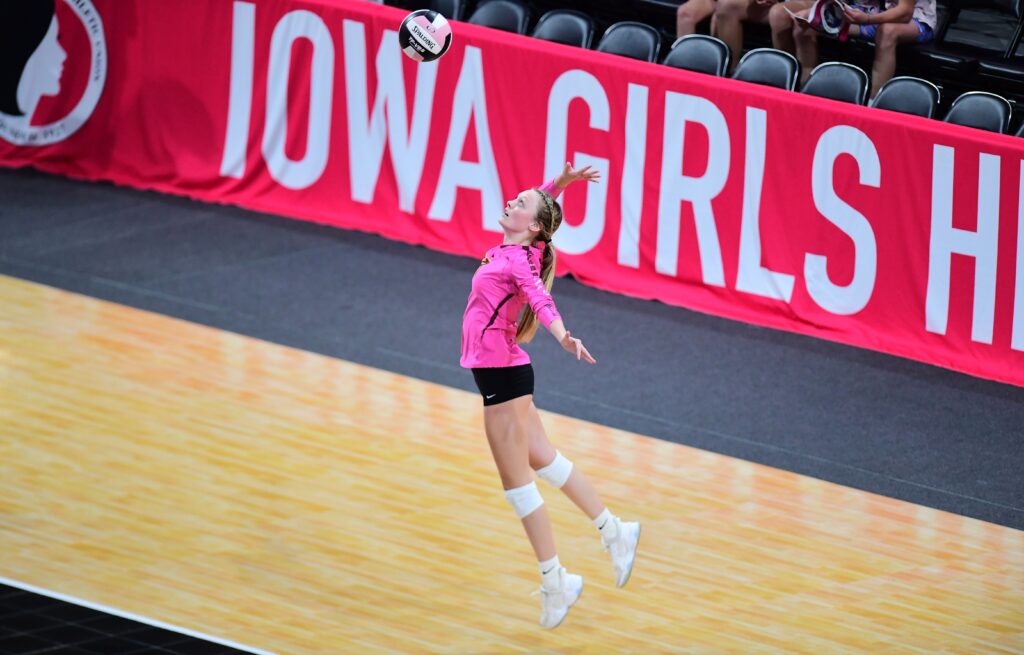 The Tigers also outhit Ankeny by a .225 to .177 margin. The Hawkettes hit just .091 in the opening set.
"Honestly, I felt like we played a lot more together as a team," said Valley middle hitter Elise Jaeger. "On this big of a stage, that's what is going to get you to the next round. Obviously, it definitely worked out."
Jaeger had 13 of the Tigers' 35 kills. She also racked up five blocks.
"Their defense was crazy good," Ankeny middle hitter Myra Carlson said of the Tigers. "Nothing was really falling. They threw in some shots that we hadn't seen before, and I would say that they outsmarted us. It's disappointing, but we played hard."
Tanith Roush and Aowyn Schrader each had 10 kills to lead the Hawkettes. Olson added seven more, but it wasn't enough.
"It's state–everyone wants it and everyone comes out to win," Kohut Lynch said. "You know, sometimes the nerves get the better of us. It sucks big-time, but our girls played hard and they fought back every once in a while. It was just too much Valley. They really scouted the crap out of us."
The Tigers got off to a fast start, jumping out to a 12-2 lead. Many of those points came on Ankeny hitting errors.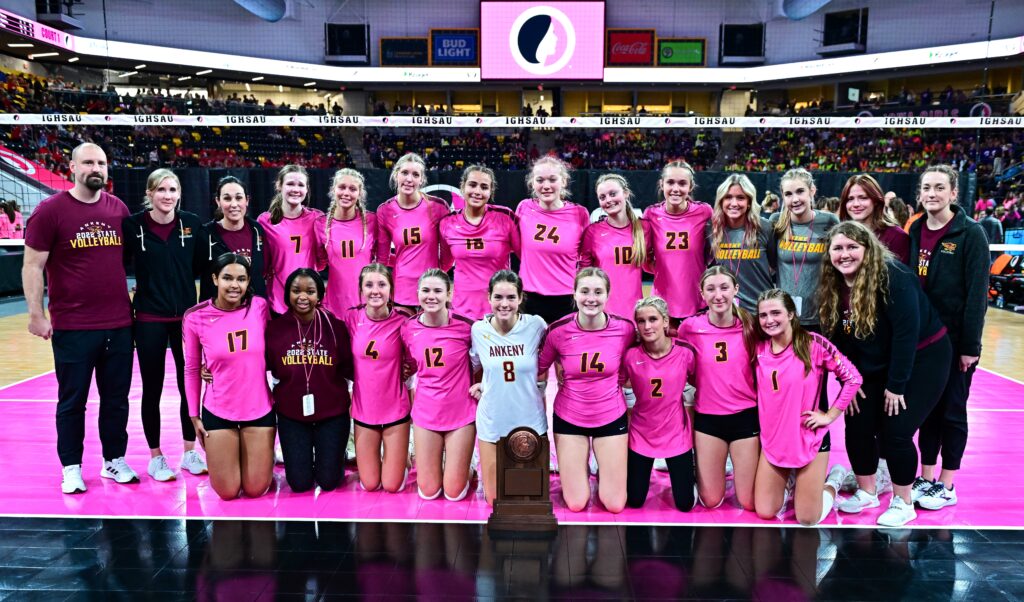 "They definitely took us by surprise with how strong they came out," Carlson said. "They really just outplayed us at the end of the day. We didn't come out with as much fire as they did. I wouldn't say they wanted it more, but they really wanted to beat us. It sucks, but our play kind of shows what happened. We just didn't bring it today."
Olson admitted that the Hawkettes were nervous.
"I think it was all the sounds and the student sections," she said. "We're not really used to that big of a crowd. It was kind of shocking for us."
Ankeny battled back and pulled within 17-11 before Valley answered with a 6-0 run that included back-to-back aces by Finley McAndrew. The Tigers closed out the set shortly thereafter on a kill by Thia Raridon.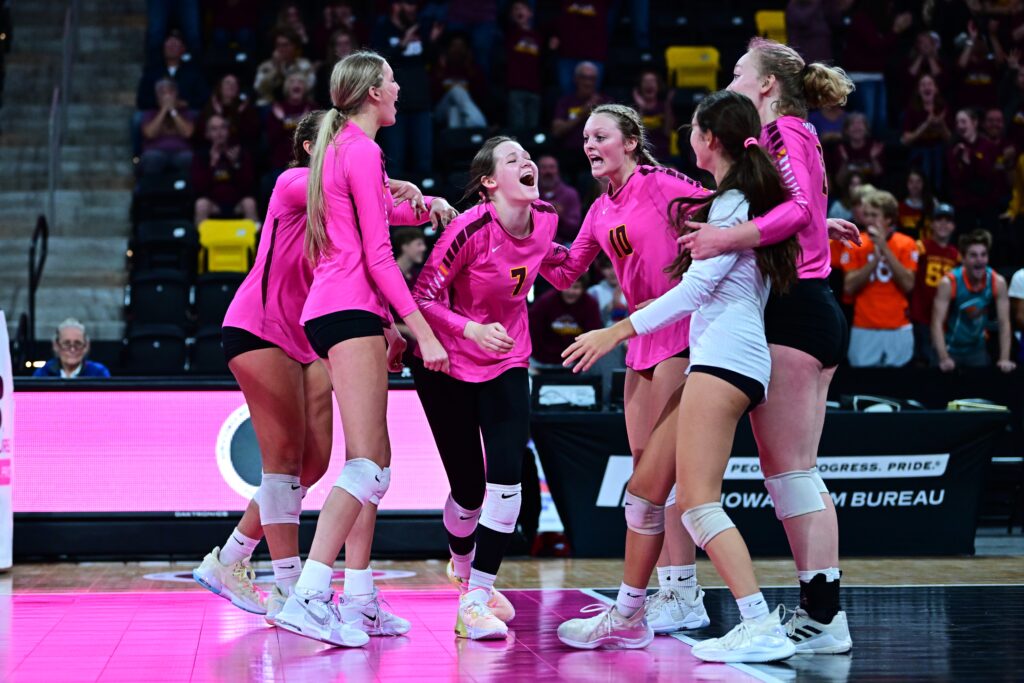 The second set was a back-and-forth affair that featured a whopping 18 ties. Valley led most of the way, however, until Roush made an incredible save that went over the net and fell to the floor, giving the Hawkettes a 24-23 advantage.
Jaeger then got a huge block to tie the score once again. The Tigers regained the lead on a kill by Kaelyn Wieland, then closed out the set when Ankeny hit the ball out of bounds.
"That was insane," Jaeger said of her team's late charge. "After the first set we had so much momentum–so much energy and confidence–and then the second set just added to that. It was definitely a tougher set, but being able to win that just gave us the momentum that we needed for the third."
The Hawkettes took a 10-8 lead in Set 3 on a kill by Schrader, but Valley then responded with a 5-0 run and never trailed again. The Tigers eventually closed out the match with a 6-2 run, capped off by a kill from Jaeger.
"She's really good," Carlson said of Jaeger. "Her swings basically fell every time. We tried to get up on her with our blocking, but she knew to go around us. She did really well."
McAndrew and Brynne Katcher each had six kills for Valley. McAndrew also dished out 17 assists.
"We definitely wanted to get me the ball and then have the other team kind of worry about me in the middle, and then be able to hit it out to our outsides and right sides and give them the opportunity to get us ahead," Jaeger said.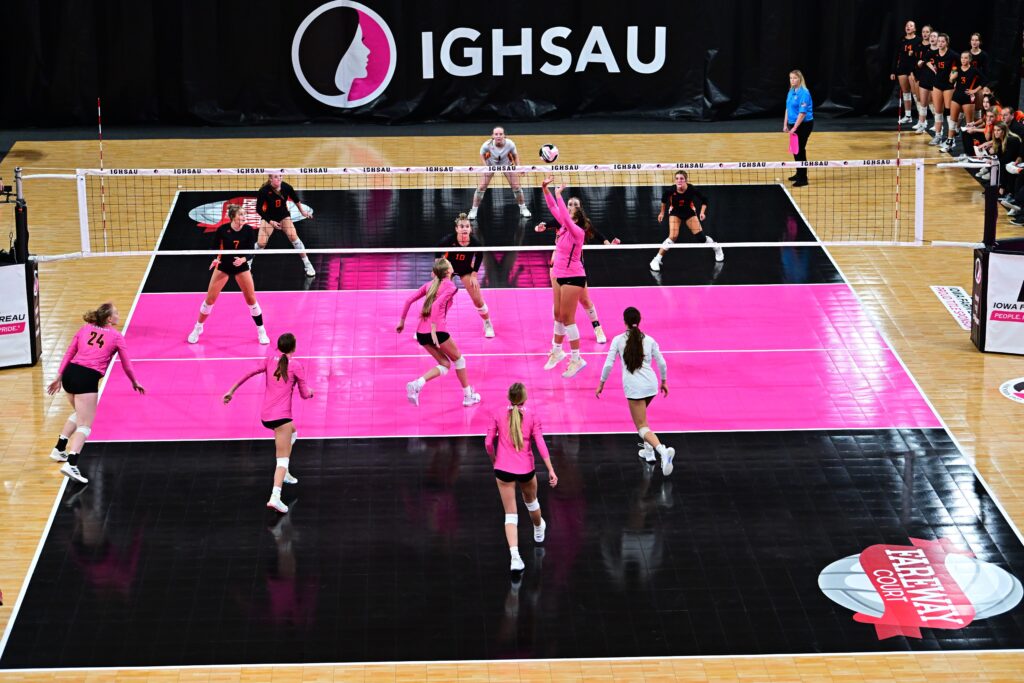 Jesa Wallace had 27 assists, 14 digs and two aces for the Hawkettes. Sydney Otto contributed 13 digs, and Hannah Baier added 10 before leaving the match in the third set after taking a ball off her face.
"It's unfortunate, but we're sticking together and these girls have a lot to be proud of this season. We're going to focus on that," Kohut Lynch said. "This one game does not define us. We've had a heck of a year–we just didn't play our game when it mattered."
Valley will play No. 3 Pleasant Valley (28-6), the defending champion, in Wednesday's semifinals.