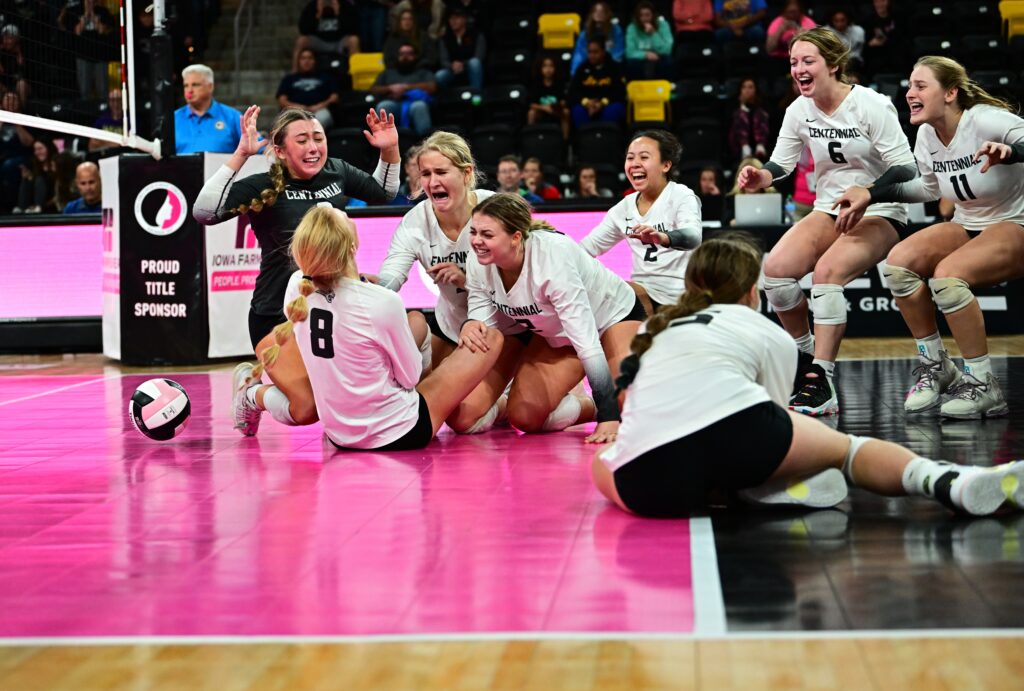 There was nothing scary about the volleyball match between Ankeny Centennial and Dowling Catholic that was played on Halloween.
The two CIML Conference rivals simply played an all-time classic on the state's biggest stage.
Sixth-ranked Centennial outlasted the No. 4 Maroons, 25-22, 23-25, 19-25, 29-27, 15-11, in a Class 5A quarterfinal at the state tournament on Monday. The 2-hour, 19-minute match was a treat for an estimated 1,500 fans at Xtream Arena in Coralville.
"We knew it was going to be a fight from the start, but we poured every single ounce into that match and we just got it," said Centennial sophomore Jaeden Pratt.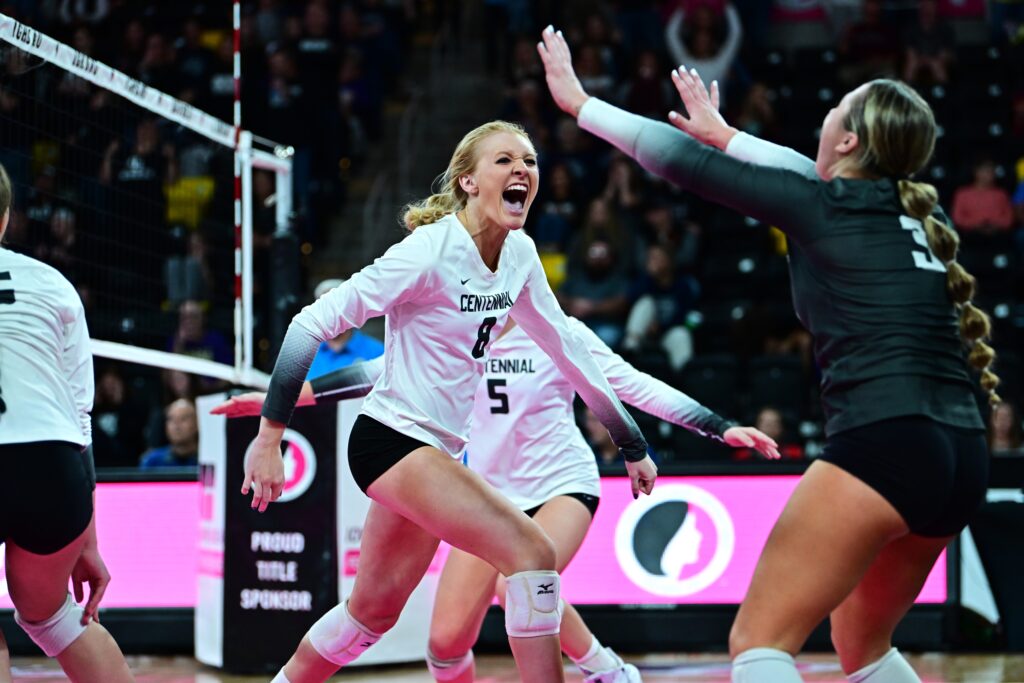 Pratt's block finally put an end to a marathon match that featured a total of 37 ties and 16 lead changes throughout the five sets. The Jaguars trailed in the fifth set, 9-7, before closing out the match with an 8-2 run.
"I expected a battle," said Centennial coach Jessica Rinehart. "I was hoping it wouldn't go five. I don't think anybody wishes for five-set matches. I didn't know it would be that to the wire, but that was awesome."
The two teams had split a pair of previous matches. The statistics from Monday's match reflected an even battle that easily could have gone either way.
Centennial scored a total of 111 points, one more than the Maroons. The Jaguars outhit Dowling by the slimmest of margins, .080 to .076, and outserved them by .919 to .891.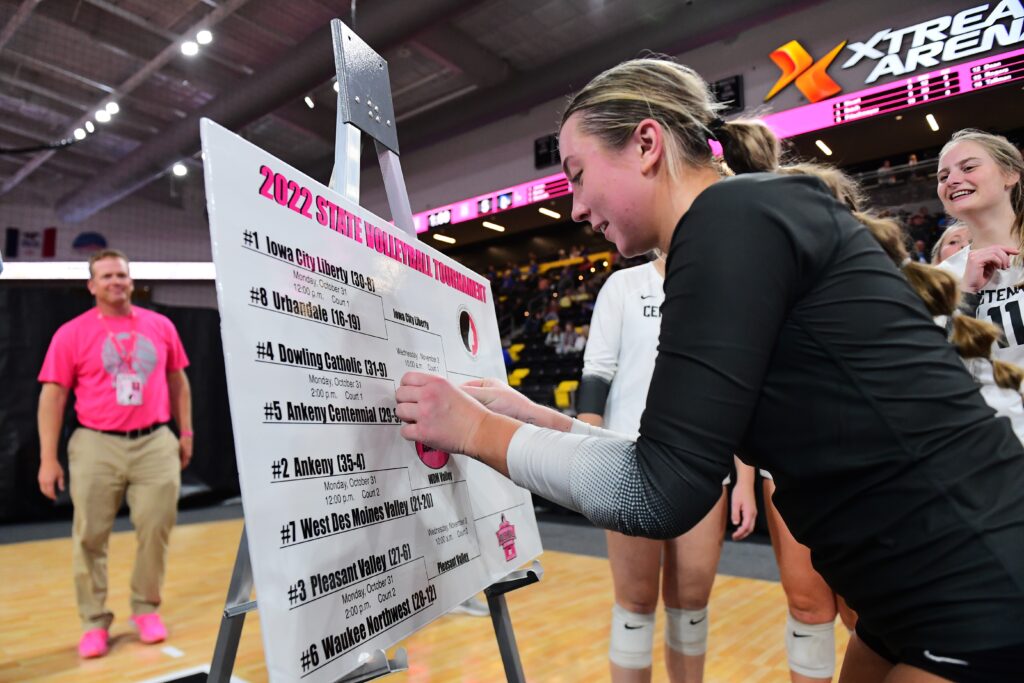 The Maroons held a 23-22 lead in the fourth set, putting them just two points away from a victory. But Centennial refused to quit.
"It was a lot of heart attacks, but it was amazing," said Centennial sophomore Delaney Miller. "The feeling is indescribable."
Pratt came up with a block, then served an ace to give the Jaguars a 24-23 lead in Set 4. The two squads then traded sideouts on eight consecutive points.
Centennial had four set points, but each time Dowling responded with a big play–getting a pair of kills from Mackenzie Dean and a block from Ellie Muller to prolong the set. There were 16 ties and six lead changes in the fourth set alone.
After a serve by the Maroons went out of bounds to give Centennial a 28-27 lead, the Jaguars had a fifth set point. And this time, Miller served an ace to close it out.
"At that point, I was just like, 'Anything to get that point,'" Miller said. "If that means getting an ace or just getting it over so my teammates can help me win that point, it was all or nothing for me. I just went for it."
Centennial then took a 7-5 lead in the fifth set before Dowling answered with a 4-0 run. Muller started the run with a kill, then capped off the flurry with a block.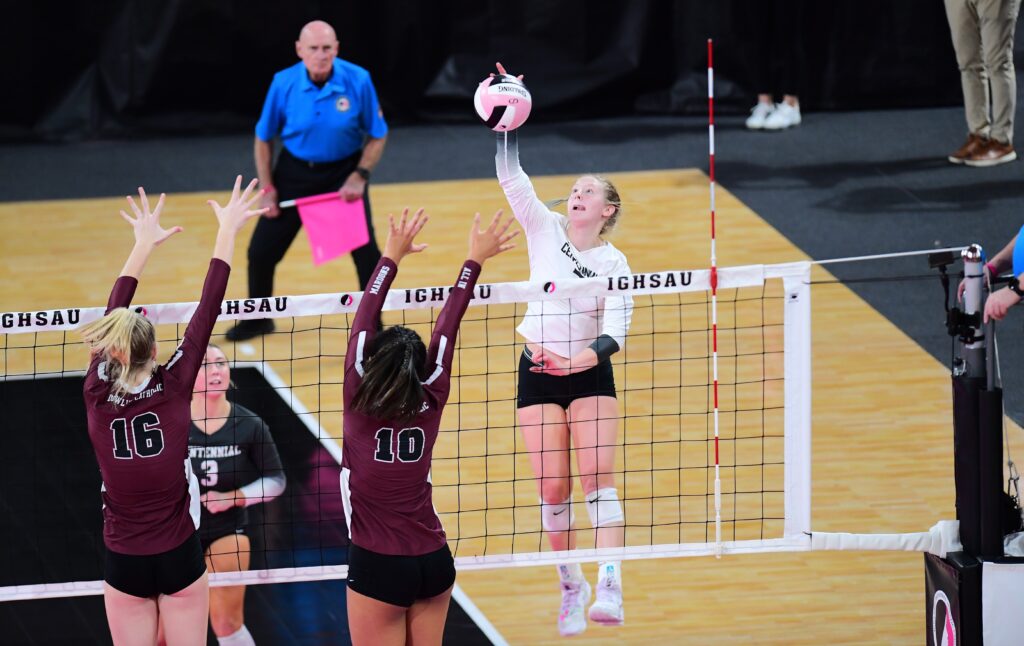 The Jaguars called a timeout and regrouped.
"Coach just kept everyone positive and smiling," Pratt said. "She was like, 'We got this. We're still in this. It's not over.' We just had to keep fighting."
A kill by Anna Sash and an ace by Taylor Bechen tied the score at 9-9. Dowling regained the lead on a kill by Megan Frischmeyer, but the Jaguars then got a kill from Delainey Winkel and a block from both Winkel and Pratt to take an 11-10 lead.
The Maroons got another kill from Frischmeyer to tie the score once again, but Pratt responded with a kill to put Centennial ahead for good. Reagan Angus added a kill, then Jada Schmidt followed with a block to set the stage for Pratt's clinching block.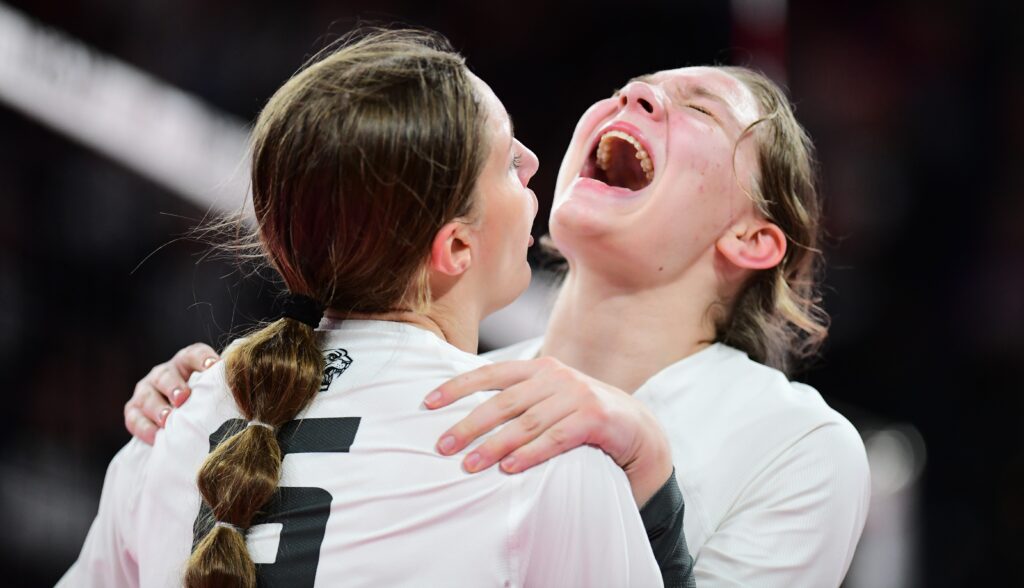 "Oh my goodness, it feels great," Pratt said. "Words can not describe it."
Miller had 13 kills to lead Centennial's balanced attack. Pratt contributed 12 kills, and Sash added 10.
The Jaguars overcame 27 blocks by Dowling, eight of them by Muller.
"We found a way to get around that block, but it's one of the bigger blocks we've seen," Rinehart said. "Our hitters felt like there was nowhere to go so that's why we set it a little bit higher and set it a little bit off the net to give our hitters more options."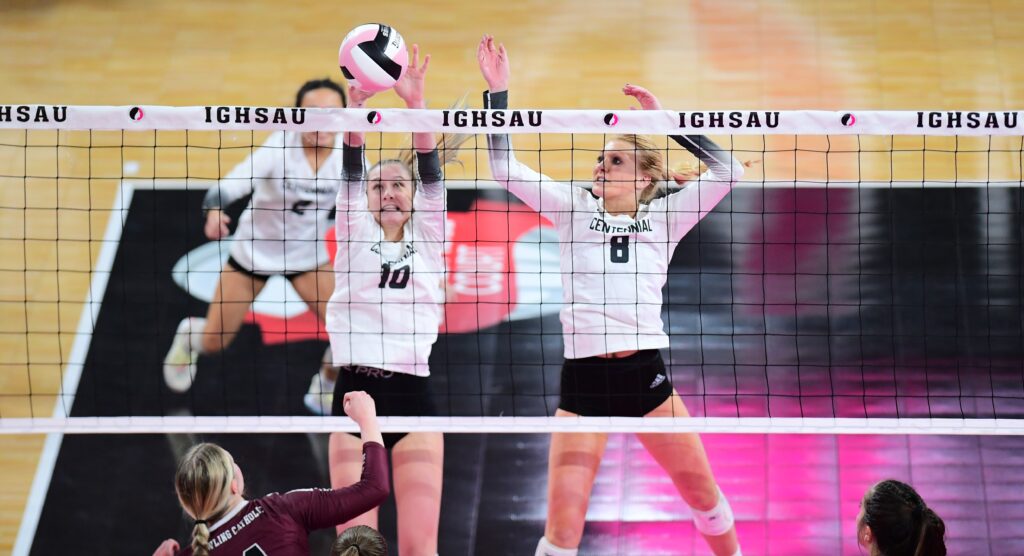 Angus dished out 28 assists. Her backup, Kambria Leazer, added eight more and also had six blocks.
"We ran in Reagan back and forth to give us a little bit more leadership, but kept Kam going for a bigger block and I thought that was good," Rinehart said. "We made a slight adjustment defensively, and then on offense we just made a little bit of a change where we were setting the ball and I think that helped."
Bechen racked up 31 digs for the Jaguars. Sash recorded 10 blocks, and Pratt added seven–including the biggest one of the match.
"Dowling does have a big block, but I feel like we matched it pretty well at the end," Angus said.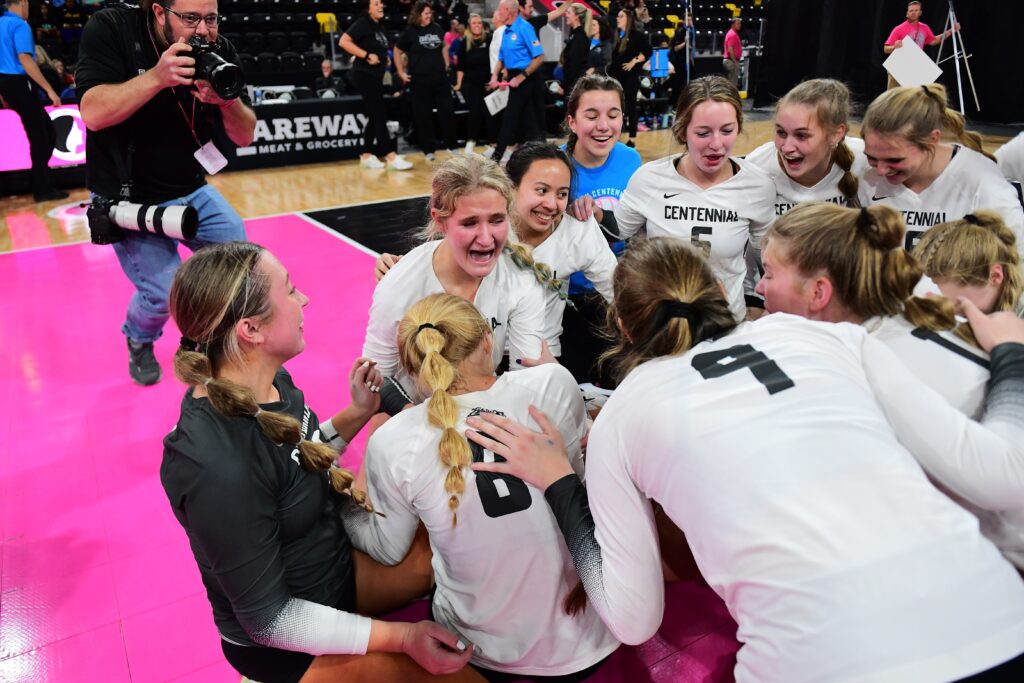 Centennial improved its record to 30-9. The Jaguars will play No. 1 Iowa City Liberty (31-8) in Wednesday's semifinals at 10 a.m.
"Honestly, we've worked so hard for all of this," Miller said. "We deserved that win. It feels amazing to do it."
Frischmeyer had 19 kills to lead Dowling, which finished with a 31-10 mark. Dean chipped in 16 kills, and Emma Tallman added 12.
Ally Anderson contributed 24 assists and three aces.
"The girls were playing aggressive, and I thought they fought hard," said Dowling coach Mary Beth Wiskus. "They stayed together the whole way through. They just came up short."
Iowa City Liberty advanced with a four-set win over No. 11 Urbandale. Northern Iowa recruit Cassidy Hartman pounded 21 kills for the Lightning, who lost to Ankeny in the 2020 championship match.
"We are going to put everything into these next matches," Miller said. "We're doing this for our seniors, and we will never give up."