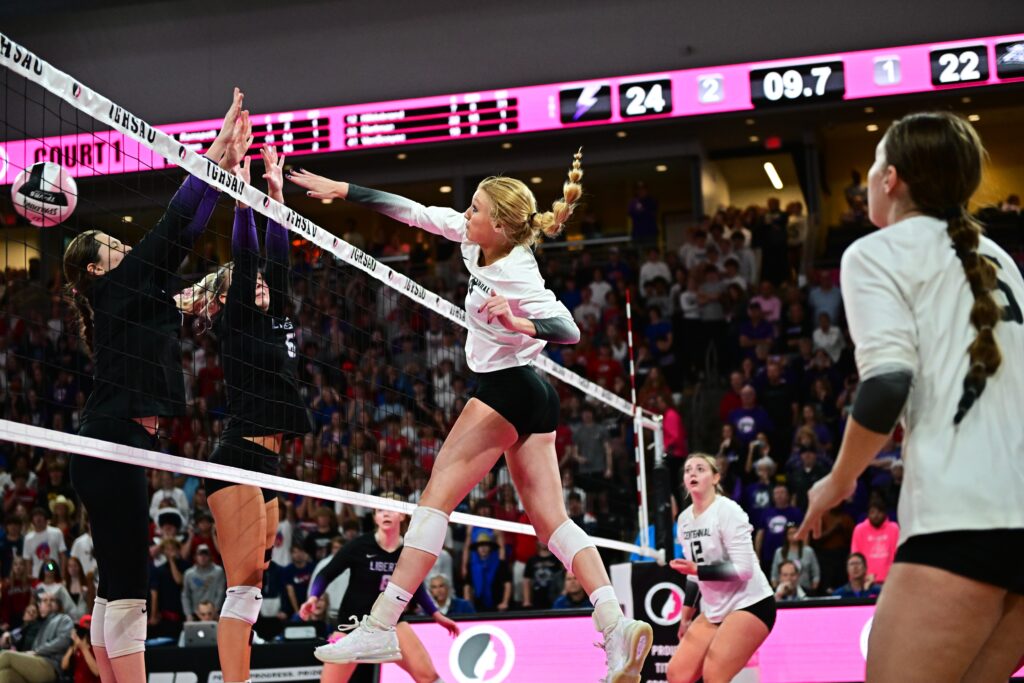 A balanced offensive attack wasn't enough for the Ankeny Centennial volleyball team against Iowa City Liberty star Cassidy Hartman.
Hartman pounded 22 kills and also had 15 digs to lead the top-ranked Lightning to a 25-21, 25-19, 18-25, 25-22 victory over No. 6 Centennial in a Class 5A semifinal on Wednesday at Xtream Arena in Coralville.
"She has a good cutback to 1 that we just couldn't stop," Centennial sophomore Jaeden Pratt said of Hartman, a Northern Iowa recruit. "She just kept dominating, so props to her."
Liberty (32-8) advanced to the Class 5A final for the second time in three years. The Lightning will play No. 3 Pleasant Valley (29-6), the defending champion, in Thursday's title match at 10 a.m.
The Jaguars, making their ninth trip to the tournament in the 10-year history of the program, finished with a 30-10 record for the second straight season.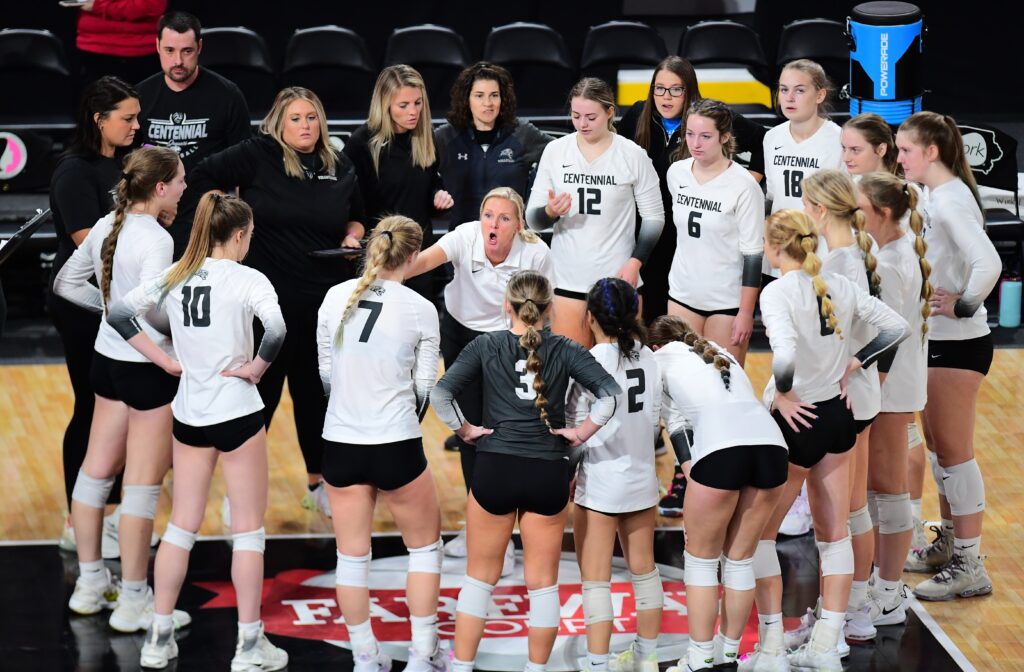 "I'm super proud of the girls," said Centennial coach Jessica Rinehart. "They never quit. It was a close one at the end."
Liberty built a 24-18 lead in Set 4 before Centennial fought off four match points. The Jaguars pulled within 24-22 on a kill by Delaney Miller.
"I feel like I knew we could finish," said Liberty senior Shelby Kimm, a St. Cloud State recruit. "We could get that last point. Sure, there was a little bit of a worry, but we only needed one point and they needed a lot more."
The Lightning finally prevailed when a spike attempt by Pratt from the middle sailed just wide of the sideline.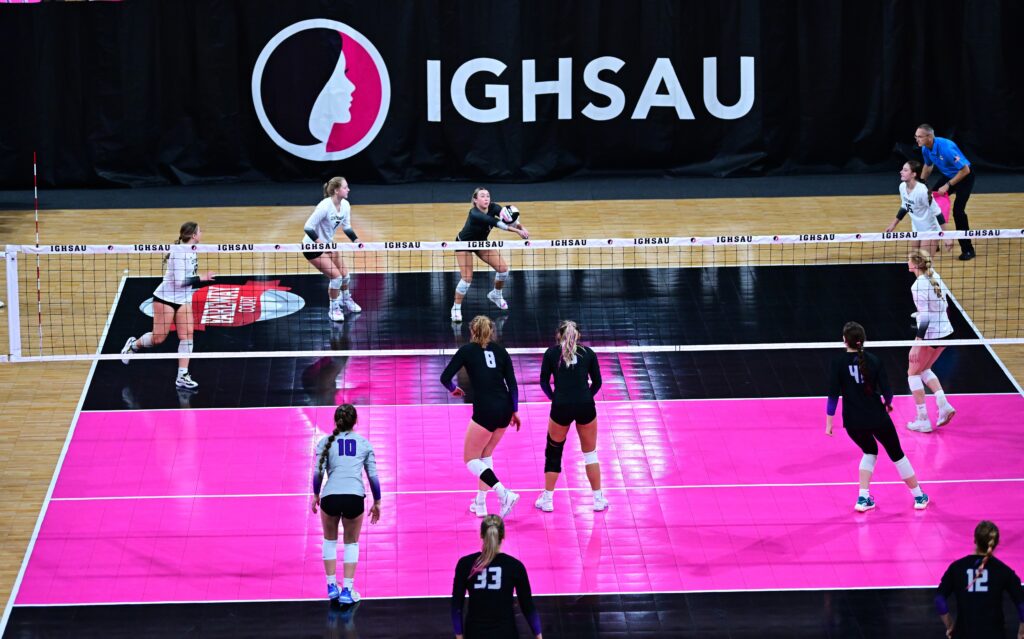 "I thought we were going to come back," Pratt said. "Everyone played their hearts out. We just fell short."
Liberty outhit Centennial by a .152 to .109 margin. Kimm had 11 kills and two blocks for the Lightning, while Lilah VanScoyoc added 10 kills.
Asta Hildebrand dished out 31 assists and also had four aces.
"We've heard a lot about Centennial, so anytime there's buzz you know that there is something to come and prepare for," said Liberty coach Allie Kelly. "We just heard that their defense is extremely scrappy, and they proved that today. Their blocking is incredibly disciplined, and we had to work around that. I commend them on a great game. They came ready to play, and they lived up to all the hype we heard beforehand."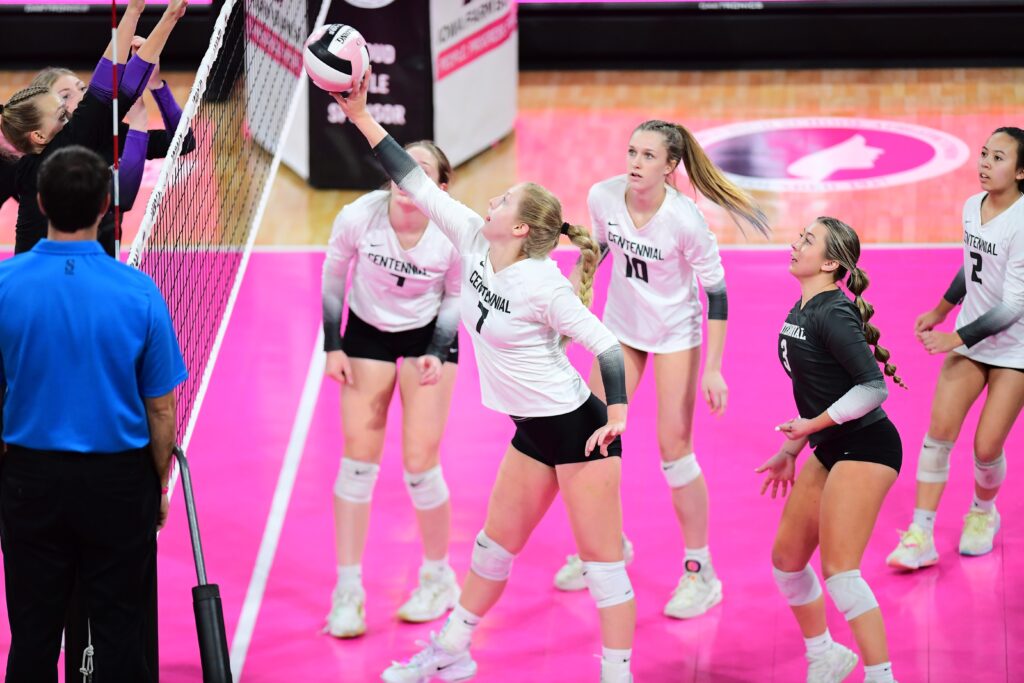 Pratt led the Jaguars with 10 kills and three blocks. Miller and Delainey Winkel each had seven kills and three aces, Anna Sash contributed five kills and three blocks, and Hannah Kurth added four kills.
Setter Reagan Angus also had four kills while racking up 21 assists. Taylor Bechen chipped in 21 digs.
"I just thought we didn't execute on our side of the net as well as we could have," Rinehart said. "I felt fine with what they were doing on their side and that we knew where the ball was going. We just weren't quite as clean as maybe we have been."
There were seven ties and six lead changes in the opening set. The Jaguars led, 20-19, before Liberty went on a 6-1 run, closing it out on a kill by VanScoyoc.
In Set 2, Sash had two blocks and a kill in a 6-1 run that gave Centennial a 17-15 lead. But the Lightning then answered with a 10-2 run, capped off by an ace that gave them a 2-0 cushion.
Liberty then took an 8-3 lead in Set 3 and appeared to be on its way to a sweep.
"We needed to serve tough and basically get to five (points) first," Winkel said. "We needed to start earlier."
It took awhile, but Centennial finally got untracked. A kill by Miller sparked a 16-5 run that gave Centennial a 19-13 lead.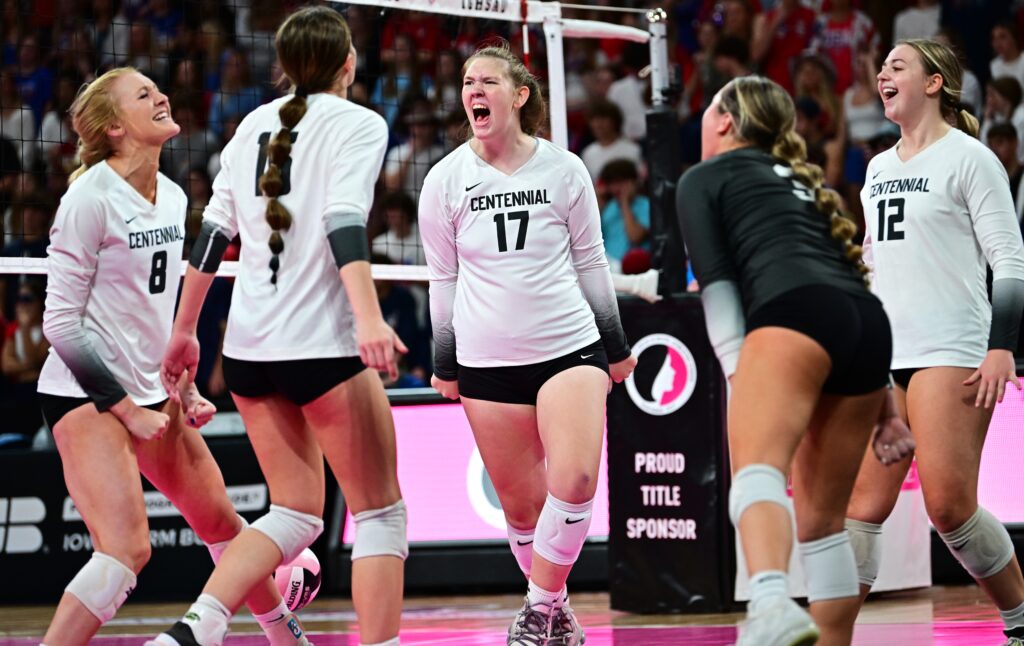 Kurth later had a pair of kills before Sash hit another kill to close out the set.
"We put Hannah in on the right side, and she gave us some more offense," Rinehart said. "That really did change things. Hannah has great energy, and she's fought the whole season. It was fun to watch her have that chance, and I think it made a difference in the match."
The Jaguars hit .250 in the third set.
"The girls asked, 'Who's their go-to?'" Kelly said. "And I said, 'All of them.' They were a true well-rounded team, and you don't see that a lot anymore. It's excellent to see, and I want to congratulate them on an excellent season."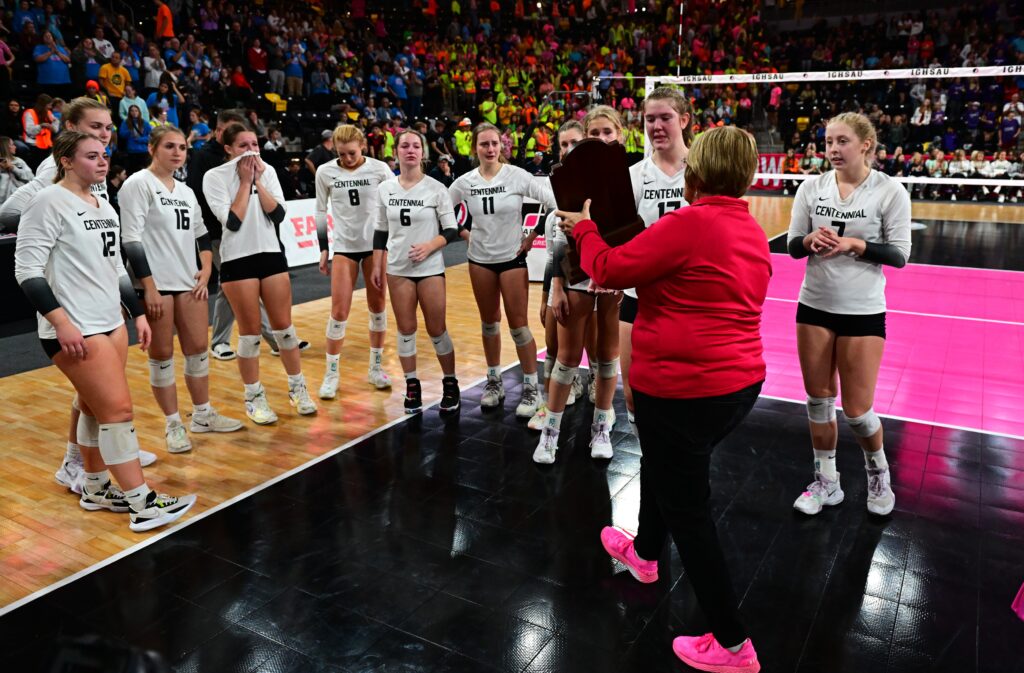 Centennial rallied from an 11-7 deficit to take a 14-13 lead in Set 4 on a kill by Miller. But Hartman followed with a kill to ignite an 8-1 run, and the Lightning led the rest of the way.
"The girls just had to remind themselves to stay in the moment and not think too far ahead," Kelly said.
The Jaguars were disappointed but had no reason to hang their heads afterwards.
"I'm proud of the girls," Winkel said.