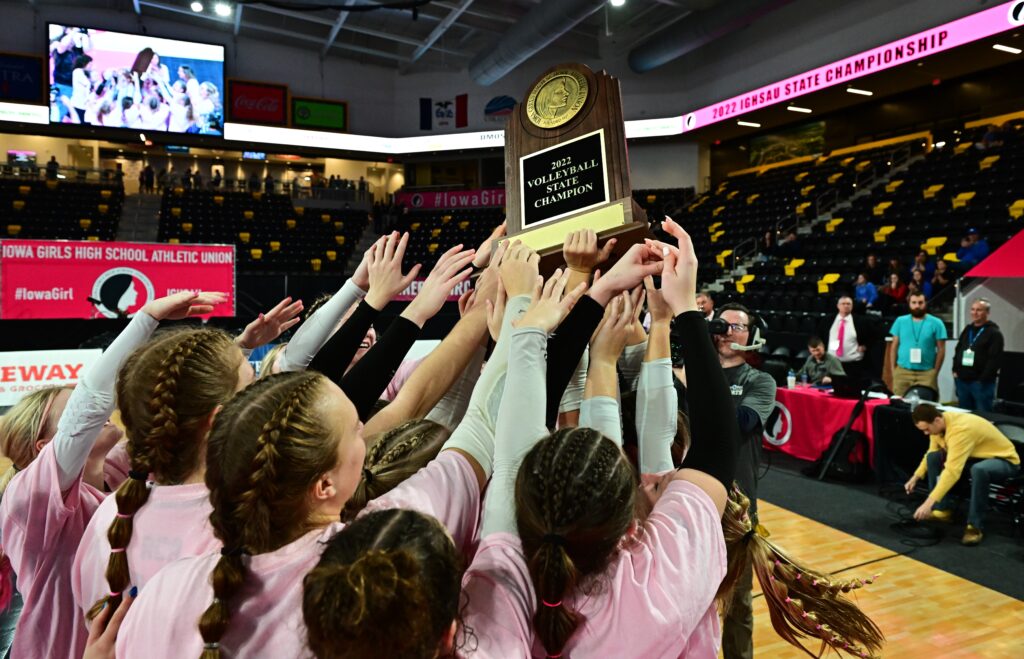 The Ankeny Christian Academy volleyball squad was expected to contend for the school's first state championship in any team sport in the next couple of years.
The young Eagles decided that they didn't want to wait to make some history.
Seventh-ranked ACA, which starts five sophomores, used a miraculous rally to defeat No. 4 Gladbrook-Reinbeck in the Class 1A championship match on Thursday night at Xtream Arena in Coralville. The Eagles fought off four match points and battled back for a dramatic 21-25, 19-25, 28-26, 26-24, 15-10 victory before a raucous crowd of 1,018.
It was the 18th straight win for the Eagles (39-3), who captured the title in their first state tournament appearance. They avenged a loss to Gladbrook-Reinbeck (34-10) in last year's regional final.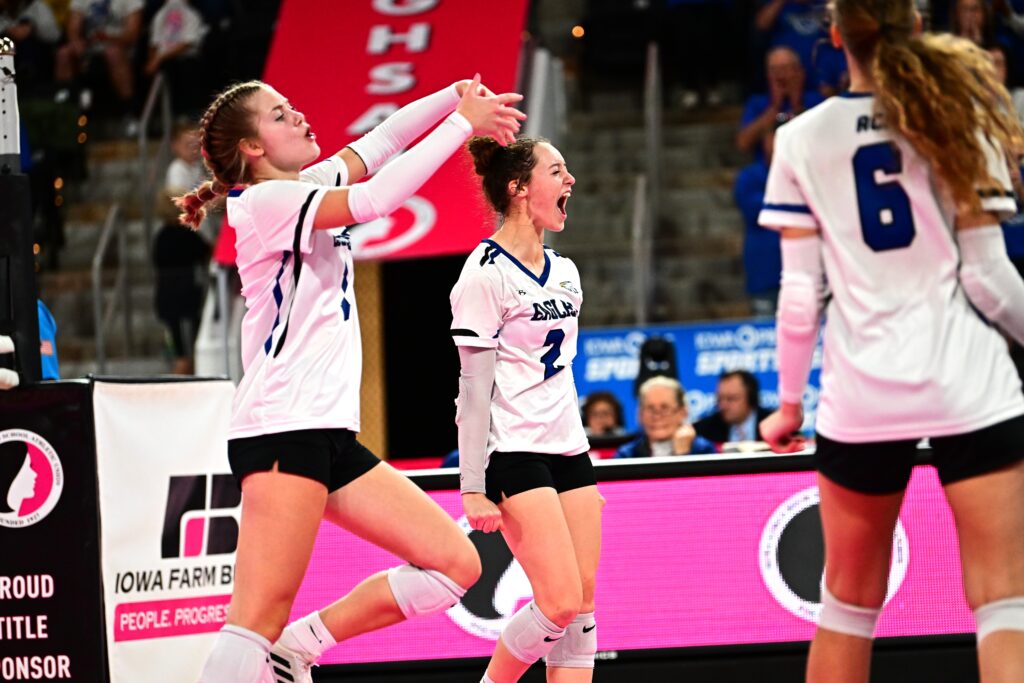 "It hasn't really sunk in yet that we are state champions!" said sophomore setter Katie Quick, who finished with 52 assists and eight kills. "I knew that we were capable of competing with every team there. I didn't know, though, that our team would perform as well as it did. It's so surreal that we came out with the title!"
Quick was named the captain of the all-tournament team. She was joined on the squad by teammate Carley Craighead, who led the Eagles with 20 kills.
Gladbrook-Reinbeck won the first two sets and was on the verge of a sweep after building a 21-14 lead in Set 3. But the Eagles refused to go away.
ACA scored the next six points to pull within 21-20. The Rebels then took a 24-22 lead on an ace by Kloie Hendricks, but they couldn't close it out.
The Eagles reeled off three unanswered points and eventually won the set on a Gladbrook-Reinbeck hitting error.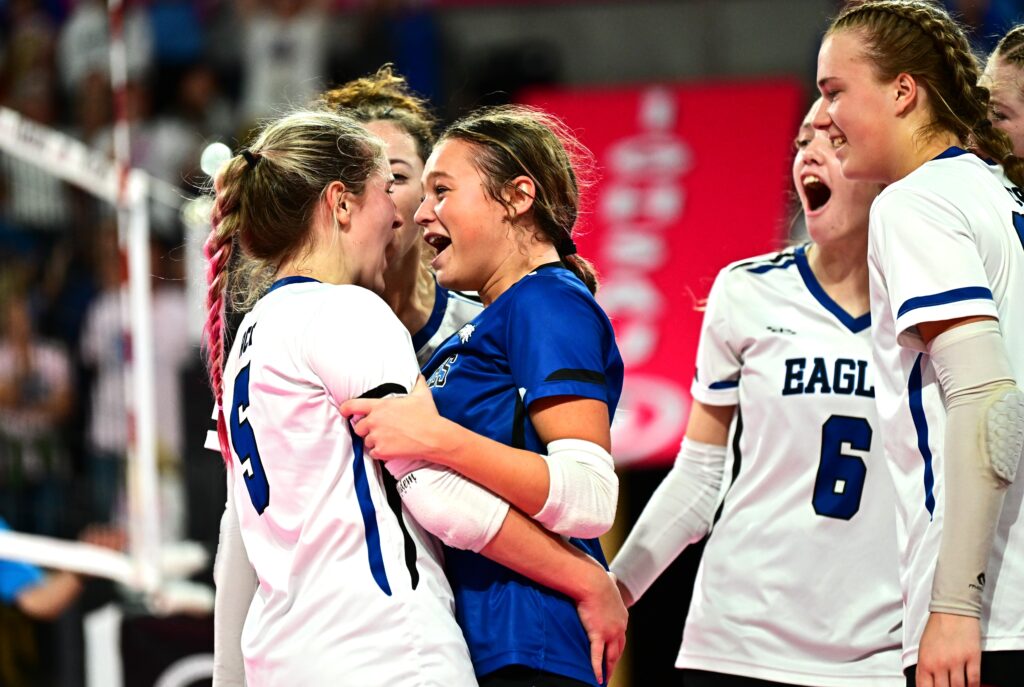 "That third set is a hard one to explain," Quick said. "The reason we won that set is because we just let God take control! There was no other way for us to pull that one out except through Him! Our confidence comes through Him!"
In Set 4, the Rebels jumped out to an early 6-1 lead before ACA answered with a 7-0 run that included two kills and a block by Craighead. Gladbrook-Reinbeck later went on a 7-3 run to break a 14-14 tie and eventually took a 24-22 lead on a kill by Megan Cooley.
Once again, the Eagles responded. They scored the next four points, beginning with back-to-back kills by Macey Nehring, and closed out the set on an ace by Riese Gjerde.
There were six ties and five lead changes in Set 5 before ACA pulled away. The Eagles closed out the match with a 10-4 run, getting another kill from Nehring to set off a wild celebration by the ACA fans.
Nehring finished with 18 kills and three aces. Anna Weathers had 15 kills and four blocks while hitting .500 for the match.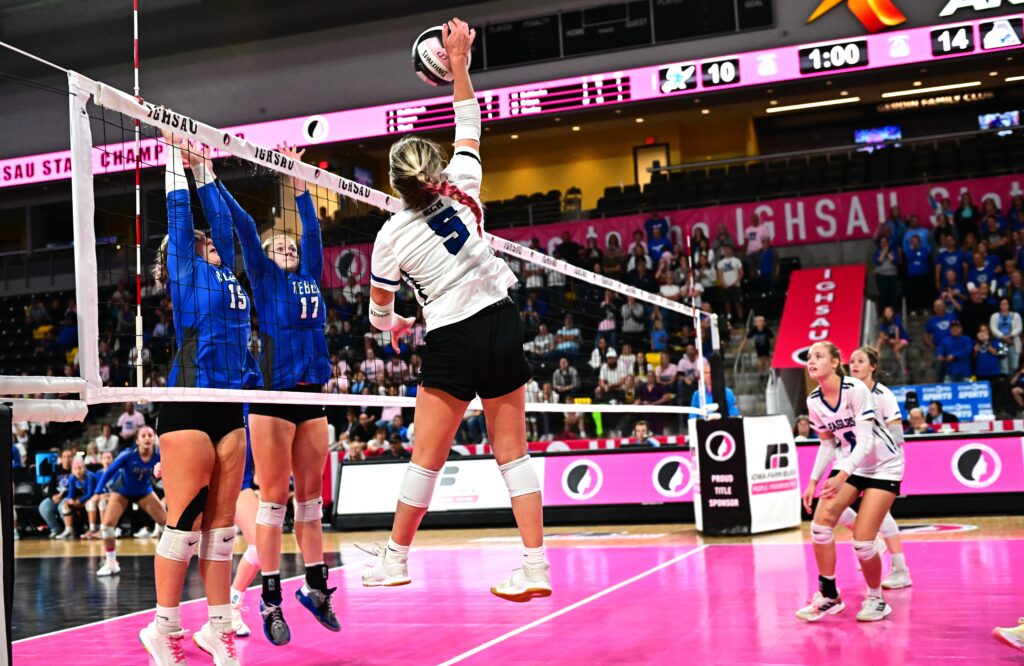 Gjerde and Quick each contributed 15 digs.
The Eagles won despite being outhit by Gladbrook-Reinbeck by a .270 to .220 margin. Ava Wyatt had 25 kills to lead the Rebels, Kennedy Brant chipped in 18, and Cooley added 17.
Emma McClintock had 57 assists and 19 digs in the losing effort.
Cooley and Wyatt were both named to the all-tournament team. Other all-tournament picks were Brynn and Trevyn Smith of AGWSR and Kennady Breitfelder of Springville.