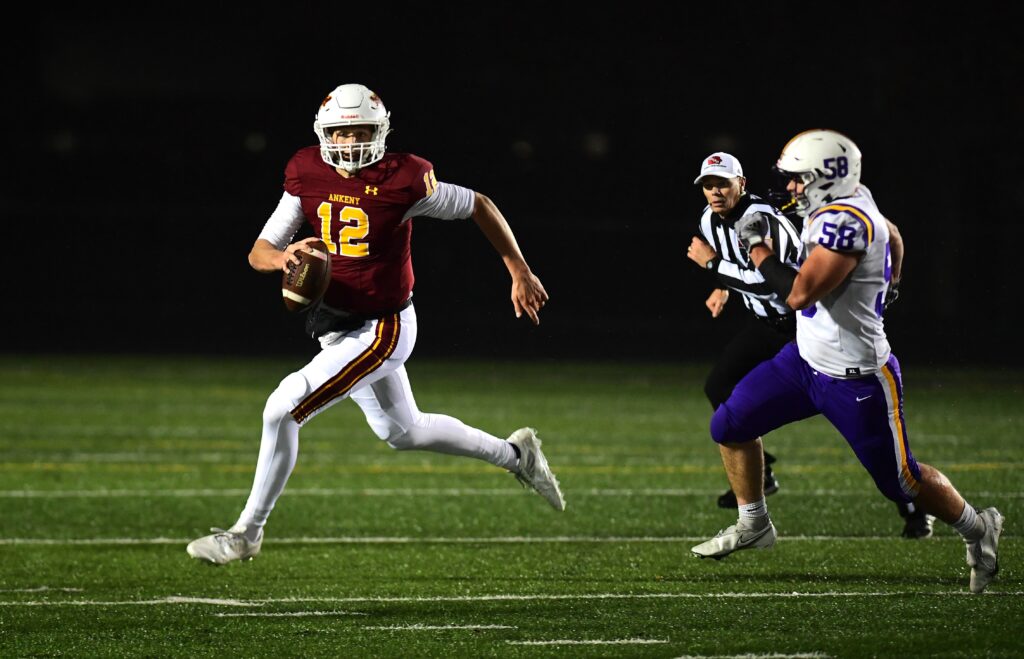 The Class 5A semifinals of the high school football playoffs will feature an all-CIML Final Four, marking the first time since 1972 that eastern Iowa does not have a semifinal representative in the largest class.
Unfortunately, third-ranked Ankeny won't be making another trip to the UNI-Dome.
The Hawks were denied a third consecutive appearance in the semifinals by No. 6 Johnston, which built a 10-0 halftime lead and went on to post a 23-13 victory on a rainy Friday night at Ankeny Stadium.
The Dragons (8-3) will play No. 2 Southeast Polk (10-1), the defending champion, on Friday at 7 p.m. No. 1 Dowling Catholic (10-1) will face No. 14 Valley (7-4) in the other semifinal at 4 p.m.
Ankeny ends the season with a 9-2 record. The loss ended a seven-game winning streak for the Hawks, who were hoping to reach the title game for the third straight year after winning a championship in 2020 and placing second in 2021.
Ankeny has posted a combined 30-6 record over the last three seasons. Senior offensive lineman Drew Monsivais summarized his feelings in a postgame tweet.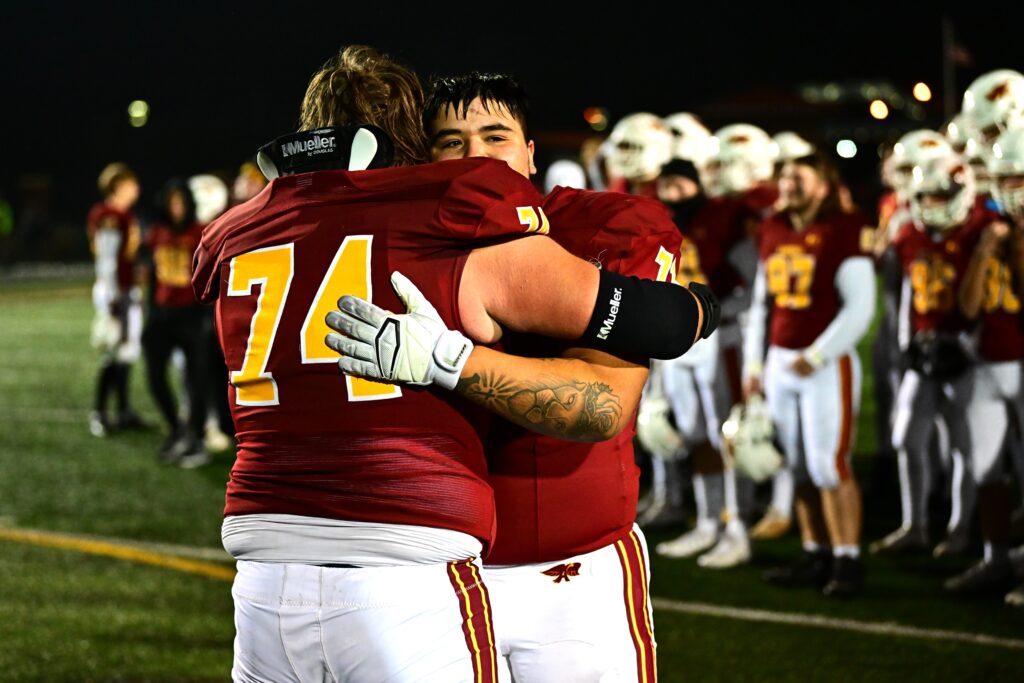 "As I walked out of Ankeny Stadium for the last time, I couldn't help but smile and be filled with gratitude," he tweeted. "Thank you @AnkenyHawkFB. To my coaches, thank you for teaching me the game of football, hard work, dedication, and the importance of relationships. It was a pleasure."
Ankeny simply made too many mistakes on Friday to defeat a highly-motivated team. The win allowed the Dragons to earn their first trip to the UNI-Dome.
The Hawks closed the gap to 16-13 on a 22-yard touchdown pass from JJ Kohl to Jamison Patton in the fourth quarter, but that was as close as they could get. Johnston's Collin Hodapp later recovered an Ankeny fumble, setting up a short scoring drive that essentially sealed the victory with about 5 minutes left.
Blake Tubbs ran for his second touchdown of the game. He rushed for 64 yards on 17 carries, while Menson Martin added 70 yards on 15 attempts.
Johnston also had some success through the air. Will Nuss completed 11-of-22 passes for 183 yards, including two big throws to Rex Woodley for 67 yards.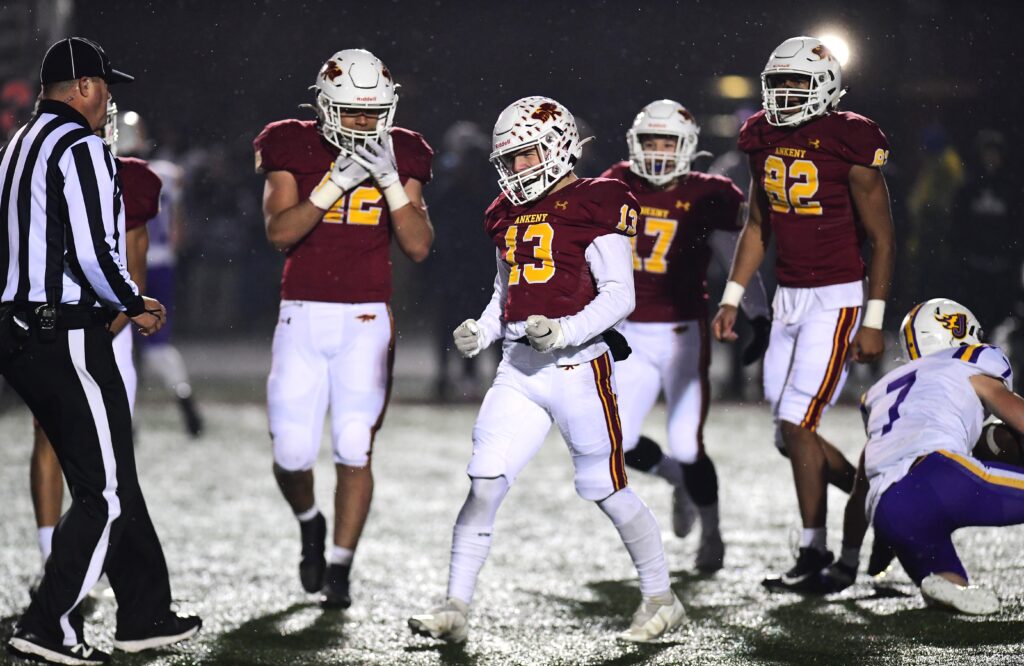 Ankeny, meanwhile, struggled to generate a consistent attack. Kohl completed 18-of-33 passes for 159 yards, but was also intercepted once.
The Dragons took a 7-0 lead in the first quarter on a scoring run by Tubbs. They added a 30-yard field goal by Carson Hanson with 6:59 left in the half.
The Hawks finally got on the board in the third quarter. A long run by Jazan Williams, who rushed for 124 yards on 20 carries, set up a 1-yard sneak by Kohl that cut Johnston's lead to 10-6 with 9:29 remaining in the period.
An interception by Ankeny's Kael Halstead gave the Hawks a chance to take the lead, but Johnston's Jack Chiota then returned the favor by picking off a pass from Kohl. Nuss then threw a long pass to Woodley to set up an apparent field-goal attempt.
However, Johnston coach Brian Woodley didn't want to settle for three points. He called for a fake field goal, and it worked perfectly as Daniel Grider fired a 23-yard scoring pass to Aidan George to make it 16-6.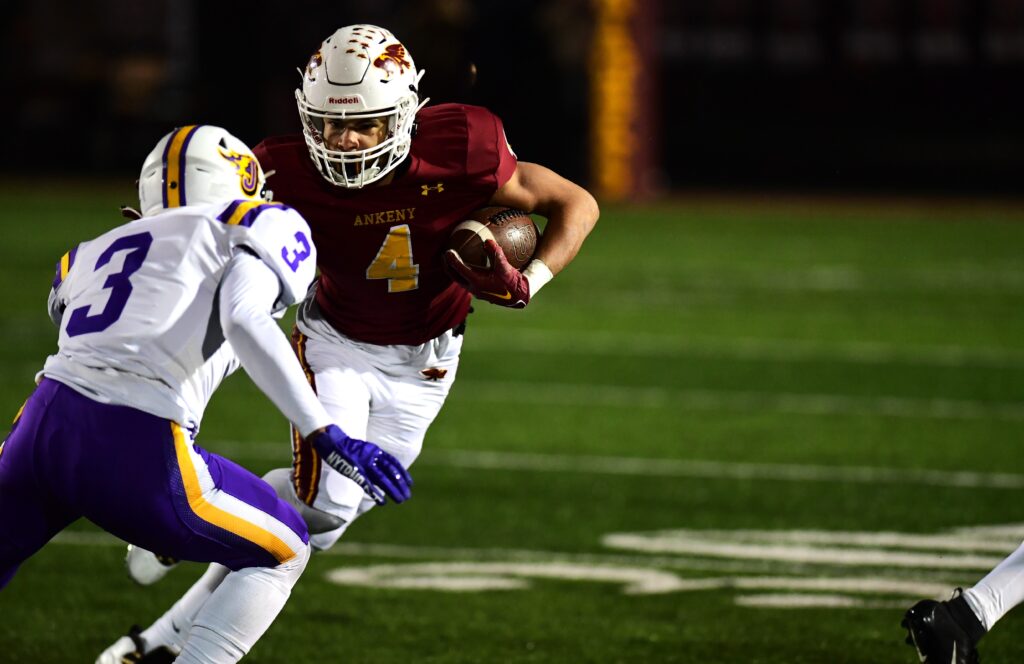 That set the stage for the fourth quarter, where Ankeny pulled to within three points before the Dragons converted the late turnover into the clinching touchdown.
Patton caught seven passes for 58 yards in the loss. He is headed to Iowa State next year along with Kohl.
Devon Akers added four catches for 59 yards. He had only two receptions coming into the game after missing almost the entire season due to an injury.
Nolan Morrison had 8.5 tackles to lead the Hawks' defensive effort. Patton added six stops.
Chiota made eight tackles to pace Johnston, which has won five straight games since dropping a 42-19 decision to Dowling on Sept. 30.