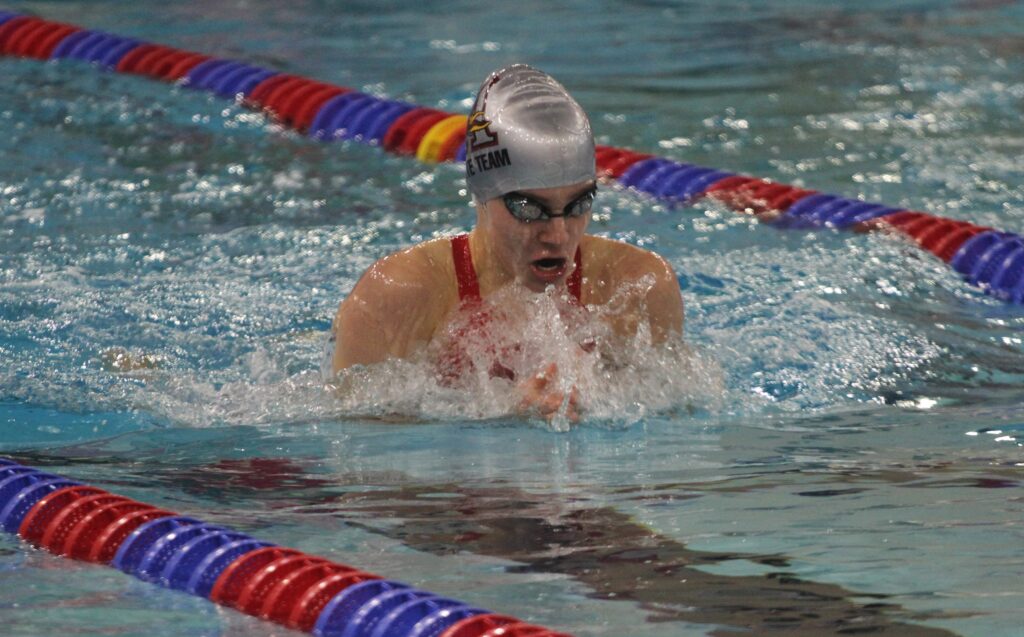 Senior Rachel Rolow helped the Ankeny girls' swimming team to a ninth consecutive top-10 finish in the state meet on Friday and Saturday at the Marshalltown YMCA. The Hawkettes finished in a tie for seventh place with 108 points.
Rolow placed sixth in the 100 backstroke with a time of 58.59 seconds and took 11th in the 200 individual medley in 2:10.54. Both were personal bests.
Rolow reached the podium in three events. She also swam on the sixth-place 200 medley and 200 freestyle relays.
Here is some inside info on Rolow:
Congratulations on an outstanding meet. Did you meet all of your goals?
Yes, I did! One of my main goals this year was to make it to the finals. I did that in both of my individual events. I made the "A" final in the 100 back and the "B" final in the 200 IM for the first time. And of top of that, I finished sixth and podiumed in the 100 back.
Both of your relays moved up from the No. 10 seed to get on the podium. Was it pretty nerve-racking to watch the final heat in both of those events to see where you would place?
More than you can imagine. All four of us (me, Anja Peck, Caroline Walker and Gracie Lindaman on the medley relay and me, Josie Parton, Gracie and Caroline on the 200 free relay) went straight over to coach Justin (Crouch) and watched as each relay swam to see how we compared, person to person. We all held our breath while we watched the final times as the relays came in because we knew we had to be faster than three relays from the final heat. Once we realized we did it, we all were screaming, jumping up and down, and hugging each other. It was the best! And for it to happen on BOTH relays, it made it even better.
Your team dropped more than 2 seconds in both of those relays. How much confidence did you have that those times would get you on the podium?
I knew we would drop time from our seed time. Anja was suited for this meet, and we were all fully tapered. I just didn't know if it would be enough to get us to the podium. And since we were not in the fastest heat, we all knew we had to race the clock instead of the other teams in our heat to have a chance to podium.
You dropped about a half second in both of your individual events. How much of a relief was it to see that you had podiumed in the backstroke as well?
My times at finals in both the 200 IM as well as the 100 back were both personal bests for me. To podium as a senior was really special and more exciting than anything.
Overall, what did you think of your team's performance?
I thought it was really good. The team grew a lot over the season. To have a qualifying swimmer in every event event for state says a lot about our team. We had strong swims in our relays and individual events that led us to our seventh place overall finish.
Is it kind of hard to believe that your high school career is over?
It really is. The last four years flew by. I still remember Scout (Bergwall) and Jasmine (Rumley) telling me my freshman year, "Enjoy every minute of it because the next thing you know, you will be a senior." And they were 100 percent correct.
You were one of only five seniors on the team. Did you try to provide some leadership for the younger girls on the squad?
Absolutely, especially with the freshmen swimmers. At meets I would encourage them. If they would have a bad swim, I would talk them through that and try to get them focused on their next race. There is a lot of adrenaline at the big meets, and I would do everything I could to help them through it all.
Do you think this team has a bright future with most of the girls coming back next year?
I do. With Anja and Josie returning to the team for their senior year, both will provide excellent guidance and leadership. There are also several strong underclassmen who will continue to grow and make a big difference for the team.
You have committed to join the Northern Iowa women's swimming and diving program next year. Do you know which events you'll be focusing on at the collegiate level?
My sweet spot is actually mid-distance. So, while I will continue to focus on the backstroke and IM, it will be the 200 backstroke and the 400 IM. These are not events in high school, so it will be good to have those as choices again next year. After swimming the 500 free and getting the state cut this year, coach Justin thinks that could also be my calling. We'll have to see about that.
Three of your former teammates–Scout, Maddie Carleton and Erica Peters–are members of the UNI squad. What have they told you about the program?
They have all talked about how (head coach) Nick (Lakin) and (assistant coach) Ben (Colin) are amazing and are very supportive. That was evident to me as well when I met them during my team visits. They have told me about the tight-knit atmosphere of the girls and how they all participate in team activities, like hiking and pancake breakfasts at the off-campus houses.
What are you planning to study?
Something in business. Maybe accounting or data analytics.