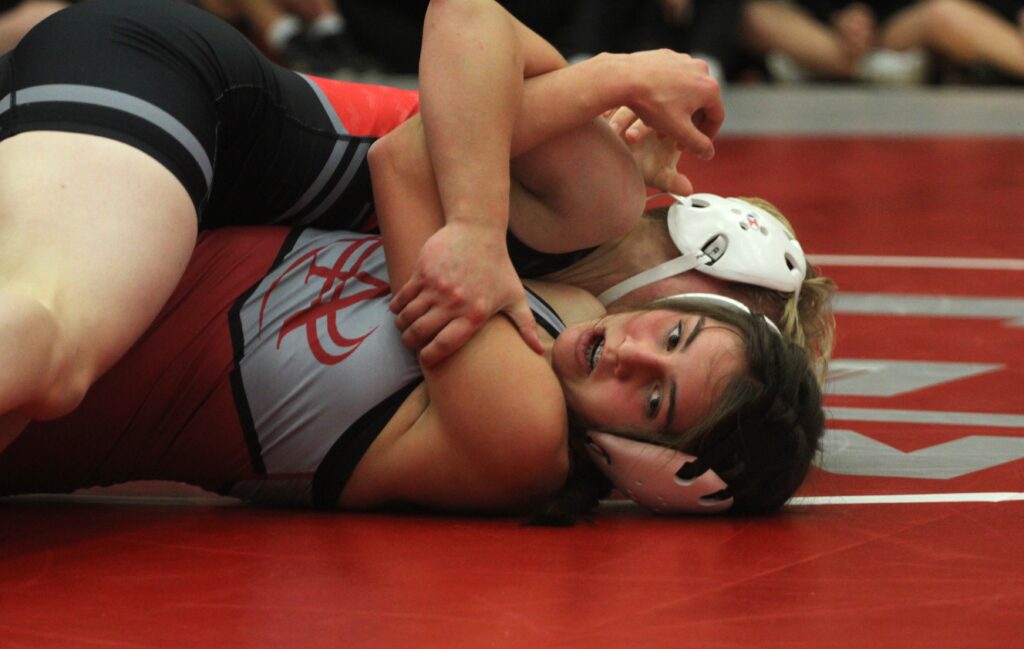 Saturday's Independence tournament turned into a pinning extravaganza for the Ankeny girls' wrestling team.
Ankeny posted a 28-13 record in the scramble, recording falls in 26 of its 28 victories.
"We had some great results," said Ankeny coach Dustin Roland. "Our girls just continue to work on the things that we've been trying to clean up from before. We had a blast the whole weekend, working out in the Northern Iowa wrestling room (on Friday) and staying in a hotel. We'll have some great memories from the weekend."
Emma Daggett and Avery Grim each went 3-0 with three falls in the tournament. Morgan Ray also went 3-0.
Gia Blaser and Lauren Heimer each went 3-1 with three pins. Ava Birchmeier, Nora Bockes, Kayla Clark, Mallorie McGuire and Melanie Martinez each went 2-1 with a pair of falls.
"Girls' wrestling is going to live and die on mat wrestling," Roland said. "As a team, we have to figure out how to be tough on bottom–get up and get out to your feet. And on top, it's just the opposite. We have to be able to end matches and maybe beat some girls who are better than us.
"We felt comfortable going to the down position. We didn't let the bottom position end our matches, and we had a lot of pins. I was really excited about that," he added.
However, Ankeny still has some work to do. Twelve of the team's 13 losses came by fall.
"The struggle is on the mat, and that's no surprise," Roland said. "Just being introduced to something new really brings out the difficulty in mat wrestling."
Ankeny competed without three of its varsity wrestlers. Dana Cleveland was sick, while Sophie Leo and Lily Hans are nursing injuries.
After a week off, Ankeny will host a CIML dual meet on Nov. 29. While Roland's team will face Valley, Johnston will battle Waukee and Southeast Polk will tangle with Urbandale.
"We're very excited to get away from the scrambles," Roland said. "They were ok at first, but we have some girls who need more than just random matches. They need to see what it's like to compete their way through a bracket and how to battle back on the back side after a tough loss. And with the dual meets, it's cool too because you have a team score and you're wrestling for your team."