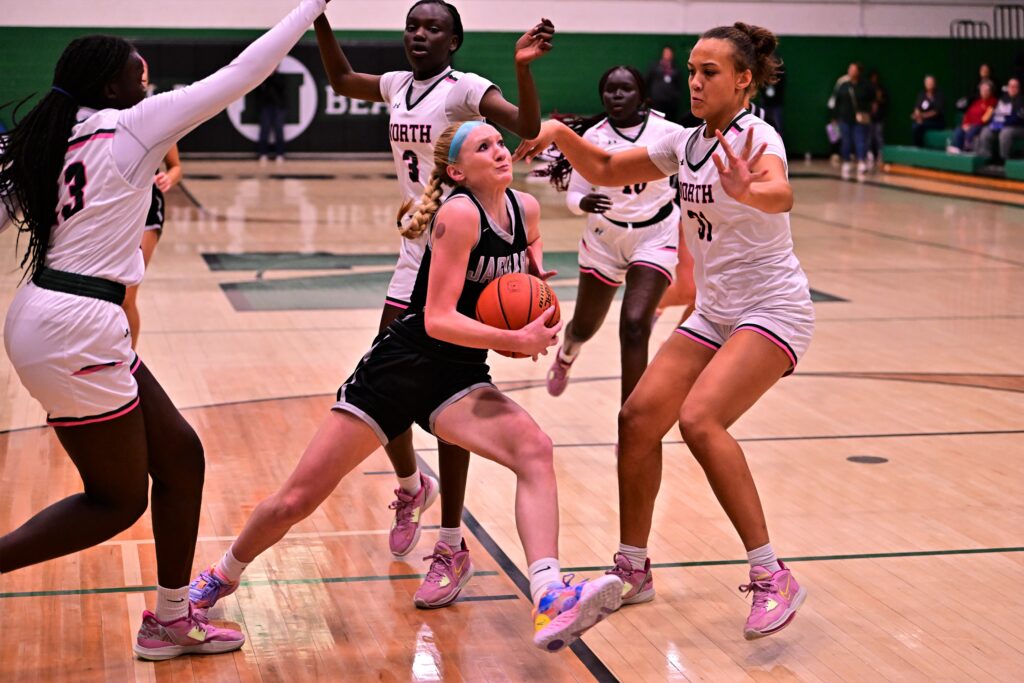 Sometimes, the shots aren't falling for the Ankeny Centennial girls' basketball team.
Fortunately for the Jaguars, their defense seldom takes a day off.
Third-ranked Centennial held No. 13 Iowa City Liberty to just 25 percent shooting and remained unbeaten with a 46-35 victory on Saturday at Kirkwood Community College in Cedar Rapids.
"Their guard play is really good, but I thought our defensive effort was really, really good," said Centennial coach Scott DeJong. "We didn't shoot that well, so we needed the defense to step up and it did."
Centennial used a 13-0 run midway through the first quarter to take a 15-10 lead. The Jaguars then held Liberty without a basket in the second quarter while extending the margin to 28-12.
"We had some tough foul trouble," DeJong said. "We had two or three kids with two fouls in the first half, so we had some people off the bench that stepped up."
Kennedy White led Centennial with 20 points and seven rebounds. Mya Crawford had a double-double with 11 points and 11 boards.
White scored 11 of her points in the opening quarter. She finished with a career-high in a Jaguar uniform.
Teammate Averi Porter dished out six assists, five of them in the first half.
"They had a hard time with Kennedy so they went to a zone," DeJong said. "We had a lot of great looks, but just didn't shoot the ball well. We were 3-for-19 on 3s, so the shots weren't falling. We're going to see more zones, I think. We're just going to have to shoot the ball better."
Crawford made a 3-pointer at the end of the third quarter to give Centennial a 38-23 lead. The Lightning (1-1) were unable to rally in the final period.
Jasmine Barney led Liberty with 17 points, six rebounds, two assists and two steals. She went 7-for-12 from the field, but her teammates combined to go just 5-for-36.
"We've got a chance to have a really good defensive team," DeJong said. "And if we keep improving there, that will make the days that we don't shoot well a little better."
The Jaguars (3-0) will host Urbandale (2-0) in their CIML Conference opener on Tuesday. Tip-off is at 6:15 p.m.
The J-Hawks have defeated their first two opponents, Des Moines Hoover and Des Moines East, by a combined score of 165-13.