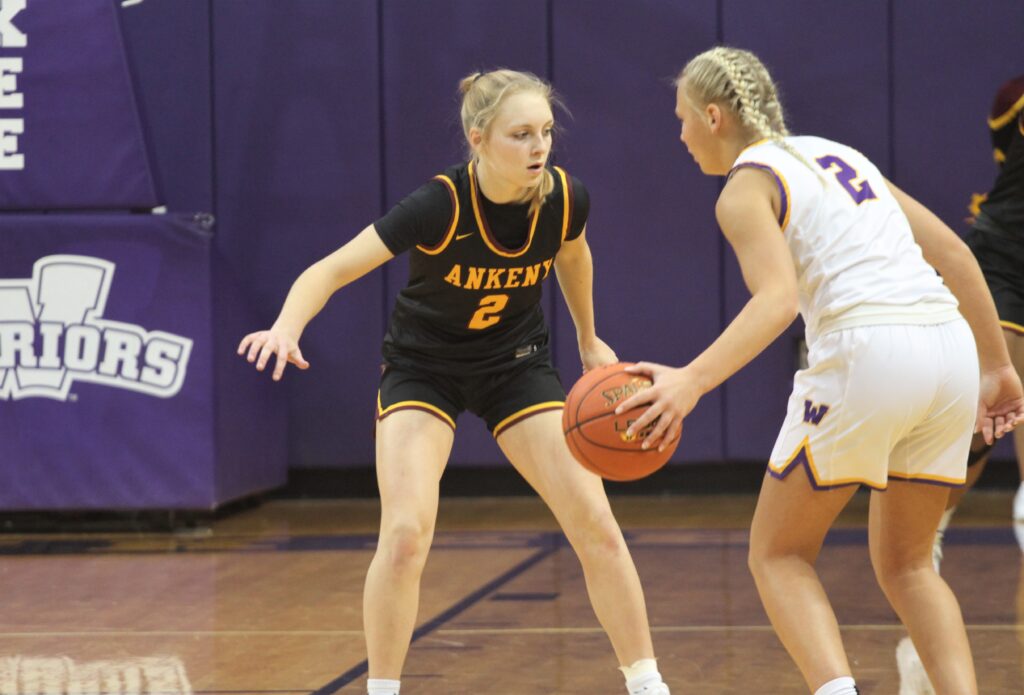 When the Ankeny girls' basketball team went through a scoring drought on Tuesday, the Hawkettes relied on their defense to win their CIML Conference opener.
Ninth-ranked Ankeny led by as many as 16 points in both halves before No. 14 Waukee staged a huge rally on its home court, closing to within two points late in the game before the Hawkettes held on for a 46-42 victory.
It was a rematch of last year's Class 5A regional semifinal, which was won by Ankeny, 44-40.
"At the end of the day, you come play a quality opponent on the road on a Tuesday, you're going to win the game with defense," said Ankeny coach Dru McAnelly. "And I thought our defense carried us."
Savannah Gage scored 17 points as Ankeny raised its overall record to 2-0. She also had three blocks and held Waukee's Kirsten Hauck scoreless until midway through the fourth quarter.
Hauck had scored 24 points in the Warriors' season-opening win over Des Moines Lincoln a week ago.
"I just tried to keep her from getting the ball, but it was really a team effort," Gage said. "I couldn't have done it without my teammates."
The Hawkettes led, 38-28, before Hauck finally made a 3-point goal with 4 minutes 14 seconds left. She then converted a traditional 3-point play less than a minute later, pulling Waukee (1-1) to within 38-34.
Former Valley player Sophia Hope scored on a hook shot with 2:13 remaining, capping an 8-0 run and cutting Ankeny's lead to 38-36.
"I was getting a little worried. Everybody gets nervous," Gage said. "But I knew we had it in control if we slowed it down and took the right shot."
Gage drove for a basket with 1:52 left to give the Hawkettes some breathing room. Jenna Pitz added another driving layup to make it 42-36 with 1:12 to go.
Pitz and Gage each made two free throws in the final 30 seconds to seal the win.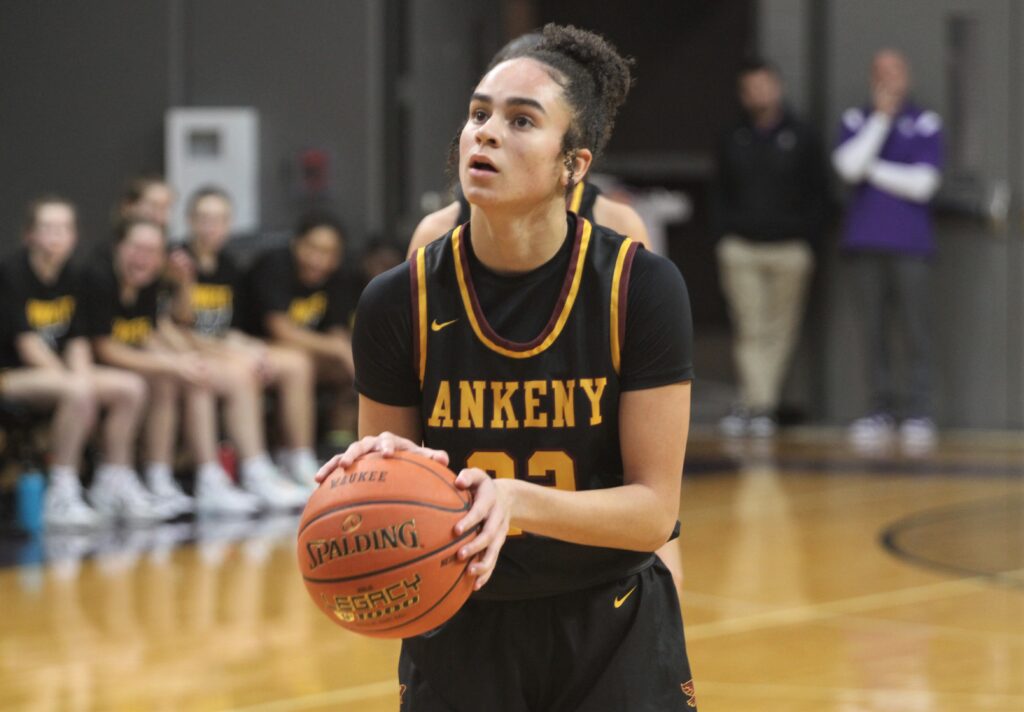 "They're a really good defensive team, and they did a really good job of going on a run there at the end," Gage said. "They fought hard."
Pitz scored 11 points in the win. Jayla Williams added nine.
Ankeny built a 22-6 lead in the first half before Waukee's Maryne Szalo sparked a rally, scoring the next seven points. A driving layup by Miranda Peters–who had 10 rebounds and four assists–pulled the Warriors to within 25-15 at halftime.
"We got some really good looks," said McAnelly, whose team shot just 30 percent from the field, including 1-of-18 from behind the arc. "I was a little bit frustrated at halftime–I thought we were settling for too many 3s. I knew if we played vertical and downhill they'd struggle to guard us. When we did that, they got in some foul trouble. But boy, when you miss three or four (shots) in there and all of the sudden they hit a 3 or two, that changes the complexion of the scoreboard."
The Hawkettes used a 9-0 run in the third quarter to extend the margin to 34-18. Gage had four points in the run and continued to harass Hauck at the other end of the court.
"Savannah is unbelievable," McAnelly said. "She is a fearless competitor and does a great job with her feet and keeps her hands off. (Her defense) was huge. When we can take the other team's best player out of the game, good things are going to happen."
Waukee scored the final seven points of the third quarter after Ankeny's Jasmine Moser left the game after suffering an injury to her right shoulder. The senior post player did not return.
"It's pretty weak," McAnelly said. "It's going to be touch and go."
Gage took an elbow to her left eye late in the game, but still made a pair of free throws with 11.7 seconds left.
"It's ok," she said. "I'll get it iced up."
Karsen Jacks grabbed eight rebounds as Ankeny won the battle of the boards, 37-27. Pitz added two assists and four steals.
Hope and Szalo each had 11 points to lead Waukee, while Hauck added eight. The Warriors made just 4-of-24 3-point attempts (16.7 percent).
Ankeny will host a CIML Conference game against No. 2 Johnston (2-0) on Friday. The defending state champion Dragons rolled past Waukee Northwest, 59-32, in their league opener on Tuesday.