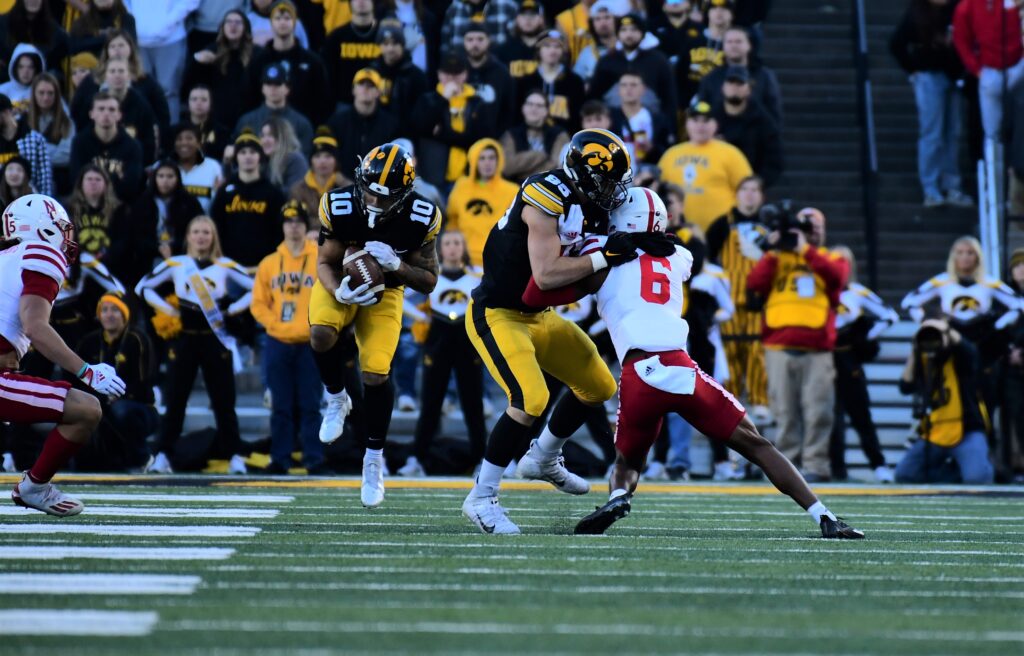 One day after the Iowa football team landed coveted Michigan quarterback Cade McNamara through the transfer portal, the Hawkeyes lost another of their top receivers.
Former Ankeny star Arland Bruce IV announced via Twitter on Friday that he is entering the transfer portal, joining fellow wideout Keagan Johnson, who announced his departure on Thursday.
"I want to first and foremost thank God for allowing me to be in the position I am, without him nothing would be possible," Bruce tweeted. "I am extremely grateful for Coach (Kirk) Ferentz and Coach (Kelton) Copeland taking a chance on a young kid from Olathe, Kansas trying to pursue his dreams. To all my coaches, teammates, training staff, and Hawkeye nation, thank you for the support you've shown in the past 2 years. I've learned a lot about myself and built bonds that will truly last a lifetime. After much thought and prayer, I am entering the transfer portal with two years of eligibility remaining."
Bruce helped the Hawkeyes to a 7-5 record this season. The sophomore was the team's fourth-leading receiver with 19 catches for 187 yards and one touchdown.
Bruce had 12 carries for 47 yards and another score. He also served as the team's primary punt returner, averaging 6.5 yards on 19 returns.
Before coming to Ankeny, Bruce was a high school star at Olathe (Kan.) North, where he rushed for 2,479 yards and 43 touchdowns as a junior and was named the Kansas City Metro Player of the Year while earning first-team all-state honors. He was a second-team all-state pick as a sophomore quarterback.
Bruce transferred to Ankeny after Olathe North cancelled its 2020 season due to the COVID-19 pandemic, then sat out the first five games before he was ruled eligible to play. He played in only seven games at Ankeny in 2020, but had a huge role in helping the Hawks to the Class 4A state title.
Bruce accounted for 1,111 total yards and 13 touchdowns as a running back and receiver. He ran for 91 yards and two touchdowns while catching seven passes for 58 yards and another score in the Hawks' 42-14 win over Southeast Polk in the title game.
Bruce, who was named to the Elite all-state team by The Des Moines Register, then enrolled at Iowa in the spring of 2021.