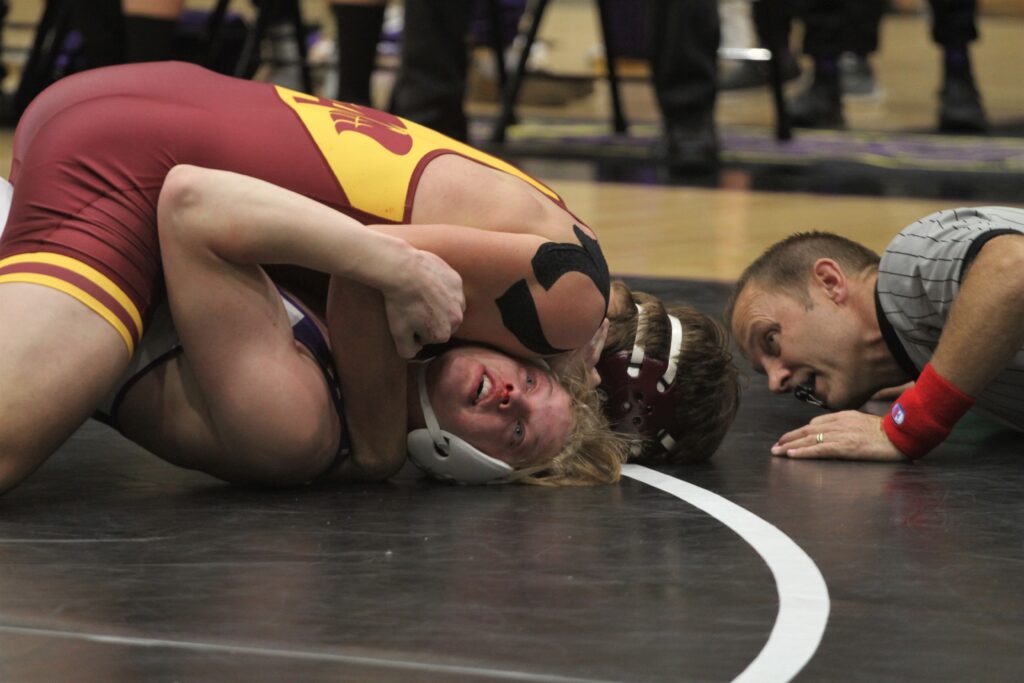 Last month, Joe Kingston and the Ankeny football team ended the season with a loss to Johnston in the Class 5A quarterfinals.
On Thursday, Kingston and a couple of his football teammates earned a measure of revenge on the wrestling mat.
Kingston, Will Hinrichs and Cade Bennethum each recorded a fall as the sixth-ranked Hawks opened their season with a 39-32 victory at No. 3 Johnston in a CIML Conference dual.
"It was our first dual of the season, and all we can do is be confident," said Kingston. "We obviously didn't wrestle our best. We could have kept those matches a lot closer than what they were, but overall it's a great win over another ranked opponent. They wrestled well, and we wrestled ok. All we can do is improve."
Ankeny jumped out to an early 27-0 lead before the Dragons rallied, closing to within 33-32 on a major decision by Sam Zindel at 182 pounds. Bennethum then pinned Kolby Gibbons in 3 minutes 35 seconds to seal the win.
"All day I was thinking I wanted 195 to (be the first match), so I could get it out of the way," said Bennethum. "That's the way I like it, but I'm glad I was able to finish it off strong."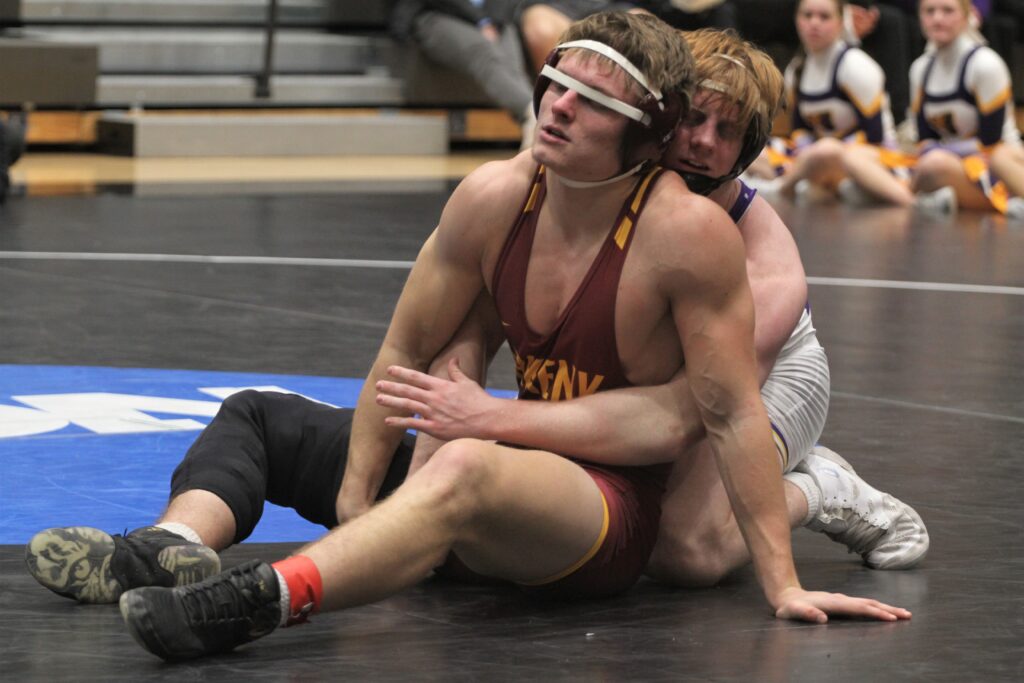 Bennethum nearly pinned Gibbons at the end of the first period.
"I thought I had it," he said. "I get why I didn't. But different refs make different calls."
Bennethum, who placed fourth in Class 3A at 182 as a sophomore in 2021, eventually got the fall anyway.
"It was a good win for us," said Ankeny coach Jack Wignall. "I was a little worried coming in because we're not at full strength due to some injuries and some other things, but we gutted it out. Johnston was missing some kids, too, but they're well-coached and they're always going to be tough. To come in here and pull out a win, it's pretty gratifying."
The Hawks opened the meet with four consecutive falls. Hinrichs pinned Jeff Scott in 1:20 in the opening match at 220, then Kingston needed just 16 seconds to pin Alex Flores at heavyweight.
Kingston used a headlock to record the fastest fall of the meet.
"I usually don't throw those, but when I do, it's there," he said. "I'm going to try to beat that time later in the year."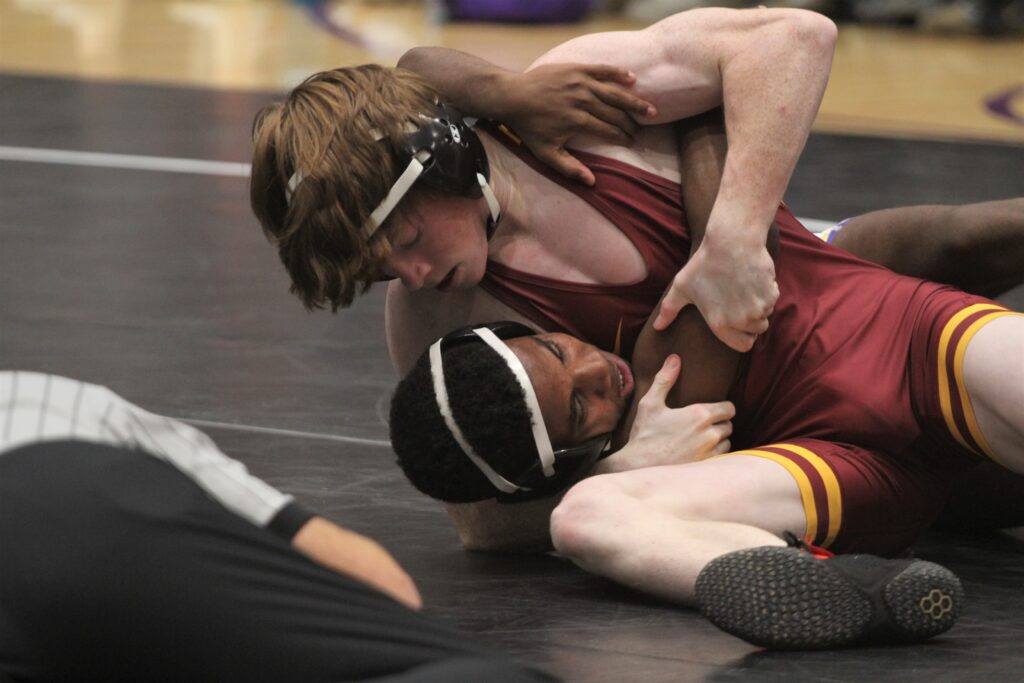 Ben Walsh at 106 and Truman Folkers at 113 followed with two more falls before Preston Wojcik posted an 8-3 decision over Marko Pelayo-Pintor at 120.
"We knew it could be a tale of two meets, with us doing well early and them doing well in the upper weights," Wignall said. "They're really, really good at those weights."
Johnston started its comeback at 126, where Jashua Anglo posted a 6-4 overtime victory against JJ Maihan in the best match of the night. Maihan got a takedown with 18 seconds left in the third period to take a 4-3 lead, but could not close out the match.
After a restart with 4 seconds remaining, Anglo escaped as time expired to force overtime. He then got the winning takedown 18 seconds into the extra period.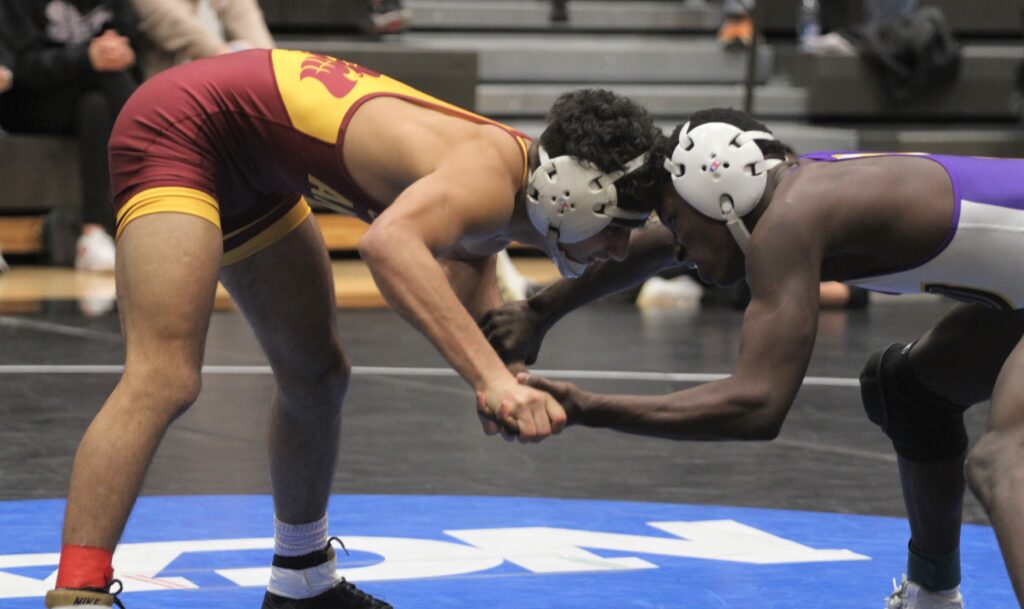 Ankeny's other win came at 138, where Ben Hansen got a fall over Nyle Beganovic in 2:29.
"We thought we'd win, but we knew it would be a close dual," Bennethum said.
The Hawks will compete in the Dan Gable Donnybrook on Friday and Saturday at the Xtream Arena in Coralville.
Here are the match-by-match results from Thursday's meet:
Ankeny 39, Johnston 32
220: Hinrichs (A) pinned Scott, 1:20; 285: Kingston (A) pinned Flores, :16; 106: Walsh (A) pinned Dyett, 2:49; 113: T. Folkers (A) pinned Thompson, 2:56; 120: Wojcik (A) beat Pelayo-Pintor, 8-3; 126: Anglo (J) beat Maihan, 6-4 (OT); 132: Cornwell (J) pinned Voss, 3:08; 138: Hansen (A) pinned Beganovic, 2:29; 145: Blackorby (J) pinned Cox, :54; 152: J. Helgeson (J) pinned Rose, :31; 160: O. Helgeson (J) beat L. Folkers, 1-0; 170: Fox (J) beat Peiffer, 16-4; 182: Zindel (J) beat Kenworthy, 11-3; 195: Bennethum (A) pinned Gibbons, 3:35.