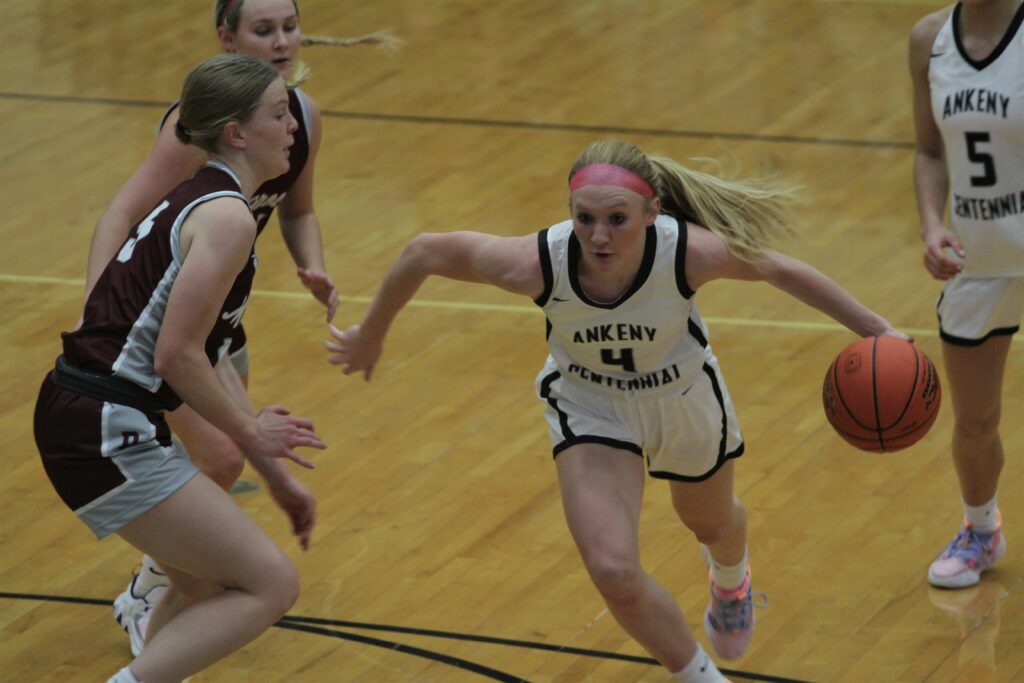 For the first time this season, the Ankeny Centennial girls' basketball team played a game that went down to the wire.
It resulted in a heartbreaking loss.
The third-ranked Jaguars rallied from a nine-point deficit in the fourth quarter to take a 64-63 lead with 9.4 seconds left, but No. 6 Dowling Catholic got a pair of free throws from Ava Zediker with 3.9 seconds to go and escaped with a 65-64 victory in a CIML Conference game on Friday at Centennial.
"I'm really proud of our kids," said Centennial coach Scott DeJong. "We hung in there, we came back and we got ahead for the first time since the (second quarter). We made a lot of plays. We just have to play smarter."
Centennial used its final timeout after Zediker made the first of her two free throws to tie the score. She then calmly hit her second attempt to put the Maroons ahead.
The Jaguars still had time for a final shot and got the ball to Jaeden Pratt, who hurried up the left side of the court. However, she was called for a palming violation with 0.2 seconds left.
Dowling then inbounded the ball to end the game.
"We always run that out-of-bounds play, and we just had a call on me," said Pratt, who led four Centennial players in double figures with 15 points. "I take ownership on that, and we'll just move forward."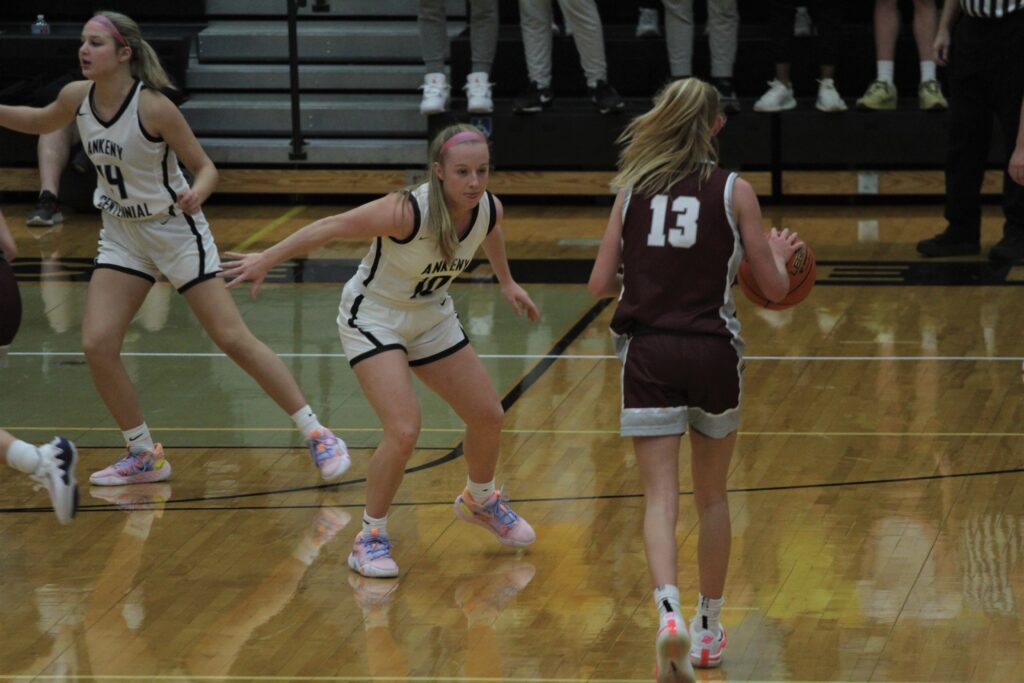 Zediker, a sophomore guard, poured in a game-high 24 points–16 of them in the first half. She had three of the Maroons' 12 3-point goals.
Dowling shot 54.5 percent from behind the arc (12-of-22).
"They shot well. We shot pretty good, too, I think," DeJong said. "It seemed like every time they had an open 3 when we helped, they'd kick it out and make it. The second half it wasn't as much, but the first half was probably the telltale sign. We dug ourselves a little hole, and we had to fight all the rest of the game to get out of it."
There were seven lead changes and four ties in the first half, but Dowling closed out the second quarter with a 17-6 run to build a 38-32 advantage. Four different players had a 3-pointer during the run.
"Dowling shot lights out tonight. Props to them," said Pratt, who also had eight rebounds and two blocks. "We had good defense, we helped on the drives and they passed it out and they got the open shots."
The Maroons took their biggest lead, 58-48, on back-to-back 3-pointers by Marin Heller and Layla Trytten late in the third quarter. Centennial got a basket from Mya Crawford to end the period, then slowly continued to close the gap in the fourth quarter.
Crawford converted a 3-point play with 5:34 remaining to cut Dowling's lead to 61-55. She later scored on a backdoor layup to pull the Jaguars within 63-62 with 43 seconds to go.
"I think Averi (Porter) stepped up her d(efense)–she just did a better job on Zediker," DeJong said. "And they started missing a few shots; maybe they got tired. But they missed a few shots, and we got the rebound."
After Trytten missed two free throws with 18 seconds left, Centennial's Makenna Clark drove to the basket on the ensuing possession and was fouled. She made both free throws to put the Jaguars ahead, setting the stage for Zediker's heroics.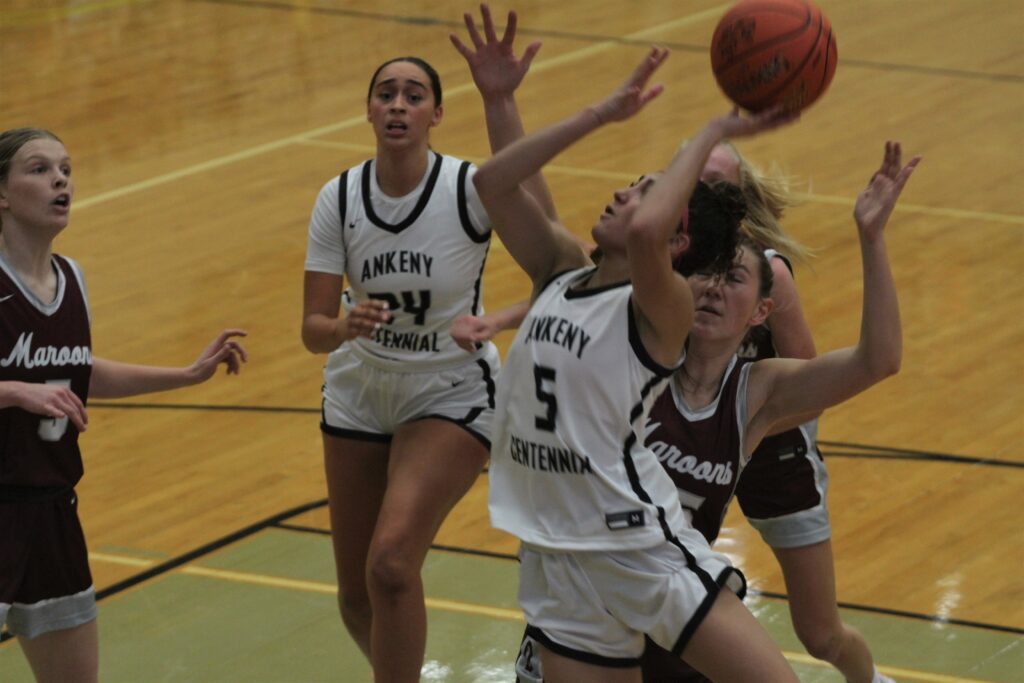 Both teams are now 1-1 in the conference. The Maroons evened their overall record at 2-2, while Centennial dropped to 4-1.
"Dowling was making shots, and they played great," DeJong said. "Zediker is really good."
Clark and Crawford each scored 14 points for the Jaguars, and Clark also had six assists and two steals. Porter chipped in 10 points–all of them in the first half.
Kennedy White, Centennial's leading scorer, was held to a season-low six points on 2-of-4 shooting–about nine points below her average. However, she contributed 10 rebounds, helping the Jaguars to a 28-19 advantage on the boards.
Centennial will host a non-conference game against No. 10 Des Moines Roosevelt (1-0) on Tuesday.