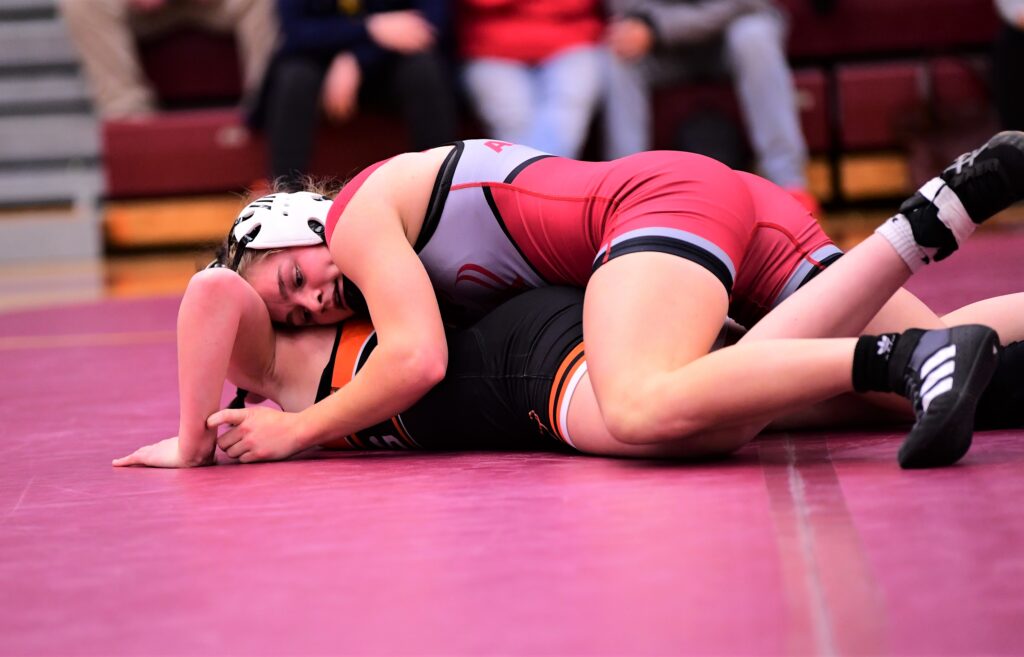 The Ankeny girls' wrestling team emerged from the two-day Dan Gable Donnybrook with a fifth-place finish.
Even if the girls didn't know it right away.
Ankeny racked up 288 points in the prestigious tournament on Thursday and Friday at the Xtream Arena in Coralville. The event featured 30 teams from across the Midwest.
Lebanon (Mo.) won the tournament with 396 points. Waverly-Shell Rock was second with 308, while Bettendorf and Decorah each finished with 290.
"Going in with 30 teams, I thought if we could finish top 10 that would be awesome," said Ankeny coach Dustin Roland. "But we didn't know the team scores until we got home on Friday night, because of a new platform that they used to run the tournament. I was a little frustrated by that, but we couldn't have been happier to hear the final results. Those teams we were right in the mix with are some of the top teams in the state.
"I'm very excited about what that means for the future of our program," he added.
Ten Ankeny wrestlers earned spots on the awards podium with top-eight finishes, although one of them–Sophie Leo–was unable to pose for the podium picture. She suffered a season-ending knee injury while placing eighth at 235 pounds.
"Our thoughts are with Sophie," Roland said. "She tore her ACL so her season and her career are over. It's really unfortunate."
Melanie Martinez also placed at 235. She finished seventh.
Sophomore Elyse Engebretson provided Ankeny's highest finish at the tournament. She placed fourth at 120 after reaching the semifinals.
Placing sixth for Ankeny were a trio of wrestlers. They were Dana Cleveland at 145, Lauren Heimer at 170 and Aowyn Schrader at 190.
Nora Bockes at 115, Kayla Clark at 135 and Mallorie McGuire at 155 each placed seventh. Emma Daggett finished eighth at 130.
"Our depth showed in this tournament," Roland said. "It also showed that we don't have the superstars, but that will come. We went 0-4 and got pinned four times in our last four matches in the final round. That's something we have to clean up."
Still, Roland was pleased with the progress that his wrestlers showed.
"We needed to learn how to wrestle at a big tournament and how to fight back, and we did that," he said. "Avery Grim had three first-period pins (at 125) after being on the verge of being removed from the tournament, and she was able to come away with a ninth-place finish. That was great to see."
Overall, Ankeny entered 19 wrestlers–including two at six different weights. Some of the team's backups, like Schrader, ended up on the podium–even if they didn't score any points.
"The fact that we have our second girl at some weights placing is pretty exciting," Roland said. "I'm just very proud of our girls and how they supported each other. We had 15 girls who weren't wrestling who were in the front row cheering for the girls who were wrestling. That was super cool to see."
Ankeny will compete again on Saturday in a dual tournament at Ankeny Centennial, which will also be hosting a boys' tournament at the same time. The girls are expected to face five opponents.