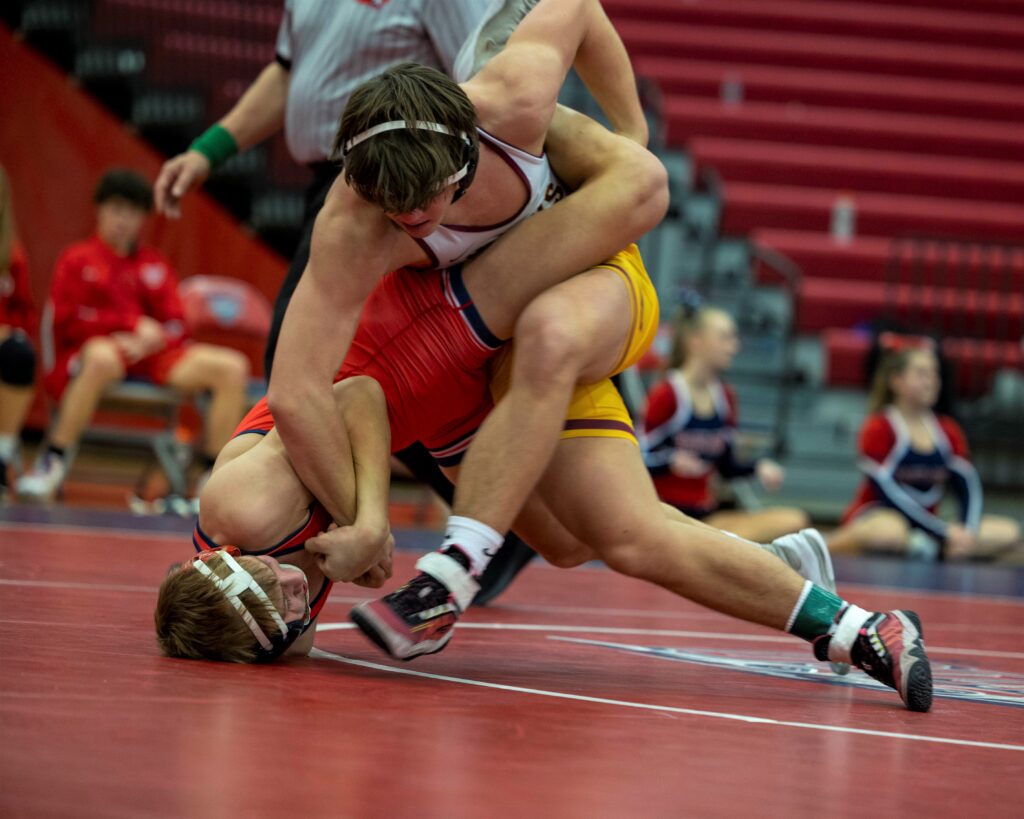 With some of its best wrestlers still out of the lineup, Ankeny nevertheless managed to earn a pair of victories on Thursday at Huxley.
But it wasn't easy.
The Hawks, who are sixth in the Class 3A dual rankings, opened the triangular meet with a 41-35 win over Webster City. They later posted a 36-30 triumph over the host Bombers to improve to 3-0 on the season.
"Considering who we had out–and we had some big guns out–I was just hoping to survive," said Ankeny coach Jack Wignall. "And that's what we did. We had some (junior varsity) kids step up and wrestle really hard."
The win over Webster City began with back-to-back falls by seventh-ranked Xander Kenworthy at 182 pounds and No. 5 Cade Bennethum at 195. Heavyweight Joe Kingston later had a pin, and so did No. 6 Truman Folkers at 113, Kinnick Voss at 132, No. 4 Ben Hansen at 138 and Alex Cox at 145.
Folkers and Hansen also had falls in the meet against Ballard.
"Ben is just wrestling at another level right now," Wignall said. "It's fun to watch."
The Hawks overcame a penalty point in both meets. Against Webster City, one of Ankeny's wrestlers disagreed with a stalling call and let the referee know it.
"He wasn't wrong," Wignall said. "I don't condone that, but those things do happen."
In the meet against Ballard, Wignall was penalized for voicing his displeasure with another call.
"I don't usually do that," he said. "But one of our guys was (in a dangerous position), and I told the ref that his main job is to make sure the kids stay safe. I thought it was a bad call."
Ankeny held a 36-24 lead with two matches left. Andrew Haase then dropped a 6-1 decision at 182, but he sealed the win by avoiding a pin.
"Haase's match was a big one," Wignall said. "If he gets pinned and something happens with Cade and he happens to get pinned (in the next match), we would have lost the meet on criteria because of the penalty point. So Andrew lost but he won us the meet."
Several Hawks posted wins against Ballard after suffering losses earlier.
"Our guys are giving us everything they have, and they're doing the things that we've been working on in practice," Wignall said.
Ankeny will compete in the Frank Baltzley Invitational on Saturday at Johnston. The Hawks placed second at last year's tournament behind Waverly-Shell Rock.
"I'm excited to get some of our guys back on Saturday," Wignall said. "And we're going to need them, because this is going to be a tough tournament."
Here are the match-by-match results from Thursday:
Ankeny 41, Webster City 35
182: Kenworthy (A) pinned Burnette-Bingham, 1:03; 195: Bennethum (A) pinned S. Scott, 2:20; 220: Cherry (WC) pinned Hinrichs, 2:40; 285: Kingston (A) pinned Griffin, 2:34; 106: Phetxoumphone (WC) beat Walsh, 9-1; 113: T. Folkers (A) pinned Bertran, 3:25; 120: Doolittle (WC) pinned Wojcik, 3:16; 126: Henely (WC) beat Rouh, 10-3; 132: Voss (A) pinned A. Scott, 2:42; 138: Hansen (A) pinned T. Mason, 1:27; 145: Cox (A) pinned Estlund, 5:03; 152: Vankham (WC) beat Rose, 10-0; 160: Jessen (WC) pinned Schlee, 2:57; 170: A. Mason (WC) pinned Peiffer, 3:09.
Ankeny 36, Ballard 30
220: Hinrichs (A) beat H. Christensen, 3-1; 285: Kingston (A) won by forfeit; 106: Walsh (A) won by forfeit; 113: Wojcik (A) beat Horness, 16-6; 120: T. Folkers (A) pinned Rhiner, :53; 126: Harrison (B) pinned Rouh, 3:37; 132: Vitzthum (B) beat Voss, 15-8; 138: Hansen (A) pinned Leland, 1:04; 145: Kahler (B) beat Cox, 5-3; 152: Hyman (B) pinned Rose, 5:07; 160: Hedrick (B) pinned Schlee, 1:50; 170: Peiffer (A) pinned Hartsook, 2:18; 182: Sampson (B) beat Haase, 6-1; 195: G. Christensen (B) beat Bennethum, 5-1.