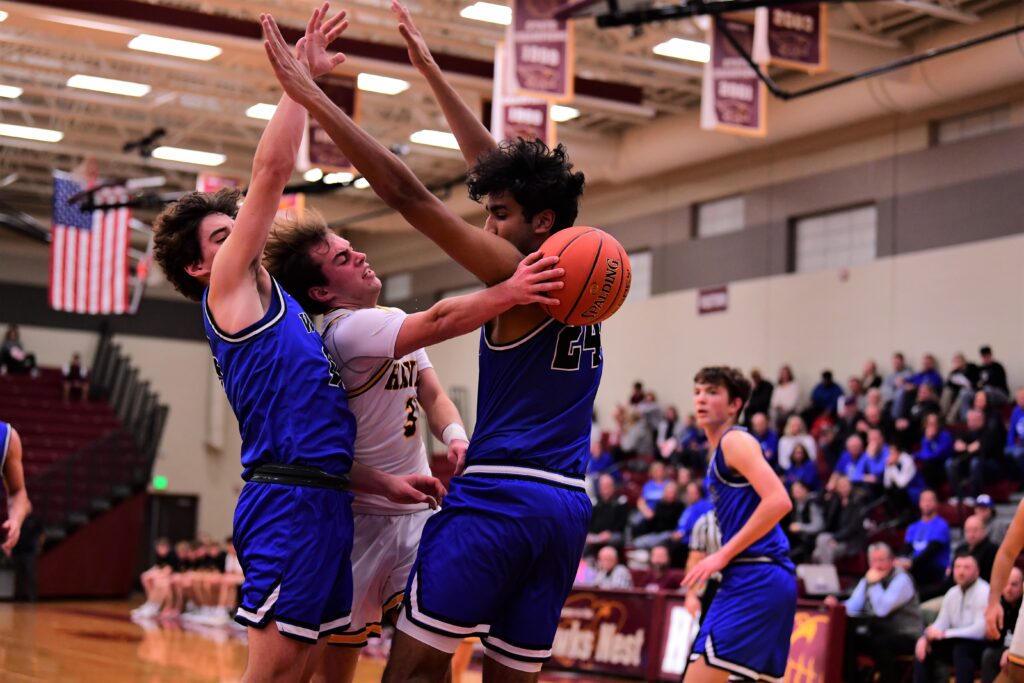 It's time for the Ankeny boys' basketball team to regroup.
After losing to Indianola on Monday, the Hawks suffered another defeat on their home court Tuesday, dropping a 60-29 decision to top-ranked Waukee Northwest in a CIML Conference game.
While the Wolves shot 55.3 percent from the field (26-of-47), Ankeny struggled mightily to score all night. The Hawks just barely eclipsed their 28-point effort in a loss at Waukee two years ago, which marked their lowest output ever under coach Brandt Carlson.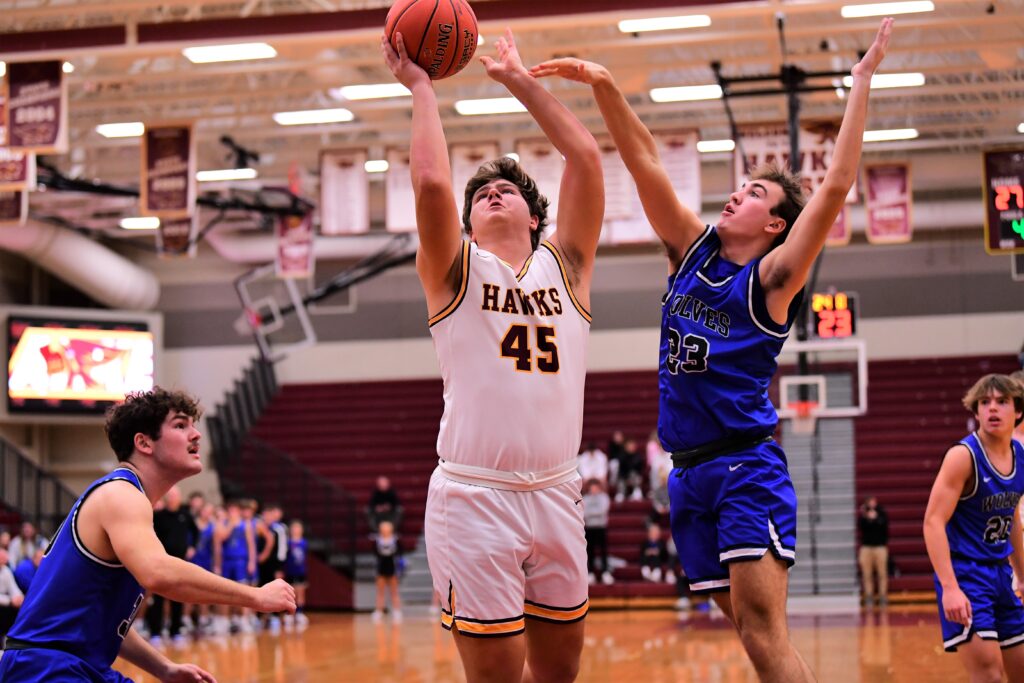 "At this point, we're just trying to get to Christmas," said Carlson. "We're trying to find a way to be competitive–find some light at the end of the tunnel, I guess. We're going through some growing pains right now."
Northwest jumped out to a 27-10 lead at the end of the first quarter. The Wolves held a 40-17 advantage at halftime, then extended the margin to 58-22 after three periods.
"They're really good," Carlson said of the Wolves. "And they got (Grant) Tigges back for his first game, so they got a little bit stronger with his addition. We just didn't shoot very well and got behind early. It was a rough night."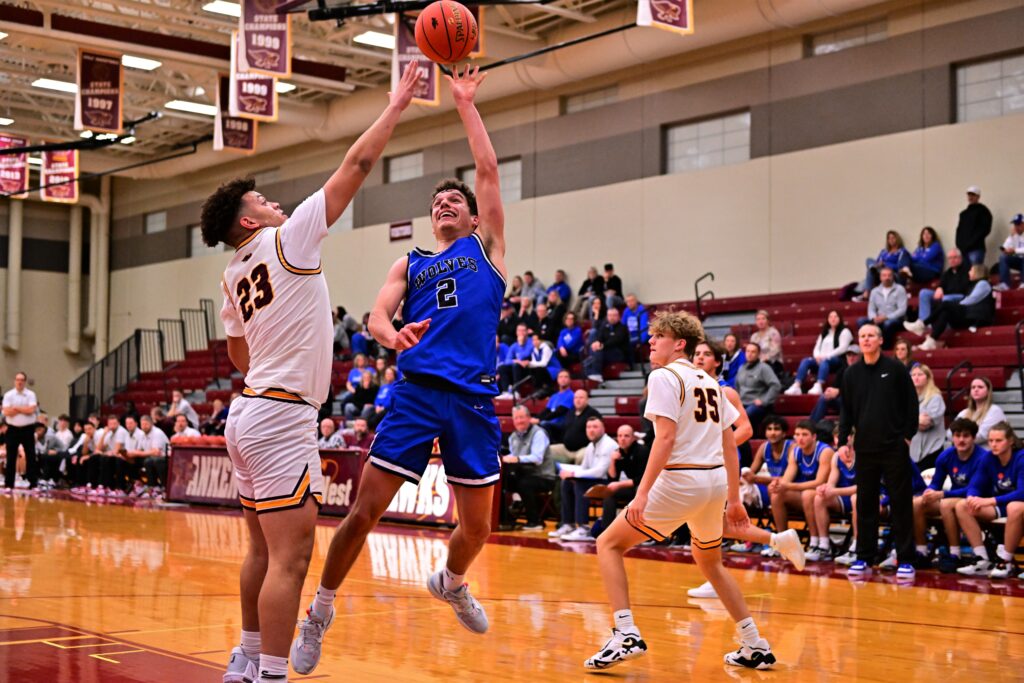 Cade Kelderman scored 20 points as Northwest improved to 5-0 in the conference. He made 10-of-15 shots from the field, dished out five assists and also had three steals.
"Kelderman is so much faster and stronger than last year, and he makes good decisions. He's not messing around," Carlson said. "They're going to be a tough team for anyone to beat this year; they've already shown that."
All-stater Pryce Sandfort enjoyed another strong all-around game. He finished with 18 points, eight rebounds, six assists and four blocks.
Sandfort will join his brother, Payton, at Iowa next year.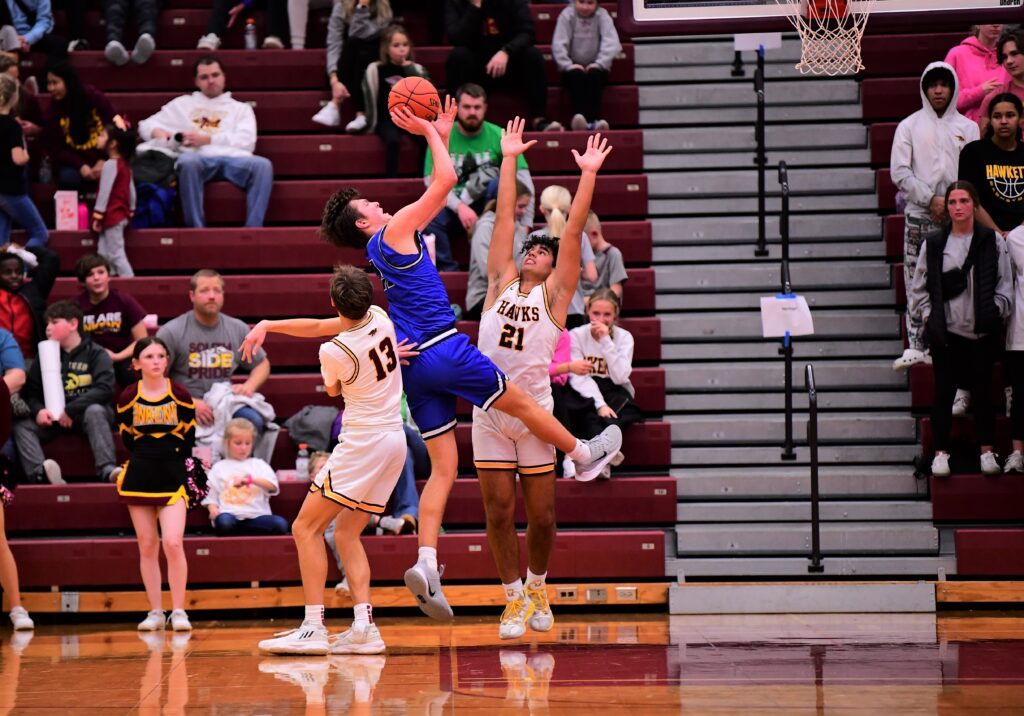 "I thought Lio (Aguirre) guarded him as hard as he could," Carlson said. "He made him take some tough shots, and he made them of course. He's really, really good. Of all the guys we've played against the last few years–(Tucker) DeVries and his older brother–I think he's as good if not a better high school player. He's just so tough to guard. He can put the ball on the floor with either hand and can really get to the rim, and of course he can shoot the 3."
Carson Johnson scored nine points to lead Ankeny, which shot just 27.9 percent (12-of-43) and 19.0 percent (4-of-21) from 3-point range. Johnson made the only free throw that the Hawks attempted.
Ankeny dropped to 1-3 in the league and 2-4 overall. The Hawks will travel to Dowling Catholic on Friday for another conference game against the Maroons (1-3).
"I still have a lot of faith in our guys and our program," Carlson said. "This is just a rough time for us."