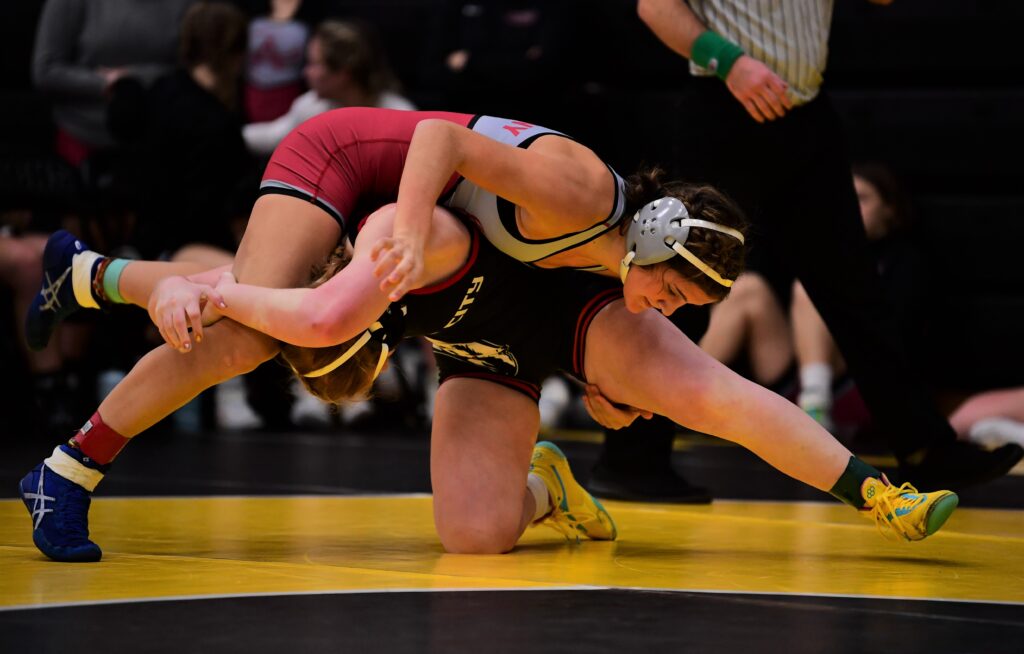 It hasn't taken long for the Ankeny girls' wrestling program to establish an identity during its inaugural season.
It's a team that can overcome some adversity.
On Tuesday at Johnston, Ankeny moved a step closer toward the CIML Conference dual-meet title with a 57-24 victory over Raccoon River. Coach Dustin Roland's squad prevailed despite the absence of 115-pounder Elyse Engebretson, one of its top wrestlers.
"Elyse was home sick so we had to wrestle some girls up a weight, and not one girl questioned it," said Roland. "They just put their head down and fought for the team."
Ankeny won 10 of the 14 matches and recorded nine pins. The team improved to 2-0 in the conference and 7-2 overall.
Roland said the highlight of the meet was Ella Hron's fall over Liv Halfpap in 3 minutes 1 second at 110.
"Ella fought off her back in the first period and ultimately came back to record a fall against a girl that pinned her earlier in the season," he said. "We are sick and banged up. But our team motto is, 'Handle hard better', and we did just that tonight."
Kayla Clark opened the meet with a fall at 135. Gia Blaser at 140, Dana Cleveland at 145 and Mallorie McGuire at 155 then followed with three more pins before Lauren Heimer edged Payten Coates, 3-1, at 170 in the only match that didn't end with a fall.
"Lauren really gutted it out," Roland said.
Melanie Martinez at 235, Nora Bockes at 115, Avery Grim at 125 and Lily Hans at 130 also had pins for Ankeny.
"It was a very inspiring performance from our girls," Roland said. "Every single girl fought as hard as we could have asked of them, even the three that lost."
Ankeny will compete in the Raccoon River tournament on Saturday at Adel.
Here are the match-by-match results from Tuesday's meet:
Ankeny 57, Raccoon River 24
135: Clark pinned Nayaka, :45; 140: Blaser pinned Bruins, 2:47; 145: Cleveland pinned Herrick, 2:43; 155: McGuire pinned Wonders, 2:37; 170: Heimer beat Coates, 3-1; 190: Johnson (RR) pinned Bishop, 4:32; 235: Martinez pinned Venales, 1:53; 100: Cooper (RR) won by forfeit; 105: Biscoglia (RR) pinned Ray, 2:27; 110: Hron pinned Halfpap, 3:01; 115: Bockes pinned Olsen, 1:08; 120: Rodish (RR) pinned Bartine, :34; 125: Grim pinned Sutton, 3:18; 130: Hans pinned Kinney, 4:30.