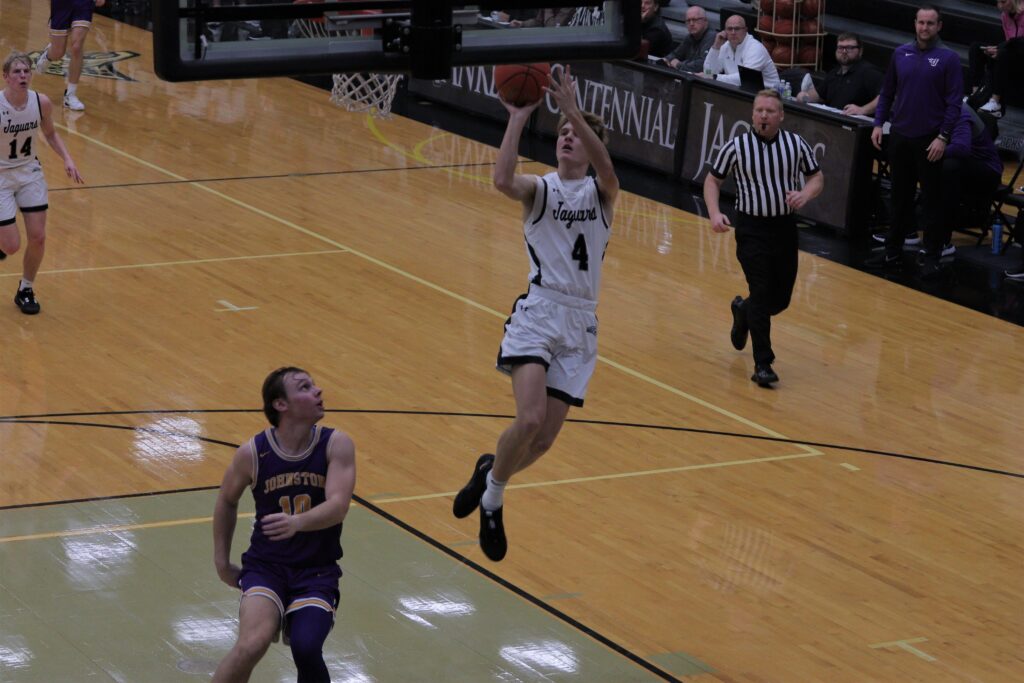 Bob Fontana exhaled in his office after his Ankeny Centennial boys' basketball team survived a double-overtime thriller.
"It was definitely a war," Fontana said after the third-ranked Jaguars escaped with a 63-60 victory over visiting Johnston on Tuesday. "Look at how close last Friday's game (at Valley) was–it was tied with a minute to go. Tonight, it was tied how many times? We're behind the eight ball at times, dealt with a lot of adversity, and we just found a way."
Luke Winkel made two free throws with 1.3 seconds left in regulation to force overtime, then later passed to Nick Vaske for the go-ahead basket with 1:28 to go in the second extra period. He then hit two more free throws with 20.4 seconds remaining to produce the final margin.
Johnston missed a 3-pointer in the final seconds that could have forced a third overtime, ending what was becoming a battle of attrition.
"Coach prepares us well in practice," Winkel said of having to play an extra 8 minutes. "We do a lot of up and downs late in practice. We just had to stay focused, and that really helped."
The win allowed Centennial to remain unbeaten. The Jaguars improved to 4-0 in the CIML Conference and 5-0 overall, while Johnston's records dropped to 2-3 and 3-3.
"I don't think we played our best basketball tonight," Fontana said. "Defensively, I thought we were pretty good at times. But we have to play smarter offensively, and I think we have to do a better job on the boards. (Johnston) played a hell of a game. They're a good team. Everybody in our league is a good team."
The Dragons jumped out to an early 7-0 lead before Centennial rallied. The Jaguars held a 24-23 advantage at halftime, then opened up a 38-29 lead on a 3-pointer by Chase Schutty with 3:09 left in the third quarter.
However, Johnston then answered with a 10-0 run. Nathan Ruisch converted a steal into a layup to begin the run, then later made a pull-up jumper with 26 seconds to go to give the Dragons a 39-38 lead.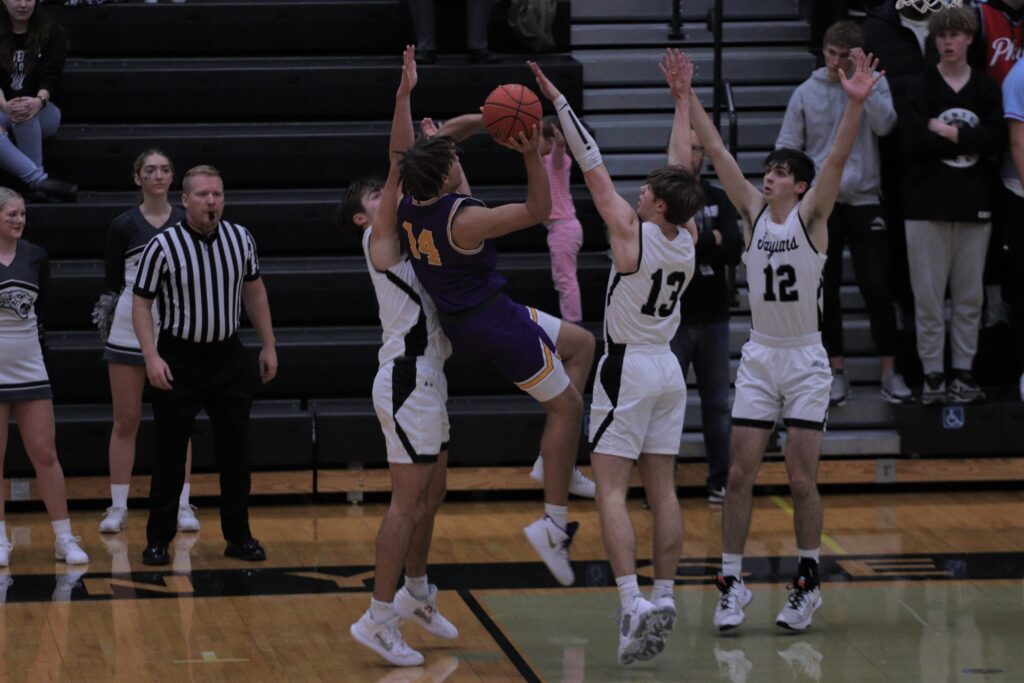 A crafty layup by Winkel with 4 seconds left put Centennial back in front, 40-39, heading into the final period. It was a sign of things to come.
There were nine lead changes in the fourth quarter alone. Ruisch made a 3-pointer with 1:02 left to give Johnston a 52-50 lead, but Vaske answered with a pair of free throws 18 seconds later.
The Dragons regained a 54-52 lead when Logan Kahre scored on a nifty scoop shot with 12 seconds to go. But Winkel was fouled on a drive to the basket as the final seconds ticked off the clock, and both of his attempts fell through the net after bouncing off the rim.
"What I'm always saying to myself when I'm at the line is, 'If you shoot it with confidence and miss it, who cares at the end of the day?'" said Winkel, who made 8-of-9 free throws. "You've just got to shoot it with confidence. If you make it, great. And if you don't, it's fine."
Each team scored just two points in the first overtime. Taylen Proctor scored to put the Dragons ahead, but Evan Bryan answered with a basket for Centennial.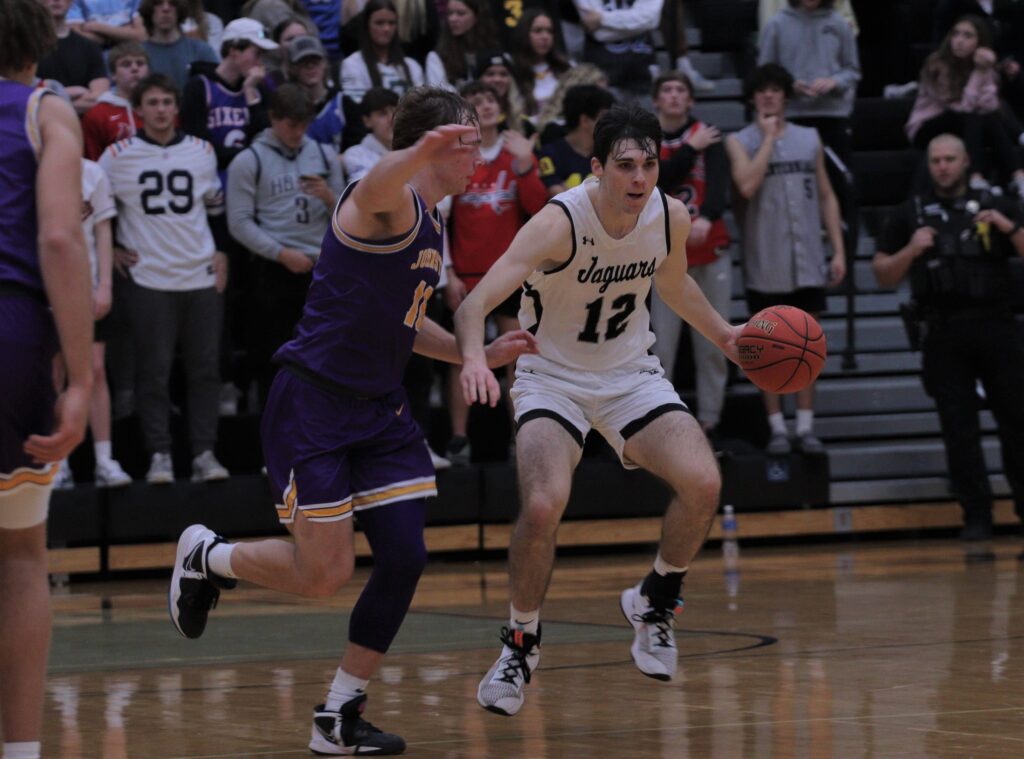 Proctor had a chance to win the game for Johnston, but his shot in the final seconds was off the mark.
Centennial's Drew Schreurs made a 3-pointer to open the second overtime. The Dragons responded with a rare 4-point play–Ruisch drained a trey while being fouled, then added the free throw to put his team ahead, 60-59, with 1:43 to go.
Winkel then found Vaske open in the lane for the go-ahead basket. Johnston was unable to convert on its last three possessions.
"When our guys are shooting it with confidence, we're hard to beat," Winkel said. "You've just got to instill confidence in everyone."
Winkel finished with 18 points, 10 assists and two steals. Bryan had 15 points, going 2-for-6 from behind the arc.
Schutty chipped in nine points and 13 rebounds, while Vaske added eight points. The Jaguars overcame 21.7 percent shooting from 3-point range (5-of-23).
"We had some good individual performances and made some plays when we had to," Fontana said. "I'm really proud of our guys. We'll enjoy this and then we'll get ready to see what we can do with Waukee."
The Jaguars will travel to Waukee on Friday for another conference game. The No. 4 Warriors are 4-1 in the league and 5-1 overall.
Waukee was ranked No. 1 in the preseason, but fell a few spots after dropping a 67-65 decision at Waukee Northwest–the current No. 1 team–on Dec. 6. Now, the Warriors are ranked one spot below the surprising Centennial squad.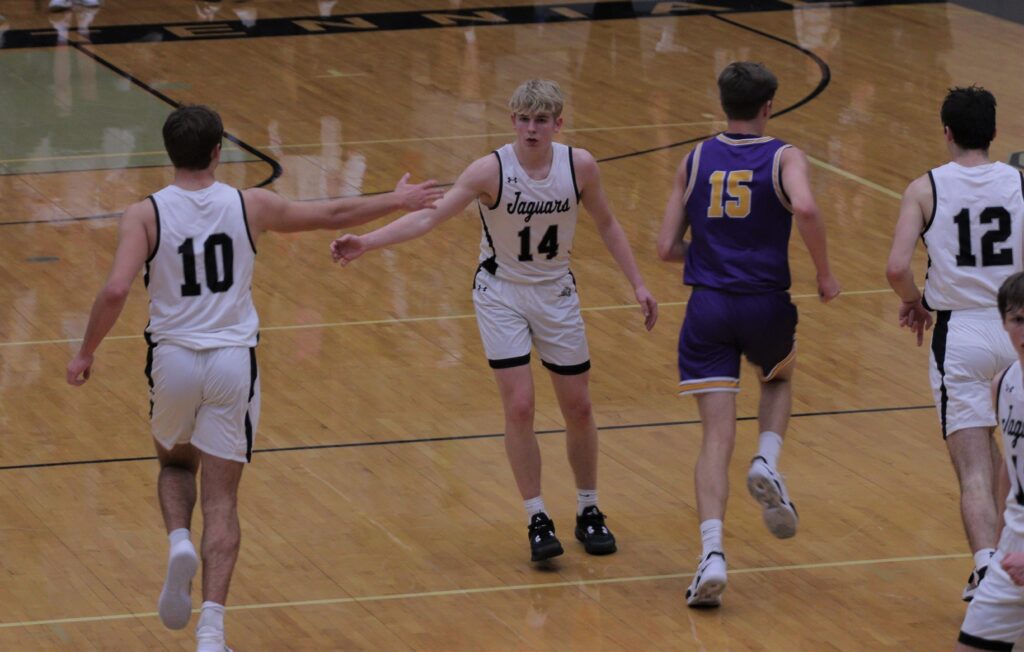 "It was nice to be underrated at the beginning of the season, but now I know everyone wants to beat us–which is just as good," Winkel said.
According to Fontana, the rankings didn't matter when his team was unranked before the season. They don't matter now either.
"Rankings are opinions," he said. "I wish they wouldn't even rank teams until after the new year, because they don't mean anything. It's nice for the recognition–I'm happy for our kids–but you've got to take it one game at a time."