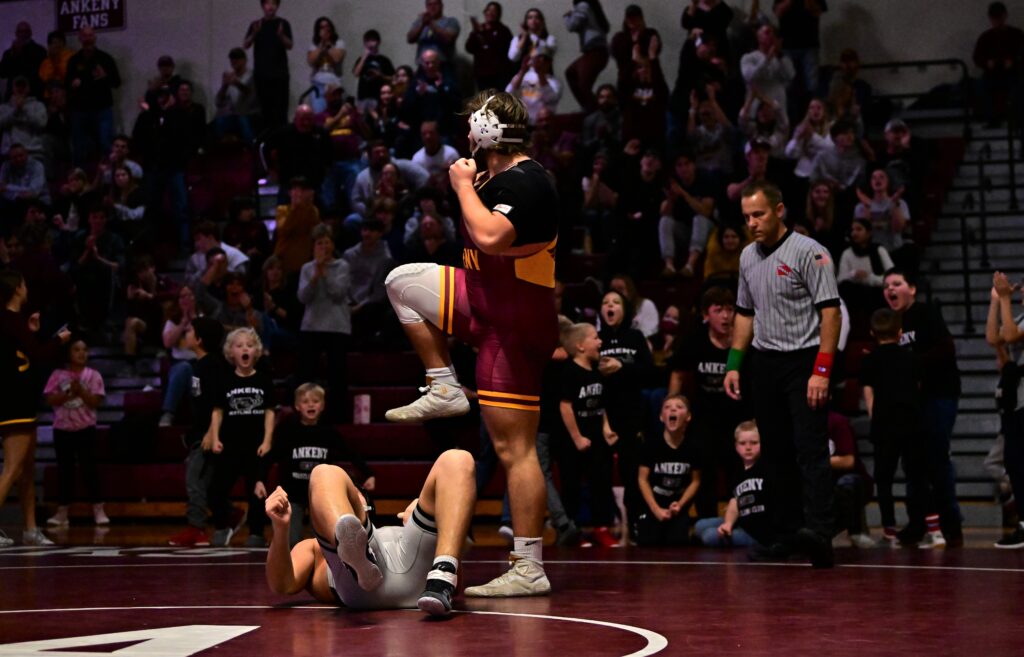 The Ankeny wrestling team was confident going into Thursday's dual meet against its crosstown rival.
But Ankeny coach Jack Wignall made sure that the sixth-ranked Hawks weren't too confident.
"You've seen it in football. It's the game within the game," Wignall said. "You just never know, and Jay (Groth) is a good wrestling coach who knows how to win dual meets for Ankeny Centennial. There's always that opportunity. We were confident, but we were cautious. We just had to go out there and do what we can do, and we did that tonight."
The host Hawks won nine of the 14 matches and posted a 42-26 victory in the CIML Conference matchup. They defeated Centennial for the third straight year.
"It's always good to get dual wins like this where you can put up a lot of points," said Ankeny junior Ben Hansen, who won one of the two matches that featured a pair of rated wrestlers. "I thought our guys did well."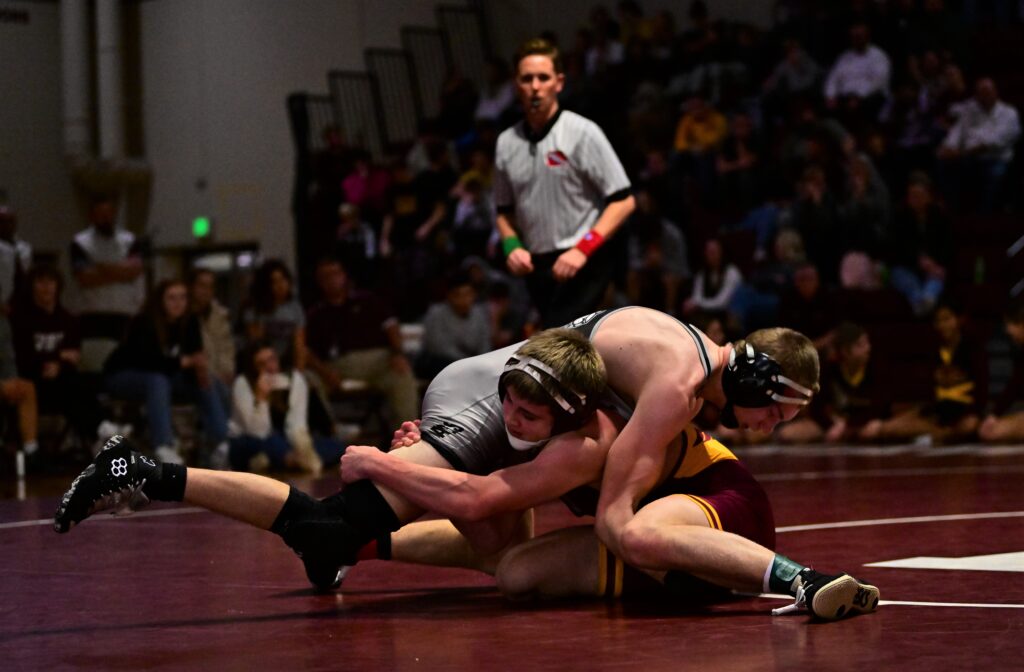 The meet was tied at 10-10 after four matches. Ankeny then dominated the upper weights, getting falls by fifth-ranked Cade Bennethum at 195 pounds and heavyweight Joe Kingston sandwiched around a win by forfeit for No. 9 Will Hinrichs at 220, to take a commanding 28-10 lead.
The Jaguars never recovered.
"Credit to the Hawks for wrestling tough," Groth said. "They've got some good kids, and we'll just go back to practice (Friday) and keep working to get better."
Ankeny's No. 6 Truman Folkers later posted a 7-2 decision over No. 12 Cody Vandermark at 113. The win extended the Hawks' lead to 31-14.
"We've been preparing all week and all year long," Folkers said. "We knew we could win this dual meet."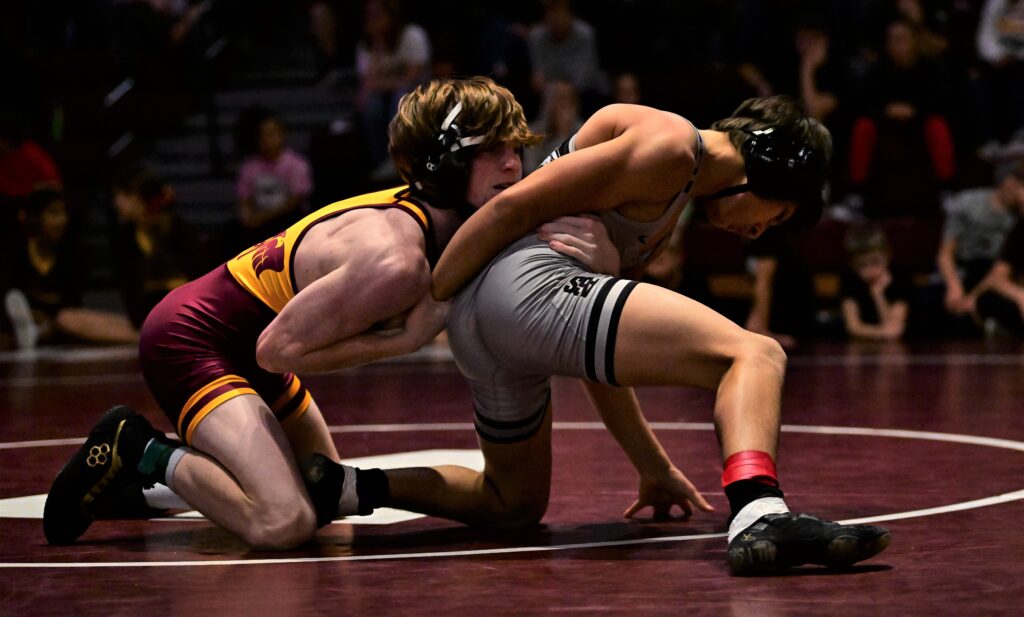 The Hawks later sealed the victory when Leo Perez Perez posted a 12-3 major decision over Ryan Muller at 126.
"Ankeny wrestled really well," Groth said. "I felt like we had some guys who were overthinking this dual and just didn't perform as well as they're capable of."
Two matches later, the No. 4 Hansen posted a 10-3 decision over No. 11 Cael Wiener at 138. He avenged a 3-1 overtime loss in last year's dual meet.
"I'm always confident going into every match," Hansen said. "I just remember last year I was getting a lot of shots in on him, but I couldn't finish any. I had a little problem with that this match, but I finished a few of my shots and that was key."
Centennial got a fall from No. 3 Lucas Bruhl at 145 to close out the meet. He improved to 16-0 on the season.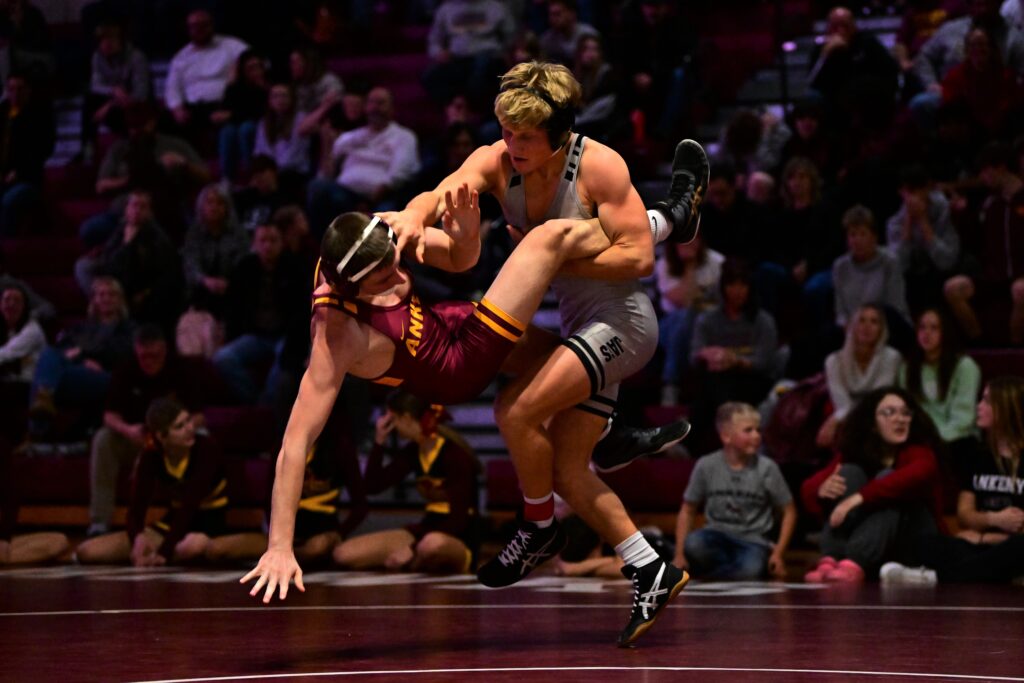 The Jaguars had indicated that Bruhl might wrestle at 152, but when the meet began, they elected to put Joe Talmadge on the mat. He was pinned by No. 5 Jace Anderson.
"We really didn't know what they were going to do in terms of bumping Lucas up, but I was ready either way," Anderson said. "I was a little mad I didn't get my walkout song ("Stupid Again" by Tory Lanez), but other than that, it was a fun meet. It's always a fun dual with them."
Ankeny got major decisions from Teagen Peiffer at 170 and No. 8 JJ Maihan at 120. Maihan wrestled for the first time since he suffered a tooth injury during the season opener at Johnston on Dec. 1.
Centennial got falls from Ari Ehlts at 160 and Tyler Brennan at 132. Cale Vandermark at 106 and Zach English at 182 each recorded a major decision.
English posted perhaps the Jaguars' biggest victory of the night with an 11-3 win over No. 7 Xander Kenworthy, who had won an individual title at the Frank Baltzley Invitational on Saturday.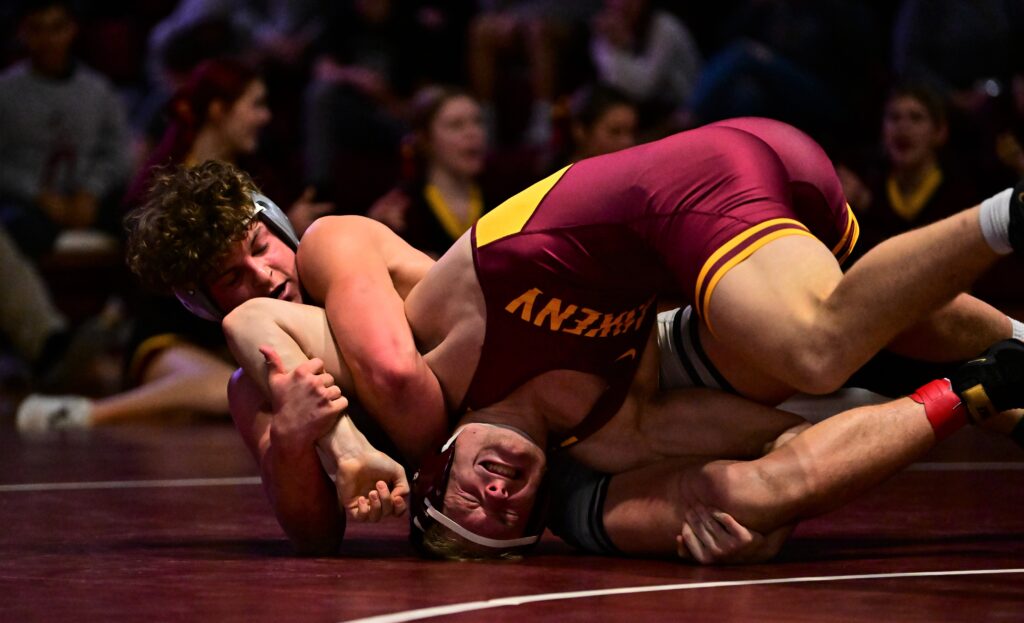 "I was confident going into the match," English said. "It's always a fun dual, and I knew I had to go out there and put up bonus points so I'm happy I did. The key to dominating was wrestling fast with intent and not giving my opponent a chance to catch his breath or score any points."
Groth was impressed by English's performance, but not surprised.
"Zach looked really good," he said. "That's one of the reasons that wrestlers make good football players and vice versa, because Zach gets out and competes. During football season, he's one of the top linebackers in the state. He's training and competing all the time. It makes a big difference."
Kenworthy, who also played football, is still trying to get into shape after recovering from ACL surgery. He's been ill, too.
"We had some sick guys–about three of them," Wignall said. "But they gutted it out. Xander really gutted it out, so I'm really proud of him."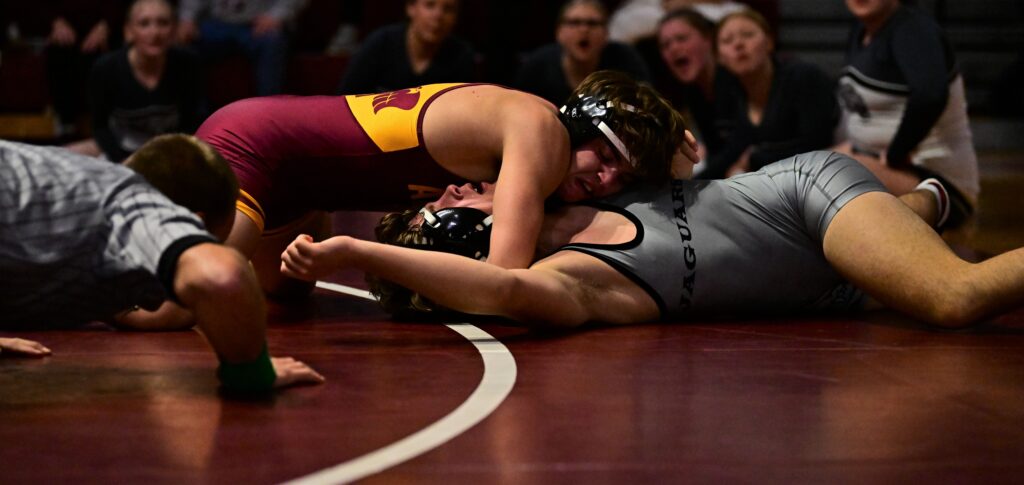 Centennial was likewise not at full strength. The Jaguars wrestled without Logan Song and Mitchell Grider.
"We had several kids out of the lineup," Groth said. "I don't know if there's a school in the state that has a healthy lineup right now. Everybody that I talk to is dealing with the flu or strep throat or whatever. We're just going to keep working and see what happens."
Prior to the Jag-Hawk dual, both teams defeated Urbandale in another CIML Conference matchup. Centennial opened the triangular with a 51-21 victory, then Ankeny followed with a 57-21 triumph over the J-Hawks.
The Hawks are now 3-0 in the conference and 5-0 overall. They will compete in the Battle of Waterloo on Friday and Saturday.
"I wish we were a little healthier physically," Wignall said. "But we're going to go up there and compete."
Centennial is 1-1 in the league and 12-1 overall. The Jaguars will travel to Fort Dodge on Saturday for the Don Miller Invitational.
"This team definitely has a lot of potential," English said. "We're still trying to work a couple guys back into the lineup, and we have a lot of good wrestling ahead of us."
Here are the match-by-match results from Thursday:
Centennial 51, Urbandale 21
138: Wiener pinned Giles, :11; 145: Bruhl pinned Doria, 3:04; 152: Talmadge pinned Za Lian, 4:26; 160: Carver (U) beat Ehlts, 4-2; 170: Hu. Bagby (U) beat Morris, 6-4; 182: English pinned Simms, 1:57; 195: Cahill beat Maass, 8-1; 220: Grider pinned Bektic, :36; 285: Hearne (U) pinned Dickinson, 1:18; 106: Ca. Vandermark pinned Mergen, 1:26; 113: Co. Vandermark pinned Towers, :19; 120: Bright pinned Hensley, 1:25; 126: Rew (U) pinned Muller, 1:50; 132: He. Bagby (U) beat Brennan, 9-3.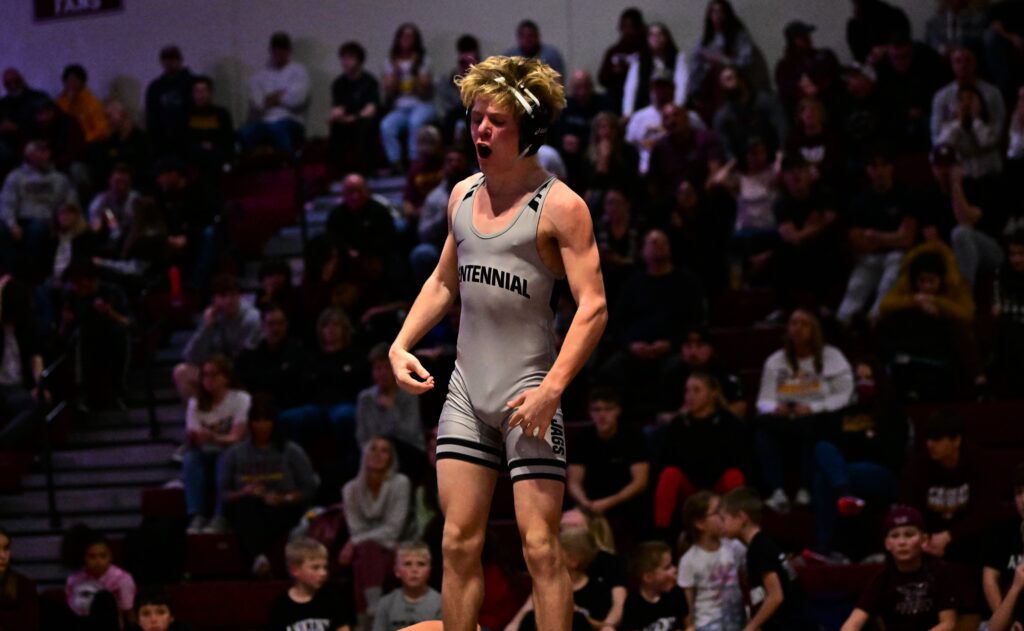 Ankeny 57, Urbandale 21
145: Cox pinned Doria, 3:01; 152: Anderson pinned Za Lian, :53; 160: Carver (U) pinned Schlee, 1:12; 170: Peiffer pinned Hu. Bagby, 5:11; 182: Kenworthy beat Tigges, 5-0; 195: Bennethum pinned Maass, :23; 220: Hinrichs pinned Bektic, :25; 285: Hearne (U) beat Kingston, 4-0; 106: Walsh pinned Mergen, :57; 113: Folkers pinned Towers, :46; 120: Maihan pinned Hensley, 3:06; 126: Rew (U) pinned Perez Perez, 3:18; 132: He. Bagby (U) pinned Voss, 2:30; 138: Hansen pinned Giles, 1:47.
Ankeny 42, Centennial 26
152: Anderson pinned Talmadge; 160: Ehlts (AC) pinned Schlee, 1:42; 170: Peiffer beat Morris, 10-2; 182: English (AC) beat Kenworthy, 11-3; 195: Bennethum pinned Cahill, :58; 220: Hinrichs won by forfeit; 285: Kingston pinned Gonzalez, :39; 106: Ca. Vandermark (AC) beat Walsh, 10-2; 113: Folkers beat Co. Vandermark, 7-2; 120: Maihan beat Bright, 23-10; 126: Perez Perez beat Muller, 12-3; 132: Brennan (AC) pinned Voss, 2:26; 138: Hansen beat Wiener, 10-3; 145: Bruhl (AC) pinned Cox, :43.