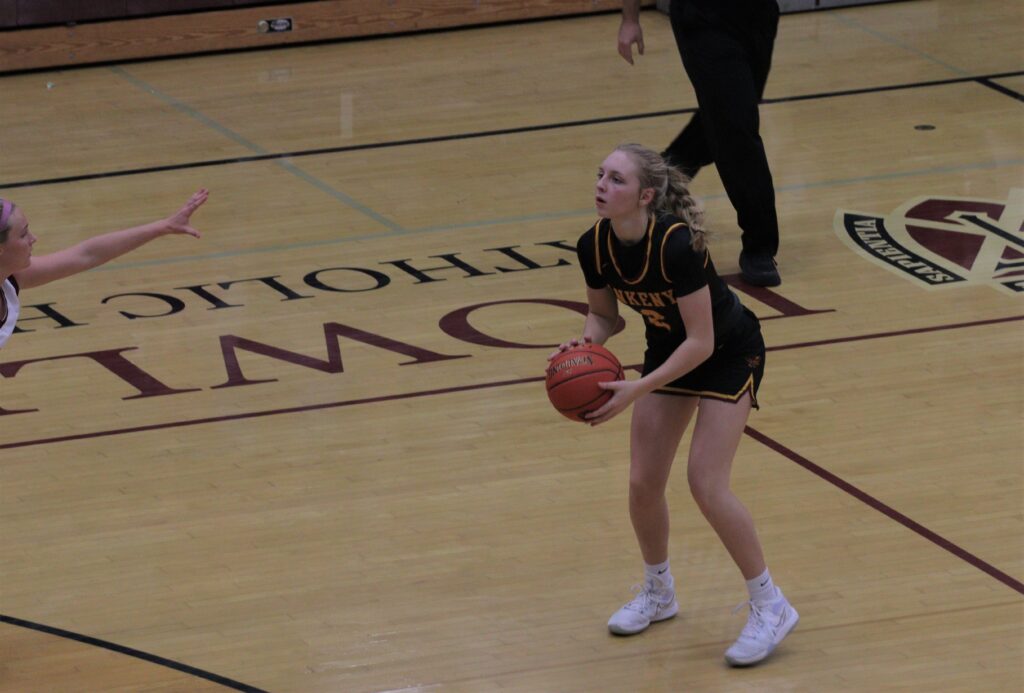 Any scouting report on the Dowling Catholic girls' basketball team is going to start with the Maroons' best player, point guard Ava Zediker.
But it was Dowling's supporting cast–and freshman post player Ellie Muller in particular–who proved to be the difference on Friday.
Muller converted a 3-point play with 2 seconds left to give the 11th-ranked Maroons a 51-48 victory over No. 7 Ankeny in a CIML Conference game at Dowling.
"They made some key plays down the stretch," said Ankeny coach Dru McAnelly. "I thought their role players really hit some huge 3-pointers, and then (Muller) really changed the game on defense. There were a few times we had good takes in the lane and she altered or blocked shots, and kind of bothered us. And then she had the and-one at the end."
Dowling appeared to be in control when Zediker scored in the lane with 30 seconds left to put the Maroons ahead, 48-43. But Ankeny's Jasmine Moser answered with two free throws, then Muller missed the front end of a bonus opportunity with 23 seconds to go.
The Hawkettes tied the score when Karsen Jacks swished a 3-pointer from the left corner with 14 seconds remaining. It was her only basket of the game.
"It was a really fun game down the stretch," said Ankeny guard Savannah Gage, who poured in a game-high 19 points. "They fought, we fought and we had runs, and they had runs. It was a really good game."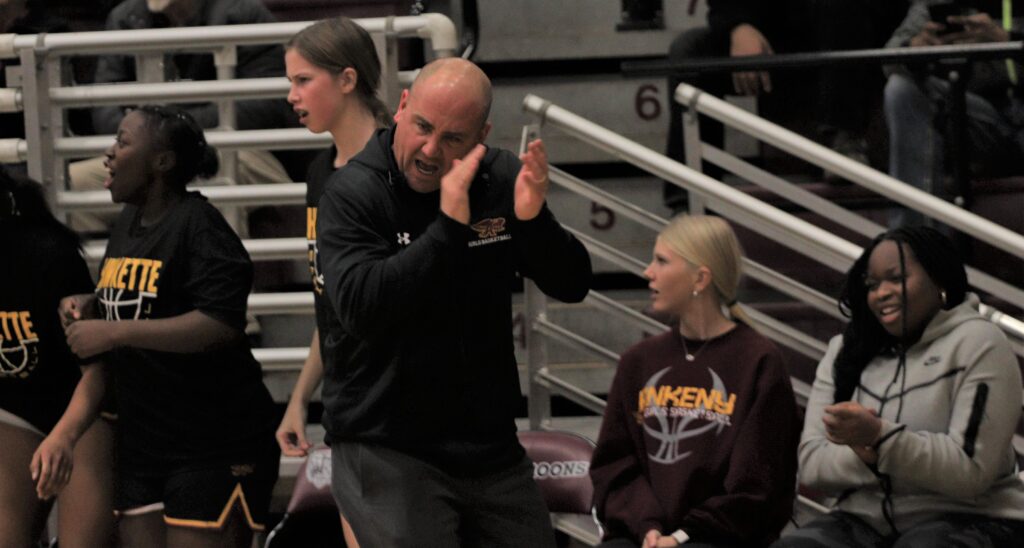 On Dowling's last possession, Zediker drove down the right side of the lane as the final seconds ticked off the clock. Her shot deflected off the backboard, but Muller grabbed the rebound and put it back in while being fouled.
After she made the free throw, Ankeny turned the ball over on the ensuing inbounds pass.
"That's this league. It's going to be a dogfight every night," McAnelly said. "The moral of the story, though, is that we've got to take care of the basketball. We had way too many turnovers for a team that has really good guard play."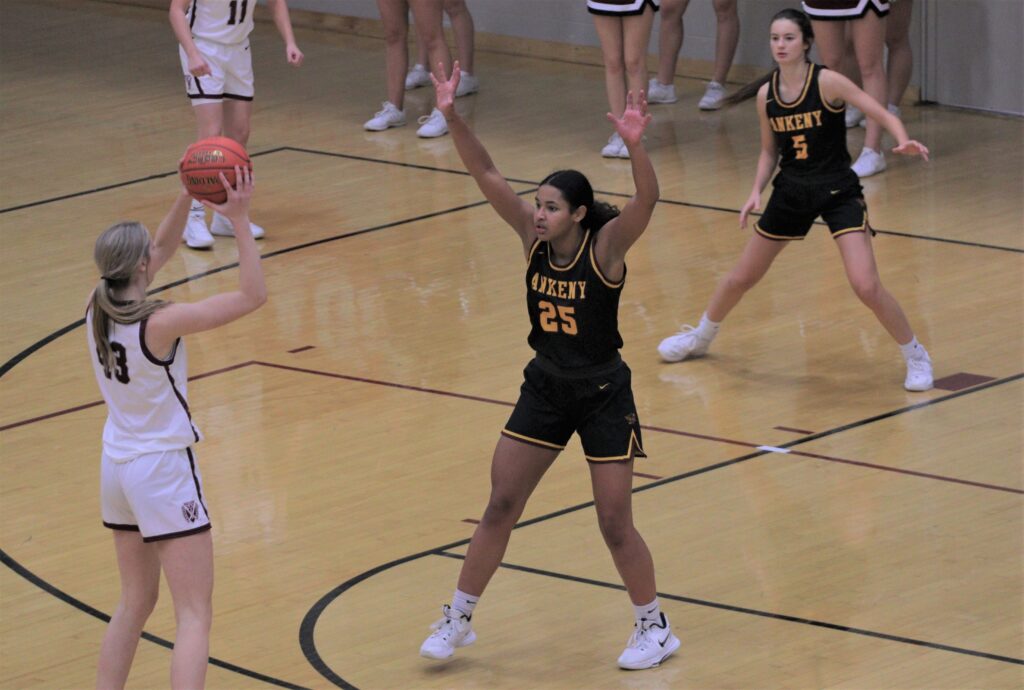 The win allowed Dowling to even its records at 3-3 in the conference and 4-4 overall. The Hawkettes dropped to 2-3 and 5-3.
"There's some really good teams in our league with three, four, five losses," McAnelly said. "Dowling was 3-4 coming in, and they're a really good team."
The game featured two of the state's top sophomore guards going against each other. Gage face-guarded Zediker for much of the night, but she still managed to score 18 points.
"All credit to her, she's a fantastic player," Gage said. "I always love playing against her. I see her at AAU a lot, and we are always battling. It's a fun matchup. My teammates helped me out a lot."
Gage scored eight points in the first half as Ankeny took a 21-19 lead into the break. The Hawkettes closed out the half with a 10-3 run.
Ankeny later took its biggest lead, 30-23, on a jumper by Gage midway through the third quarter. But Zediker then scored the final four points of the period to close the gap to 34-31.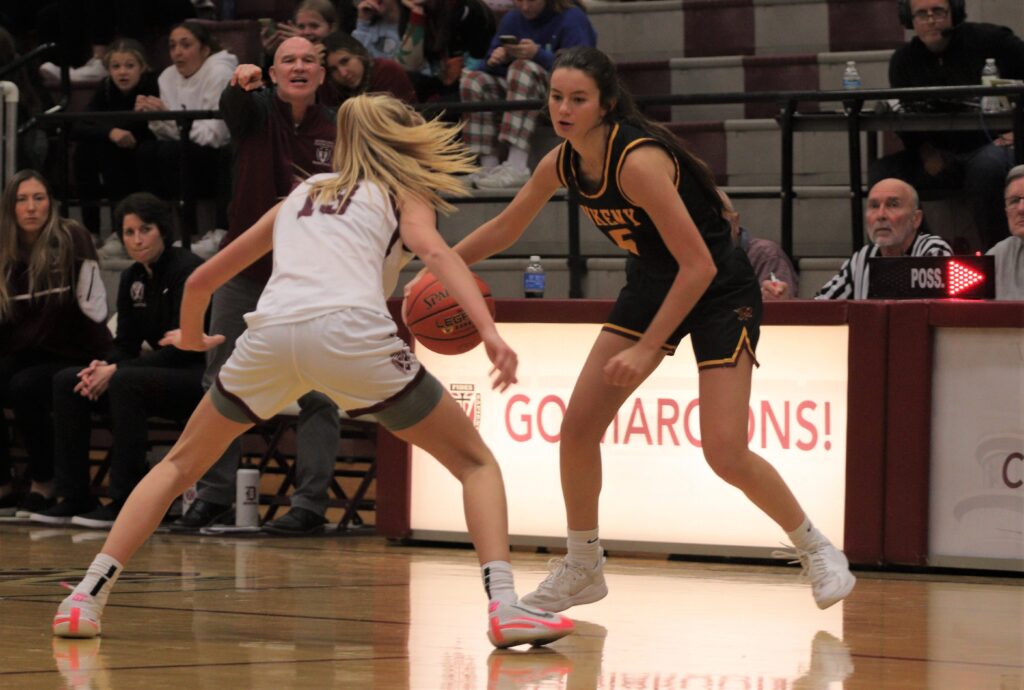 Dowling went on a 9-0 run in the fourth quarter and took a 40-35 lead on a 3-pointer by Julia Moore with 4:15 left. The Maroons got another trey from Lauryn Frerichs to make it 43-38 with 2:36 to go.
"I thought our defense, outside of the first 4 minutes, was pretty solid," McAnelly said. "They just hit some big shots."
Gage made two free throws with 2:11 left, then Jenna Pitz converted a steal into a 3-point play shortly thereafter to tie the game. Pitz finished with 10 points, four assists and three steals.
Frerichs then responded with another 3-pointer that rolled around the rim before dropping through with 1:38 left, setting the stage for the dramatic finish. She had 11 points for the Maroons.
"It's going to be a slugfest every night out," McAnelly said.
Ankeny will host a conference game against No. 8 Ankeny Centennial on Tuesday. The Jaguars are 2-3 in the league and 7-3 overall.