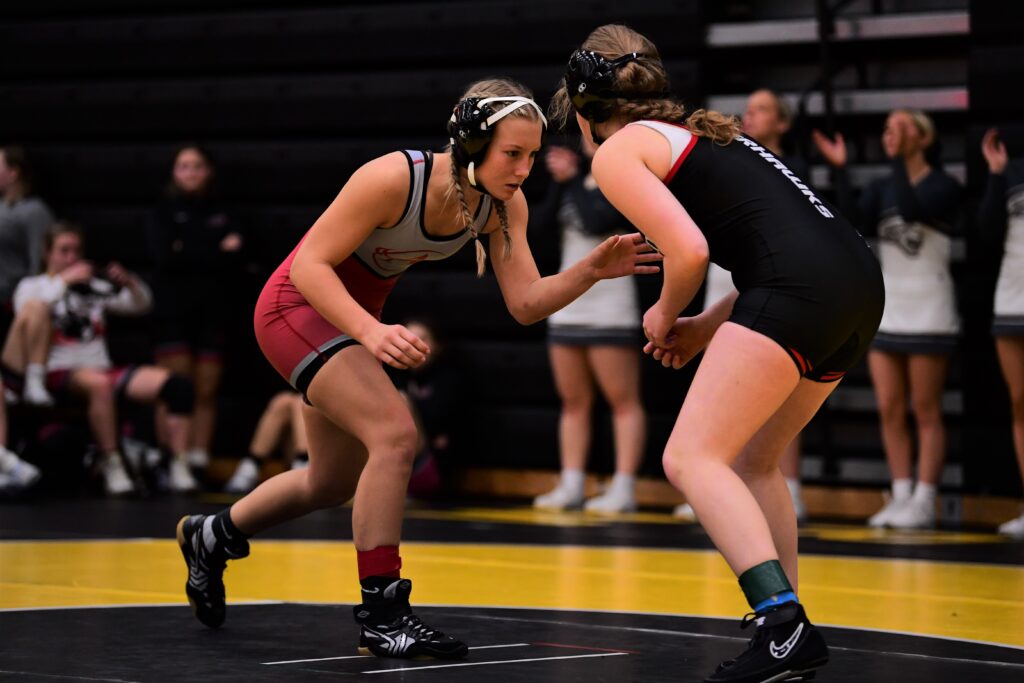 Saturday was another historic day for the fledgling Ankeny girls' wrestling team.
Ankeny crowned six individual champions and captured the first tournament title in program history by winning the Raccoon River Invitational at Adel. The team racked up 222 points.
Raccoon River was second in the eight-team event with 178 points. It had lost to Ankeny in a dual meet four days earlier.
"In P-I-G basketball when you get to 'G' you have the choice to take a second shot or prove it. We told our girls it was both of those today," said Ankeny coach Dustin Roland. "We had to prove it, and Raccoon River got a second chance. While some matches didn't go our way, the vast majority were doubled down. We were still without Elyse (Engebretson) and added Kayla Clark to our missing list, but our depth once again proved to be enough."
Claiming titles for Ankeny were Ella Hron at 105 pounds, Nora Bockes at 110, Avery Grim at 125, Dana Cleveland at 135, Lauren Heimer at 170 and Melanie Martinez at 235. Some of the weight classes featured traditional brackets, while others had a round-robin format.
Cleveland led Ankeny's 1-2-3 sweep of her bracket by pinning teammate Melanie Salgado in the final in 1 minute 35 seconds. She improved to 15-3 on the season, while Salgado is now 8-6.
Heimer pinned Payton Coates of Raccoon River in 5:49 to win her crown. Heimer, who posted a 3-1 decision over Coates on Tuesday, raised her mark to 17-6.
"Lauren used some last-second heroics to get a come-from-behind win," Roland said.
Hron went 5-0 with five pins to win a round-robin bracket. She is now 14-8.
Bockes went 4-0 with three falls to lift her record to 19-4.
"Ella continues to improve, and Nora has just been Ms. Consistent for us," Roland said.
Avery Grim went 5-0 with four pins. She is now 16-2.
"She continues to dominate," Roland said.
Martinez went 2-1 with two pins on the day. She is now 17-5.
"Melanie lost a match, but she still won on criteria," Roland said.
Ankeny had three other runner-up finishers in addition to Salgado. They were Lily Hans at 130, Gia Blaser at 140 and Josie Bishop at 190.
Hans dropped a 6-1 decision to Colbie Teaborg of Saydel. She is now 9-6.
"Lily continues to navigate her way back from an injury," Roland said.
Blaser was pinned by Haley Glade of Earlham in 3:53. She still boasts an impressive 17-6 mark.
Bishop is now 14-11 after going 3-1 with two pins.
"Gia had a strong tournament, and Josie just missed pulling off an upset (in her deciding match)," Roland said.
Ankeny will face Johnston in a CIML Conference dual meet on Tuesday at Urbandale.