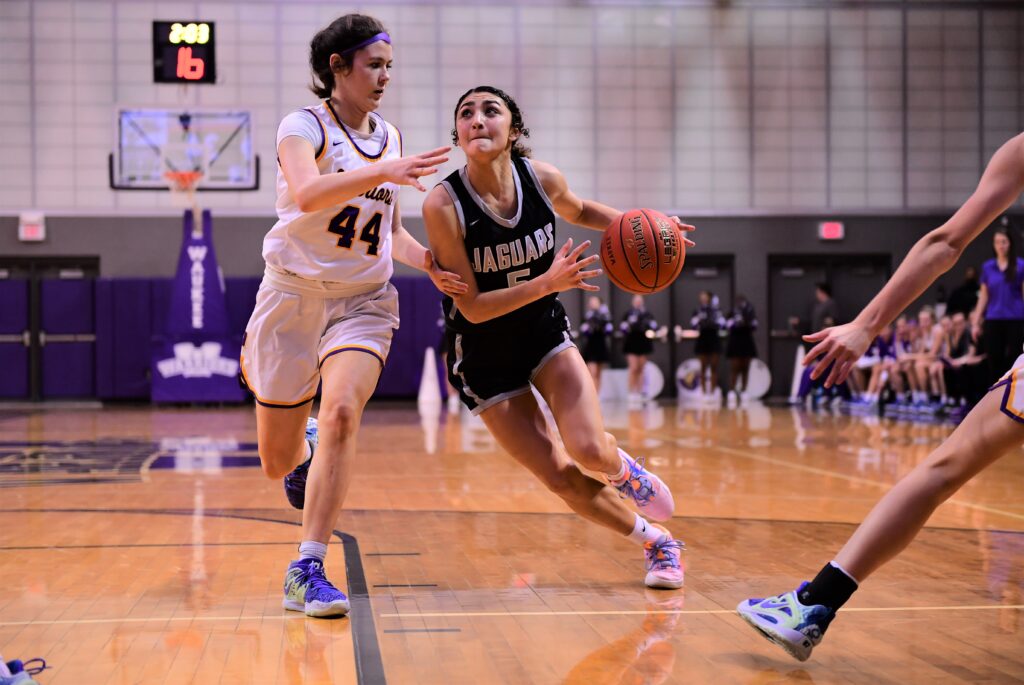 The Jag-Hawk basketball rivalry will resume on Tuesday night at Ankeny, where all four teams will be looking to build some momentum heading into the holiday break.
While the girls' all-time series has been dominated by Centennial, the boys' series has been a back-and-forth affair that is now tied at nine wins apiece. Both the Hawks and Jaguars have won as many as four straight games over their rival, and Ankeny currently boasts a winning streak of two games after sweeping both meetings last year.
On the girls' side, Centennial won the first 17 games in the history of the rivalry, 15 of them by double digits. But the Jaguars are coming off their first loss ever to Ankeny.
Last February, the Hawkettes overcame a nine-point deficit in the fourth quarter to beat Centennial, 49-45, on the same court where Tuesday's game will be played. Jenna Pitz scored 15 of her career-high 24 points in the final period to spark the rally.
The win also allowed Ankeny to tie the Jaguars and Waukee Northwest for the CIML Iowa Conference title. The stakes on Tuesday aren't quite as big–the winner will move into a tie for third place in the new nine-team CIML Conference.
Here is a breakdown of both contests:
GIRLS
Centennial
Coach: Scott DeJong
Record: 2-3, 7-3
Current ranking: 8th in Class 5A by the IGHSAU
Streak: Won 1
Leading scorer: Kennedy White (12.8)
Leading rebounder: Kennedy White (7.0)
Ankeny
Coach: Dru McAnelly
Record: 2-3, 5-3
Current ranking: 7th in Class 5A by the IGHSAU
Streak: Lost 1
Leading scorer: Savannah Gage (16.9)
Leading rebounder: Jayla Williams (5.8)
Analysis: As the rankings and the conference standings suggest, these two teams are evenly matched. Both squads have lost to No. 2 Johnston and to No. 11 Dowling Catholic. Ankeny's other loss was to No. 4 Southeast Polk, while Centennial's other loss came to No. 5 Valley. Both teams own wins over a pair of common opponents–Ames and Waukee. While the Hawkettes built a 16-point lead and then held on for a 46-42 victory at Waukee on Nov. 29, the Jaguars are coming off a dominant 48-29 win at Waukee on Friday. Mya Crawford had 14 points, 11 rebounds and five steals for Centennial. The Cedar Falls transfer will be getting her first taste of the Jag-Hawk rivalry, and so will Ankeny freshman Jayla Williams–who is the team's second-leading scorer (13.5) after transferring from Cedar Rapids. Both squads have relied heavily on their talented backcourts. Ankeny typically plays four guards along with post player Jasmine Moser, while the Jaguars will employ a three-guard attack along with versatile forward Jaeden Pratt and center Kennedy White. Centennial appears to have a slight edge in the paint, where White has scored in double figures in seven of the 10 games this season. She poured in a career-high 23 points in a win over Des Moines Roosevelt on Dec. 6. Moser is a strong post defender, but she will have to avoid foul trouble because the Hawkettes don't have a lot of size–or depth–on the bench.
Prediction: Centennial 48-44. Points have always been hard to come by in these games, and that will likely be the case again on Tuesday–even with the addition of the shot clock. Ankeny's Savannah Gage is enjoying a tremendous sophomore season, but look for Pratt and Centennial's guards to make her work hard for her points. The Jaguars will be seeking to avenge the loss from 10 months ago, and after losing three games by a combined 11 points this season, I think they'll emerge from another close game on top this time.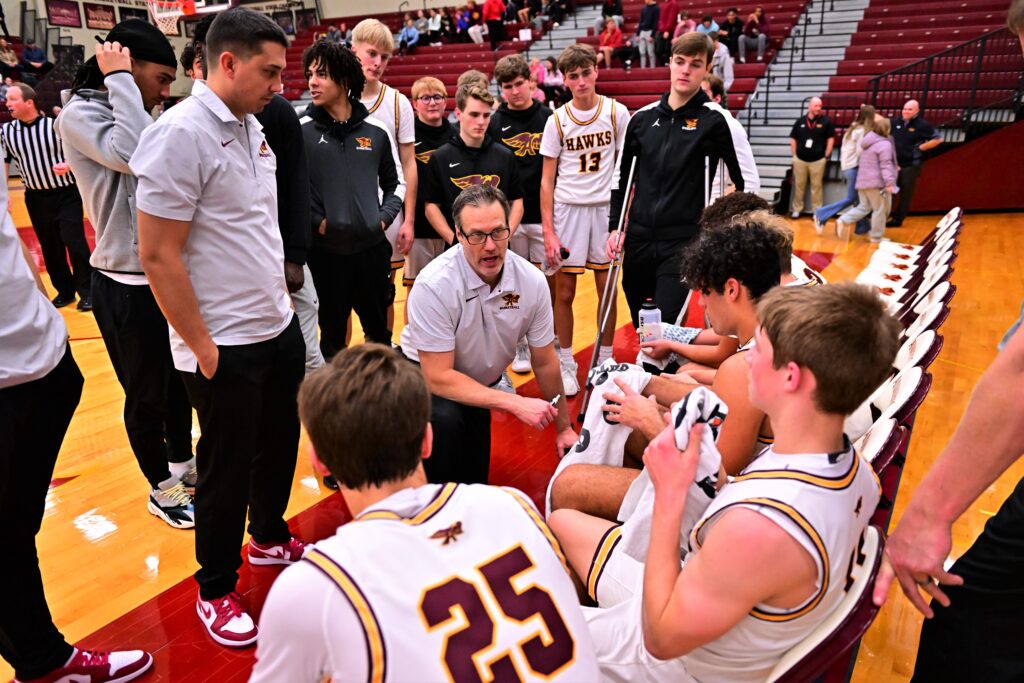 BOYS
Centennial
Coach: Bob Fontana
Record: 4-1, 5-1
Current ranking: 4th in Class 4A by the IHSAA
Streak: Lost 1
Leading scorer: Luke Winkel (13.3)
Leading rebounder: Chase Schutty (8.0)
Ankeny
Coach: Brandt Carlson
Record: 2-3, 3-5
Current ranking: Unranked
Streak: Lost 1
Leading scorer: Lio Aguirre (13.6)
Leading rebounder: Lio Aguirre (6.0)
Analysis: The Jaguars have been one of the state's biggest surprises this season, getting off to a 5-0 start after going just 12-10 a year ago. Centennial finally suffered its first loss on Friday at Waukee, where it nearly overcame an 18-point deficit before dropping a 55-52 decision. After falling into an early 15-0 hole, the Jaguars could have folded their tents and gotten blown out–which is what happened to Ankeny in the season opener at Waukee, when the Warriors pulled away in the second half for a 75-51 victory. The key to Centennial's success has been a balanced attack, strong defense and great team chemistry. Junior point guard Luke Winkel leads the way, but the Jaguars have gotten solid contributions from several different players thus far. Ankeny also boasts an outstanding point guard in junior Carson Johnson, but he's drawn a lot of attention from opposing defenses this season. Former Centennial player Lio Aguirre made a buzzer-beating jumper in overtime to beat the Jaguars, 81-79, last February. He leads the Hawks in scoring and rebounding, and he's coming off a pair of 20-point outings over the weekend. Aguirre has made 15 of his last 33 shots from the field after struggling to find his range early on, when he shot just 33.7 percent in the first six games. The Hawks are coming off a brutal stretch where they played four games in six days, capped off by a 70-52 loss to No. 7 Sioux City East in the Arena Basketball Invitational Showcase on Saturday at the Tyson Events Center.
Prediction: Centennial 64-57. Ankeny coach Brandt Carlson said a week ago that his team is just trying to make it to Christmas. Senior Jamison Patton, who averaged 10.5 points in the first two games of the season, hasn't played since due to an illness and isn't expected back until after the break. The Hawks will likely be a better team on Feb. 3 than they are now–that's when they'll play Centennial again. The Jaguars are tied with Waukee in the loss column for second place in the conference, and they need a win to keep pace in the league race–especially with a showdown against No. 1 Waukee Northwest coming up on Jan. 3.