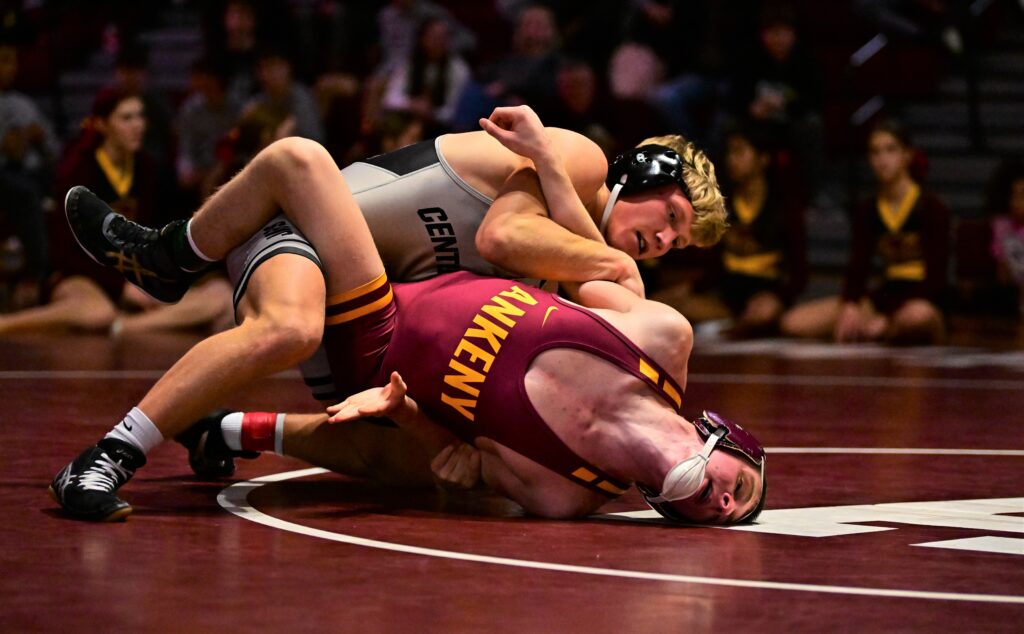 A strong performance in the Don Miller Invitational led to an enjoyable trip home from Fort Dodge for the Ankeny Centennial wrestlers on Saturday.
Only one thing would have made it even better.
"If we beat Fort Dodge, it would have been a really good day," said Centennial coach Jay Groth. "So we had a pretty good day."
The fifth-ranked Dodgers won their own tournament with 226 points. Centennial placed second with 205 points, finishing 11.5 points ahead of Webster City–the No. 5 team in Class 2A.
The Jaguars crowned three champions and had two runners-up. They were led by junior Lucas Bruhl, who won the title at 145 pounds and was named the tournament's outstanding wrestler.
"Lucas dominated a tough bracket," Groth said. "There were two other state placewinners and a couple other ranked kids in his bracket."
The third-ranked Bruhl posted a 5-1 decision in the finals over Ryan Brennan of Emmetsburg, who is ranked fourth in Class 1A. Bruhl improved to 20-0 on the season, while Brennan lost for the first time in 16 matches.
Centennial's other champs were Cale Vandermark at 106 and No. 11 Cael Wiener at 132.
Vandermark posted a 5-3 decision in the semifinals over previously unbeaten Linden Phetxoumphone of Webster City, who is ranked third in Class 2A. He then defeated No. 7 Kale DiMarco of Mason City, 4-3, in the title match.
Vandermark is now 18-1 on the season.
"Cale had a real good day," Groth said. "He avenged his only loss to (Phetxoumphone) and then beat another ranked kid in the finals.'
Wiener dropped down from 138 to win his title, posting a 3-1 overtime decision against Jayden Gargano of Humboldt, who is ranked eighth in Class 2A. He also handed Gargano his first loss while improving his own record to 18-2.
"That was a gritty performance by Cael," Groth said.
Payton Bright at 120 and Mitchell Grider at 220 each placed second for the Jaguars.
Bright lost by a technical fall, 23-8, to Carson Doolittle of Webster City, who is ranked No. 1 in Class 2A. He is now 14-5.
Grider, meanwhile, was pinned in 44 seconds by Jaxon Cherry of Webster City, who is ranked third in Class 2A. His record is now 15-4.
"They both wrestled well," Groth said.
Centennial got third-place finishes from No. 12 Cody Vandermark at 113, Tyler Brennan at 138, Ari Ehlts at 160 and Zach English at 182. Jack Cahill finished fourth at 195.
In the semifinals, Vandermark lost by a technical fall to No. 1 Dru Ayala of Fort Dodge, the eventual champion. He later defeated Danny Cleveland of Sioux City East for the second time on Saturday, 19-5, in the third-place match.
"Cody wrestled well all day," Groth said.
English also lost in the semifinals, 7-5, to Cade Shirk of Emmetsburg, who is ranked eighth in Class 1A. It was the first loss of the season for English, who is now 11-1.
"Zach had a short mental lapse that cost him, but otherwise he wrestled well all day," Groth said.
Centennial will travel to Southeast Polk on Tuesday for a CIML Conference triangular against the No. 2 Rams and No. 8 Valley.
"We are still hoping to get healthy and injury-free after Christmas," Groth said.