The Ankeny wrestling program is moving into uncharted territory.
The Hawks turned in a spectacular performance on Friday and Saturday at the Battle of Waterloo, where they advanced to the championship bracket for the first time ever and defeated two nationally-ranked teams en route to a third-place finish overall.
"I tried to stay in the moment because this stuff doesn't happen every day, but we're hoping that this can become the standard or the expectation for our program," said Ankeny coach Jack Wignall, whose team has since moved up to fourth in the latest Class 3A rankings by the Iowa Wrestling Coaches and Officials Association. "I'm just trying to take it all in and appreciate how well the guys are wrestling as a team right now."
After advancing to Saturday's four-team championship bracket, Ankeny posted a 2-1 record along with Waverly-Shell Rock and Osage, but the Hawks finished third based on criteria. The outcome was decided by the fourth criteria–the least individual penalty points, of which Osage had none.
Still, Ankeny improved to 10-1 on the season.
"I was really happy with our team," said Ankeny senior Jace Anderson. "We beat two nationally-ranked teams, and I think we're putting the whole state on notice. This is the best team we've had in a long time, and it's a lot of fun to be a part of."
Ankeny opened the tournament on Friday with a 75-3 victory over Union (LaPorte City). The Hawks followed with a 40-21 win over Indianola, then rolled past top-seeded Linn-Mar (Marion), 48-24, to win the Pool C championship.
Linn-Mar had been 50th nationally in the Fab 50 rankings. All nine returning state participants for the Lions wrestled, but they went just 4-5 in the dual.
The fifth-ranked Anderson posted a 3-2 decision over No. 2 Grant Kress at 152 pounds. He had been pinned by Kress in last year's Battle of Waterloo.
"That was a big win for Jace," Wignall said.
Then, on Saturday, Ankeny dropped a 36-28 decision to Waverly-Shell Rock in its opening match. The Go-Hawks' head-to-head win eventually determined second place overall.
No. 9 Will Hinrichs nearly had a fall for the Hawks at 220, but he had to settle for a 10-6 decision over Tyler Gast.
"Will had the kid on his back and he was flat, but the ref didn't call it," Wignall said. "Truman (Folkers) lost 4-0 (at 113) and Teagen (Peiffer) lost to a kid that he had beaten before (at 170), so if Will gets a pin and we win either of those other matches, we would have beaten them. We are right there with the best teams in the state."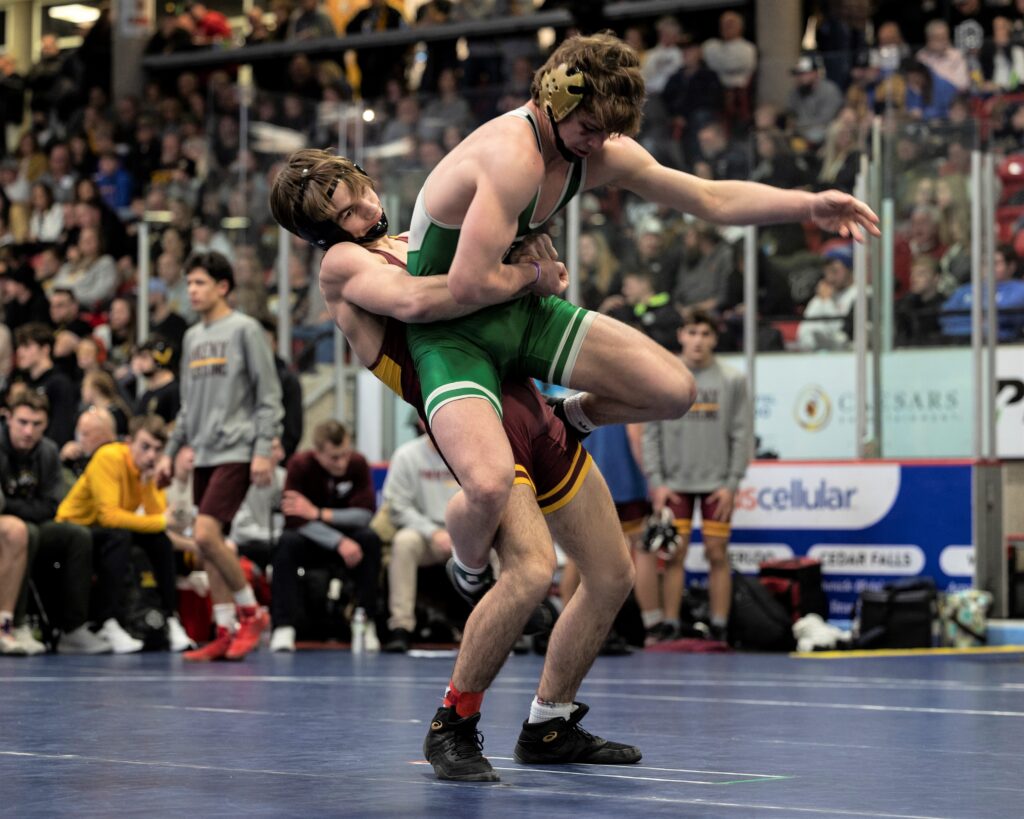 Ankeny proved that again in its next match with a 37-36 victory over eventual champion Osage, the No. 48 team nationally. Wignall was proud of the way his team bounced back from its first loss of the season.
"To win that dual meet after getting beat, it was just an unbelievable performance by our kids," he said. "They weren't sulking and they weren't sad that they lost. They just came out and wrestled lights out and beat a nationally-ranked team. I think that really told the kids where they are at."
Ankeny then closed out the tournament with a 36-25 win over Don Bosco, the No. 1 team in Class 1A.
"I can live with that," Wignall said of the third-place finish. "The Osage coach said after our meet that they just couldn't keep up with us in terms of bonus points. That's quite a compliment coming from the No. 1 team in 2A and the winner of the Battle of Waterloo."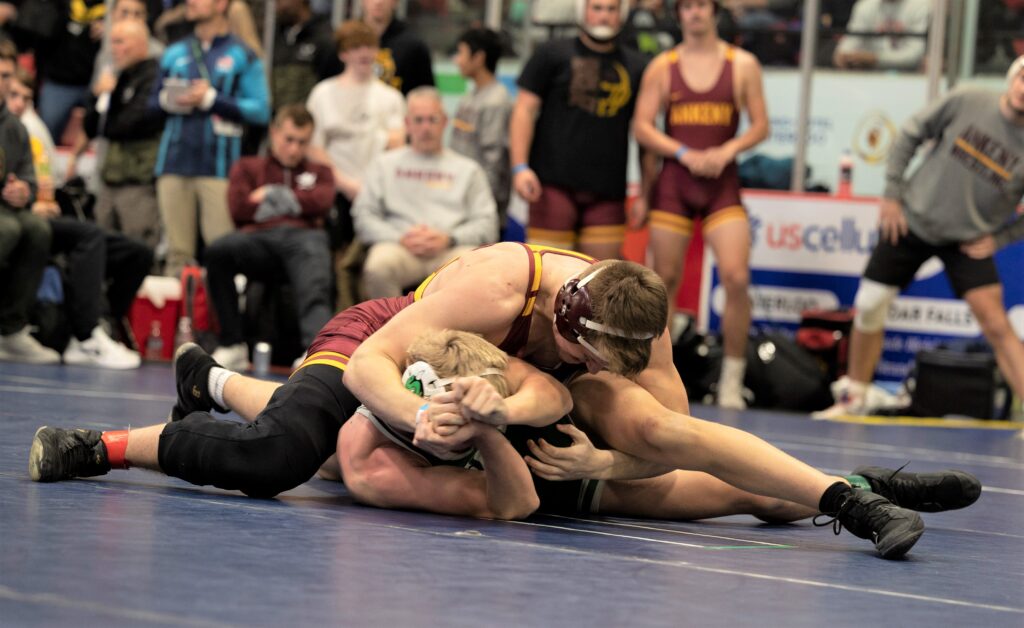 Ankeny was led by No. 7 Xander Kenworthy, who went undefeated in the tournament with five falls at 182. Kenworthy was sick during Thursday's dual meet against Ankeny Centennial and was not expected to wrestle on Friday.
"For him to go 6-0 on the weekend after being as sick as he was, that's just a testimony to how tough that kid is," Wignall said.
Ben Walsh at 106 and No. 4 Ben Hansen at 138/145 each went 5-1 in the tournament with four pins. Hansen's only loss came against Waverly-Shell Rock, when he bumped up to 145 and was pinned by No. 1 Bas Diaz in 3 minutes 56 seconds.
"Bas got him in a cradle in the second period, and Ben fought it for about 35 seconds but got pinned with about 5 seconds left," Wignall said.
The No. 6 Folkers went 5-1 with a pair of falls and two major decisions. Anderson went 5-1 with two pins and a major decision at 152/160, while Leo Perez Perez went 5-1 with a technical fall and a major decision at 126/132.
No. 5 Cade Bennethum went 4-1 with two pins at 195. His only loss came to Waverly-Shell Rock, where he was pinned by No. 1 McCrae Hagarty for the second time in eight days.
Hinrichs went 4-2 with a pin. No. 8 JJ Maihan also went 4-2 at 120/126.
Peiffer went 3-3 with a pair of falls. Heavyweight Joe Kingston also went 3-3 with a pair of pins.
"Joe was down by a point in the third period against (Jaxson Boyd of) Indianola and got an escape with 1 second left to tie it up," Wignall said. "And then he pins the kid about 10 seconds into OT. It was really an amazing match. Joe is such a big part of our team. Being a senior and wanting to play football in college, he doesn't have to be out there wrestling but he's out there for his buddies and his team. He's just doing an incredible job."
Wignall liked the fight that his team showed all weekend.
"Our kids really fought off their back when the chips were down," he said. "Alex (Cox) was wrestling the No. 2 kid from Don Bosco (at 145). That kid was all over him, but Alex ended up fighting off his back and didn't give up a tech or a pin. That was just one example of many. Our kids just fought so hard."
The Hawks will return to CIML Conference action on Tuesday. They will travel to Waukee for a triangular against the host Warriors and No. 13 Waukee Northwest.