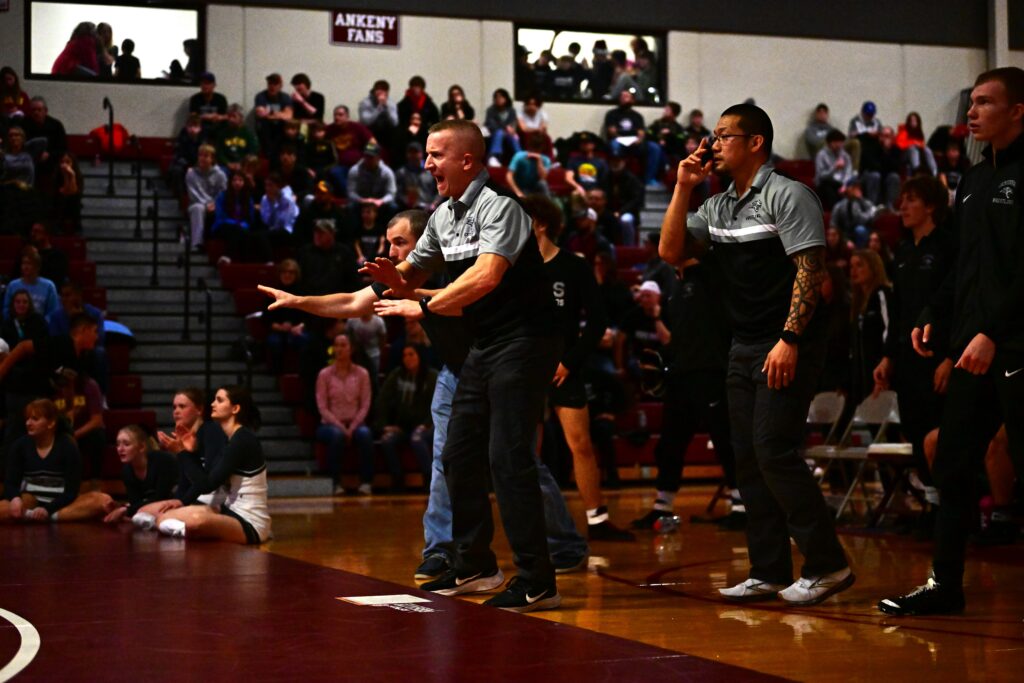 It's not often that a wrestling team would want to be compared to the NFL's Detroit Lions.
But that's exactly who Ankeny Centennial coach Jay Groth compared his squad to following Tuesday's triangular meet at Southeast Polk.
"We've got to get healthy," Groth said after the Jaguars suffered losses to Southeast Polk and Valley. "We have three varsity spots where we're not where we're going to be. Logan Song will be back after the break, and we've got to figure something out at 152 (pounds). I think we'll be a team–kind of like the Detroit Lions–that other teams aren't going to want to wrestle."
Detroit has been a perennial loser, but the Lions are in playoff contention after winning six of their last seven games. Groth is hoping that his team can make a similar surge late in the season.
On Tuesday, 16th-ranked Centennial dropped a 36-30 decision to No. 8 Valley, then lost to the No. 2 Rams, 55-15. The Jaguars fell to 1-3 in the CIML Conference and 12-3 overall.
Centennial got pins from eighth-ranked Cody Vandermark at 113, Payton Bright at 120 and No. 8 Cael Wiener at 132 in the loss to Valley. But it wasn't enough to overcome the Tigers, who earned bonus points in five of their eight victories.
"We had some good wins and we were one match away, but we gave up some bonus points where we could have earned some or we gave up some," Groth said. "We're giving up some points at the end of periods or matches that are costing us dual meets. We have to figure out ways to get tougher on the mental side of the sport. You can't beat good kids if you don't put in the work. That's something we'll work on over the winter break to get to where we need to be."
The Jaguars won only three matches against Southeast Polk, the defending Class 3A state champion. No. 4 Lucas Bruhl remained unbeaten with a fall at 145, No. 6 Zach English won in overtime at 182, and No. 6 Cale Vandermark got a pin at 106.
The Rams recorded six falls and four major decisions.
"I thought we wrestled poorly against Southeast Polk," Groth said. "We let the rankings and the past history of their team dictate how aggressive we were, which didn't make me very happy. We have to fight. You can't be No. 1 if you don't beat No. 1, and we've got to fight harder. We need to step up our mental game."
However, Groth said he was proud of Calvin Haag, his sophomore 152-pounder. Haag had been wrestling at 132 and 138.
"Calvin obviously wrestled a lot bigger kids, but I have to give him props for having the fortitude to step up and say that he could do it," Groth said.
Here are the match-by-match results:
Valley 36, Centennial 30
138: Streasick (V) beat Brennan, 12-3; 145: Bruhl (AC) beat VanArkel, 10-4; 152: J. Clark (V) pinned Haag, :15; 160: C. Clark (V) beat Ehlts, 5-0; 170: Wray (V) beat Morris, 10-3; 182: English (AC) won by technical fall over Monson, 15-0; 195: Scheffler (V) beat Cahill, 5-4; 220: Hutchinson (V) pinned Dickinson, :38; 285: Mohler (V) pinned Grider, 1:42; 106: Ca. Vandermark (AC) beat Brumfield, 14-3; 113: Co. Vandermark (AC) pinned Kiner, 3:31; 120: Bright (AC) pinned Miller, 3:42; 126: Bierma (V) won by technical fall over Muller, 16-0; 132: Wiener (AC) pinned Youngdale, 3:30.
Southeast Polk 55, Centennial 15
132: Trenary beat Wiener, 12-4; 138: T. Oberbroeckling beat Brennan, 13-4; 145: Bruhl (AC) pinned Biladeau, 1:41; 152: Winget pinned Haag, :30; 160: Martin beat Ehlts, 4-1; 170: Slade pinned Morris, 1:26; 182: English (AC) beat Hansen, 2-0 (OT); 195: Gibson pinned Cahill, :51; 220: Niyonkuru beat Grider, 14-5; 285: Martinson pinned Dickinson, :26; 106: Ca. Vandermark (AC) pinned Vestal, 3:24; 113: Pearson pinned Co. Vandermark, 1:21; 120: W. Oberbroeckling beat Bright, 17-3; 126: Jesuroga pinned Muller, 4:48.